Tell us a little bit about yourself and what you do.
My name is Mat Fowler.  I work part-time doing some design work and make music at home on the days between. Along with a couple of friends I run a homespun label called Spillage Fete Records where we release small runs of vinyl of our own musical projects, like Jam Money and Bons. My partner, Aimée Henderson, is a painter and this inspires my own music making. Our latest release 'A Happy Return' will be a collection of my own tape recordings that feature Aimée and our daughter Agnes. At the moment we live in London but are soon to move out to Norwich to spend more time on our practices.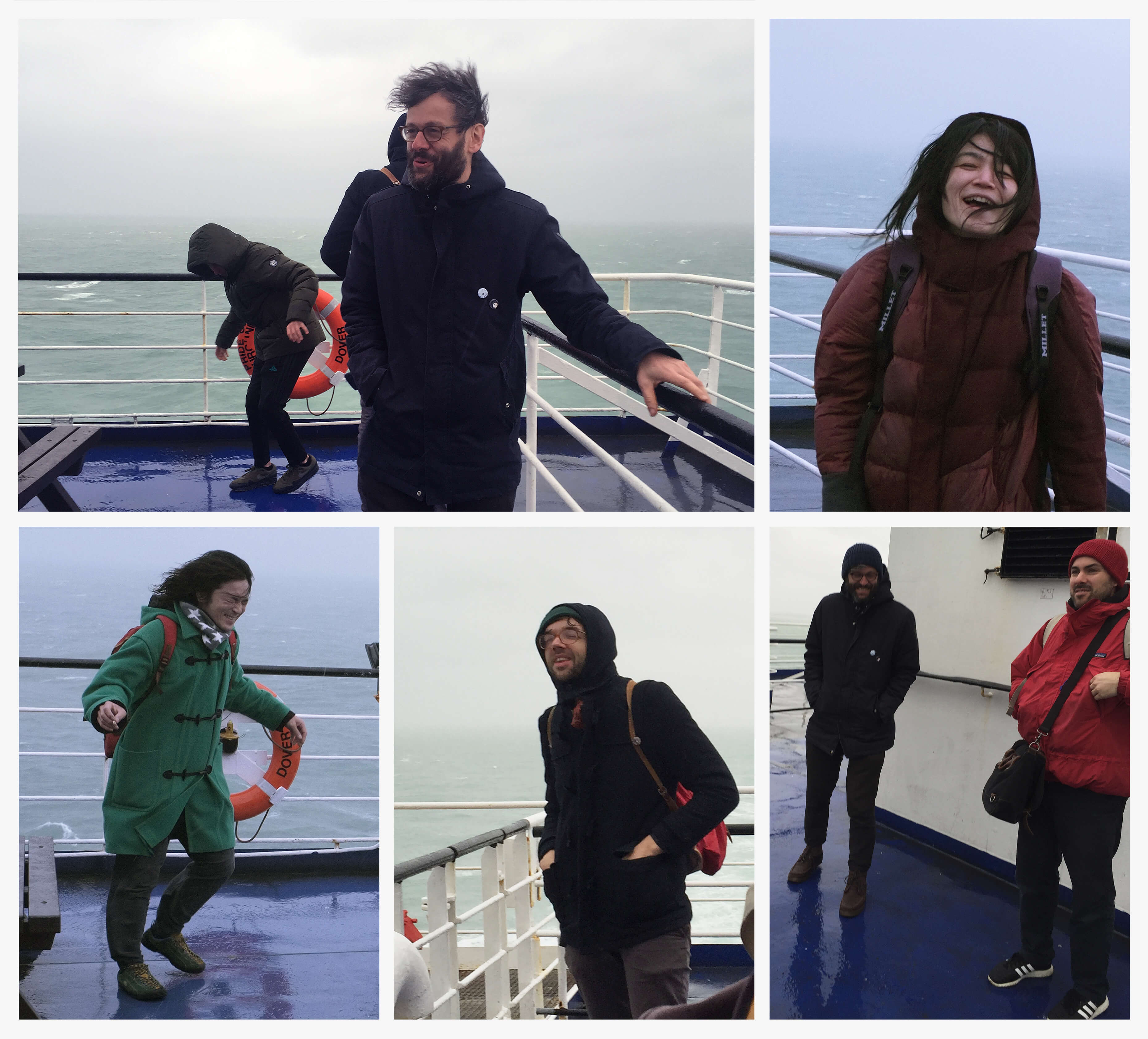 What made you start making music together?
I came to know Markus through him making contact to ask us if we would like to release a Jam Money record on his label Alien Transistor, which came out in 2016 and was called 'A Gathering Kind'. Shortly afterwards Jam Money embarked on a very memorable and fun tour of Germany with other Alien Transistor groups like Le Millipede and 1115.
Markus asked if I would like to join himself, Cico (from Joashino/The Notwist) and Saya & Ueno from the Tenniscoats to make a record together. I was already a big fan of the Tenniscoats music as myself and my partner Aimée had seen them play at Cafe Oto in London and were moved to tears by the gentle but powerful emotion that resonates throughout their music, so much so that Aimée made a drawing of them and handed it to them after the show. So of course I was very excited to be asked as well as a little nervous to play with such special artists..
What's the best/worst thing about working together?
The best thing about working together is the adventure and all the learning that goes along with it. Because we are all from from different parts of the world, it's such a great opportunity to discover and learn things about each others customs, way of life and music. My own musical exploits are generally rooted in and around the home, so to travel and broaden that horizon with new friends was a gift. 
Your upcoming album, "Anohito", is to be released September 7th. Can you tell us about your writing/recording process and the challenges of creating a record in separate cities?
The first record was recorded together in Munich in one or two weeks, where as Anohito came into fruition in a friends studio in London in the days in-between a Europe Spirit Fest tour last year. When the tour ended we continued the project, sending and sharing music to one another to collaborate on from our own homes, mine being London. Though we have our own distinct ways of making music, there is definitely a shared sensibility and sensitivity to each other that made this project magical and a joy to be involved in. 
I really enjoyed both the collective and individual aspects that fed Anohito. My practice is usually quite a solitary one, recording at home to tape, putting marks down, rubbing them out, and trying one thing against another until something happens that feels a little out of my control or I find interesting. Where as playing together created a special experience that was full of surprises.
If you had to explain Spirit Fest to a stranger, what would you say?
All the colours of the rainbow.
What kinds of music/what musicians are influencing your work right now?
A combination of things help inspire me to make music. Space and time to just observe and take in life is very important. Other art forms like visual art and writing create sparks. Today I have come home from an exhibition of the performance artist Joan Jonas which was exhilarating as there is such an energy and musicality to her work. Paul Klee is also a reoccurring inspiration, he made so many pieces of work in his lifetime, collectively they form a whole story, but individually they inhabit their own unique worlds that seem unbounded. My partner Aimée's work and whole process I find equally inspiring too, making seems so natural and inherent to her.
Music wise I've been listening to The Shadow Ring, Primitive Motion, Alastair Galbraith, Maxine Funke, Speedbooth, The Tenniscoats, Letha Rodman Melchior, The Ivytree, Flaming Tunes, Dean Blunt and lots of Robert Wyatt.
What was the last show you went to that stuck out to you?
Since having our daughter I have not been to see so many gigs. Though when we played the Alien Disko festival in Munich I had the chance to see Tomaga which was incredible as well as the Notwist performing their Messier Objects album.
Having just finished your European tour, what would you say is the best/worst thing about touring?
The best: seeing the sun rise and set from a different place on earth with new friends. 
The worst: missing your loved ones.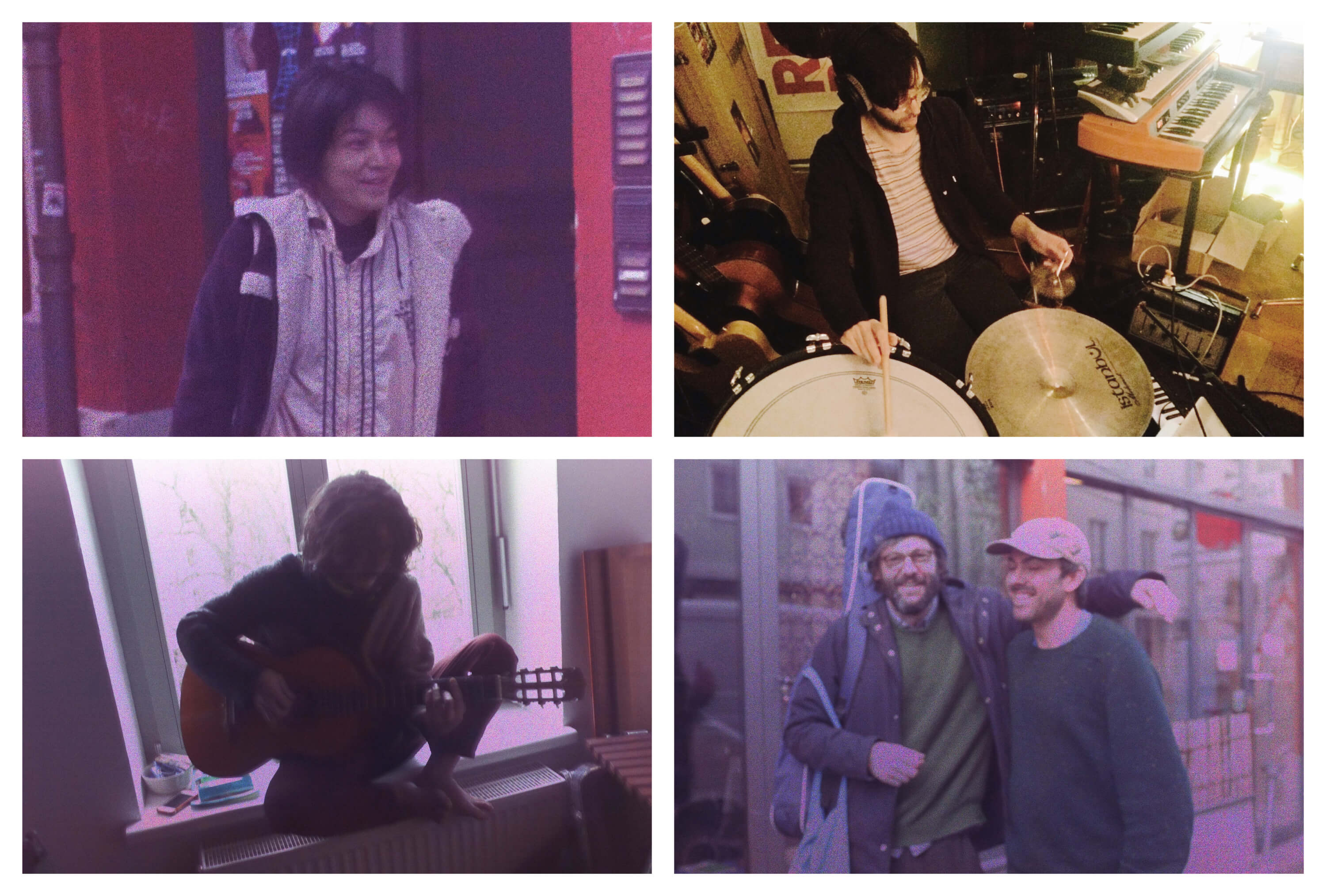 What is your snack/beverage of choice when recording?
Well, for Ueno in Europe it was definitely croissants and multiple cups of coffee!!!!
In Munich on the last show of the tour Markus and Cico organised a local bakery to bake a giant croissant that was presented to him after the show, it made him very happy. Markus always enjoyed Japanese food, Cico was partial to a nibble on a biscuit or two and I enjoy a bottle of beer or cuppa tea when recording.
What are you really excited about right now?
Well, Anohito will be out soon in September and then we are planning a Japan tour with Spirit Fest in November, which is very exciting! I think the Tennicoats are busy pulling all the details together right now. It will be our third annual autumnal collective adventure together!