Tell us about yourself and what you do.
I am a California based artist who works with textures and digital collage.
How would you describe your relationship with casting?
I learned mold making in undergrad but was originally exposed to it by my parents' good friend Bill who was an artist and professor. He lived a mile from the orange farm that I grew up on in central California. He studied bronze casting and marble carving. Growing up would show me different things when I spent time with him. My mother is always making things as well. She made a lot of our dolls growing up or sometimes was dressed up in different costumes randomly. She taught me how to use odd materials to make art. Like no real rules exist. I really wanted a vacuum former to make some experiment pieces but couldn't afford one so I tried to figure out a way to make things look like they were vacuum formed.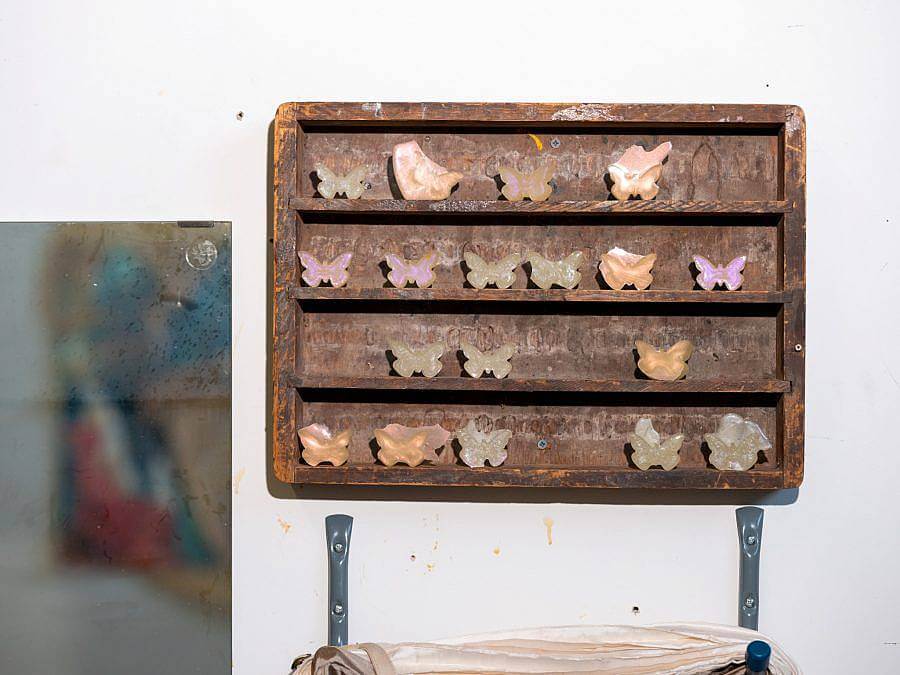 Your work features a lot of recurring imagery of landscapes, teeth, and hands. How do you typically select the imagery in your works?
All of the imagery is either from me growing up on the orange farm or things I take on my phone. Some of it is portraits like my hand in the shadow or my teeth in a 3d modeler. Most are things I find interesting or personal.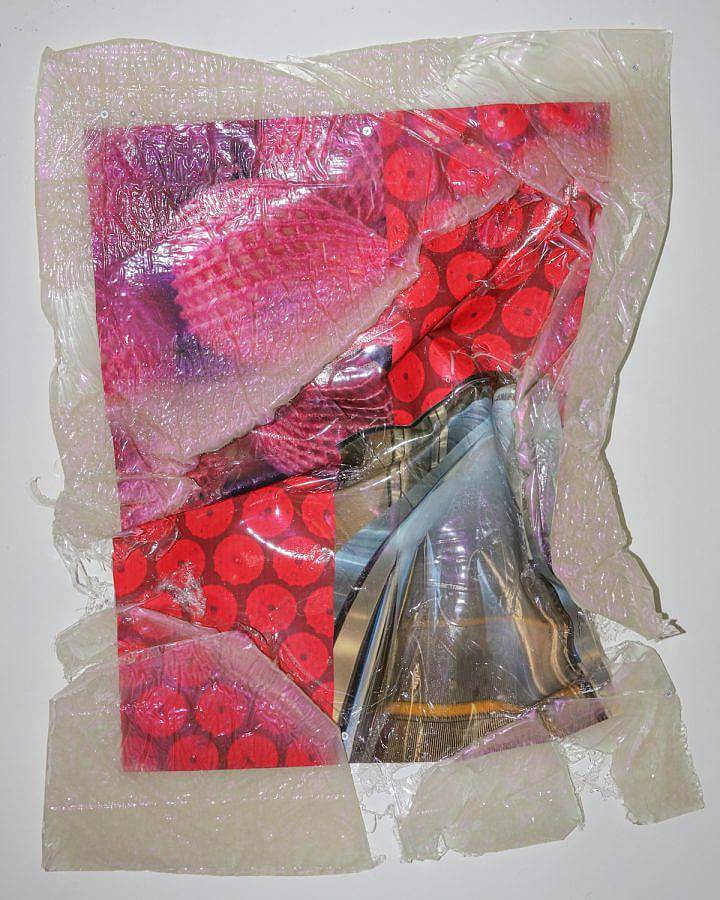 What have you been reading lately?
Bee Reaved by Dodie Bellamy, Of Solids and Surds by Samuel R. Delany, and To Write As If Already Dead by Kate Zambreno, The Book of Delights by Ross Gay, a few books on TCM (traditonal chinese medicine) which I started studying a couple years ago.
Can you talk about your recent work in the group exhibition "Gutz" at Et al. Gallery?
The show came together because of the curators Kevin, Jackie, and Aaron. I think it was a good pairing. Both works were made pretty separately but all shared overlapping themes and had an interesting feeling put together. I feel very lucky to have been in a show with ASMA.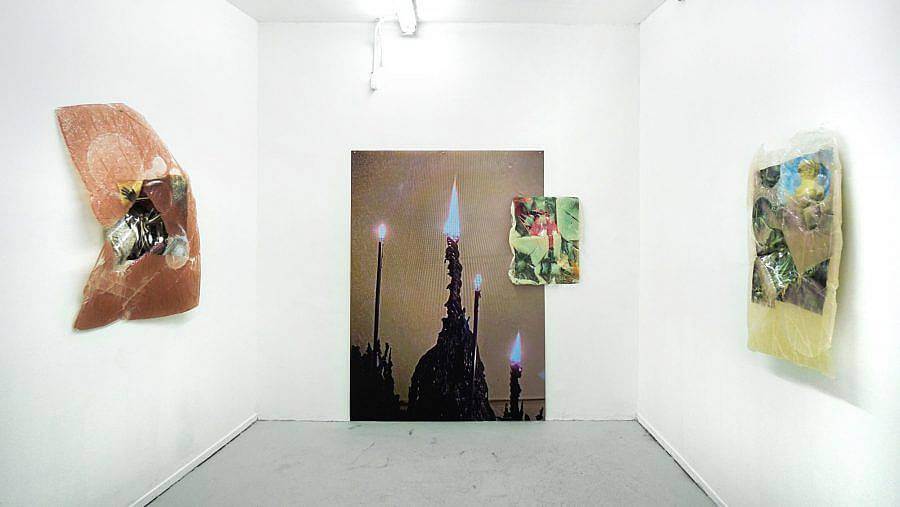 How do you consider the surfaces of your wall works? Do you see them as sculptures adorned with images or paintings that you have constructed?
Somewhere in between those two things. I see them as wall sculptures that are double imagery. The collage on canvas underneath and the imagery of the casting. In my studio I only cast on top of objects I love, for instance a metal folding chair given to me by a friend or this particular kind of tape I like and use a lot.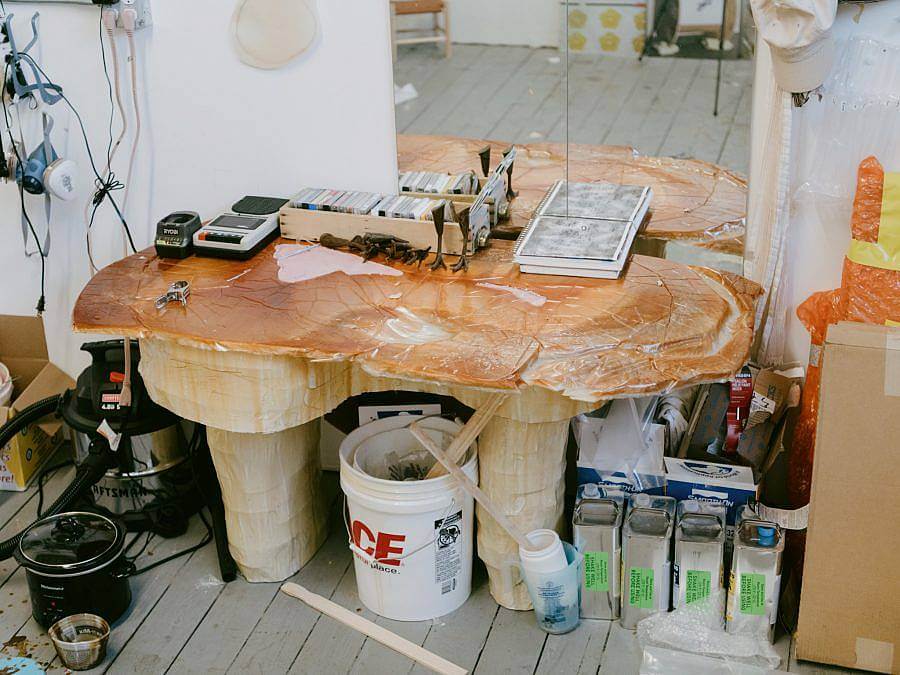 What are some of your studio essentials?
A mini trampoline.
Do you see the resin as a conceptual protective capsule for the photographs, or more of a formal embellishment?
I was thinking of it as the sealing of a moment but not a real moment. More one I have constructed that is a combination of many moments from different times. Almost like those suckers or bugs you can get at random stores. With the bug cast inside of it sealing it forever.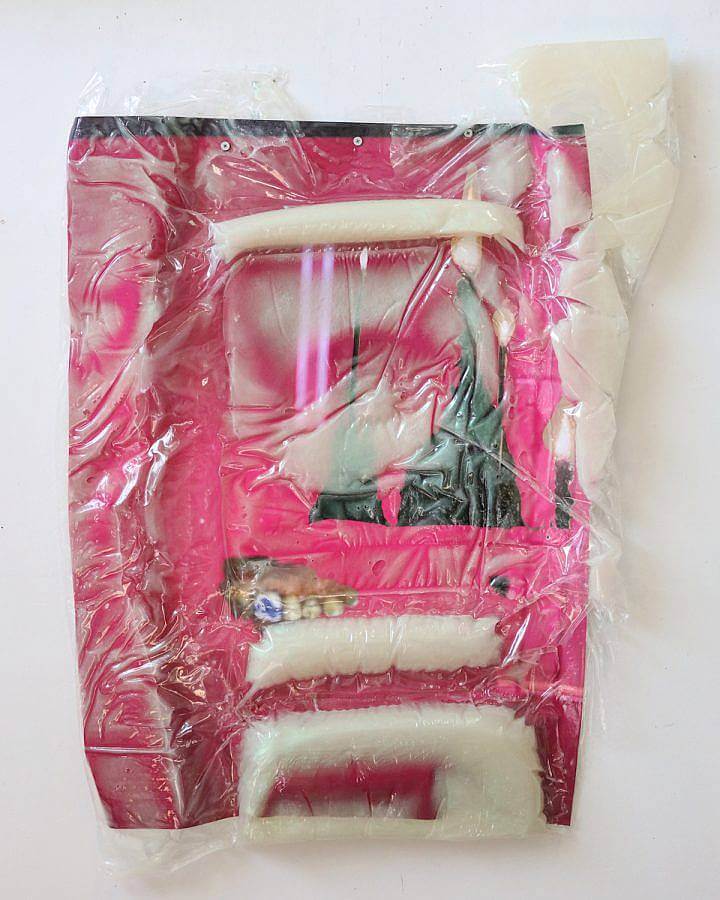 Do you have any daily rituals?
I walk on a hard green board that my friend Angie who is a reflexologist gave me, and I drink ginger water everyday. I want to have more daily rituals but these past couple years have been a lot of moving.
What do you have planned for 2022?
A collaboration with a brand in Europe and the group show, other than that just making more work.
Interview conducted and edited by Sam Dybeck.
Photographs courtesy of Aaron Wojack.