How do you consider the domestic nature of the materials and techniques present in your work?
I am a pretty domestic person. I love decorating my home with things that I have collected throughout my life. I also love rearranging a room. Currently I live in a tiny studio apartment with a murphy bed so there isn't much room for rearranging, but I somehow find a way to rework my space every so often. That goes for my studio as well. Reconfiguring my space helps bring new energy and ideas into my work. In addition, I will often live with an object, rug, piece of clothing, etc for a while and then bring it into my studio to weave it into a piece somehow. For someone who doesn't have a live-work space, there is a lot of conversation between the two.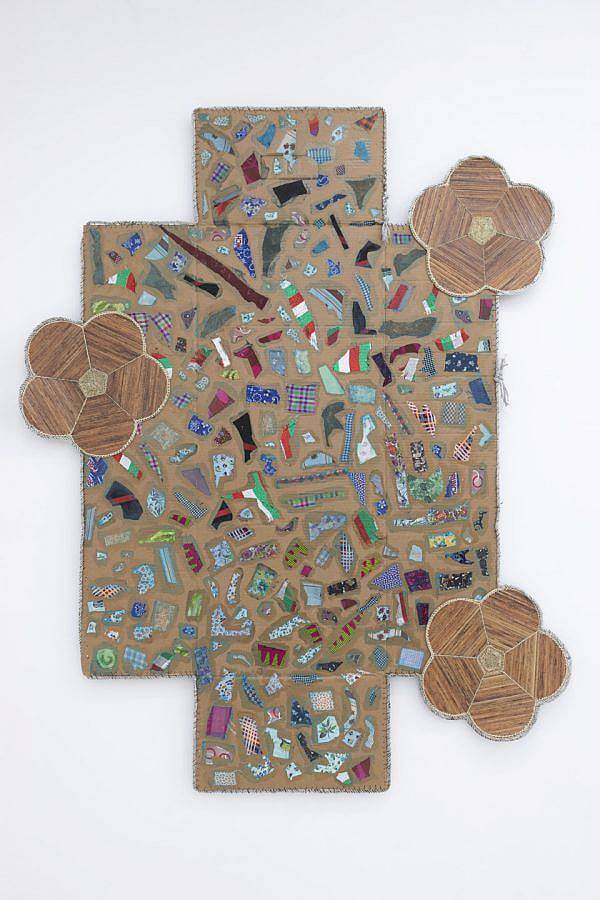 How do the stains and signs of wear present in found materials relate to your gestures in a piece?
They usually present a jumping off point for me. The most recent large rug piece that I made was once my bedroom rug that I shared with an ex. There were a few physical stains in addition to the emotional ones. At first I just wanted to cover the spots and smudges with large blue flowers, but then they started to take over, transforming the whole surface.
How does the viewer's experience of a tapestry shift when interacting with the piece as a rug versus as a wall object?
That is a question/idea that I'm always trying to ask myself. The play and balance between the two is fun for me. I usually make work looking down, be it on a table or on the floor. More often than not, I know whether I want the work to be shown on the floor or the wall. But I like it when someone comes in and wants to see it vice versa. The tapestry pieces are interchangeable, whereas the cardboard works are meant for the wall. I would like to make a giant floor piece out of cardboard though.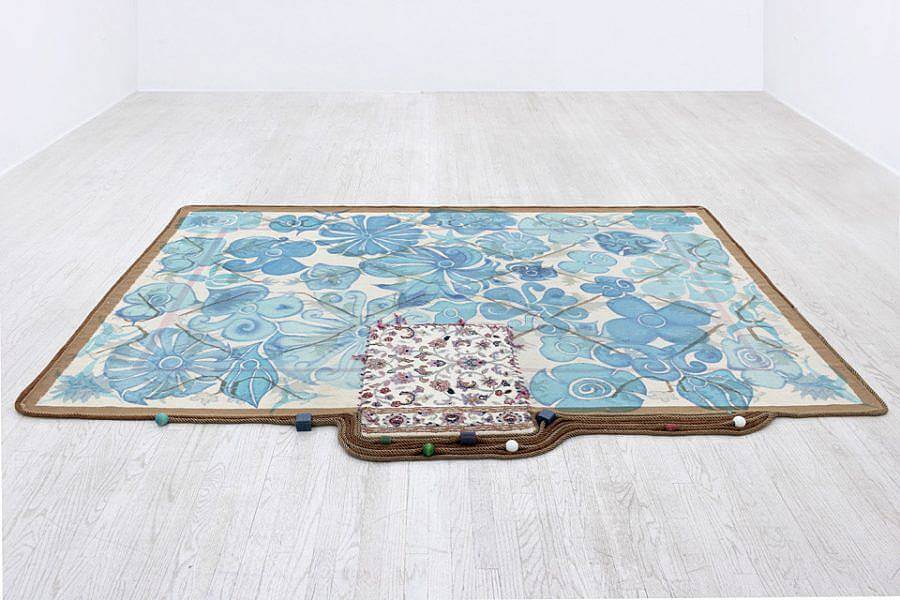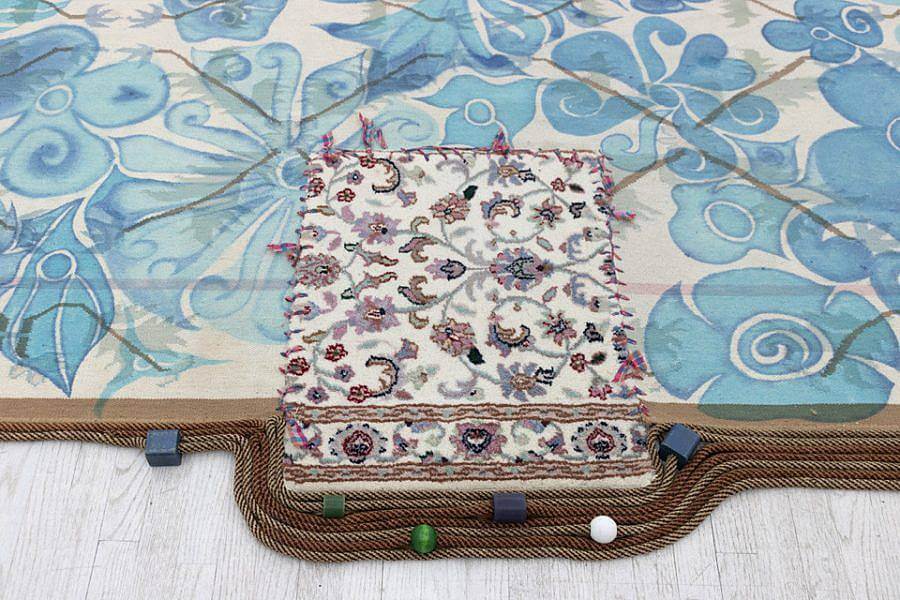 Many of your pieces explore braided rug-making, a technique firmly embedded in the history of North American craft. What draws you to this method?
So much of the beauty behind braided rug-making is that time is represented so clearly. The process of tearing each strip of fabric, braiding them together, and attaching them side by side is so simple yet visually so complex. That process is very attractive to me. I love the way different fabrics interact with each other when intertwined. There is something very satisfying about that.
Tell us more about your work as a florist and how it intersects with your larger studio practice.
I started working at a flower shop when I graduated from college. I wanted a creative day job that was outside the art world. My mom is also a big gardener and I grew up learning all the names of plants and flowers so that was my way in. I use my studio for both flowers and art and it's fun having both in there at once. The way they intersect isn't super obvious but there is definitely a connection between the two that I can't quite put my finger on. I do paint and draw flowers and although they are not anatomically correct, the shapes, forms, and colors are always used as a reference. Flowers never stop amazing me; I just love them.
Describe your studio space.
I just moved studios. After 5 years of being in the basement of this very special carriage house in Manhattan, the building sold and now I have relocated to Long Island City. As painful as the packing process was, being forced to go through your stuff is necessary. Taking inventory of all of the things that I had been hoarding was a real slap in the face. It also made me think about the work I was making for my most recent show in a new way. How can I strategically use the most of this so I have less to pack?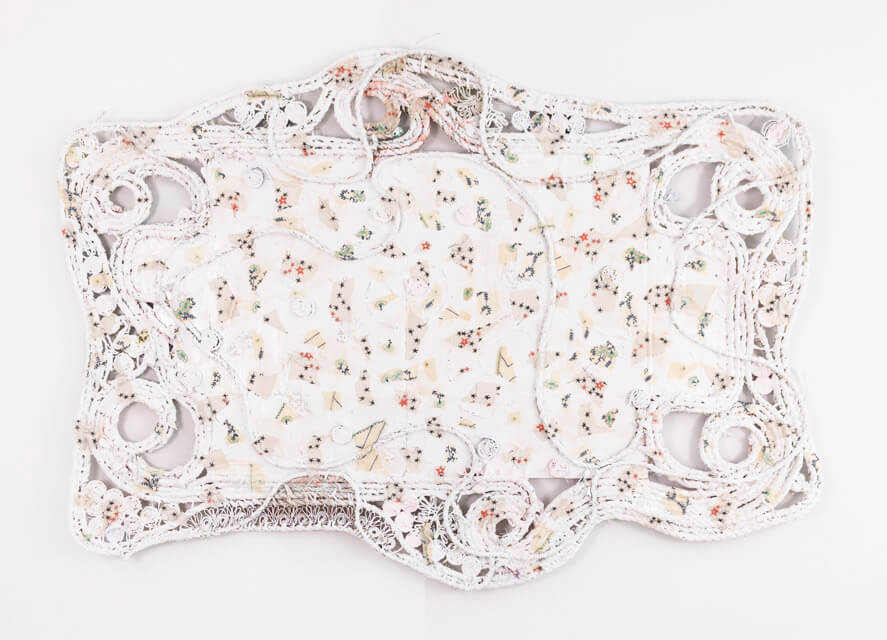 How do you typically go about looking for materials?
I am a big collector of stuff. My current body of work began by trying to use all of the materials that I have been collecting over the years. Friends and family often give me things. It's hard for me to say no even if I don't have a use for it right away because I know I will at some point. I've always had a connection to cardboard. The large boxes that the flowers get shipped in are so fun; they have the best text and images on them. Plus they are giant.
What other artists are you looking at right now?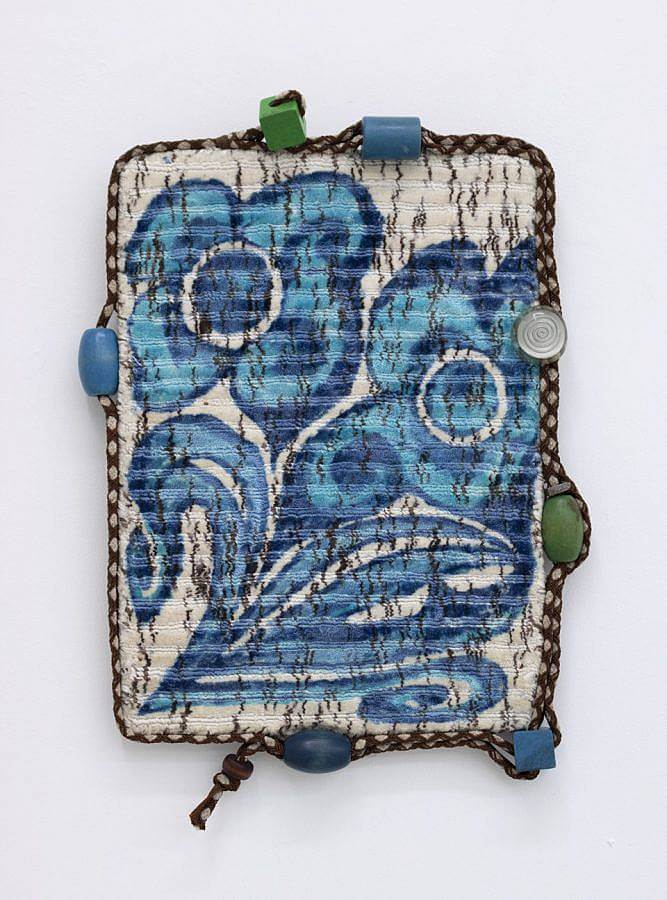 How have your creative communities guided your personal evolution as an artist?
I'm lucky that many of my best friends are very talented and supportive people. For years I have always shared studios with friends, which in itself has always been very productive for me as an artist. By being able to talk about ideas and see each other work through problems both creative and personal, you learn from one another.
Tell us more about your current exhibition, Saragossa at Halsey McKay.
The show is curated by Pali Kashi, from Safe Gallery. I'm showing new works alongside Annabeth Marks and Gracie Devito. I'm really happy with the way all of the pieces are shown together. There is a lot of exciting conversation and play between them.
Sophie Stone is currently featured in Looking Back/The 12th White Columns Annual until March 5th, 2022.
Interview composed & edited by Ruby Jeune Tresch