Tell us a bit about yourself and what you do.
I am a ceramic designer working out of a studio based in Humboldt Park, Chicago. I hand build + wheel throw with clay in order to make intentional, functional wares.
How did you become interested in ceramics
I originally went to college for graphic design, but there was something about the limitations of two-dimensional design that I found particularly ungratifying. I craved making with my hands. As I shifted into the Designed Objects department—studying furniture design, product design, interior architecture—I stumbled upon ceramics. Although I had zero knowledge or experience with ceramics, something about the process immediately made sense to me. I really did not know anything. But working with clay just felt so intuitive. Professors and peers kept telling me I was a "natural." Whether there was any truth to that or not, ceramics seamlessly became a central part of my life. Suddenly it became obvious that ceramics was the perfect intersection of all my interests. I never considered myself a "ceramicist" until others started calling me one. I certainly never thought I would wind up running my own ceramics studio with less than 2 years of experience in the medium, but I am so grateful for the journey this centuries-old practice has brought me on. Something I love most is that it is a life-long practice with endless knowledge to gain. I simply will never know everything there is to know about ceramics, but that is the beauty of the medium.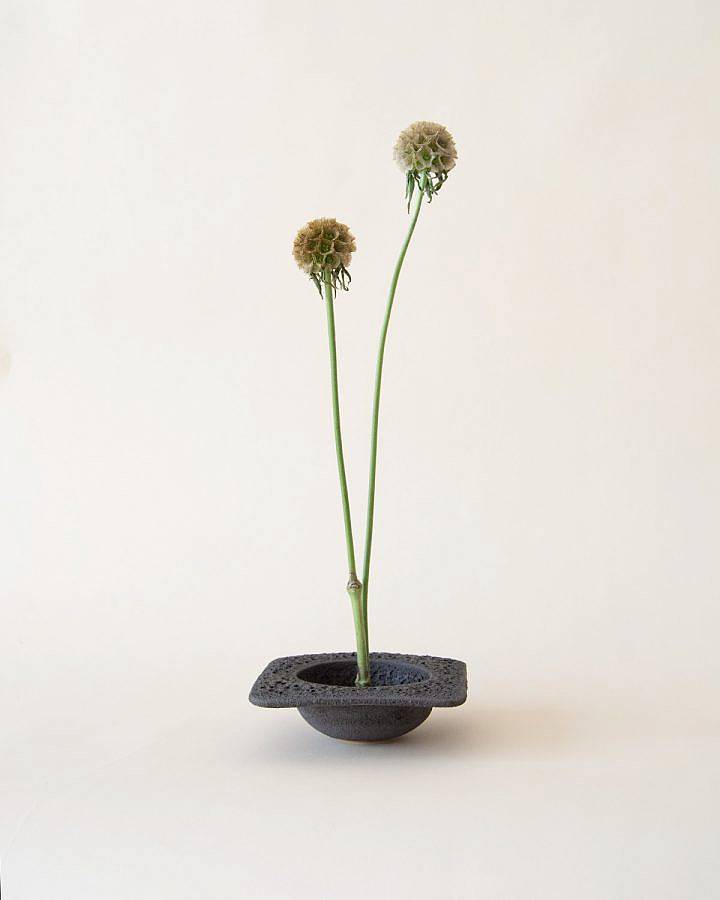 How did you decide to begin your practice in Chicago?
I graduated with a BFA from The School of the Art Institute of Chicago in May of 2020, during the onset of the COVID-19 pandemic. It certainly wasn't a great time for the job market and after a few months of doing not much of anything, a few friends of mine mentioned they  found a 1500 sq ft studio space on Craigslist, but needed to find another person who was interested in going in on the space. I figured I had an art degree and I desperately needed to try something else to make money—so why not? The studio space snowballed into me forming an LLC and really quickly getting serious about making ceramics. It's definitely an opportunity that would not have come up if not for the pandemic.
Do you have any daily rituals?
My daily rituals are incredibly important to me. Mornings, especially. I love to wake up and exist in complete silence for an hour or two of my morning while I take my dog outside, tend to my garden + plants, clean around the house, and do yoga. Slow mornings are essential for me. I am someone who craves stability + routine, so having a domestic space and an animal to care for that require time and thoughtfulness on the daily is something that really grounds me. The mornings spent in my home with my dog and the objects that I interact with on a regular basis is what drives my practice as a designer of homegoods.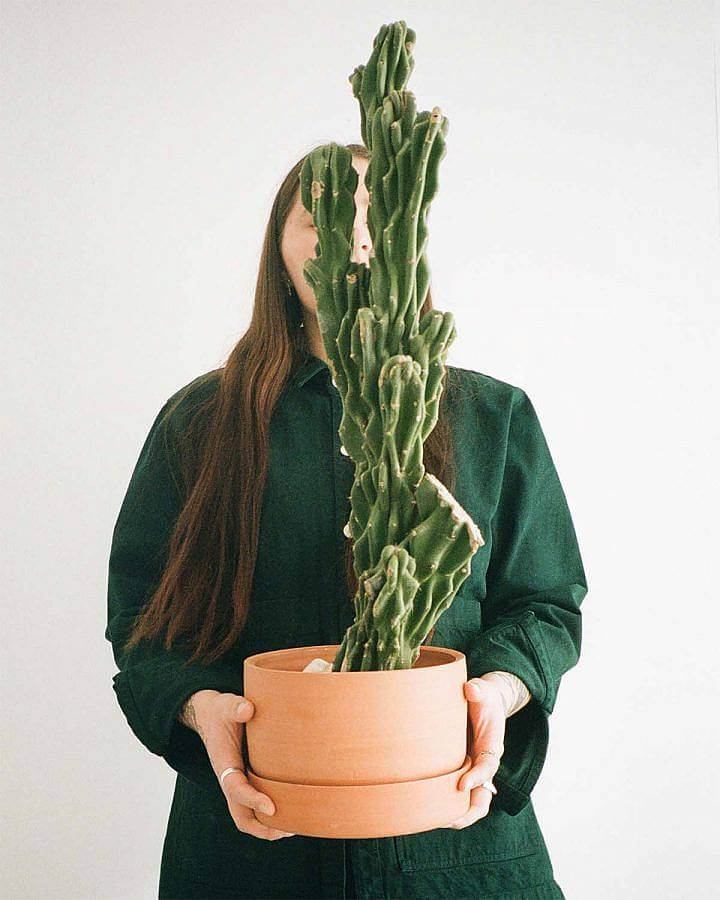 Can you tell us about your interest in making functional objects and homeware?
Since I can remember, it's been very difficult for me to financially access objects that I felt passionate about. I wanted not only to have an object that could fulfill its function, but also something that I felt was beautiful, that could fit in with my other items, something I enjoyed looking at and was proud to own. This seemingly unending longing left me feeling as though I should just make the objects my friends and I desired if I couldn't find them within my means elsewhere. I want consumers to be intentional with their purchases, and to truly love the objects they live with. As a ceramic designer, I can't see a piece out in the wild without picking it up and inspecting it. I have to see how it was made, what kind of weight it has, how the surface feels to the touch. I want people to pick up an item and not only be able to see how the object was made but also to be able to see the hand of the person who made it. That experience fosters a deeper form of attachment between the person and the object that would have been otherwise superficial.
I believe no matter your access to design, it is essential to create a home within your living space. Whatever that may look like within your means. At the smallest level it could be having a piece of art hanging on the wall, a vase on your kitchen table you regularly fill with a few stems every couple of weeks, or a lamp that creates a warm, comfortable glow for your evenings. It doesn't even have to be tasteful. Not every house guest is going to love it. Some might think it's the ugliest thing they've seen, but that doesn't matter so long as that object feels like home. I carry this sentiment in my personal space as well as throughout my design process.
How did you get started making lamps?
Last summer I became more interested in a handbuilding technique called "slab building" in which you take rolled out slabs of clay and attach them together to create the walls of a structure. With slab building, you can easily create more structural and geometric shapes. There is a very architectural element to this method of building. Building at this somewhat miniature scale got me thinking a lot about childlike playfulness. I felt it spoke to a younger version of myself that loved creating little buildings + homes with legos and blocks. It also brought to mind sculptural playground projects by designers like Group Ludic or Pierre Székely that have heavily inspired my use of form for a long time too. For me, this process of cutting out little shapes and putting them together like puzzle pieces is an incredibly satisfying way to work. Lamps felt like a more realistic form for experimenting with this method rather than jumping directly into large-scale furniture pieces, while still being able to create something that was completely new to me and having to learn new skills along the way.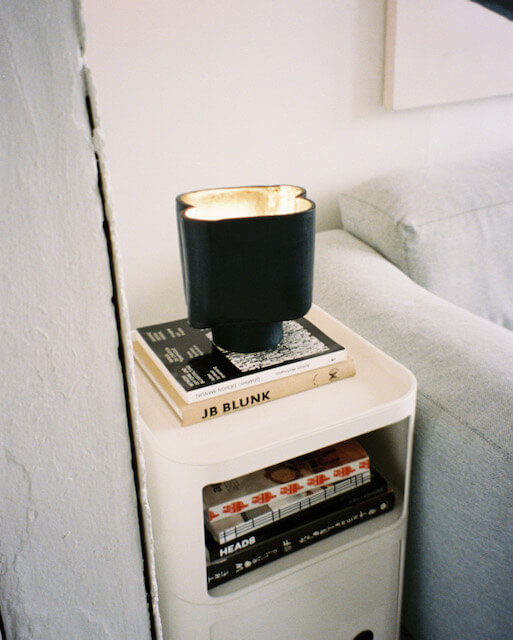 How would you describe your approach to collaborating?
I personally love collaborating. I would almost go so far as to say that I don't believe in working solo. One of my best friends and studiomates, Taylor Augustine, runs looseleaft, a floral studio. Because flowers and ceramics go hand-in-hand, we are constantly collaborating and sharing ideas, resources, knowledge, and making work together. We have both been able to teach eachother many skills involved in our own practices that have led to new opportunities and interests. I also enjoy when people bring me ideas to create for them and have been finding taking commissions to be an unexpectedly inspiring aspect of my practice. I am lucky to be surrounded by friends + peers that are multi-talented. There is always someone who can contribute a skill or keen eye to every artistic pursuit. It feels so good to participate in an exchange of knowledge and be able to learn through working with other people. Making work alone can start to feel almost self-indulgent, when to me my work is so much about shared experience + comfort.
What does your studio look like and what are some essential materials for your practice?
My studio is an industrial loft that my studiomates and I put a lot of sweat into to transform from an old woodshop, in which every surface was coated in practically an inch-thick layer of sawdust into a bright, breathable workspace. The skylights and south-facing steel-framed factory windows make for the most amazing natural light all day long and an environment that feels good to work in. I personally require a lot of space + breathing room in order to be in the right mind to create. As far as materials go, ceramics require many processes, and therefore many tools and heavy equipment to get the job done. The most basic essential materials I use are clay, water, glaze, my potter's wheel, and of course, the kiln.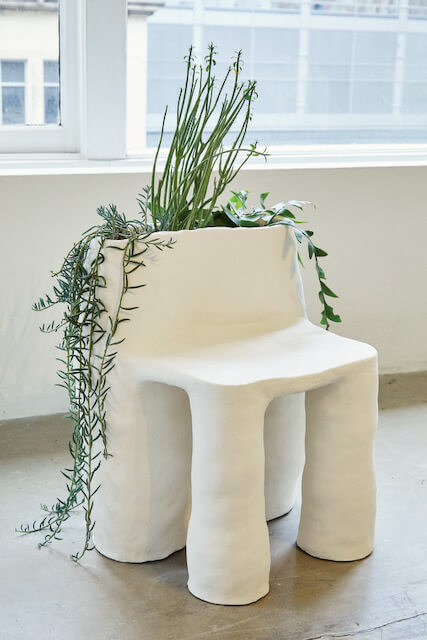 What kind of objects do you hope to make in the future?
Because of my background in design, my focus for the future is to make large-scale ceramic furniture. A couple years ago, I started a series of ceramic chairs that have planters built into the structure and am really looking to develop that more. A goal of mine is to better learn new processes, such as slip-casting and extruding that would aid me in large-scale production, because with the tools and set-up I currently have, it is quite a labor-intensive build.
How would you describe your general design principles?
My design principles are generally as such:
An object should not have sharp edges
An object should be built to last
An object should always be multi-functional
An object should be intuitive
An object should blend seamlessly into the user's space
An object should show the hand of the maker
An object should feel good to hold
An object should look tactile
An object should be reminiscent of its materiality
An object should not create excess waste
Portraits by Lola Dement Myers.
Interview conducted by Sam Dybeck and edited by Emma Kang James.