Tell us a little bit about yourself and what you do.
I'm a sculptor/installation artist who also does some curatorial work. I am currently a Fellow at the/represented by Hamiltonian Gallery in DC, and I also work as a creative director at the Philadelphia-based digital design/art start-up KUZU Creative House . My studio is in Baltimore. So I live, work, show, make between three States currently.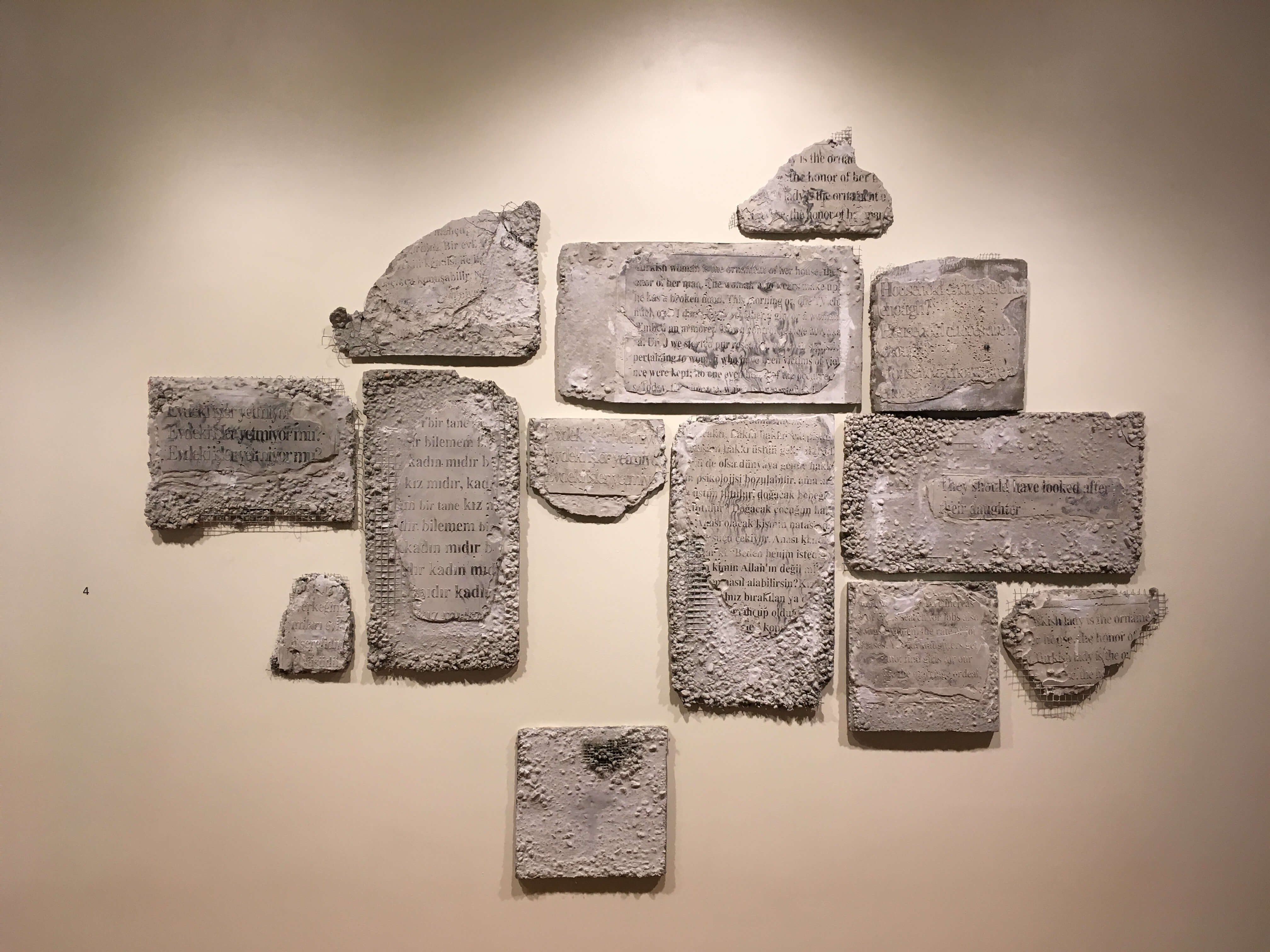 What are some recent, upcoming or current projects you are working on?
I just de-installed two group shows, one in D.C. at the Hamiltonian Gallery titled New.Now. that introduced the new class of Hamiltonian Fellows, the other a very large one at Maryland Art Place in Baltimore, M.D. titled Re-purposed with Purpose curated by Doreen Bolger, so currently I am personally and professionally re-grouping, archiving things and doing-post-mortem.
Earlier this year, for an exhibition titled "Counterweight" considering Middle-Eastern women's use of concrete, at the Menial Collection), in Baltimore we came out with a publication including artist and curator essays. The publication is still available, and was just featured in the Spiral Bound Book Fair in Baltimore.
I have a two-person -well, it's actually two solos semi-confined from each other in one long space. Not quite a two-person nor a solo. The Hamiltonian calls these "Focus" shows– coming up in April, with fellow Hamiltonian Fellow and photographer extraordinaire Kaitlin Jensco. I mentally committed to making an all new concrete Monument and bronze Ornaments. I am looking into some performance possibilities for the Ornaments, plus a Womxn only evening inspired by Haremlik contexts (Turkish Women-only spaces, word derived from harem) as an attempt to subvert the gender exclusivity into a space/moment of power, on top of the programmed artist talks. More on this later. And then, I will take part in my first ever Chicago exhibit at the LVL3 space in August, which I am absolutely looking forward to.
Kelimeler Kıyafetsiz (:Words Naked/Are Not Enough) – Monument IV, 2018, Prints on concrete, charcoal, 2'x6.5'x2'. Photo Credit: Patrick Harkin, Image courtesy of Hamiltonian Gallery 
What inspires your material choices and what does your process look like?/strong>
My work is research-based, very cerebral and particular: everything, my materials, methodology, forms have to be justified two-fold, they have to equally make sense conceptually and aesthetically.
I'll try to follow with an example so you get an idea: currently I am working on a research project Kelimeler Kıyafetsiz (:Words Naked/Are Not Enough) on representations of women in political speech from Turkey wherein I collect quotes that refer to women in public speeches of current politicians from the motherland emboss these onto concrete Monument forms inspired by archeological artifacts that celebrate Male glory. The forms are picked from archeological artifacts from the global East, with Male propaganda and a history of transportation/displacement/appropriation into the West (i.e.: Assyrian Lion-Hunt Reliefs). Concrete has been with me in this project for a while now. I came to view it as a gendered material, one that is a stand in for the patriarchal Male for its associations with functionality (action), construction (erection), it's architectural scale (dominance, violence), ubiquity through time and space (norm) and texture (roughness). Embossing this text on to concrete visualizes the Male exclusivity of written word and platforms of speech. It's greyness, not particularly beautiful look, timelessness (as in out of time, pushing the viewer into indecision around whether the piece is an old artifact or a contemporary work for colonial/oriental museology criticism reasons) as well as obvious urban connotations make it ideal for this body too.
Last year I came to the realization that I have to make a "Female" -capital F, extra quotation marks-  counterpart to these Monuments as the quotes on these Monuments position women to be a non-equal counterpart, an ornament of the house, etc. and other antiquated conceptualizations of womanhood. So I was looking for forms, materials that reflected these sentiments and would counter-act/complete the work. Against the rough, grey, monumental and textual concrete works, it made sense to make small, intimate, delicate, seductive and silencing gags and muzzles that were inspired by a history of corporeal punishment objects used on women, with decorative elements that pull from tezhip: Ottoman illumination style that is used to ornament text. To make this happen I had to learn how to do wax-working and lost-wax casting in jewelry-scale, Baltimore-Jewelry Center generously offered me a scholarship + endless wisdom to do so.  As you can see, the concept/aesthetic needs drive the physicalities of the work to the most minute detail, regardless of my skill set at that time. The particularity can at times become a little claustrophobic so I have to make sure I build time for play in my studio schedule.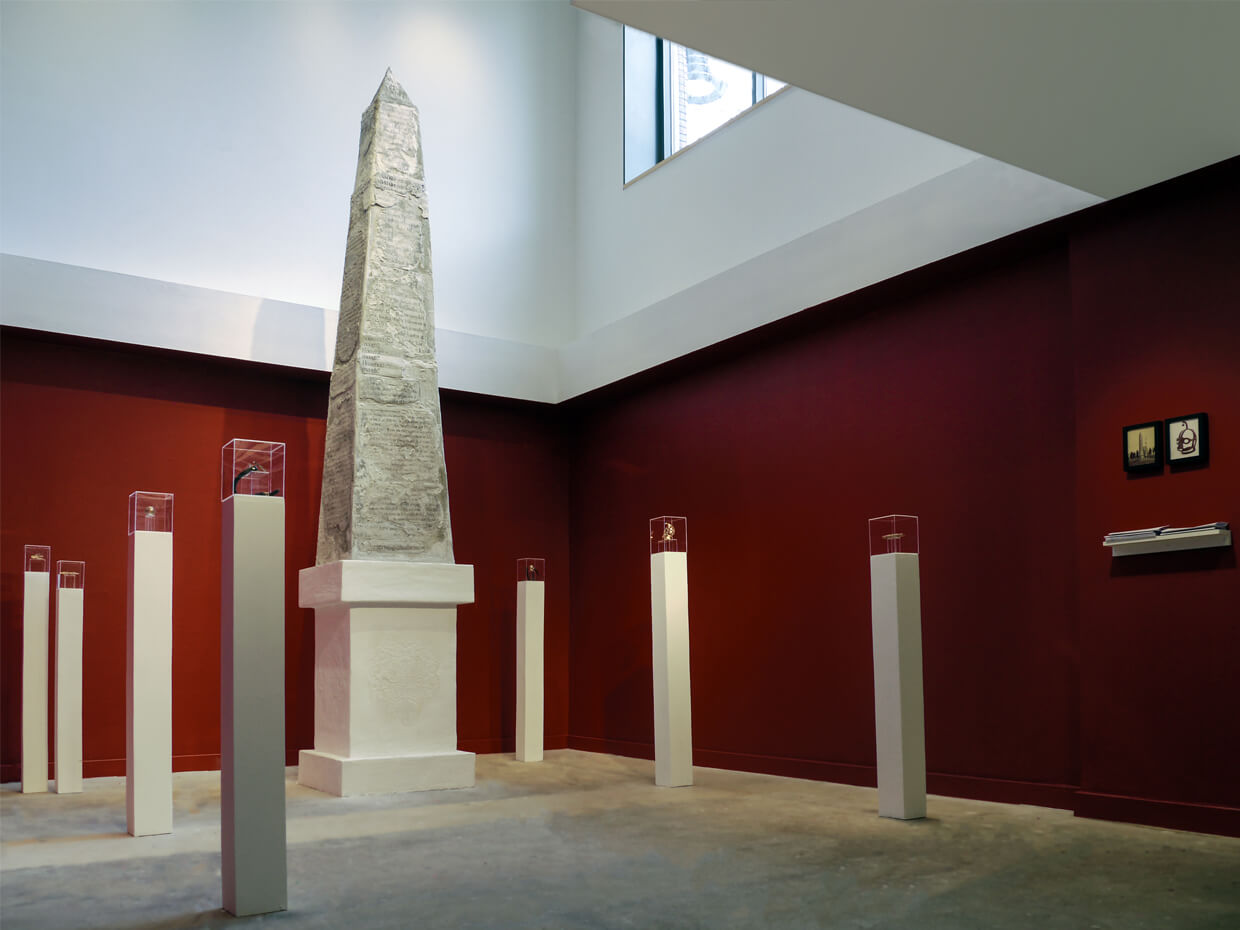 Does your background in neuroscience influence your sculptural and installation work?
Yes, at various degrees, from pieces that are directly inspired by neuroscience texts to those that borrow a scientific research methodology in their conceptualization. I think more of the latter these days. But also, I pull from Neuroscience even in terms of formal decisions: I find myself thinking about perception of different colors, biases towards text vs. image, abstract vs. formal content etc.
Where is your favorite place in the world to be?
This is a tough question in more than one way. I've been between spaces and cultures for the last 8 years, so the list is long. I also find that more often than not things glisten in their memory-state. I do dearly miss the sea-smell that cuts through the city these days though, so I will say the Bosphorus. On it, by it, looking at it, toasting to it…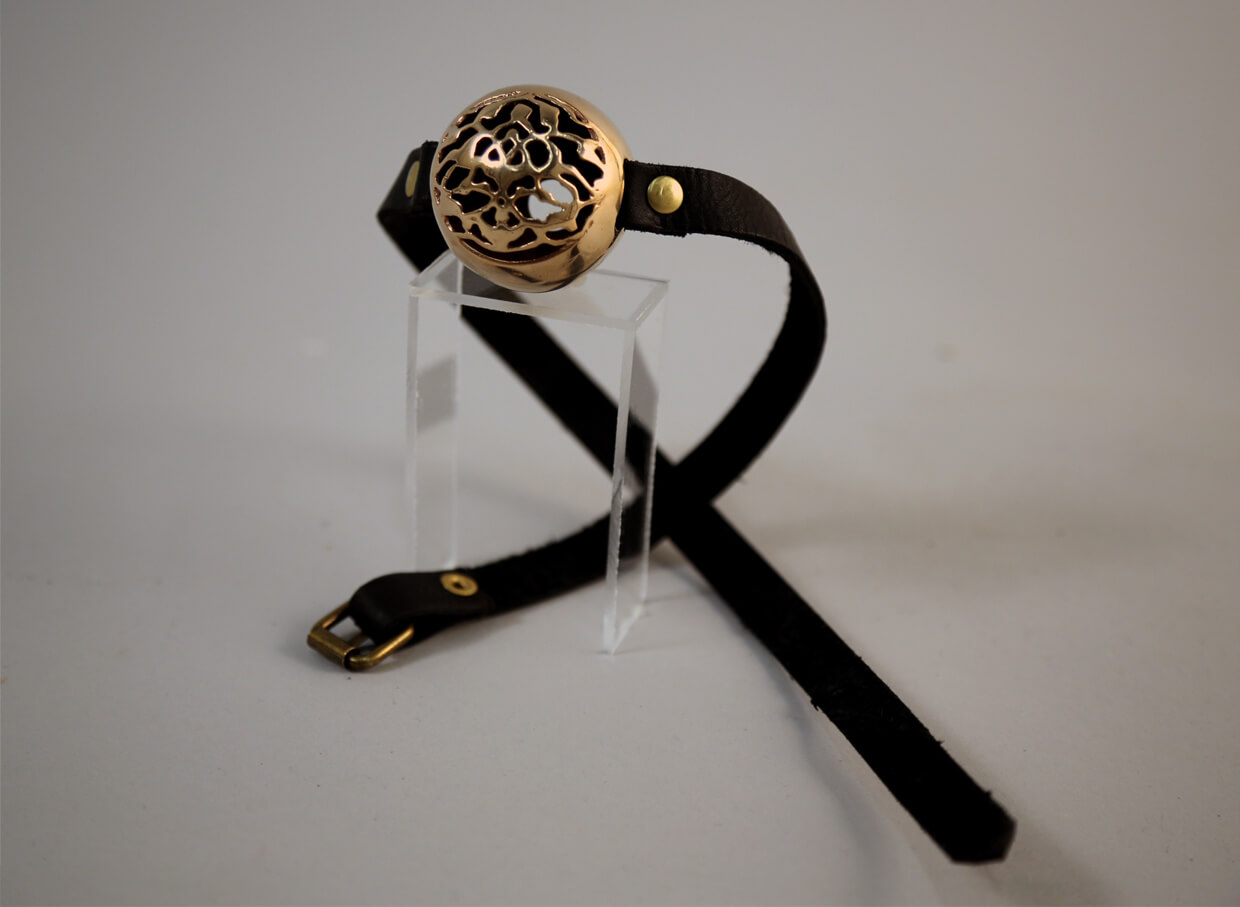 Describe your current studio or workspace.
I am currently in a large studio, surrounded by others, in the Copy Cat Building's Aside Studios: Big warehouse space with a small wood-shop, mutual tool use, kitchen, office, gallery space, plus a very funny cat called Chief. It's really great for my needs and I appreciate that the residents/artists are all professionals so it doesn't get as rowdy as the Copy Cat is rumored to get. Currently my space it's in the post-deinstall chaos state, so rain-check on the photos.
Who are your favorite artists?
In no particular order, and with certainty that I am missing some major people, currently I am looking at Theorretos and the rest of the gang, Karamemi, Louise Bourgeois, Shirin Neshat, Mona Hatoum, Lydia Ourahmane, Lauren Kalman, Marwan Rechmaoui, Issa Genzken, Walid Raad, Jochen Gerz and Esther Shalev-Gerz.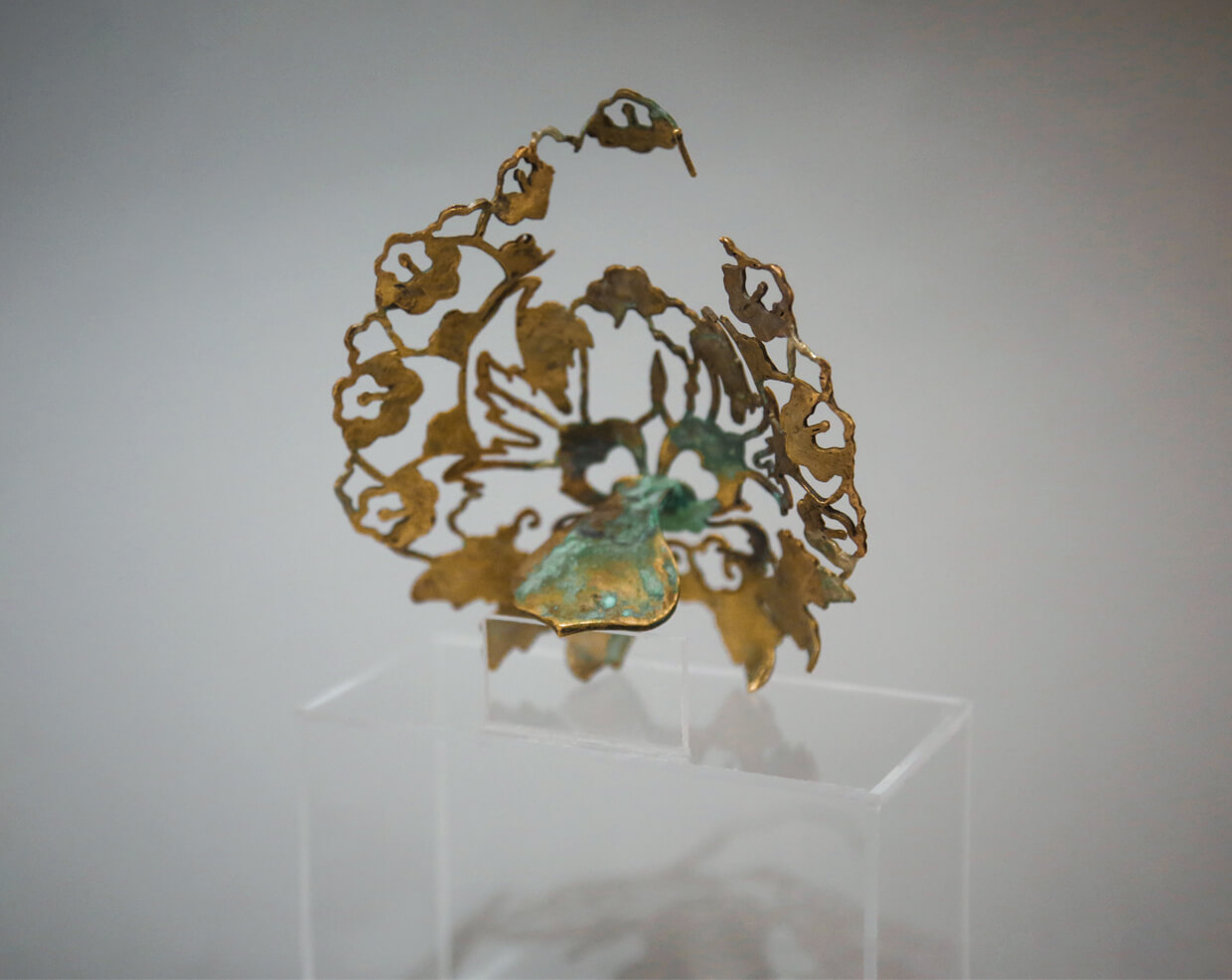 What is one important things you consider when installing your work?
With the specific afore-mentioned work, I want the space to look like a Museum: Preferable the "exotic artifacts" room of such a museum. Luscious and warm colored walls -or a serene blue for the mediterranean cultures- , pedestals with vitrines, museum signage and vinyl etc. I am interested in re-creating/occupying museum settings and creating fictional histories. Tapping into the viewer's visual reflex of perceiving authority is important to me. 
What do you want a viewer to walk away with after seeing your work?
The reason why I create the para-fictional space I talk of in the above question is to expand that moment of realization that an artifact is not real as a means to equip the viewer with a skepticism towards such authority of history/monuments, and ultimately incentive to perform their own archeology – which, seems to me a nudge that is relevant/needed –always, but also– very much now, in this haze.
I also make sure that the forms/inspirations that I pull from are cross-cultural. Although my subject matter is geographically specific, it is because that context is what produced me/I know best. However, I don't want the discourse the work produces to be ethnically/religiously/geographically confined. I think that can be a very dangerous thing in the current phobia climate.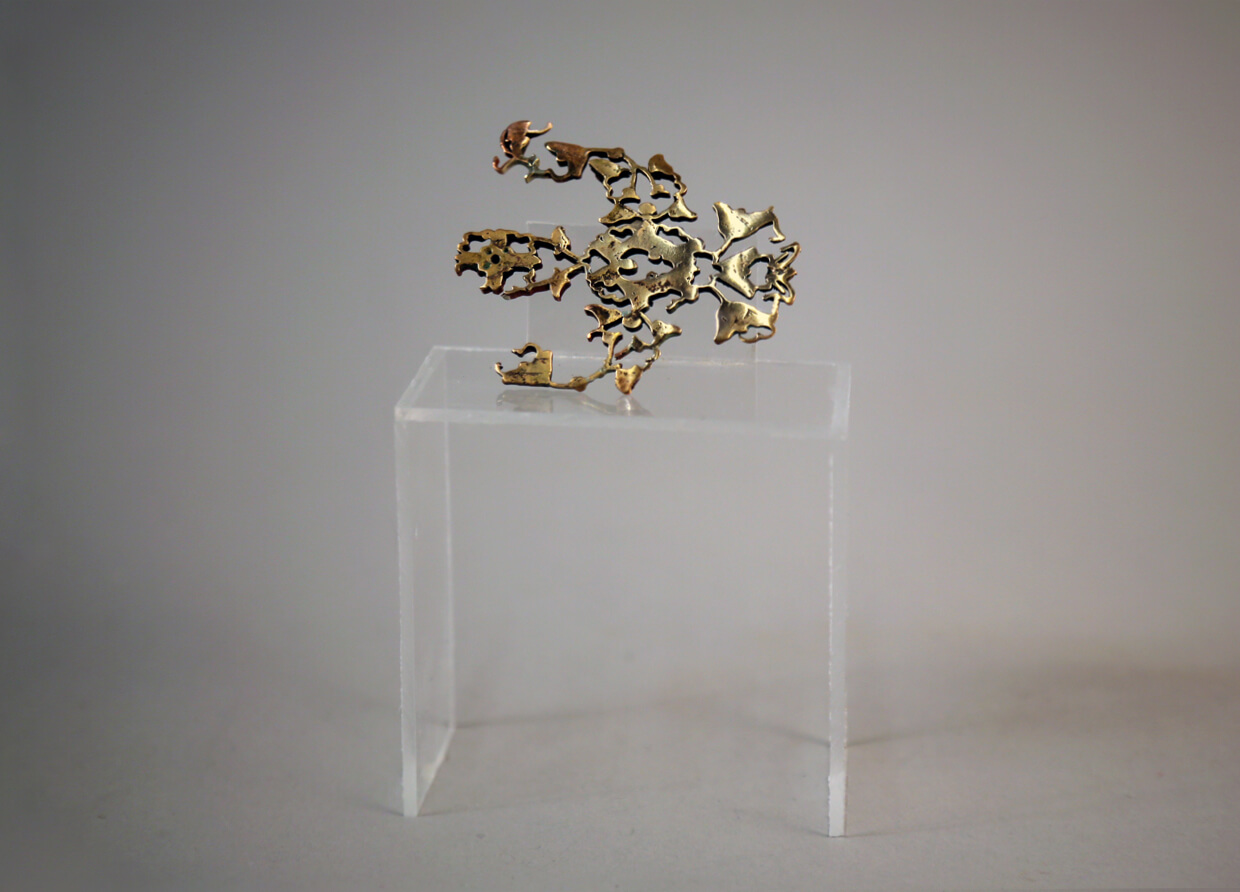 Where do you see your practice going next? Any major changes happening in the studio?
Next up is the larges and final (maybe) Monument, inspired by the Altar of Zeus, along with some full head, helmet like Ornaments.  I am interested in sound, interactivity and performance for these works which are new concepts to me as I always have been very object-oriented.
Next-next up, is some concrete prints of ancient house-plans and maps. I am interested in records of home-making/keeping. I am also really starting to think about functionality vs ornamentation which I predict will be my the next switch in the studio. I am playing with making purely ornamental works out of functional materials (prints?), and functional things out of ornamental forms (bricks?).
I don't know where any of this is going, but I prefer it that way. It's best when the work is one step ahead of you.