Can you tell us a little bit about who you are and what you do? 
My full name is Nassim Dayoub, and most people call me Sema (pronounced See-Ma). I'm a tattooer and painter based in Chicago (Odawa, Ojibwe, and Potawatomi land). I'm a mixed-race Arab-American and I would say my gender falls somewhere between truck dyke and 90's punk boy.
How did your interest in tattooing begin?
I've been drawing for as long as I can remember and have always been extremely drawn to tattoos. When I was super young I would draw all over my arms and legs — to my parent's dismay. One of my dad's friends had a Tazmanian devil on his calf. And this woman at our church was completely covered in tattoos – I was so obsessed. I eventually got into punk rock and the DIY music scene and tattoos were everywhere. I remember always knowing that I was going to be covered, it was just a matter of time.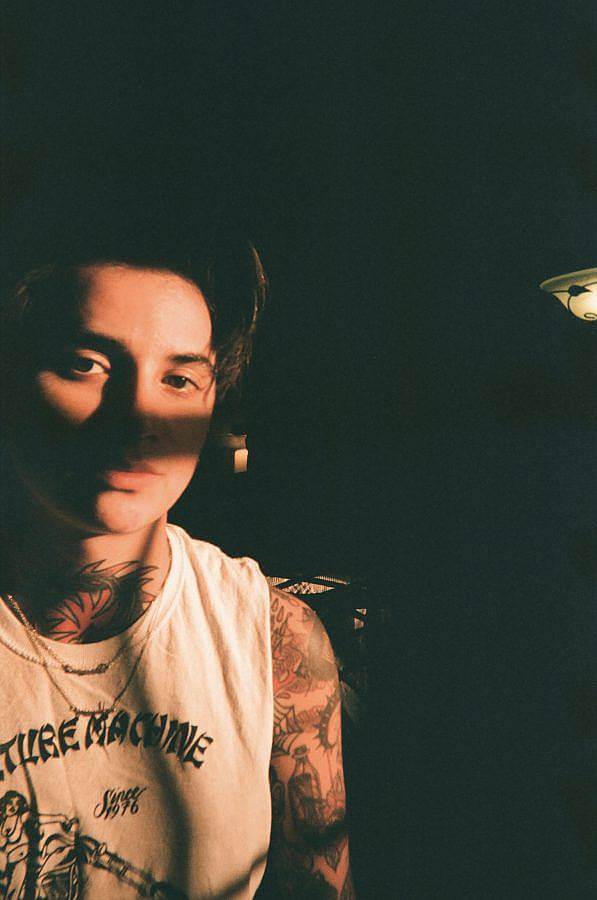 "MAGIC IS THE SCIENCE AND ART OF CAUSING CHANGE TO OCCUR IN CONFORMITY WITH WILL." What role does magic play in your art and tattooing?
That's a quote from tattooer Pat Fish. A friend gave me a copy of Pat's writing years ago, and it impacted my understanding of what we do. I think about magic being this thing you can't really explain, but it completely changes you. You almost have to submit yourself to it. Tattooing is one of the most magical experiences I know of, permanently altering your body. There is so much ritual involved and it is a practice that is as old as humanity. There's so much we can't explain about it, but the power of tattoos is undeniable.
How does the "power of demographics" relate to your practice?
Reclaiming the power of tattooing is at the center of my practice. I've been learning about the radical potential of tattooing and how to develop a trauma-informed approach from my incredible friend Tamara Santibañez. I've learned so much from the Prison Abolition movement, Black Lives Matter Movement, Indigenous Resistance, Trans Liberation, Sex Workers organizing, and the Disability Justice Movement on what it means to reclaim power in a body that has been systematically oppressed and marginalized. I'm trying my best to apply these lessons to my practice to be the best tattooer I can be in the fight for liberation.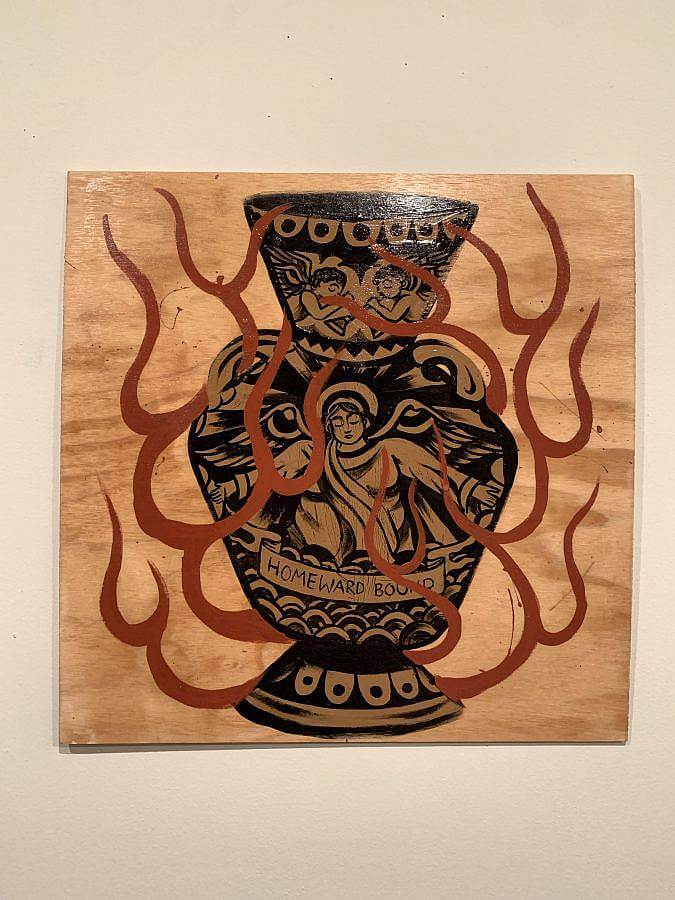 What has the experience been like as a co-owner of Time Being Tattoo? 
Me and my friends Keara McGraw and Emily Kempf decided to open Time Being about two years ago. We wanted to intentionally come together and create an ideal workspace. The shop is covered with books, plants, and art from our friends and favorite tattooers. It's a cooperatively run space open to our extended community. We've used the shop to host events, mutual aid drives, and educational training sessions. We've also been able to host so many incredible artists from all over the world. It's definitely a space that I'm extremely proud of and grateful for.
You've written about New Symbolism, and you've mentioned its influence upon your work. What does New Symbolism mean to you?
Everything that I do is in reference to someone or something that's inspired me. New Symbolism is a reference to Ed Hardy and Leo Zulueta's magazine New Tribalism (Tattoo Time, 1982). "New Symbolism" is a zine that I wrote as a tribute. I think about symbols being the basis of tattoo imagery and the very basis of communication. Symbols are our way of boiling down massive ideas into visual images that are then used to represent so many people's experiences. Symbols transcend language, and when tattooed, they transcend time. I think about two of the most popular motifs in tattooing: the skull and the rose. The skull symbolizes death and the rose symbolizes life and love. These two symbols on a body can tell endless stories. New Symbolism is my ode to symbolism itself.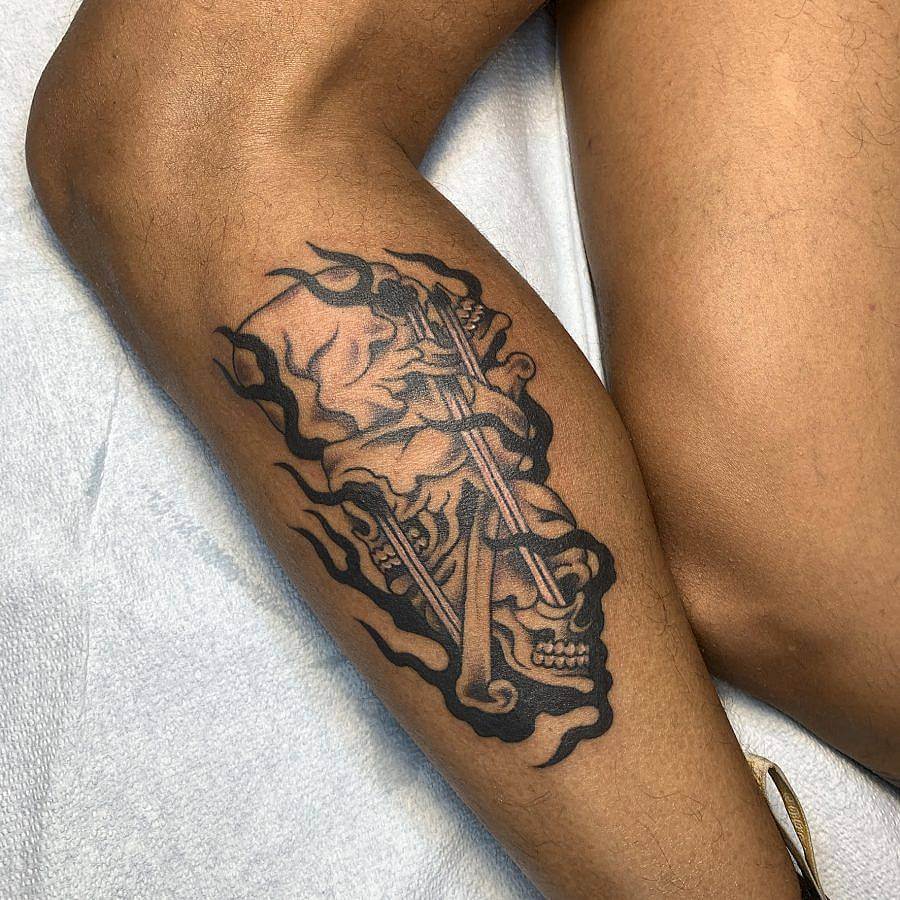 "Who do we think we are to mark creation? To alter our own course? To speed up our learning? To declare ourselves healed? To decide we are finished?" Can you elaborate on this stanza in your written work, New Symbolism? 
Absolutely. I wrote this in a period of immense transition in my own life. Up until that point, I was working nonstop–truly eating, sleeping, and breathing tattooing. I had a lot of people asking for my designs before I really learned how to make good tattoos. I worked extremely hard to get to the point where my tattoos were solid, as fast as I could. This meant getting my body covered at an early age, so I could learn by watching people tattoo me. This stanza speaks to that younger self that thought I could speed up my own learning and my own healing. I truly believe that tattooing is a sacred tradition, and I always want to be humble and grateful for my small place in it.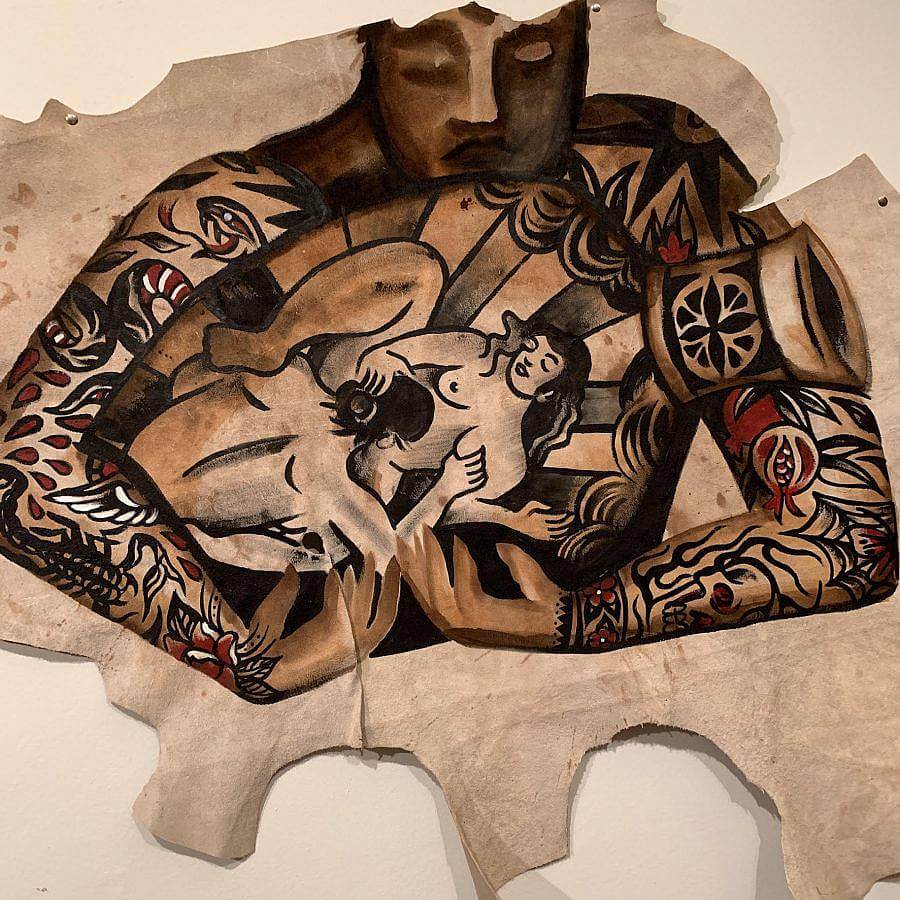 How do your painting and tattooing practices relate to one another? Have they occurred in sync, or did one catalyze the other? 
I was painting before I started tattooing. And there were about two years where I barely painted at all, just focused on learning the craft of how to tattoo. Now I paint to release a lot of the energy that I get from tattooing. I paint large scale and with loose brushstrokes while I try to tattoo tight and clean — taking my time to make an image flawless. Every tattoo is a collaboration between me and the person wearing it but every painting is a chance for me to fully let loose. My paintings are absolutely informed by the history and traditional canon of tattoo imagery. But more and more I would also say that my paintings are the starting point for a lot of ideas that end up on skin.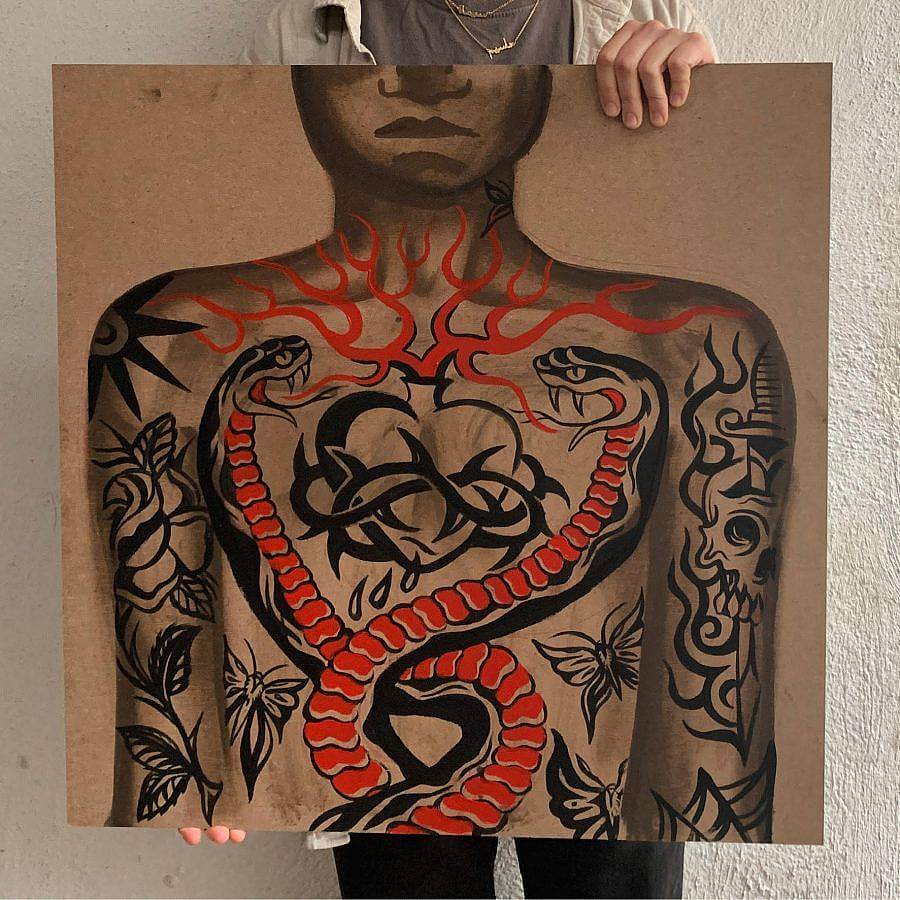 I've been stuck on this phrase from your bio, "the erotic as power." What role does this play in your tattooing? 
Audre Lorde says "The erotic offers a well of replenishing" in her 1978 essay "Uses of the Erotic: The Erotic as Power". I've found that I do my best work when I pour all of myself completely into the work. But what is left when you've given everything? The erotic power within myself is the force that sustains me, nourishes me, and helps me to move forward. It is a fierce reclamation of queer sensuality and divinity. It is a well of endless inspiration.
Your work builds off of the visual language of "traditional" tattooing. What other tattoo styles and cultural imagery come together to influence your illustration and tattooing? 
I've always thought of my work as a representation of the identities that I exist within. I do American Traditional Tattooing but I'm also informed by my Syrian background. I look at Syrian art and Middle Eastern tattoo practices. I'm extremely inspired by pottery from Raqqa and Armenian pottery. I also love old tattoo photographs and the work of Thom DeVita.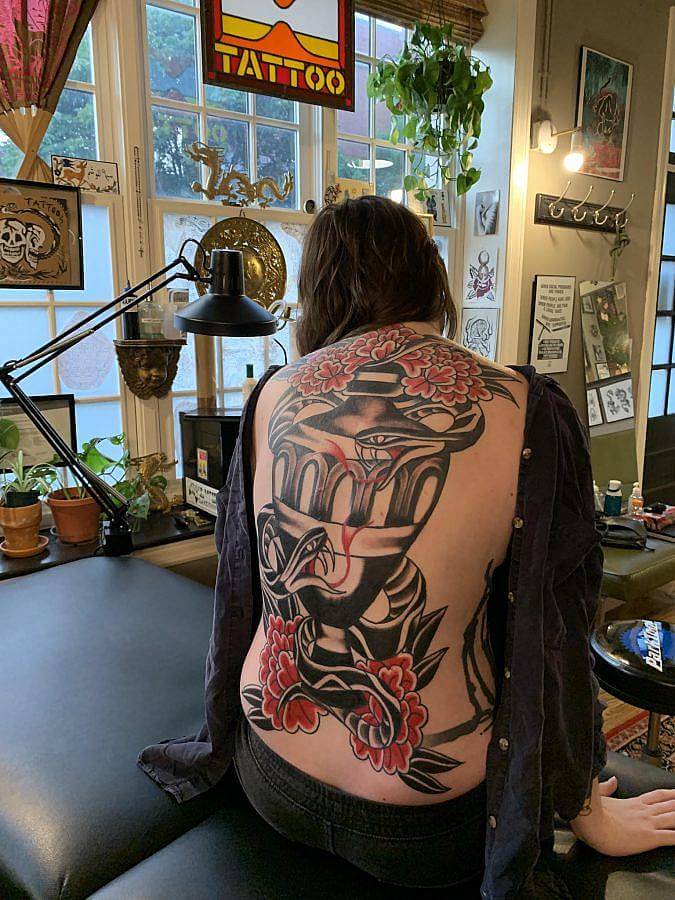 How have you been approaching tattooing amidst the reality of Covid-19? 
I've honestly been taking it day by day and embracing this time to focus on building a solid studio practice. I spent the first three months of the pandemic just making paintings (not tattooing at all) and it looks like it's about time to start doing that again. As the cases rise in Chicago I want to do what's best for my community and my clients – if that means taking another break from tattooing, that's totally fine with me.
What are you reading right now? 
Right now I'm reading PostColonial Love Poem by Natalie Diaz and A History Of My Brief Body by Billie-Ray Belcourt.
Do you have any upcoming projects?
My incredible friend Ken Folk is curating a show called "Home is A Wound," and I'm so excited to be a part of it! I'm also working on a series of large canvas figure paintings that should be done in the Spring of 2021.
Interview composed and edited by Amanda Roach.