Tell us a little bit about yourself and what you do.
My name is Sam Dybeck and I am an artist and arts organizer living in Chicago.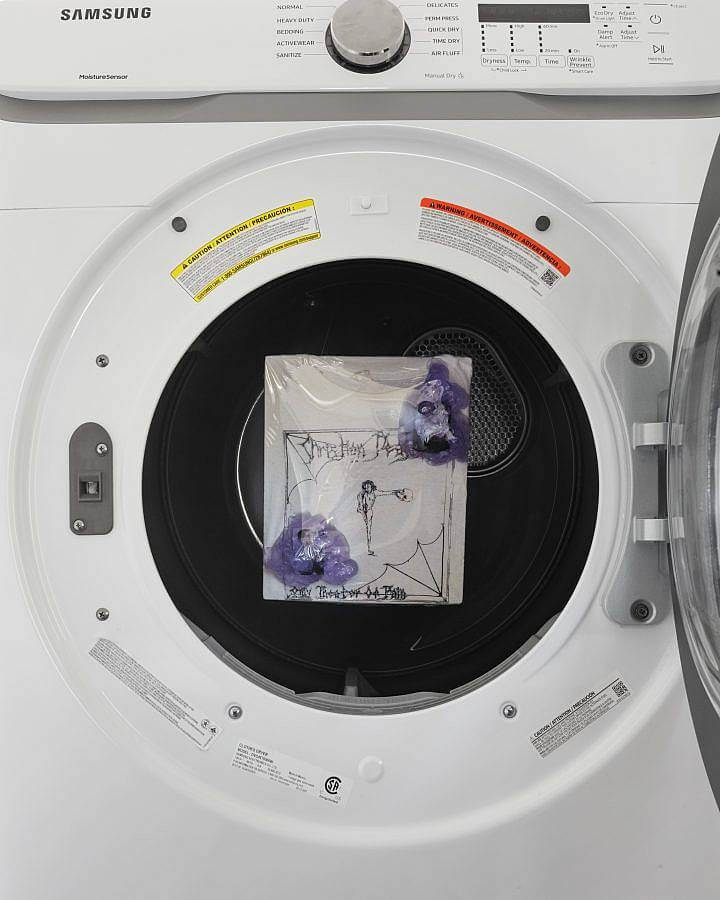 What catalyzed your interest in art?
I think that my parents were very welcoming to creativity in my household when I was growing up. Everyday my dad would drop me off at daycare on his way to work and before he would leave, we would draw together. He worked as a furniture salesman and always told me that being able to draw was a useful skill; I was also really into legos as a kid and liked to build things. My dad had a few cars and motorcycles that he enjoyed working on and my mom loved to cook and I think that really encouraged me to have some sort of endeavor/hobby that I was passionate about and willing to put a lot of work into solely for your own satisfaction.
It wasn't until college that I realized that you could even pursue an education in art. I took a drawing class as a required elective at my community college and I was really blown away by the attitudes of the faculty and their approach to learning. In many ways it seemed like an alternative model to my understanding of academia and education. I began to gravitate toward photography and decided to transfer to a state university that had a photography undergrad program. A couple of years later, my partner and I moved to Long Beach, California and began to make more frequent trips to galleries and institutions in Los Angeles; at the same time, I was becoming more acquainted with art history, theory, and the prospect of being a "working artist", etc. I think that those few years did a lot to inform my aesthetic sensibilities and understand the things that were interesting and exciting to me.
How do you describe your practice?
I would say that I have a holistic approach toward making things and that I am more interested in communicating or mediating through my work than locating my work within a tradition of making or the utilization of a particular discipline. That being said, I like my practice to be very flexible in terms of the direction of the objects and materials I use as well as the topics that I research most of which loosely revolves around American culture, especially media consumption habits and the dissemination of information through the internet. I tend to gravitate toward found objects and images; I don't often feel that I have the desire nor the agency to make a fully proprietary work, I think my efforts are better used to respond to and re-contextualize the materials and information I come in contact with. When I was in school I realized that all of my favorite artists seemed to be more interested in the act of sharing or communicating ideas, and if you were in a retrospective of their works it would not be self-evident or formally plausible that they all came from the same artist. Having an ideology that is carried out through a studio practice or a conceptual thread running through multiple bodies of work became really exciting to me.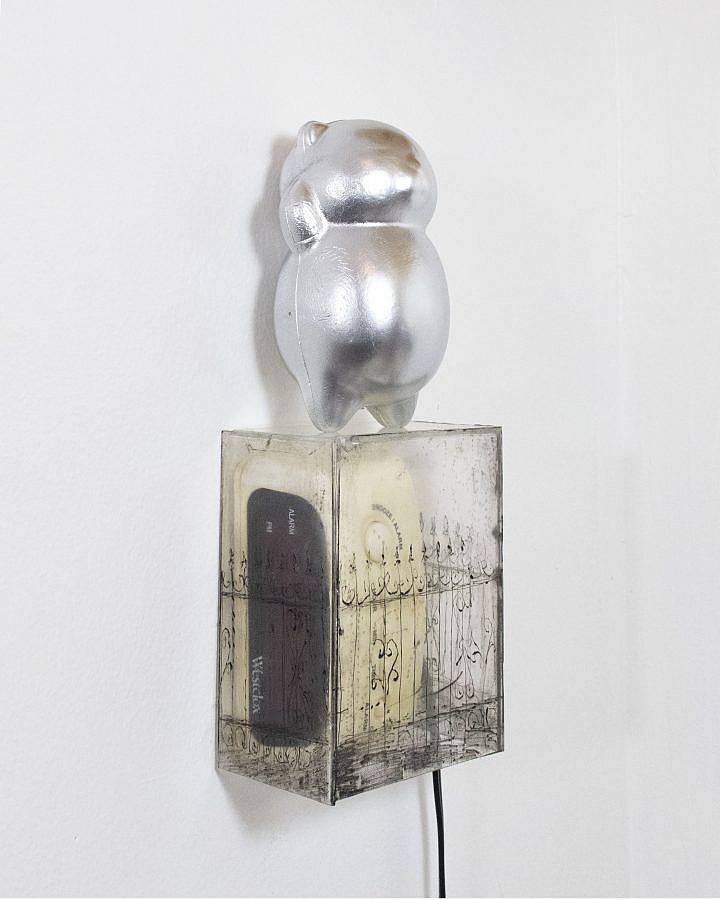 What and who is influencing your work right now?
Right now I am doing a lot of research on federal involvement in and infiltration of American counterculture specifically in Southern California. I am really interested in researching alternative and fringe ideologies, like conspiracy theories, against the backdrop of a daily overload of information. Having lived in Southern California I feel a geographical connection to a lot of these stranger than fiction happenings that took place there between the 1950's and 1970's and I have been interested in creating a frequency between between those occurrences and the contemporary, social and cultural concerns around trust, safety, espionage, and moral panic. I spent the past few months researching the Patricia Hearst kidnapping and trial, which was kind of a continuation of what I was getting at with The Issue of Discipline. These things always lead me to other sorts of concurrent or consequential research topics which makes me really excited.
Love is also always my main driving force.
What is one of the bigger challenges you are struggling with and how do you cope?
Being burnt out :/ I only have so much time and energy and I tend to overcommit to things. It's definitely difficult being part of a community that has to operate outside of/on top of a 9-5 schedule. I don't sell very much work so realistically I end up spending money I make at work on materials so that I can spend more of my free time working in the studio… I think it's also important to set aside time to visit art events and gallery openings too. I enjoy a lot of the conversations that I have and a lot of the people I get to meet. It's good to engage with a local community especially since I consume/view a lot of art online. Which has its own problem. I am also super addicted to using my phone, it's gotten so bad over the past few months. I feel really conflicted about it because I have been fortunate to have made a lot of friends online and have been introduced to a lot of amazing things I would not have otherwise. But it's pretty bad. I feel like when the idea of "F.O.M.O" entered the zeitgeist it was identified as a problem because people felt left out of real life experiences that they were seeing others have through their screens but now I am checking my phone so constantly to avoid missing anything on my timeline, which I hate. Also, the act of scrolling through the accomplishments and significant, post-worthy moments of my friends and peers while I am on the sofa or waiting for the bus is definitely going to make me feel lazy and jaded.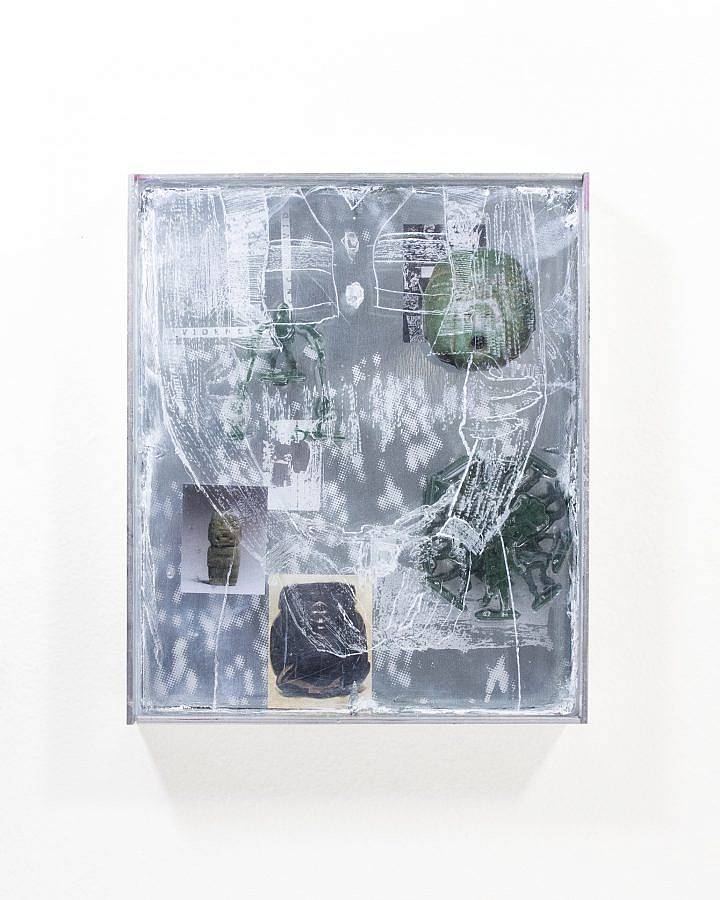 You are a LVL3 alum – what do you think the future holds for DIY and artist-run
gallery spaces?
Yes! I am very thankful for the time I spent at LVL3 and the years of rewarding experiences and opportunities to learn. I feel like most of the people that have come into my orbit in Chicago over the past three years were directly or indirectly because of my involvement with LVL3 and for that I feel very fortunate! I think it's complicated. Honestly, the future looks kind of grim. Most of the spaces that fall into that tier of gallery (DIY, volunteer run, etc.) are fully funded out of the pockets of their operators, their patronage consists of other, local artists and other organizers that likely fall into the same tax bracket and don't collect work from said galleries. More upwardly mobile, collector-inclined individuals are likely not going to visit these spaces for all sorts of reasons, thus this type of gallery seldom evolves into a full-time, income-generating endeavor based on patronage and subsequent sales alone (when they do, that is great). These spaces are run solely by the will of the folks involved and when those individuals who manage these spaces fall victim to their impending financial or involvement obstacles they fizzle out or the shows become painfully mediocre. Despite those conditions, I am hopeful. Running a gallery is a lot of hard work and right now there are a lot of financial barriers to having a curatorial practice and for that reason I feel that the exhibition spaces and projects that end up sticking around and overcoming those obstacles have really strong programming and contribute in meaningful ways to their communities. There are plenty of ambitious organizers and curators (especially in Chicago) right now that are doing very exciting things. It is important to remember that the return on investment for these things is primarily cultural, nothing lasts forever but hopefully that keeps things going.)
Tell us about your recent exhibition The Issue of Discipline at Quarters Gallery?
The Issue of Discipline is a body of work that I made for a solo exhibition this past Summer in Los Angeles. The exhibition consisted of four works and an accompanying publication and was interested in Southern California as a geographical site for mind control experiments, cult involvement, and violence, paralleled with fallibility of nostalgia, the state's decade specific cultural output, and the withholding of selective memory. The works titled Bungalow and Dick Laurant had scent components which both diffused the cleaning product Fabuloso into the exhibition space. I was very much interested in depictions of Los Angeles in TV and Film as well as appropriating elements from mid-century design and geographically specific subcultures. A physical catalog was also produced for the show, which contained an essay that I wrote alongside written contributions from Thomas Macie, Milo Christie, and Nina Miuccia. I was very excited to show this work in Los Angeles after moving away from Southern California, because it gave me space to ponder a lot of very interesting history I had been overlooking. This body of work also served as a point to begin researching other really exciting things that I am and will plan to make work revolving around in the future! Once the show was installed, it felt like I had casted a spell of sorts; having united and activated this group of objects into one singular room.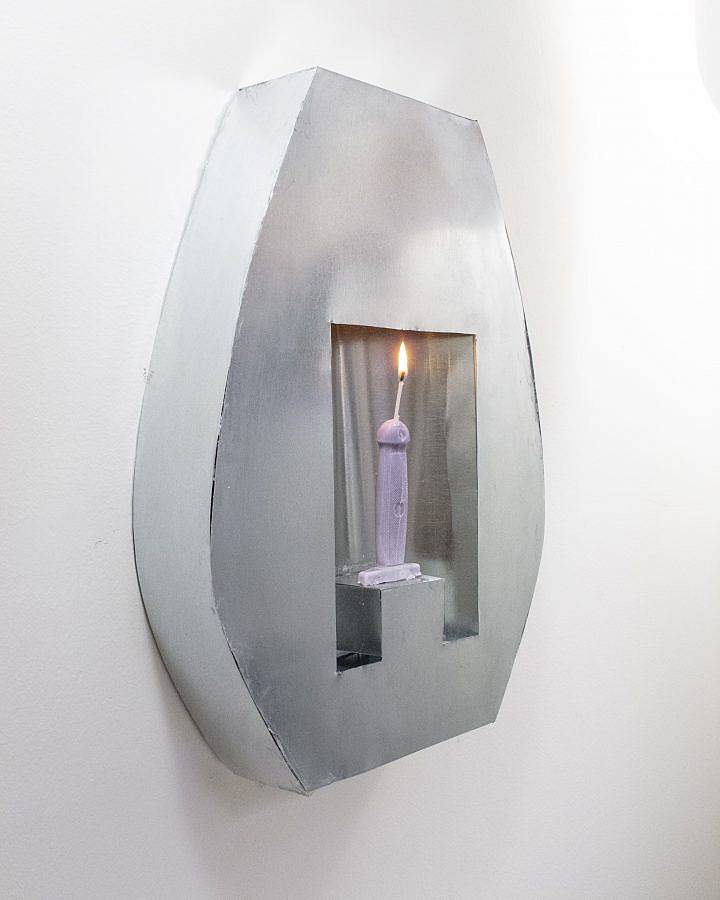 Do you have any upcoming projects you can share?
At the moment, I don't have any upcoming shows I have committed to but I have been working a lot in the studio and researching which has been really nice! I am looking forward to shutting myself in a little more as the winter approaches and making some new work and relaxing more. As far as long term projects go, I have been collaborating with my good friend Thomas Macie on a series of works on paper that we have been sending back and forth to each other. Over the past three years or so we made about fifty works on paper that were lost in the mail and a few months back we decided to start the project up again. I will also be working on a new curatorial endeavor next year which I am very excited about…
What have you been reading and listening to lately?
Lately I have been listening to a lot! Fall has just begun so I have been listening to Sibylle Baier, Richard Hawley, Coil, and Nick Cave a lot. I think romantically about the changing of the seasons and music that is peripherally eerie and soft makes a nice backdrop for this time of year. I really enjoy podcasts too, Contain and Nymphet Alumni have been really big sources of inspiration for me over the past year. If I am ever stuck or don't know what to listen to I like to put on an East Side Story compilation album. The last novel that I read was I Fear My Pain Interests You by Stephanie La Cava which was really great. Lately, I have been spending much of my time reading Chaos by Tom O'Neill for research purposes and it has been fascinating. The next books I have on deck are Cutting Through Spiritual Materialism by Chogyam Trungpa,  After Dark by Haruki Murakami, and Burnout Society by Byung-Chul Han.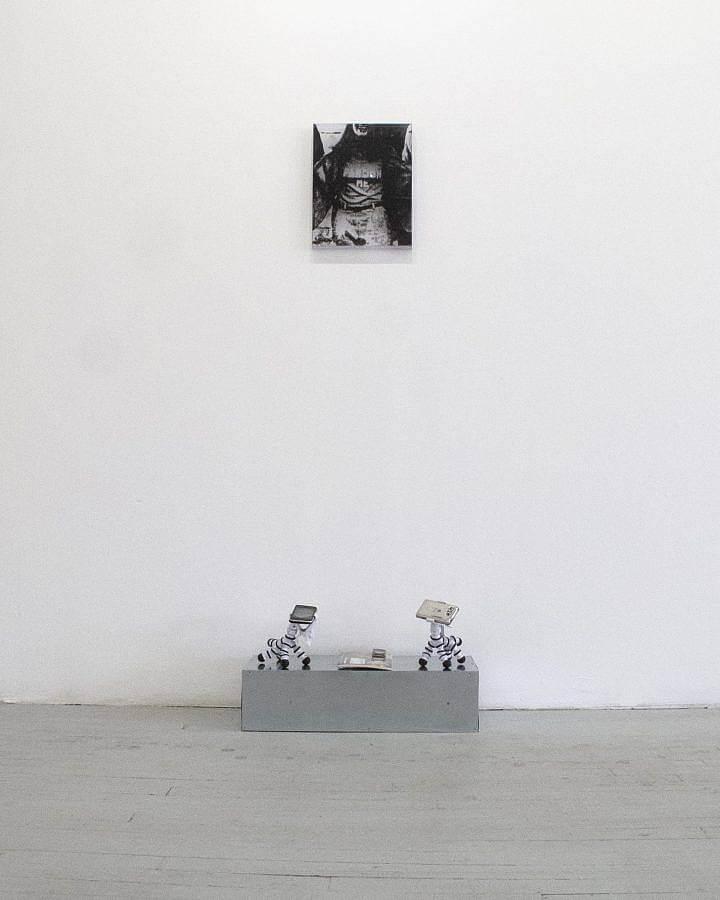 Who are some of your favorite artists?
Where do I start? I would say some of my all time favorites are Arthur Jaffa, Eva Hesse, Bruce Nauman, Cady Noland, Sarah Lucas, Darren Bader, and Robert Rauschenburg. A lot of my art consumption/viewership is online and I feel like I find new artists everyday that I am really excited by just visiting blogs and scrolling on instagram. Lately, I have really enjoyed work from Devin T Mays, Nina Hartmann, Mario Ayala, Craig Jun Li, Exene Kairos, Manal Kara, Graham Wiebe – the list could go on forever.
What's your hottest take?
Jerry Saltz is annoying, being mysterious is not cool anymore. People overuse the word "space" to appear smart. Tortello is overrated. Dunkin > any other coffee franchise. Hennesey Youngman deserves way more credit for his contribution to performance art and education.
Any mantras?
At the beginning of 2023 I started telling everyone "this year is different" because I was feeling really optimistic and hopeful. Others told me they felt that way too; I think maybe because, at that point, it felt like they flipped the Coronavirus switch off. People started repeating it back to me, so it just became emblematic of good luck in the new year.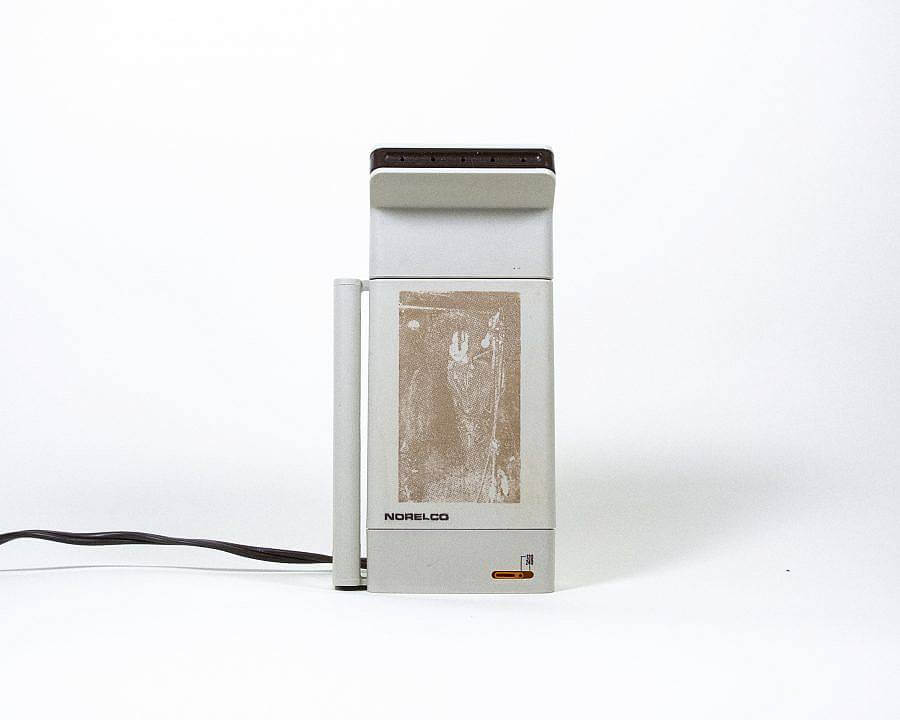 Interview conducted and edited by Natalie Toth