Tell us a little bit about yourself and what you do.
Born and raised in the cosmopolitan city of Accra, Ghana. I took an interest in drawing very early on as a child, reproducing Cartoon Network characters like Bugs Bunny, Duffy Duck, Scooby Doo, and Tasmanian Devil among others. I guess that began my path toward an artistic career that now spans painting, conceptual photography, and archival interventions. Far from the obsession with cartoons as a child, now my paintings borrow aesthetics from abstract paint dabs, stains, drips, and blotches resulting from transactional processes in paint retail shops across Accra and Kumasi. My eclectic interests in multiple mediums also drew in a photographic interest which began with an ontological question – what is the object of an image? And this probe has informed many of my experiments in manufacturing images via the expanded field of the photographic. From snap to staged, documentary to the archival, I like to approach imageing with a keen interest in unsettling the privilege accorded the picture as the site of meaning, by relying on historic events or even the material as a decoy. One can ascribe this to a materialist attitude towards the production of images that sides with the multiplicity and plasticity of the image in its phenomenological manifestations.
Could you describe your practice?
I guess this has been preemptively captured in the previous response. But let me also add that I began experiments in painting as a way of looking at the city. It was back in 2015 when I had the idea to hang canvases in paint retail shops across the two major cities in Ghana, Kumasi and Accra. For months and even years, these canvases will evolve in tandem with the transactional processes of paint retail as shop attendants mix paint and test them on these canvases for their clients. Most of the paint sold in these spaces are mostly used for buildings, kiosks, shops, stalls, which characterize the urban environment. Hence, observing the layers built up on the canvases is like simultaneously an act of un-enveloping time that has transformed the urbanscape. They almost have a documentary quality to them. However, in my new series of paintings where the layering is done expressively in the studio, time is flattened and fictionalized, and the ties to the urbanscape are severed. Another kind of experience is produced. The paintings rather become an exercise in listening. The core question I find in this process is how do I continuously allow what my body remembers, to permeate my cognitive activity? In the effort to circumvent cognition, the process of painting becomes another form of listening rather than representation. In a way, this attitude also resonates with my photographic practice where I listen to the medium's memory for a creative path.
What/who is influencing your work right now?
I will say that my paintings are indirectly linked to the experiences of urban spaces. But if you ask who, indeed a lot of my contemporaries especially those within the blaxTARLINES Kumasi community inspire me.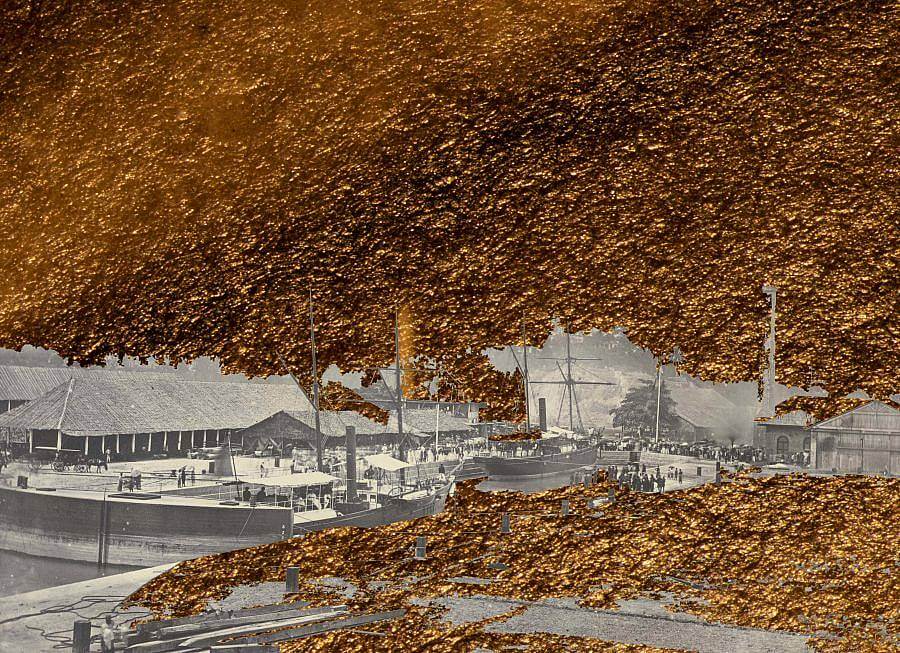 Who are some of your favorite artists?
I've got a tall list of artists whose diverse practices fascinate me. In no particular order let's say Benard Akoi-Jackson, Tegene Kunbi, Stacey Gillian Abe, Gideon Appah, Elena Greta
Falcini, Serge Attukwei Klottey, Regina Agu, Eric Gyamfi, Godelive Kasangati Kabena, Bianca Baldi, Ato Jackson, Rita Mwuena Benissan, Dawit L. Petros, Nontsikelelo Mutiti, Joana Choumali, Martin Akwetey Cudjoe, Priscila Kennedy, Al Hassan Issah, Gladys Kalichini, George Mahashe,… and the list goes on and on.
Describe your current studio or workspace (please provide a photo of the space if you
have one)

I compulsively documented my process and the studio but unfortunately, my phone got stolen just weeks ago, and with it, all my files since my free 5gig iCloud storage was clearly not enough. But let's see if I could pull one up from my IG for you. I should say after a long hiatus from painting, I finally returned to it, and for the past 8months that's all I have been focused on. So now my studio is filled with multiple canvases at different stages of completion and the floor is littered with acrylic paint buckets, tubes, bottles, and more.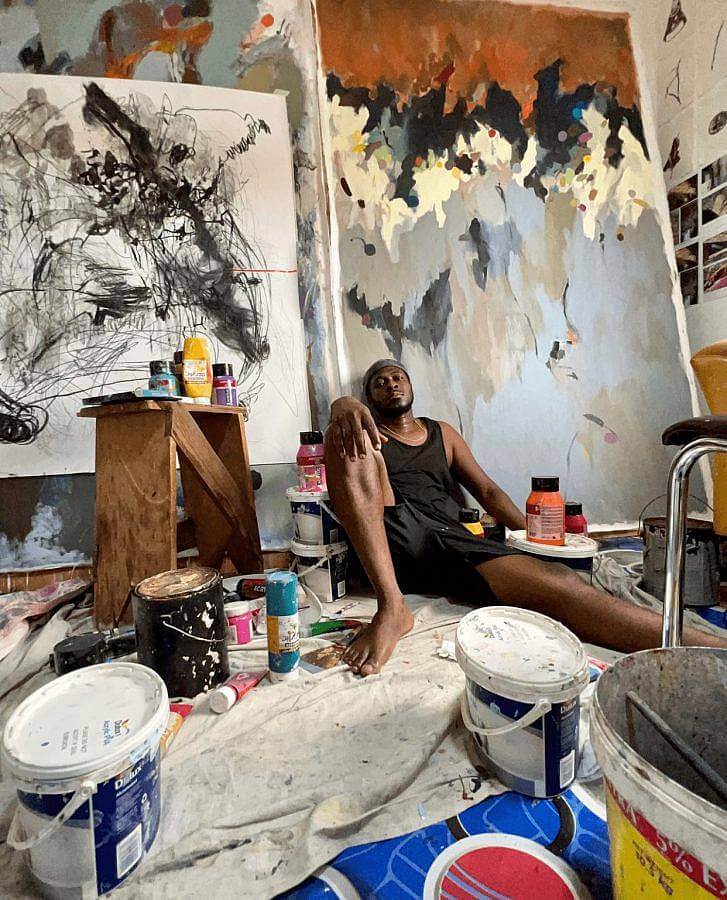 What do you want a viewer to walk away with after seeing your work?

Nothing! I'm beginning to feel that my art need not be like a sermon, a lecture, a rally, or even a protest. Being present with the work for however brief they can is enough. No need to be burdened with the task of leaving with anything.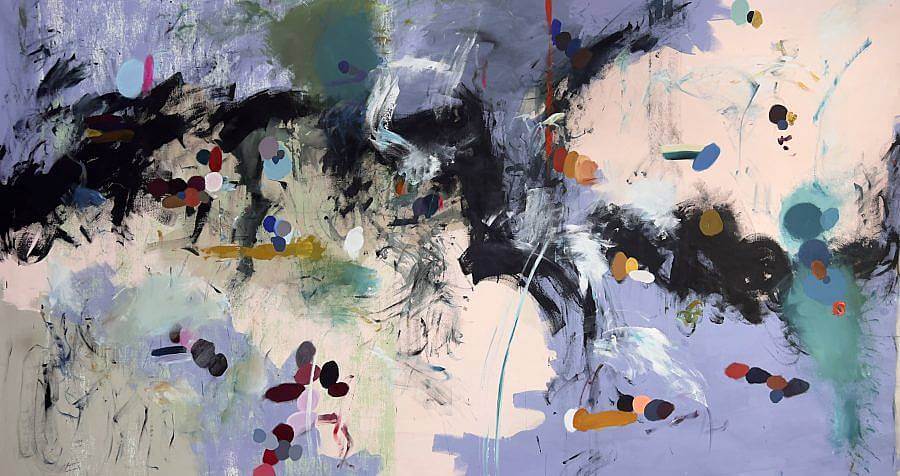 What have you been listening to lately?

Sam Cooke's "A Change Is Gonna Come" has been a constant feature every time I'm in the studio. Also, the two-part conversation between James Baldwin and Nikki Giovanni is so nourishing I cannot help going back to it every chance I get. But I must admit when I'm feening for some hip hop, Ko-Jo Cue's "Rich Dad, Poor Dad", "The Album About Nothing" by Wale, "2014 Forest Hills Drive" and "The Off-Season" by J Cole, E.L's "BAR 3", and Ye's "Donda" reverberates in the studio.
What do you do when you're not working on your art?

Every Friday my ritual is to go drink a beer or two alone at the beach during the day and join friends to play snooker later in the evening. I also delight in visiting artists' studios and engaging in enriching conversations. But since I've been traveling a lot lately, I try to spend more time with my family every chance I get.
How has participating in shows internationally affected your worldview?

There is a Ghanaian proverb that says "Anoma entu a, obua da" (If a bird doesn't fly, it sleeps with hunger). Sleeping with hunger is to wit: living with ignorance, limited exposure, reduced sensibilities to other people's existential realities, and so on. Therefore traveling has been my antidote to this hunger.
How has your process developed in the last year?
Being more attentive, patient with myself, and consciously listening as a way of being more present with each moment I'm blessed with.
What does creating on your own terms look like?
Freedom with a hefty sense of responsibility.
Interview conducted and edited by Wonu Balogun. Portrait credit: Ato Annan