Can you tell us a little bit about who you are and what you do?
My name is Ryan Whelan. I'm a trained printmaker turned painter. I live in Oakland, California, and I work at a wonderful place called the Creative Growth Art Center. Recently, my art practice has become more of an exercise in letting go and allowing the mistakes to guide the image a bit more. On a personal level, this has helped me deal with the global pandemic.  
How would you describe your collaborative partnership with Liz Hernández?
Unavoidable! Constant? Magnetic. 
Liz and I met during an exhibition at BAMPFA. We saw each other's art on the wall, and right away wanted to work together. A friend put us in touch, and right away Liz invited me to participate in a ceramic trophy project she was putting together. A few months later, I received our collaborative trophy for "putting my pants on every morning". Still the most prestigious award I have ever received. Collaboration is really the cornerstone of our relationship. We did our first exhibition together in 2016 at a gallery called Good Mother in Downtown Oakland. That exhibition tightened our bond. It tested our communication skills, made us realize the importance of understanding and articulating our voices, and allowed us to realize the beauty in empowering each other. It was this big collaborative effort that made us realize we worked better together. The next year we got married, which *spoiler* is our biggest collaboration.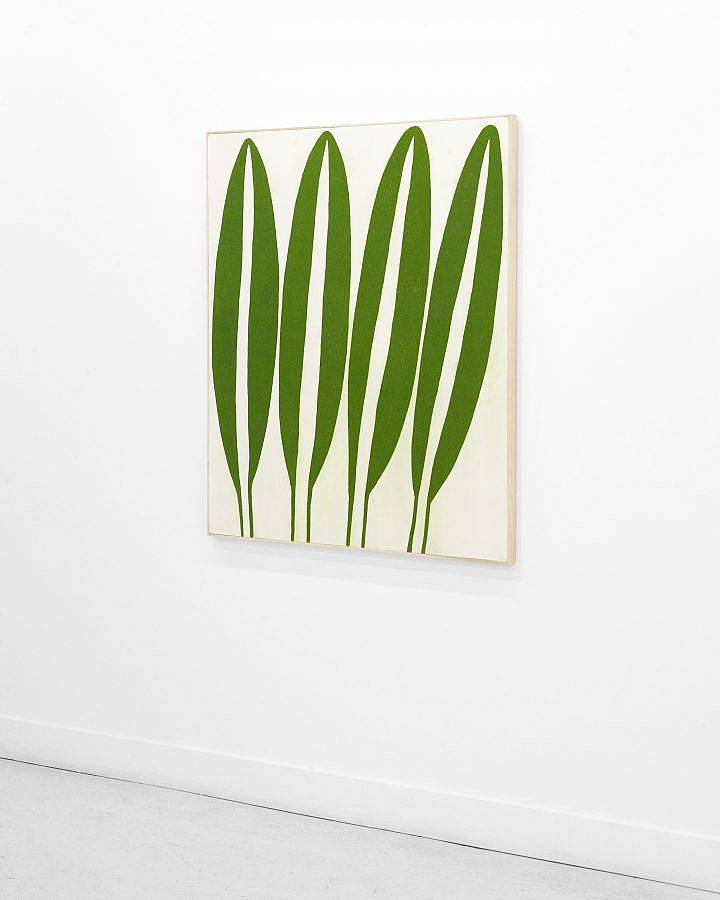 How do you feel your art addresses humanity's relationship with the land and the natural world? 
 I guess I've always viewed humanity and the natural world as the same thing. Like, humanity is actually just a part of the natural world, and we shouldn't act like it isn't — like we aren't. In this kind of thinking, a painting of a tree is also just a portrait.   
There are character and life in everything around us, and you can choose not to see it if you want to. That is sort of a boring and irresponsible way to live life though maybe. My art just gives people another chance to allow themselves to see that magic in the simple things that surround us. A recent mantra I've been telling myself to better understand my relationship to nature is "what you encounter, also encounters you."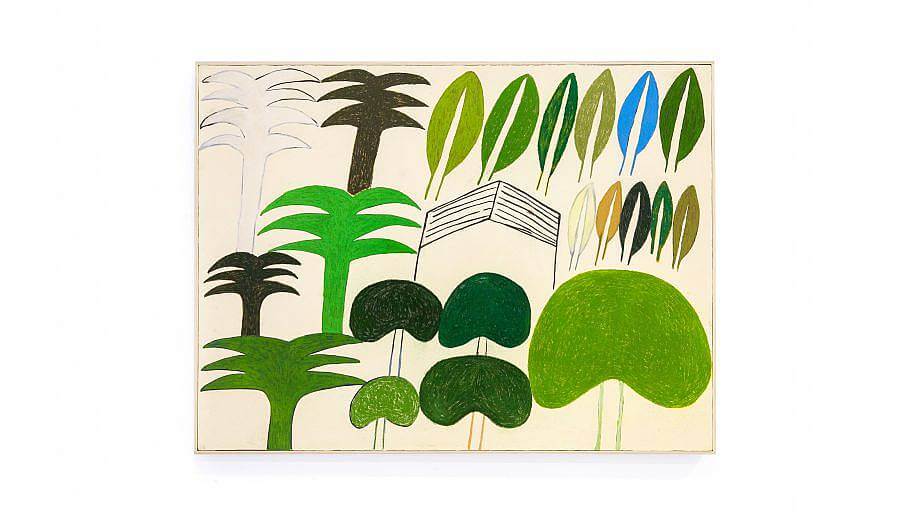 There is a precise but joyful simplicity to your visual language. You've broken this down in some sense, building off the concept of the humble food project. " The humble food object is the land, the sun, the farmer, the field, the market, the knife, the plate; it contains the potential to love, to grow, to transform." Can you elaborate on this quote? 

I try to seek out symbols or imagery that feel "essential" to me. The land is essentially lines and fields of color. The sun is essentially a yellow ball. In that same kind of reduction, the food on your plate is essentially the market, which is essentially the field, which is essentially the farmer, which is essentially the land, which is essentially the sun. There is a clear through-line here for me in terms of where my visual language comes from and how it relates to each other. I want to create a visual language that includes things I interact with daily. I guess that is where the idea of a "humble" object comes from. There is beauty and importance in the small things that make the rest of your life possible. 
In addition to colorful organic forms, a lot of your paintings incorporate detailed linear line work to depict buildings and non-organic objects. Can you talk about this use of line in your paintings and drawings? 
This comes back to allowing my visual language to approach that idea of "essential" symbols. I think the idea of a perfectly rendered drawing of a barn becomes kind of boring to me, I guess I could just look at a photo. I think it's more interesting to explore how space can be flattened or warped with impossible perspectives, which somehow don't really feel impossible at all. I like that art can make impossible things seem completely normal.      
I think I am also enamored with the idea of being able to draw a house, but at the same time, for it to also just be intersecting sets of lines, falling into a certain rhythm with each other. This might just be something that I do for myself in my work, but I appreciate being able to look at a drawing of a house and allow myself to see something other than a house. I don't want my images to ever offer a single answer to a single question. If a drawing does that, I feel it's successful. 
What artists have influenced your practice?
Chris Johanson, Forrest Bess, Eddie Martinez, Tal R, Tucker Nichols, Philip Guston, Al Feldman, John Martin, Rose Wylie, Chris Martin, David Korty, Nicole Storm, Dan Hamilton, Magdalena Frimkess…to name a bunch.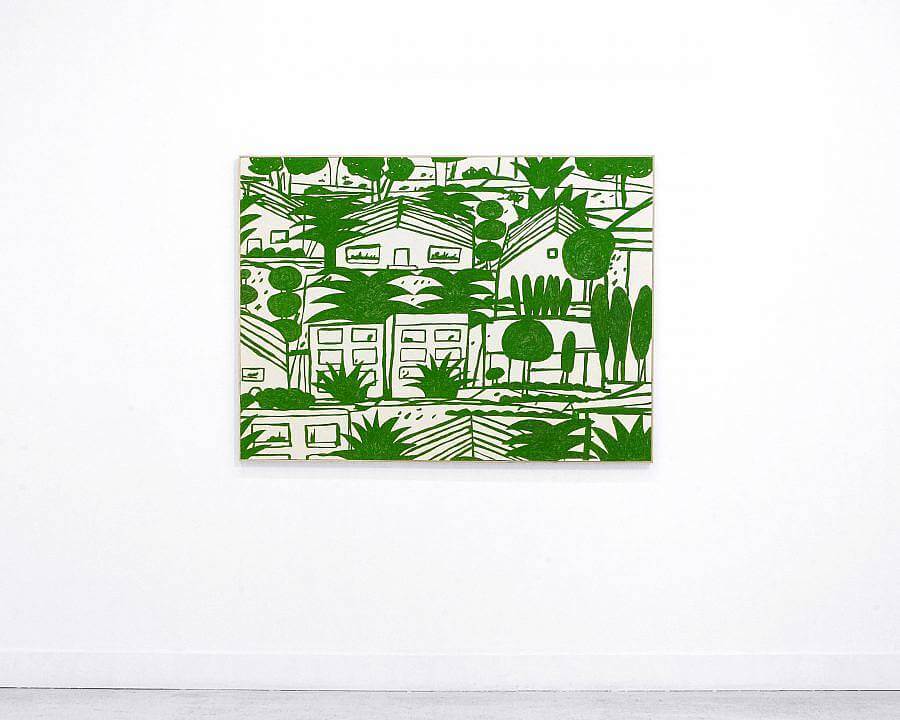 How has your working at Creative Growth affected your studio practice?
Working at Creative Growth has had a huge impact on my studio practice. The first year I worked at Creative Growth, it almost stifled my studio practice because I was constantly being inundated with amazing artwork that not enough people had seen or been paying attention to. I almost felt for a moment, "why make more art when there is so much amazing work that has yet to be seen". Eventually, I snapped out of this borderline nihilism and embraced some foundational values found in Creative Growth's studio: everyone should have the chance to express themselves. All of the artists at Creative Growth have taught me to not be afraid of who you are, and proudly let that show through your art. In the world you create with your art it's your rules.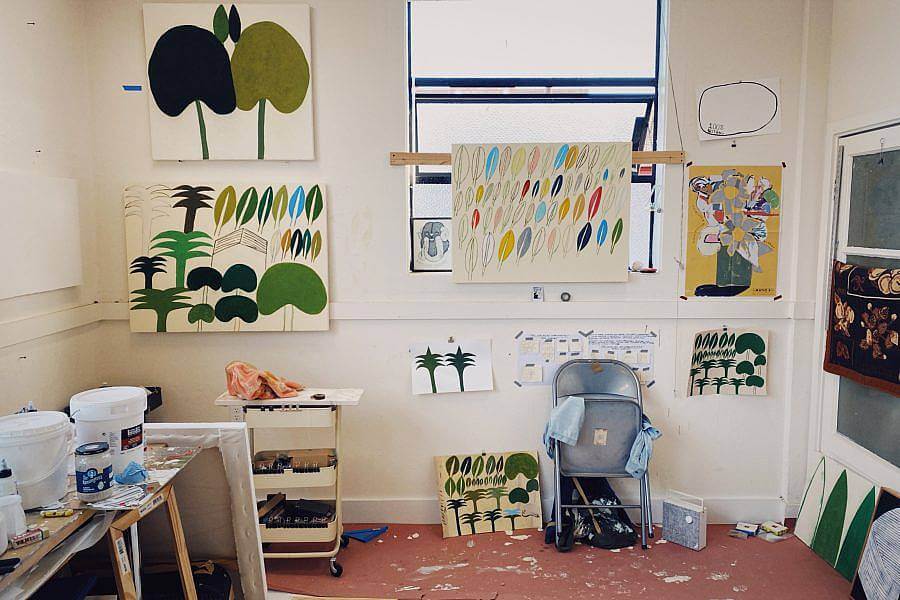 What is your current studio/workspace like? 
I currently operate a studio with six other people (including my wife) that is located in West Oakland. It used to be the office for some industrial building, and near the front door, there is a giant walk-in vault–the kind you see at banks. It's totally random. Other than that part though, the studio is pretty normal. We have six workspaces in the studio and a flex space where people can do larger projects like sewing or woodworking. We actually just got a new studio mate who runs a local printing company called Irrelevant Press, and they really add some energy to the space! 
Liz and I have our space pretty much divided in half. At one point we had the studio arranged so that we were faced away from each other while we worked; deliberately so we could stay focused on what we were making. Earlier this year, when we both started some clay projects, we decided to arrange the space so that we were facing each other while we work. That really added a new dynamic and made us realize, again, that our practices shine when we are in each other's light.  
My side is generally more chaotic than Liz's side. I like to spread out a ton of sketches (I always have many tiny pocket-sized sketchbooks going), and sort of surround myself with these images. Liz likes to keep very focused, and only have out what she is currently working on. I like to think with these two opposite ways of working, our little studio space maintains a certain harmony. 
Do you have any upcoming projects or shows? 
I actually just had a show close at the end of October. In the age of coronavirus, it was sort of a painful show for me to make. I'm glad I did though, I feel stronger for it. Head over to Part2 Gallery to check out the show. It relates to a lot of what we discussed here.
Interview composed and edited by Amanda Roach.