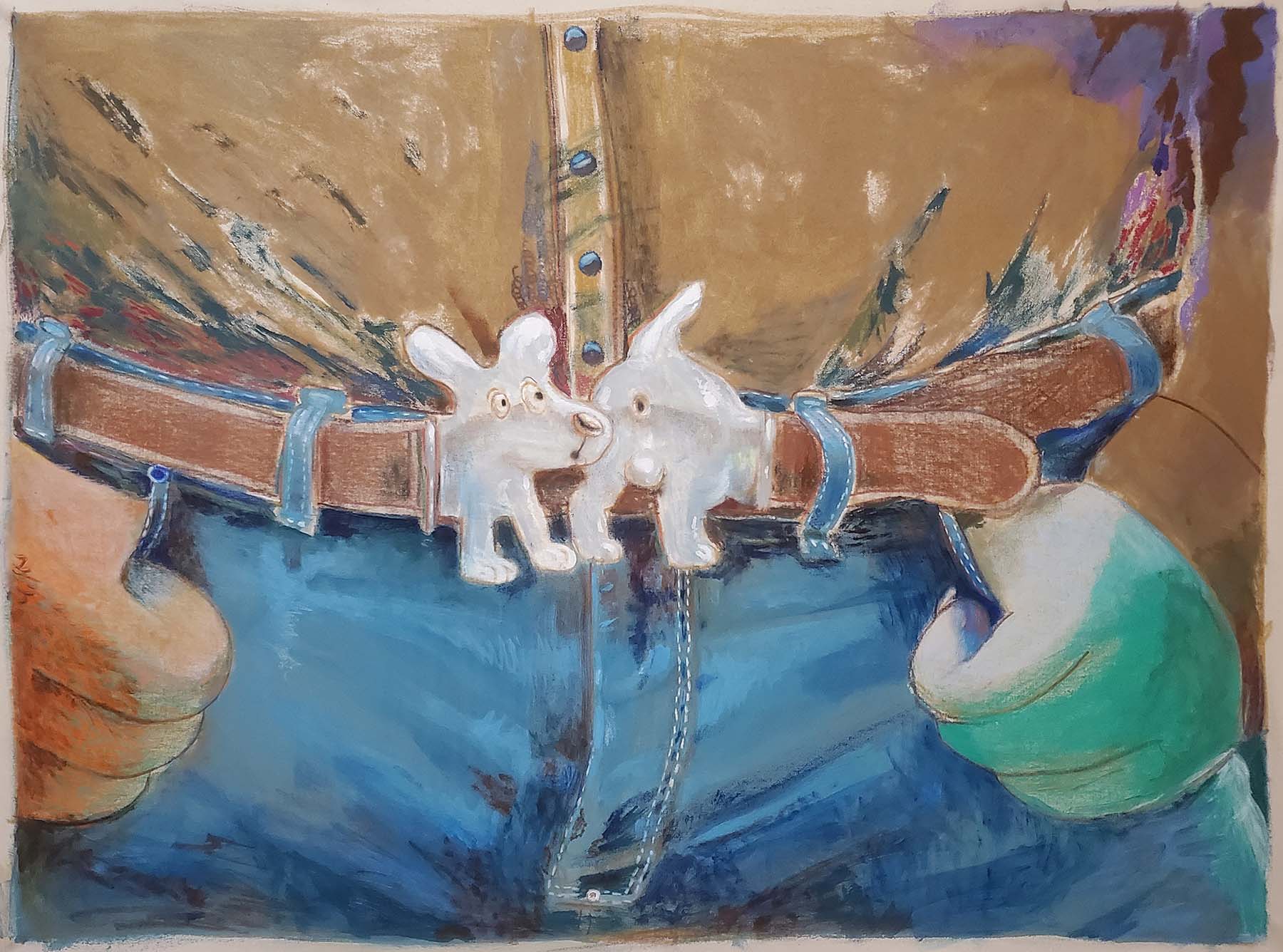 Tell us a bit about yourself and what you do.
I'm a painter and lifelong New Yorker. I paint about anthropomorphic dogs doing human stuff in dog ways. I'm some flavor of genderqueer. And I just finally nailed my vegetable fried rice recipe. Right now I'm in my temporary studio in New Jersey, where I'm working on a series of paintings about intimacy and our senses, particularly smell. I had my olfactory senses damaged by the first wave of COVID in 2020, and it's taken two years to come to terms with the partial loss. To cope I'm letting my dogs do all the sniffing for me.
You recently moved into your new studio for your residency with Liquitex. What are you most excited for now that you have these resources? How do you see this expanding or changing your practice?
Before I moved into the Liquitex studio I was painting out of my living-room-converted-to-studio in my apartment, so the abundance of materials and more so space has been a WILD shift. I'm already seeing it change how I work. Right now I'm painting with thick heavy body paint on jute, which is essentially fancy burlap. It's a material that loves buildup, so the paintings end up being a lot of things before they're finished.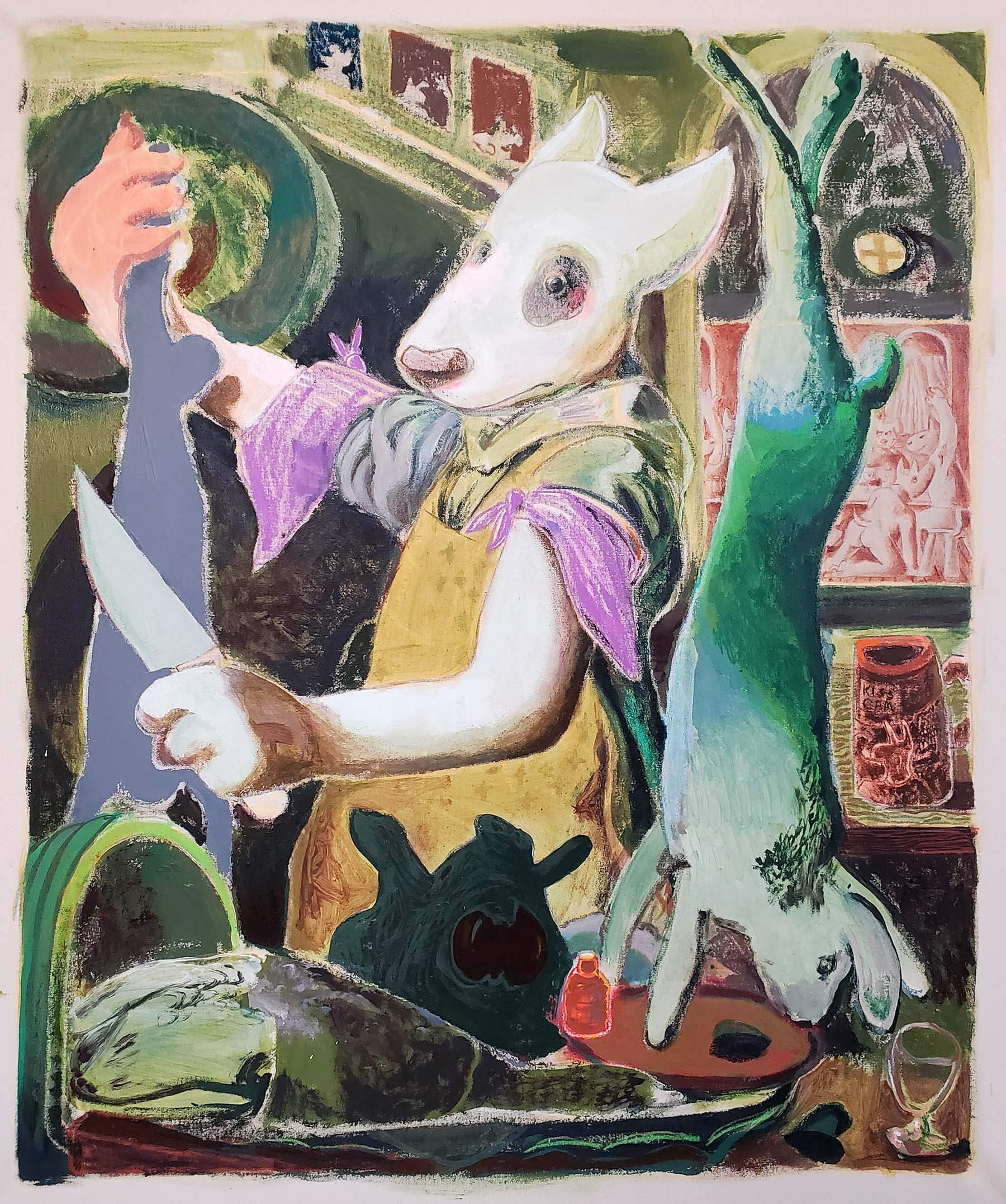 What have you been reading lately?
I recently picked up The Companion Species Manifesto by Donna Haraway. A little philosophy and theory book talking about the socio political relationship between dogs and people. Also reading a graphic novel about the murderer Ed Gein by Harold Schechter.
What is it about Dogs that makes for such effective personification? Have you ever tried using other animals as human stand-ins?
We project so much onto dogs! Aggression, loyalty, masculinity, virility, the primal desire we all have to take a shit in the open air. I imagine they project onto us too. Dogs emote with their eyebrows like we do, so we can read each other's feelings.
I tried making a whole cast of animals many years ago, when I was painting on baseball cards. But doing them in multiples, the dogs became a gesture and an emotion in a way the other animals didn't.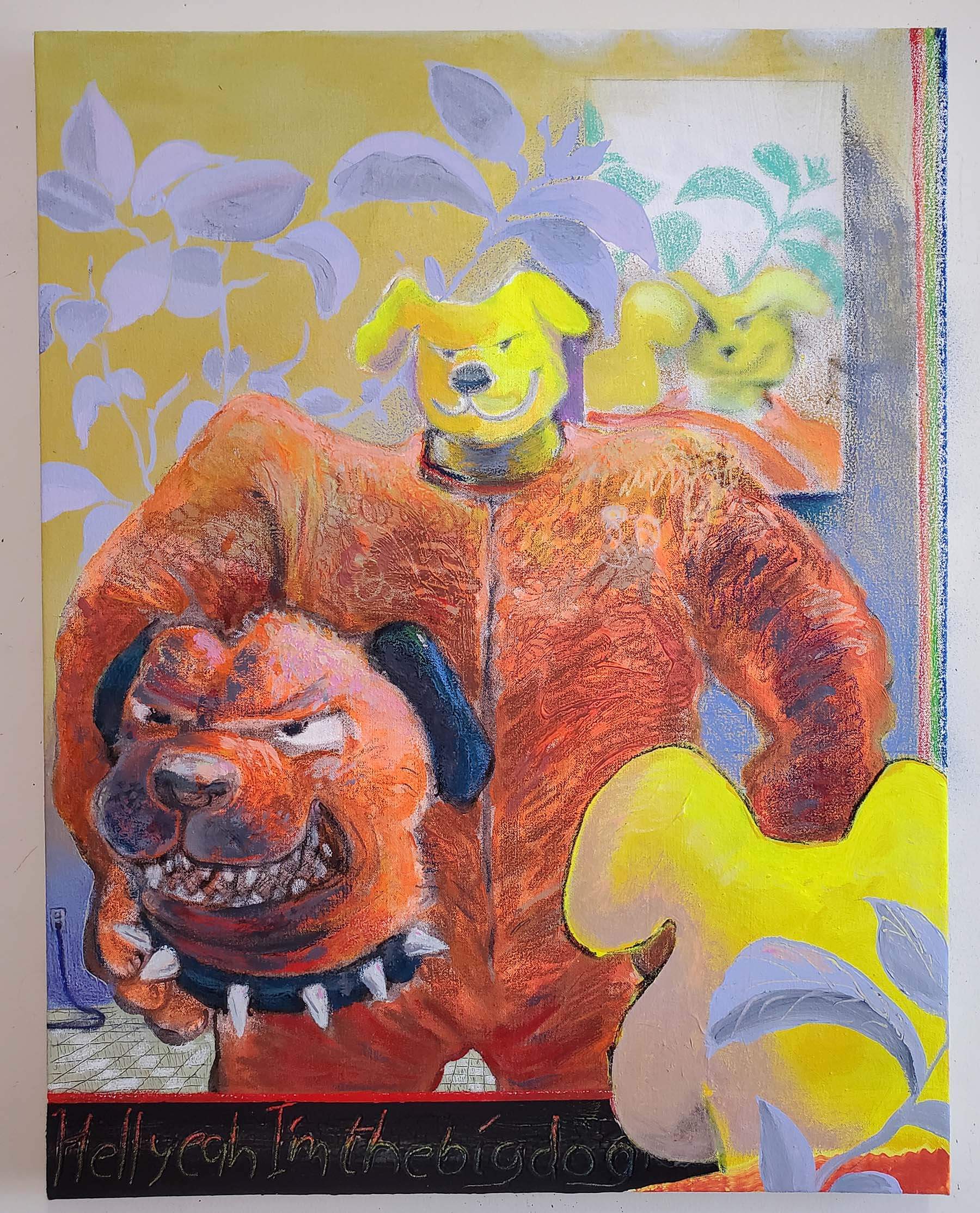 Does Furry culture inform your work, or would you consider it an entirely separate phenomenon?
Oh definitely furry! They and puppy players are huge influences on my work. I have a ton of respect for the creativity and resilience of these subcultures (look up how good they are at ousting Nazis from their spaces). I love how they celebrate exploring the self outside of your typical limits of gender and morphology. And some of those fursuits are truly masterpieces. I hope to make a dog suit some day!
What are some of your favorite exhibitions you've seen recently?
PPOW Gallery in Tribeca. They have a show up of David Wojnarowicz's letters to his lover in Paris. I love David's work, and he's so often depicted as this beacon of righteous rage and activism, which is perfectly fair. But it was so touching to see another side of him. His everyday worries and joys, shared with a significant other.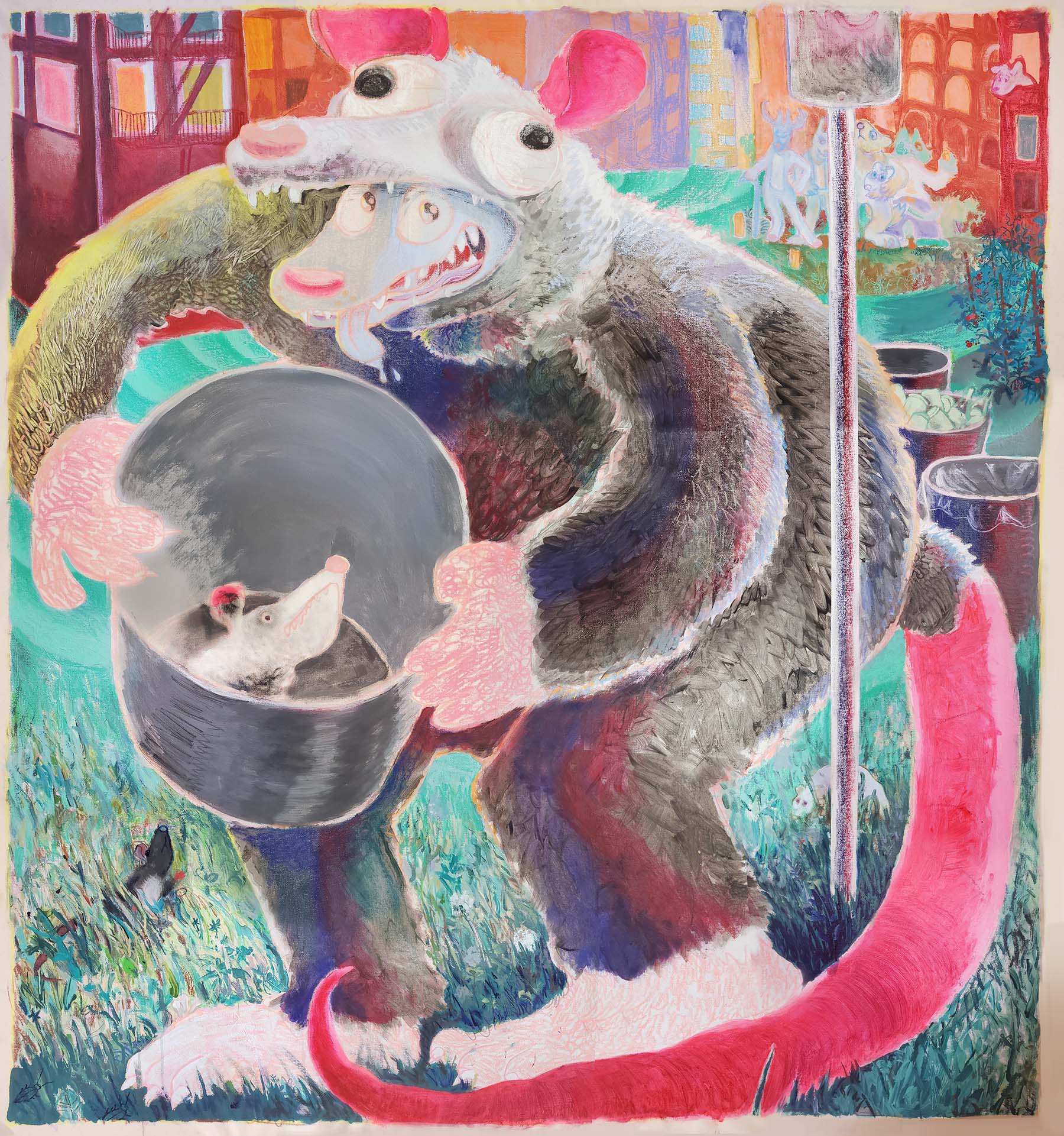 Do you believe that dogs are boys and cats are girls? 
I think American culture believes that! Notice how western cartoons have to put a bow and eyelashes on female dogs, just to make sure there's no "confusion"? We have funny ways of codifying gender, and we really foolishly put that so much onto dogs. That's why the anthro-pup ends up being such a good conduit for feeling out a queer body. For me they're a reflection of my experience as an AMAB person reckoning with masculinity the way a dog reckons with English. Are you a man or a woman? Woof bark sniff.
Who are some artists that you consider influences?
General Idea and Keith Haring were my first gay art loves. I was raised Catholic so the classics like Duccio and Bosch are deep in my heart. So many bleeing saints.
I'm also surrounded by amazing queer artists here in New York that influence the hell out of me! Shout-out to Justin O'Brien, Adam Linn, Pol Morton, and Daniel Morowitz.
What does your studio look like?(please include an image if applicable)
 A mess!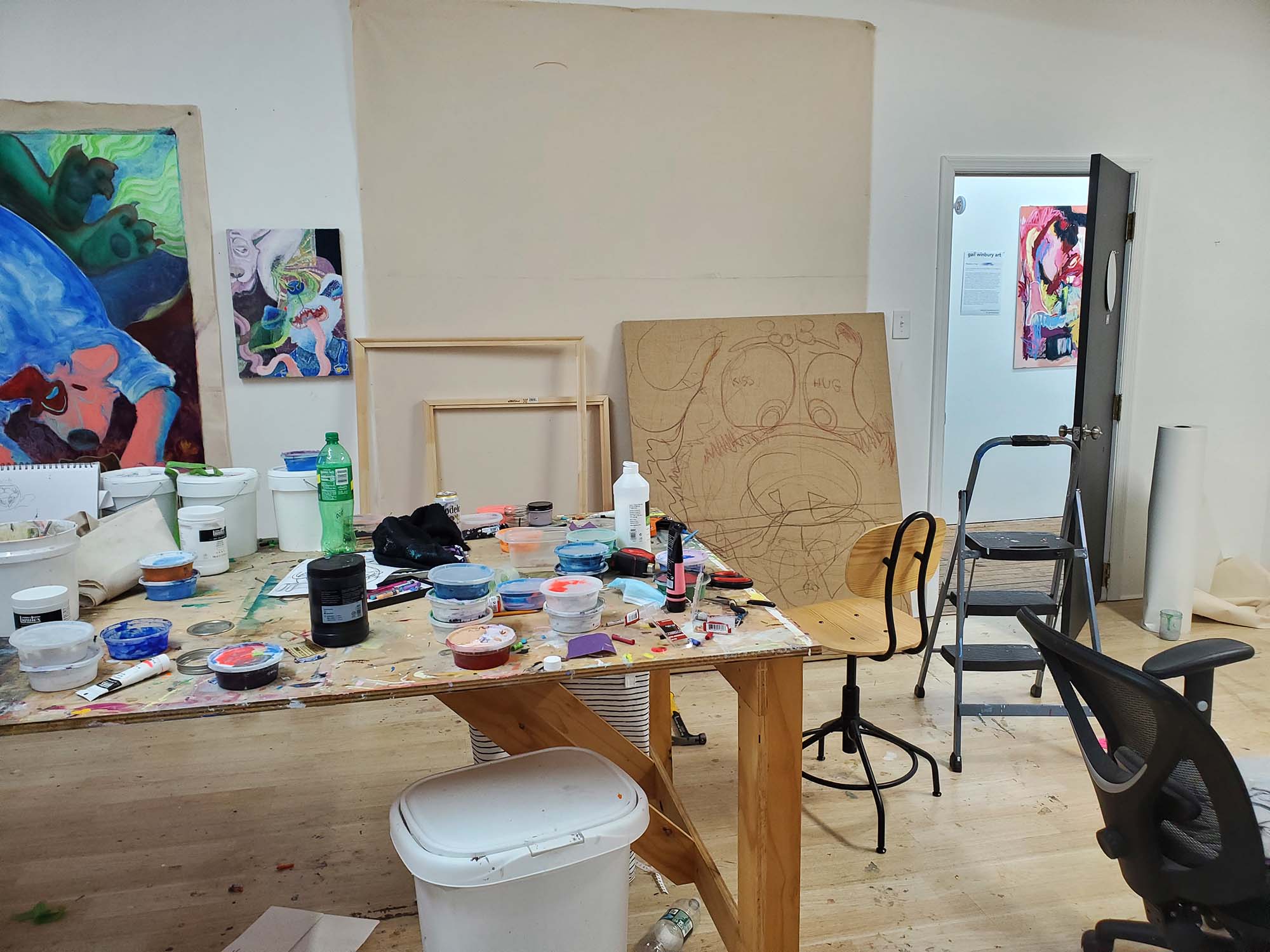 Tell us about the way that the exploration of different materials informs your practice. 
I've explored a lot of materials over the years, and approaching something new is always a vulnerable experience. A lot of my material exploration has simultaneously been a battle with machines. Working with a constantly clogging airbrush taught me patience. Working with a sewing machine to embroider taught me to work with your materials and not against them.  Some of the most I've learned from messing around has been with ceramics. You are truly at the mercy of the kiln when you make something out of clay. You can't be too precious!!
What is your favorite studio snack?
CHEEZ-ITS.
Any upcoming projects?
I've got some projects across the pond and in Asia next year that I can't really talk about yet. I've been meaning to get back into zine publication as well. And no concrete plans on the aforementioned dog suit, but stay tuned!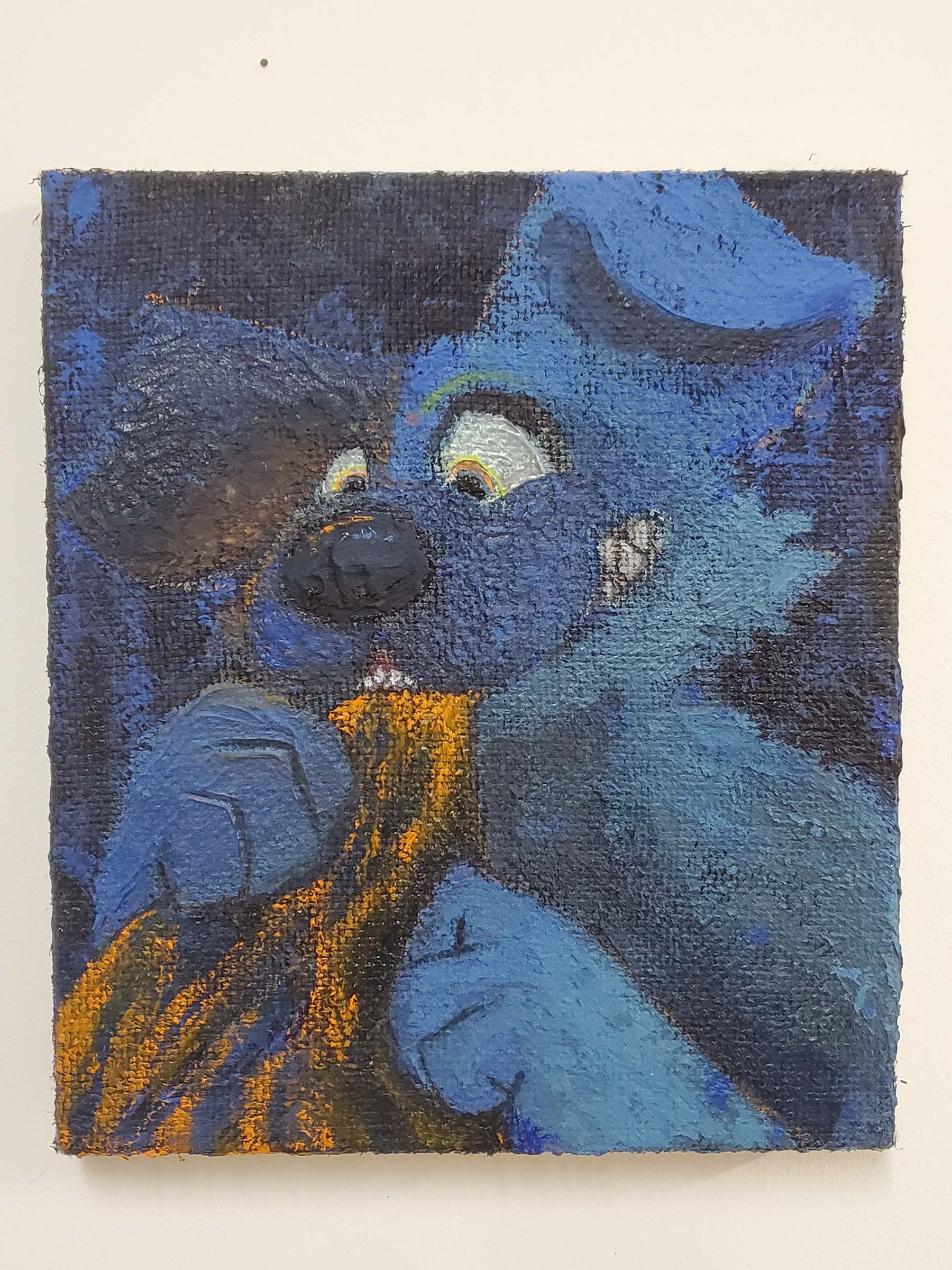 Interview composed and edited by Lee Schulder