Can you tell us a bit about yourself and what you do? 
 I am Marisabel, born and raised in Lima, Peru. I am currently living in Basel, Switzerland where I am studying for an MFA at the Fachhochschule Nordwestschweiz, FHNW.
 The interests within my artistic practice center on searching for the 'tru,' tru being the thing or object of the truth that reveals in its material form content, life, time, and context, as well as archaeological investigations of the present,  the nonsense about materials and/ objects that translate our closest here and now, and humor in ways that lead us to questions about the here and now.
 In the same way that I find materials or become interested in them, I want to respect their origins and how they exist; that is why I am interested in installation. I am interested in the shape 'space' takes, conceptually concerning the object and the place where they each come from.
 Another central axis in my practice has been collective work, not only as a learning process but also as connection and understanding about how to approach the local element in the contemporary practice: a collective understanding of the city we live in and our intrinsic relationship with it, because "two sharing the same goal is not that hard after all".
What artists have influenced your work? 
The people who have influenced my work have in common an interest in thinking about the present, starting from materiality, subjectivity, and at the same time the collective.
The works and thoughts of Kathryn Paucar, Claudia Pages, Tilsa Otta, Gilda Mantilla, Gabriel Acevedo, Andrea Gonzales, Concepcion Eyzaguirre, Gisselle Giron, Bexpo,  Solange Saldaña, Vanessa Place, Roman, Susana de Sousa Diaz, Raimond Chaves, Hotglue.me, the people of espacio 621.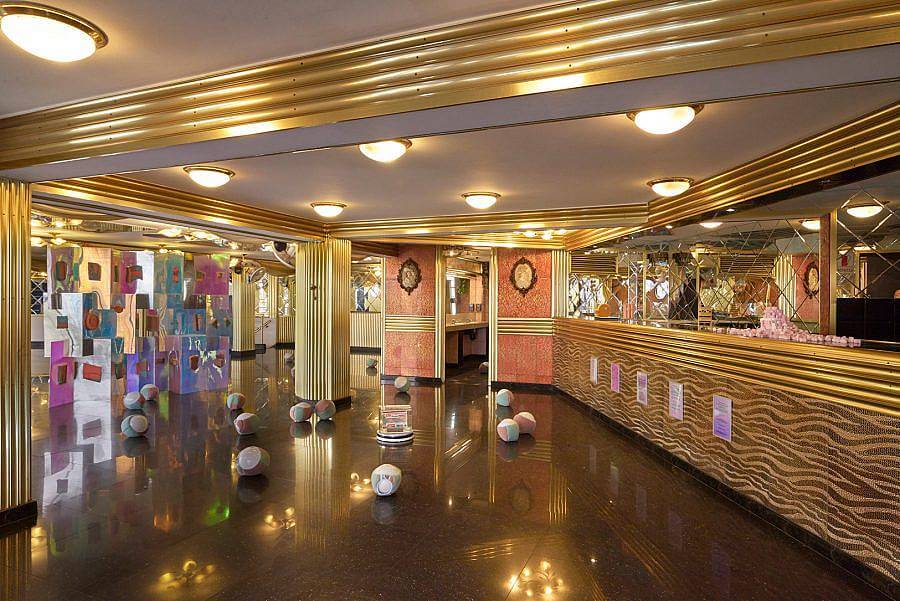 You create work in physical and digital space, and in recent works, you create with both. How do you approach digital and physical work? 
My approach to the digital in the last project, DAFFPDSE, was based on the need for a commercial platform that would make it possible to sell products online. A need on one hand, due to the global pandemic we are going through, and on the other hand, the conceptual root of the project was the commercial sale of products. The idea of a virtual art gallery or an online shop in this context was the right means for its realization as the project itself was a commercial product shop.
This process was very interesting as we had to follow many steps to achieve a real commercial impact where trade networks and sales were achieved.  First, we did a product photoshoot, to produce photos that were presented in the catalog and online shop of Abrir Galeria.
And then we did a second photoshoot in a real space, the Marina Party Room at the Salón Fiesta Marina. This second photoshoot functioned as the in-situ display of the installation, as well as the commercial image of the project.  This second set of photographs was what we circulated through social networks like Instagram and Facebook. A kind of television commercial. Having these two spaces and photographic archive was decisive for the translation into the commercial and advertising aspect of the project, as well as a sales strategy.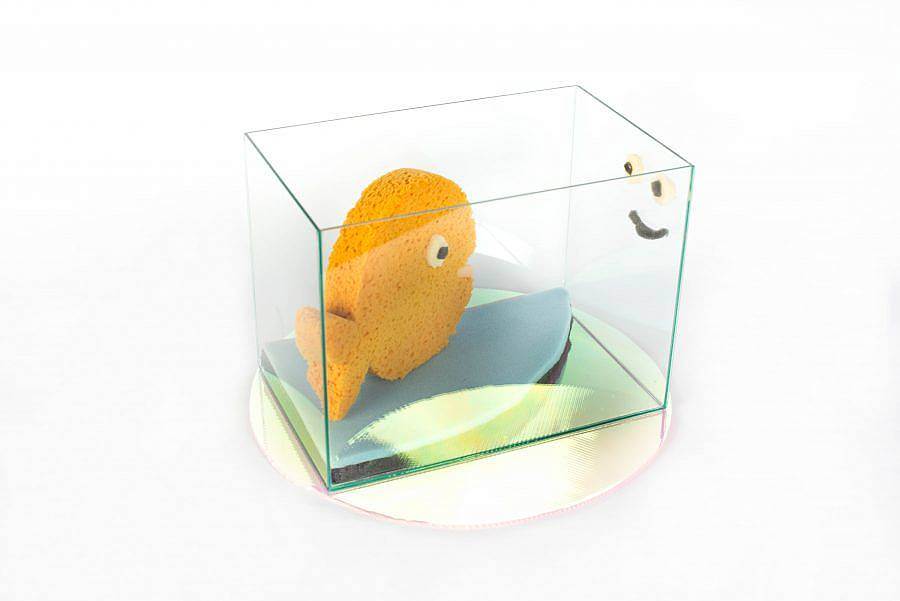 You've gone so far as creating a periodic table for the sponge in your work, "Periodic table of the sponge." Why work with sponge?
 In Lima, most people have had a business of their own, and I have had about four independents businesses in my life. My family, in general, is dedicated to commerce and has its own business.
 In Lima and other cities, you can find several types of businesses in the same place. For example, in a commercial place, you can find the sale of mobile phones, food, clothes, and/or a bank agency. On the other hand, due to the economic circumstances, people offer various services such as gas fitters, technicians, cargo, etc., this is called todistas (roughly translated as "do-it-all"). These businesses are called todistas since they offer different services and products in the same establishment.
These characteristics of multi-purpose spaces, multi-services, multi-jobs allowed me to think of the sponge as a material that fulfilled the same multi-purposefulness as this group of people and businesses. In a way, the sponge translates the way Lima and other cities in South America and Peru function economically.
 For example, the sponge is used for headphones, sound insulation, furniture, window sills, slippers, cleaning, painting, protection, etc. For these purposes, I developed a conceptual framework to manufacture a diversity of products that translated this range of uses as the multipurpose universe of the sponge, to celebrate it, and to try to understand how we operate economically.
 Hence the sponge periodic table, the sponge sushi, the sponge toys, the sponge hat, the sponge cartoons.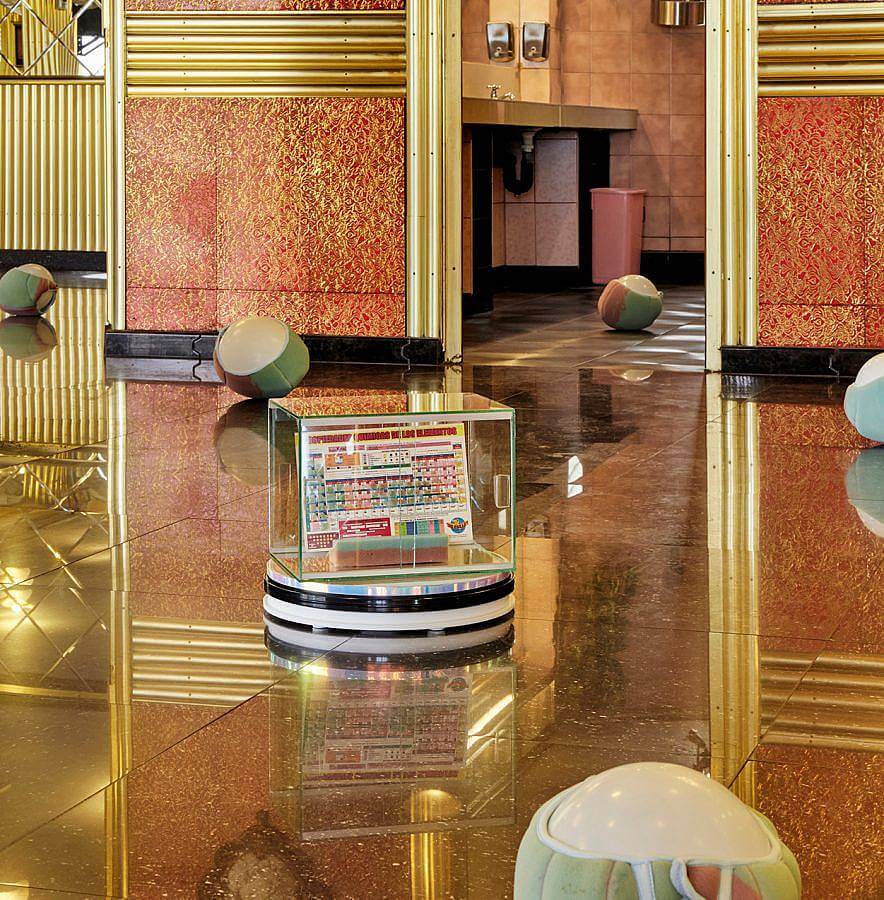 "Archaeological Diagram of the Future in Flow: Plastic Dreams – Sponge Dreams (DAFFPDSE)" is not only an art project but a business that specializes in sponge-made products. What is your business's mission & how did DAFFPDSE function out of Abrir Galeria's virtual space & Salon Fiesta Marina?
The mission of the project was first to celebrate the sponge, to make one last celebration of plastic, its multipurpose nature, and its applicability to how Lima is organized economically from the multifaceted and enterprising citizen. 
In a second instance, it was to open a self-owned business focused on products made of sponge, and that these were cheap and accessible. For this, the art gallery and its online shop was the right place to make economic traction with potential customers, making online sales possible as it was a platform that facilitated consumption and made sales possible in times of pandemic. On the other hand, the Salon Fiesta Marina worked in terms of the advertising strategy as visually attractive to host the sponge products and present them in their artistic-commercial display.
 What advantage does the material offer you as an artist & for your Lima-based company?
DAFFPDSE portrays and examines consumption, encouraging the viewer to buy it after listening to a catchy jingle and looking at pastel-color sponge products. How do you feel objects are meant to function? As products? As art?
 The DAFFPDSE products aim to be dual function products, i.e., they are in themselves art, commercial products, things. It is not one more than the other, but the two concepts are mixed and inseparable. Before making the DAFFPDSE products, I thought a lot about how to make products that have a dual function.
 The Mexican artist Melquiades Herrera developed the concept of dual-function products. Herrera, in his artistic practice, looked for different objects in the flea markets that had these characteristics and different concepts which co-existed in a single object. Such as whale combs or pistol lighters, which all work under the image of a comb but have different potential purposes.  
 For each product of the DAFFPDSE, the selected object's theme needed to be almost a universal representation of every existing universe of objects. Thus the periodic table represents the universe itself; the hat, the world of clothing; the sushi, the world of food;  the toys, the world of children's products; the marshmallow, the world of sweets.
 In this way everything comes from the commercial reality of these objects, shifting only their materiality towards the sponge but keeping their uses and their economic realities.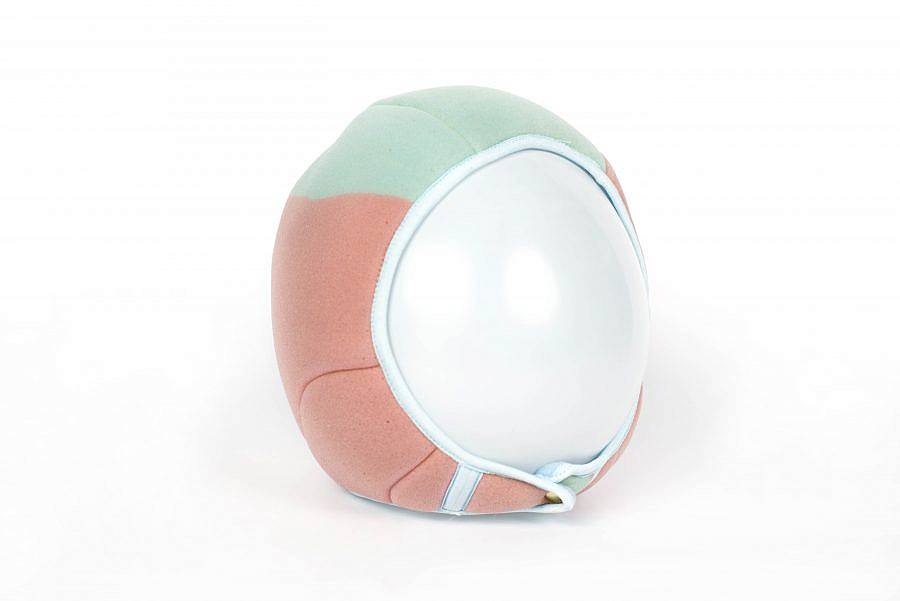 I know you've recently headed to Basel to complete your master's degree but spent most of your life in Lima. How has living in Lima impacted your work?
 Lima has been the backbone of my work so far, not as a subject but as a way to understand life, and to get to know it. Lima is a city with many rhythms, always hectic and repetitive, as a colleague, Gisselle Giron, has said: "Lima is perhaps like a techno song in the use of mechanical repetitions and a little development underlying these loops".
 In Lima, it seems that we are always in a loop, but as it repeats, it changes. And I think it's in those little fragments of change and repetition that the city teaches you, hits you, but embraces you too.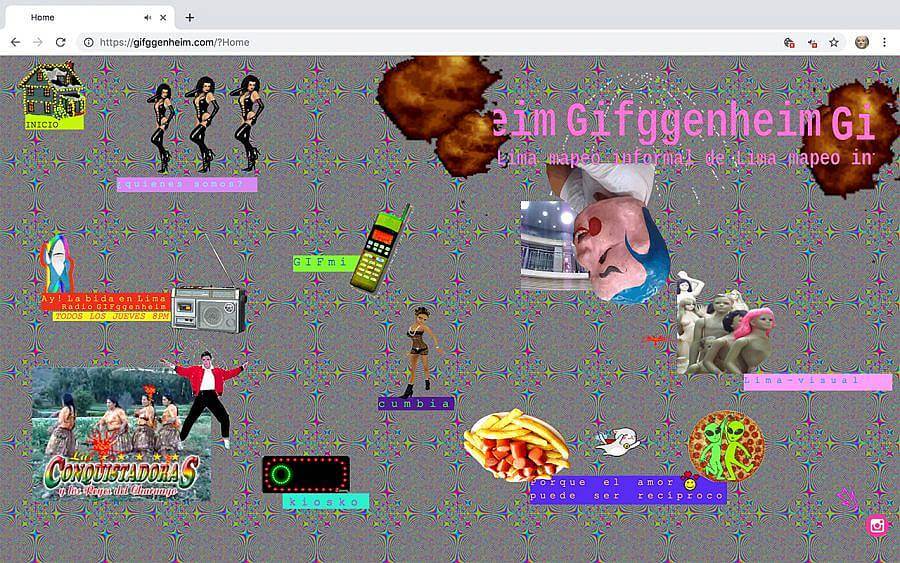 Can you introduce us to Gifggenheim, your collaborative online informal mapping of Lima?
 Gifggeheim, an informal mapping of Lima, was a collaborative gifweb made by Solange Saldaña, Gisselle Girón, Pierina Másquez and me. We worked on it from 2016 up until 2019.
 The main goal was to construct a visual and sound mapping of the city. The web was created entirely with gifs. We decided this because we thought that the quality of gifs embodies characteristics like the low-resolution image, non-ownership, and free distribution which translate aspects of the visuality and the way of living in Lima.
 We were interested in how this space affects us in our daily lives, especially in the importance of discussing it openly and collectively and feeling this city as ours.
 Within the gif web, you can find sounds from different parts of Lima, interviews, gifs, etc. A fundamental aspect of gifggenheim was that for two years, we had a weekly radio show which we broadcasted live on streaming every Thursday at 8 pm. The show was called Ay! La bida en Lima, that means Oh! The life in Lima. Bida in Spanish is written with a v, which in Peru we call v chica ("small v"), and the other b, b grande ("big b"). We decided to write it with B because we thought living in Lima was so big that it had to be written with the biggest b there was.
How have you been navigating making and sharing work amidst Covid-19?
 My experience with Covid has had two very different moments, the first one, from March to October 2020, in Peru, living and breathing through the internet, many Zooms calls, online projects to have excuses to be with friends and meet each other, trying to do away with time and at the same time living in totally distorted time-space. With my friends Jimena Chávez, Benjamín Cieza, and Andrés Arguelles I opened the @clubnationaldelaamistad, in which we proposed dessert recipes, drawings of quarantine meals, which we made through open calls. A way of thinking about our Covid experiences as a continuous present. 
The second moment has been in Basel, from October until now, where the rules are less drastic, totally new experiences, but with possibilities to continue developing the artistic practice.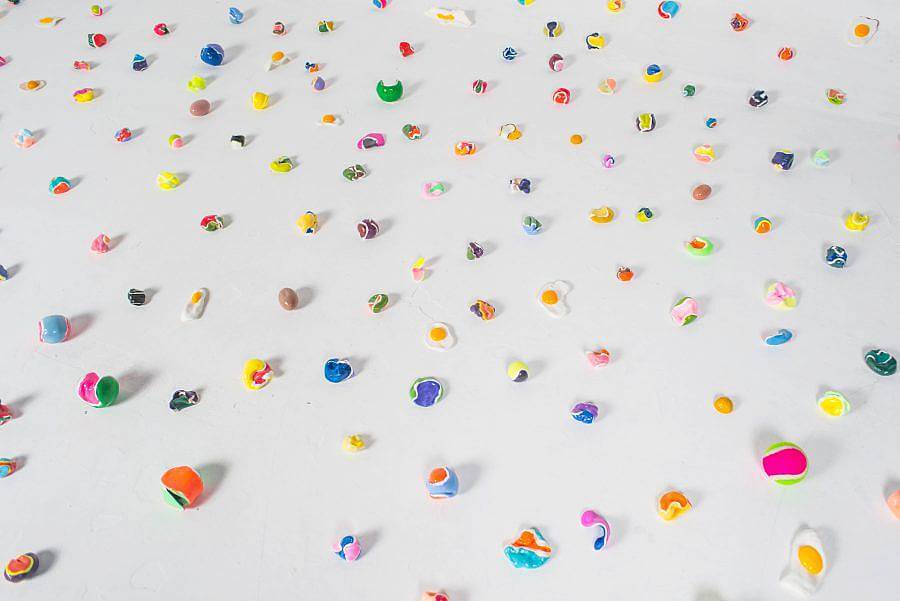 Do you have any upcoming projects?
 For these times of lockdown, I have been thinking about repetition, tautology, the uselessness of things, food, mass, sport, and how to translate these thoughts to the ball as a representative of these ideas. On the other hand, think of the collectivity of certain activities like sport, the grouping of products like a bag of marshmallows or snow, or new groups of friends.
It didn't fell, it collapsed, I die dead, climb up, get out of your feelings, I regret, unfortunately, was the chicken or the egg first? the *fulvaso comes from the fulbito: after the fulbito comes to the *fulvaso. Then came techno, the loop, came sport, in sport came the ball, the repetitive in itself, the circular form, the movement on its own axis, the team, a team of six out of twelve, the team of referees. Nike or Never, representation of the sport, Nike community, Nike music, Nike people, adipas addidas, sapipa, nike, neki, nekii, niikee, naik,naiik, naki.
*TV commercial, the beer brand Pilsen says: After playing fulbito (the Peruvian slang for a small football game with 6 players per team) with your friends, comes the fulvaso, which refers to the glass of beer. Mixing the words football/fútbol with glass/vaso.
Interview composed and edited by Amanda Roach.