What are some recent, upcoming or current projects you are working on? I'm starting to design an accessories collection, expanding the ideas I touched upon in this latest collection. Throughout the development of my current collection, I had so many ideas for accessories that never came to fruition due to time constraints. I'm in the first stages of making these ideas come to life. There will definitely be more gloves, more sequins, and more tiaras.
If you had to explain your work or brand to a stranger, what would you say? It's John Waters meets Molly Ringwald meets Sofia Coppola. It's like my teenage bedroom come to life.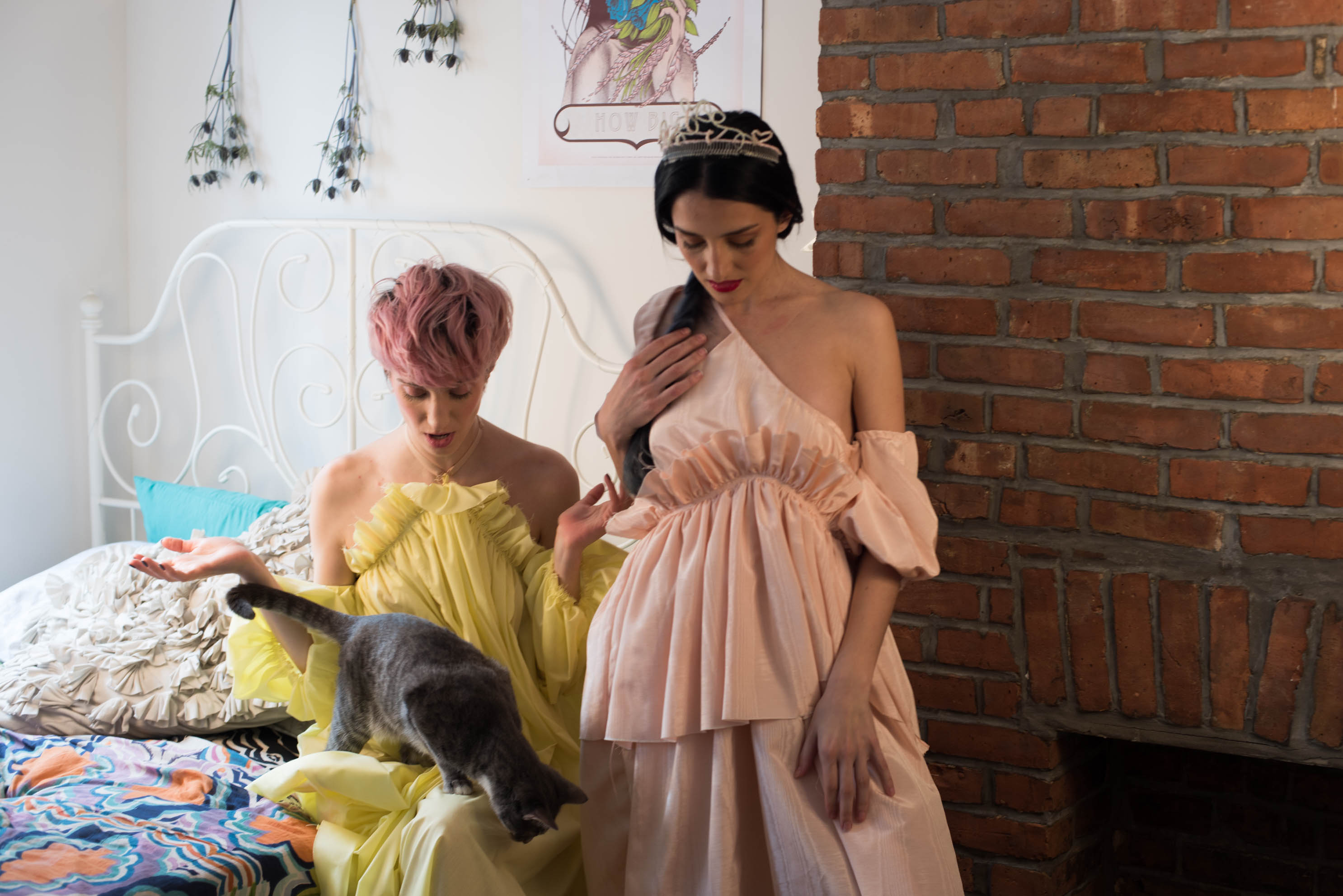 What's your favorite thing about your city? I'm always discovering something new in New York. You can never get bored here, everything is constantly changing. The people here are so vivacious, and there's so much culture to absorb and be inspired by.
Tell us about your work process and how it develops. My process relies heavily on draping and deconstruction. In this collection, so much of my initial inspiration was related to prom. I was struggling to design until I went to the thrift store and bought a few old prom dresses; it was when I started to take these dresses apart and rearrange them on the form that my silhouettes began to take shape. I drape freely and loosely, taking pictures along the way, and eventually begin to develop these 3D "sketches" into actual designs. The yellow cotton dress developed from a gaudy prom dress that I deconstructed. The taffeta tracksuit developed from pieces of a dress on the form – the ties came from its hanger loops.
What is your snack/beverage of choice when working in your studio? Grilled cheese with bacon, pickle flavored chips, and Funny Bones. All from the 24 hour deli across the street from my studio.
What are you really excited about right now? A few photoshoots featuring my collection will be released soon! Some really talented photographers have captured my work in innovative ways that I'm excited to share. I love seeing how stylists interpret my garments and how they can be worn. Having stylists reach out to me honestly makes my day.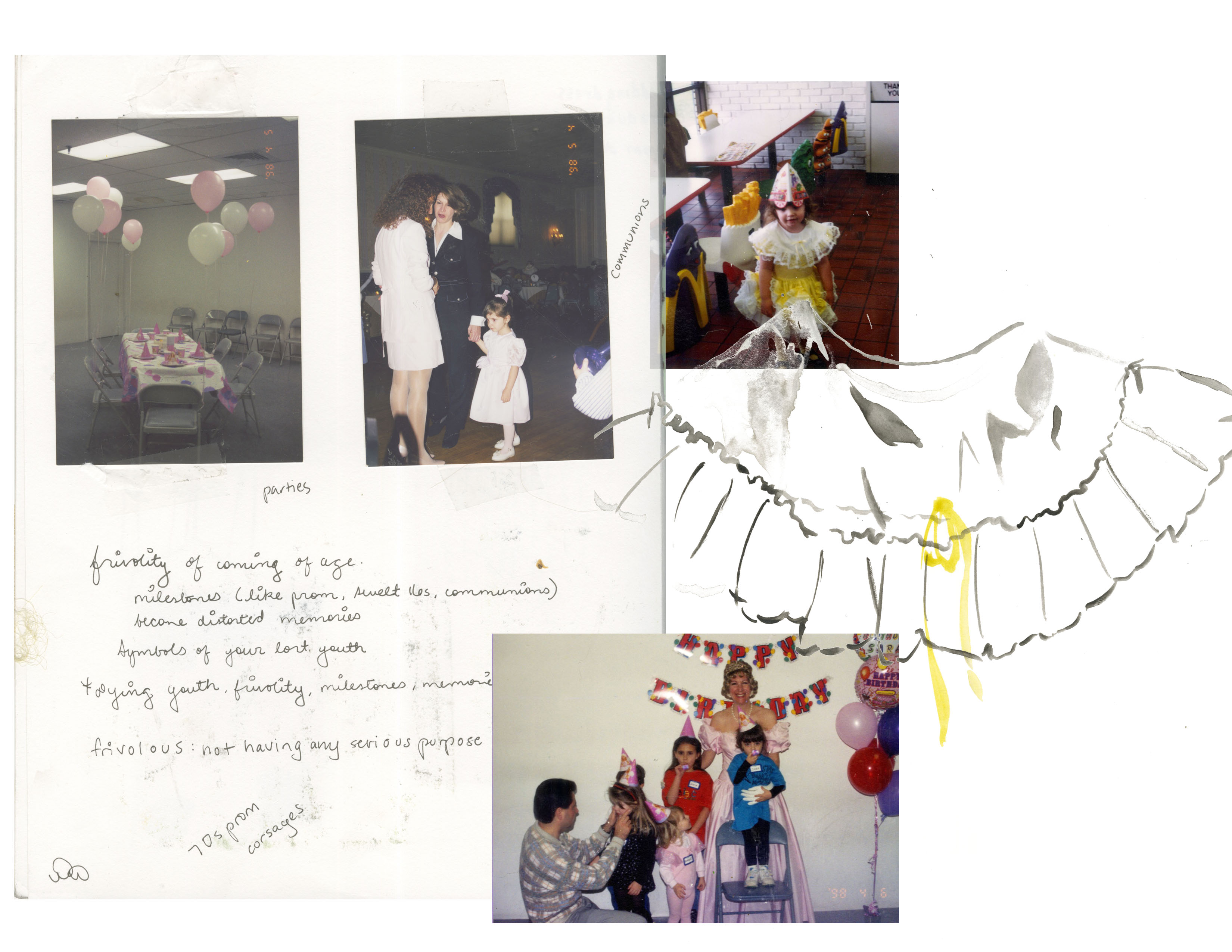 If you hadn't become a designer what do you think you'd be doing? I always try to imagine this. I would probably be working at a museum or writing for a magazine. I'd definitely be wondering what I'd be doing if I had become a designer.
What are you listening to right now? ABBA. So much ABBA. Of Montreal is a constant, they're my favorite band. I've also been listening to the Shangri-La's and other 60s girl bands, like The Crystals. When I need to be calm in the studio, my go-to is Simon and Garfunkel.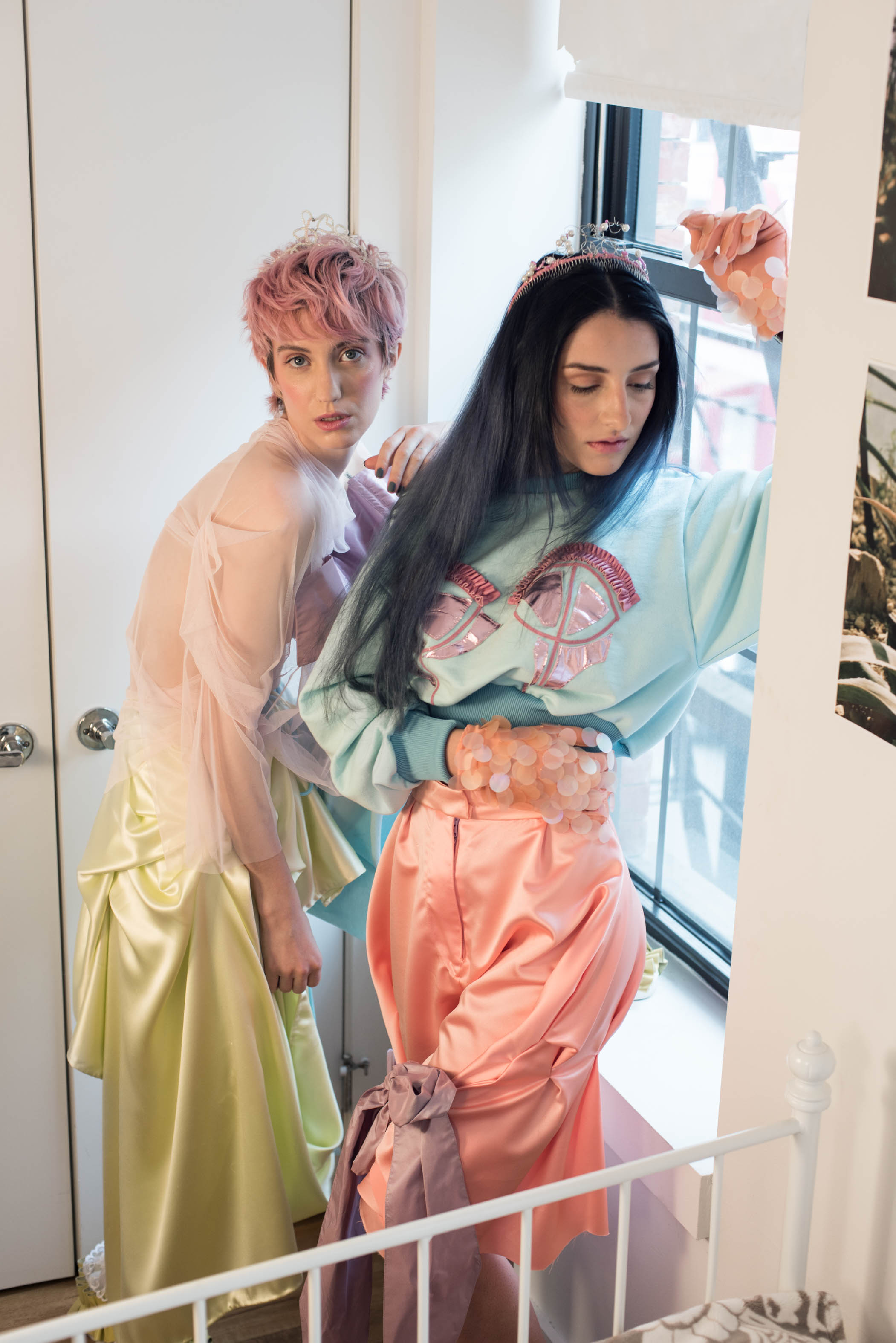 Can you share one of the best or worst reactions you have gotten as a result of your work? When Adam Selman pointed to a bralette I made and said he really liked it. It was a small moment, but it really validated me as a designer. It happened during one of the last panel reviews we had before the Pratt fashion show. Having the chance to speak with Adam, who's a designer that I admire about my work (and a fellow Pratt alum!), and hearing his positive feedback made me realize how far I had come as a designer.
What materials do you use in your work and what is your process like? I try to use a mixture of high and low fabrics. I sourced materials typically seen in prom dresses and lingerie, and utilized them in new ways. I was especially drawn to taffeta because it has such a terrible reputation for being tacky. I ended up using it for three looks. On the one side, you see a full taffeta look in this horrible purple polyester, and then right next to it you have a full look in luxurious silk taffeta. I think that the contrast between fabrics makes a collection interesting. I initially received some criticism from my professors about wanting to use cheap taffeta, but in the end I think they came to love it just like I do.