Tell us a little bit about yourself and what you do. How did your interest in art or fashion begin? Color was an integral part of my initial interest in becoming creative. The various colors in the paint palette I was given as a child, taking these – mixing colors and creating new ones. Drawing, painting, sculpting – my parents have often told me over the years that they noticed I had a flare in this sector early on, and I loved being creative and making things. So it was a field of study they definitely encouraged me to pursue.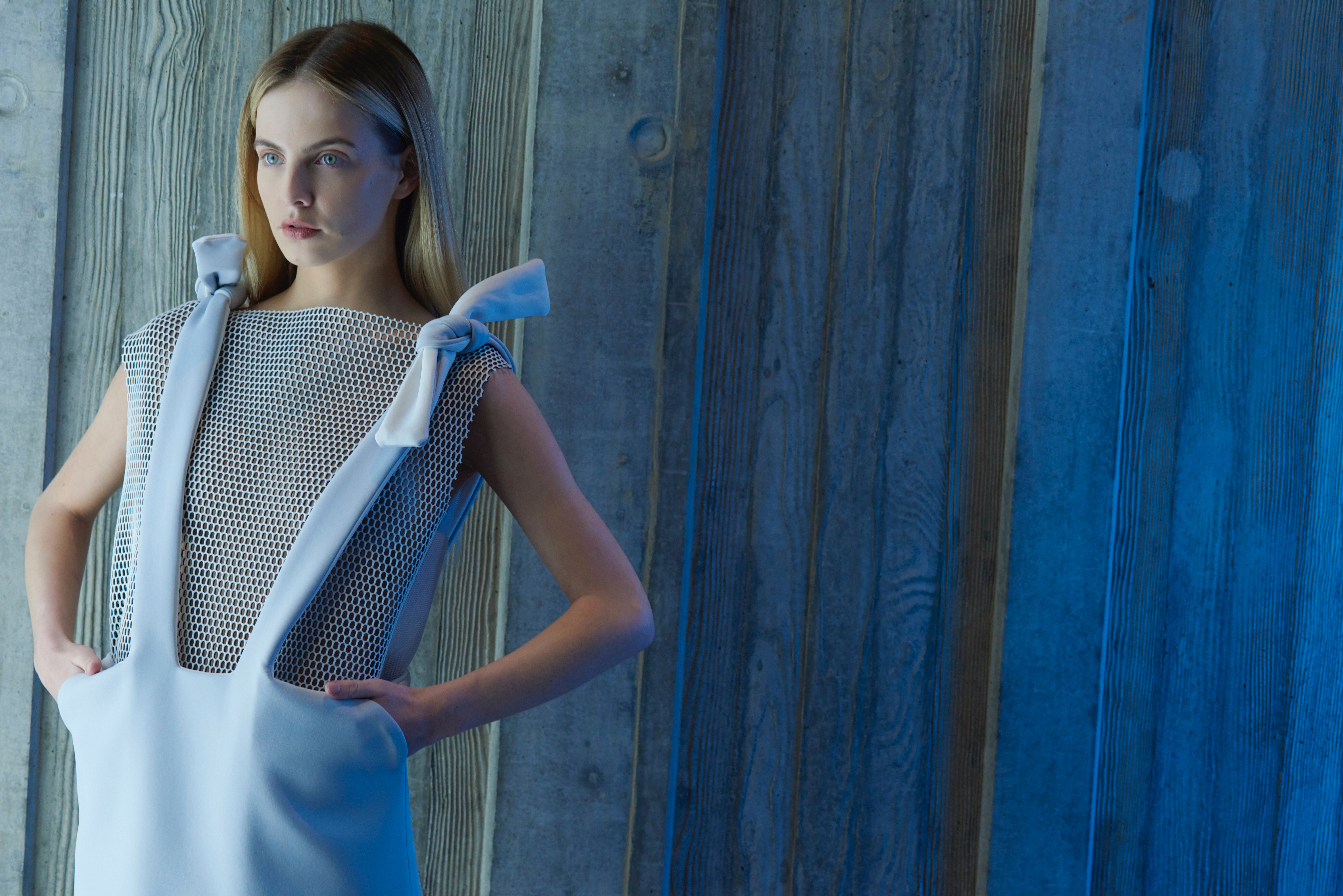 Top 3 favorite or most visited websites and why?  Every week day morning I'll check out a reliable news based website in order to keep track on current affairs across the world. I like keeping in the loop. Vogue online definitely appears a lot in my search history as well. Then of course being a typical girl in my twenties Instagram and double tapping has almost become a force of habit. As well as following Fashion, Artist and Fitness accounts, I am a massive foodie – so I follow a lot of food accounts for inspiration when it comes to experimenting in the kitchen. I don't like to keep my creativity confined to the design room alone.
How has living in Belfast affected your work?  Belfast is really beautiful; it is a small, homely city where you are always inclined to run into someone you know. For almost every person you come into contact with – you are more than guaranteed to have a mutual friend. I guess that's quite an Irish thing. It has much to offer and is growing in its creative scene. With landmarks such as Harland & Wolfe and the Titanic – it's a modest city with many hidden gems. It's definitely been a positive place for me to develop in my craft, it's where I studied and went to university and developed a lot of new and existing friendships, which has all helped my work to blossom.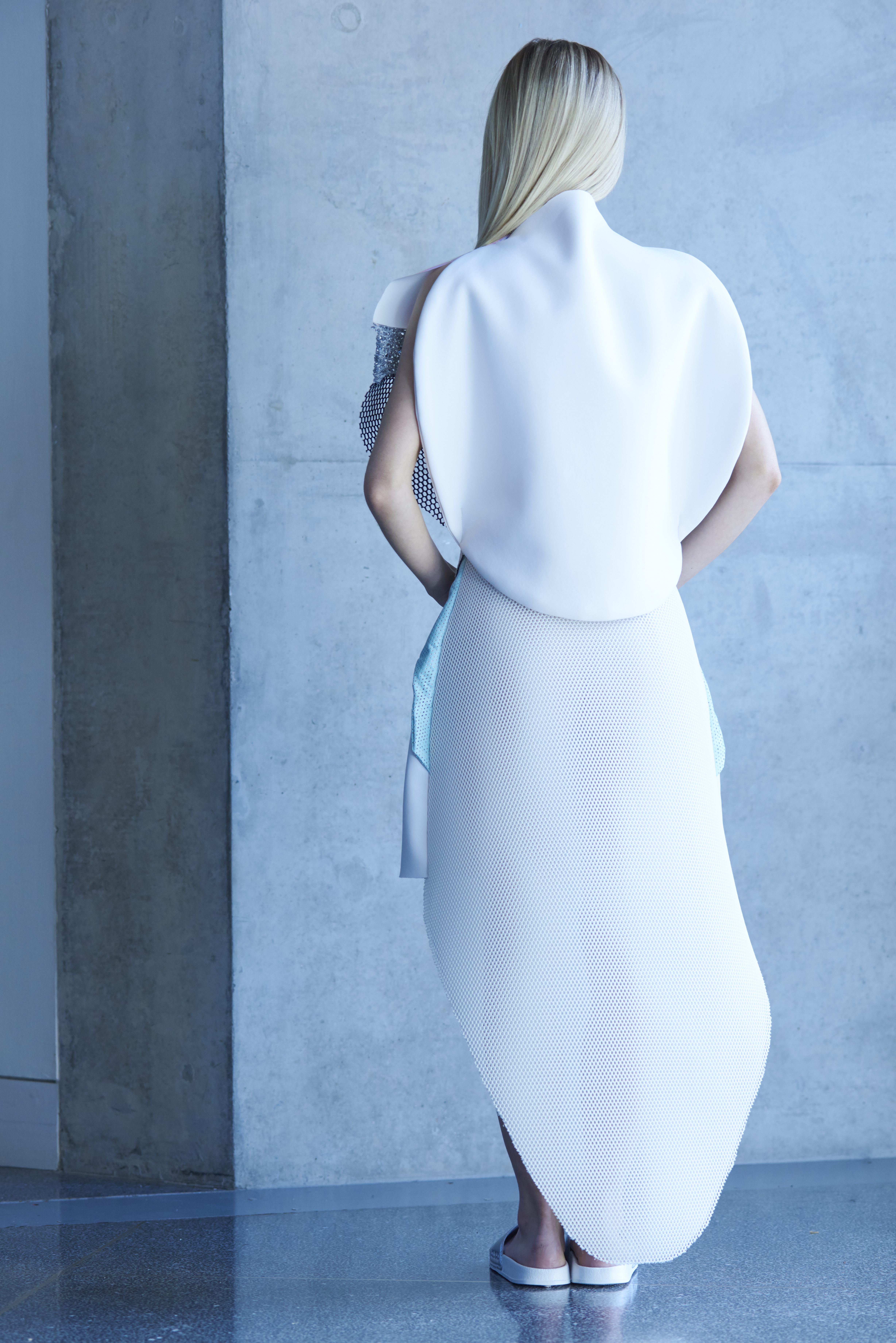 What kinds of things are influencing your work right now?  Again – colour, if you check out my instagram @roseannacrawford – you will see I am a little obsessed with iridescent things. Even the colours in the natural design around us – sunsets, sunrise. I am a super early riser – so getting to appreciate all the colours of the sunrise has actually been a huge influence in some recent work.
What are some recent, upcoming or current projects you are working on?  My graduate collection, which I launched last year, was all about the Human Eye – and from that I developed circular silhouettes. Moving on, as I mentioned previously – colour, iridescent and the natural beauty of the sunrise are my big loves right now.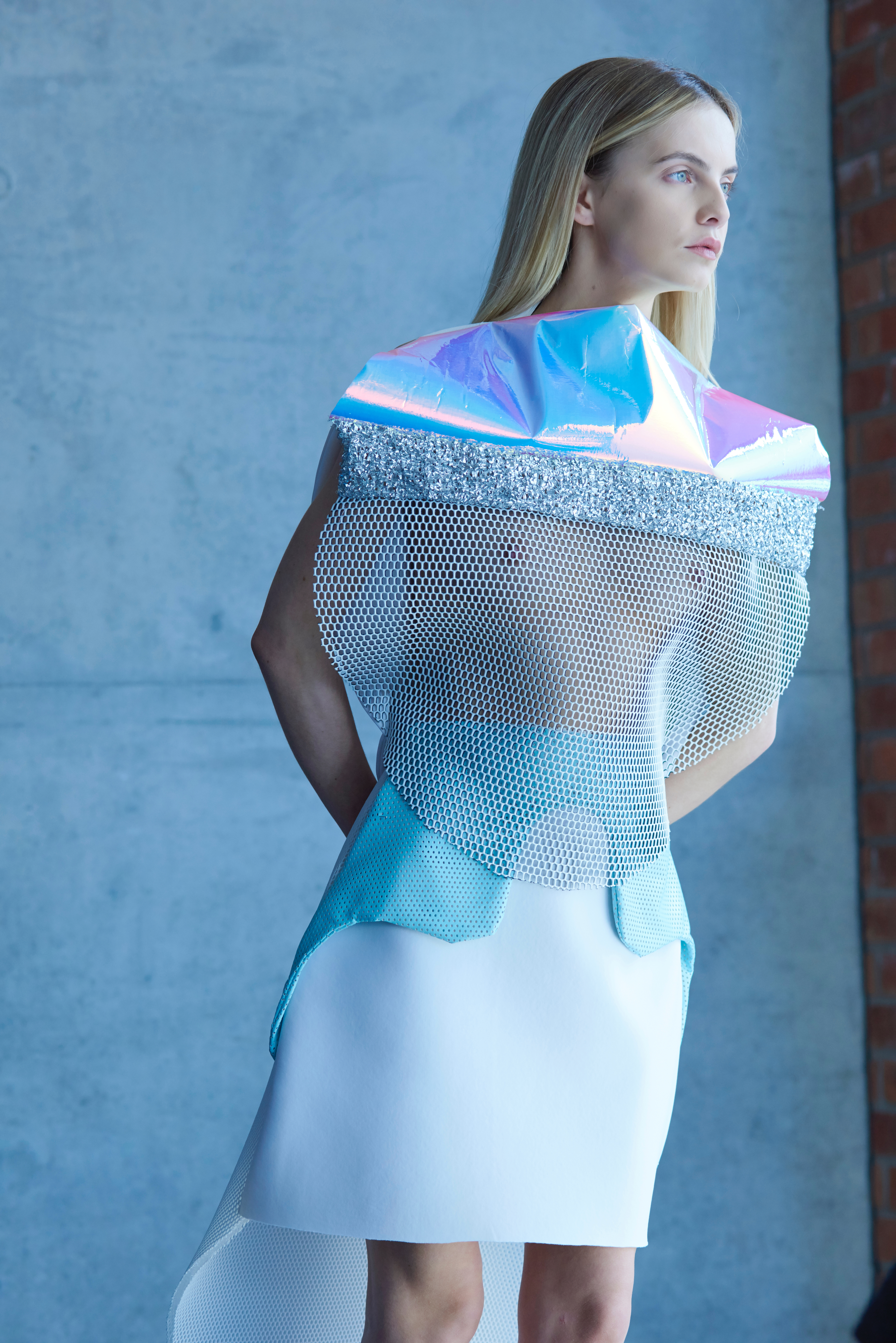 What designers are you interested in right now?  Mary Katrantzou and Delpozo have always been standouts for me. I greatly admire what they do and how they do it – their work is so beautiful – they just get it right every season.
What past trends in fashion should never come back?  Bootleg jeans – so cringe. I use to wear them all the time in my teenage years – why weren't skinny jeans around earlier?
Tell us about your work process and how it develops. I like to drape on the stand and document the progress with my little Polaroid camera I picked up in Nottinghill Market one time. The process is quite playful. I like to keep it fun and simple – I'll then move onto the colour palettes and drawing stages and it organically progresses. Of course though I do an excessive amount of research – primary and secondary before I even begin. Kicking off the inspiration and getting the creative juices flowing is a key element in itself too.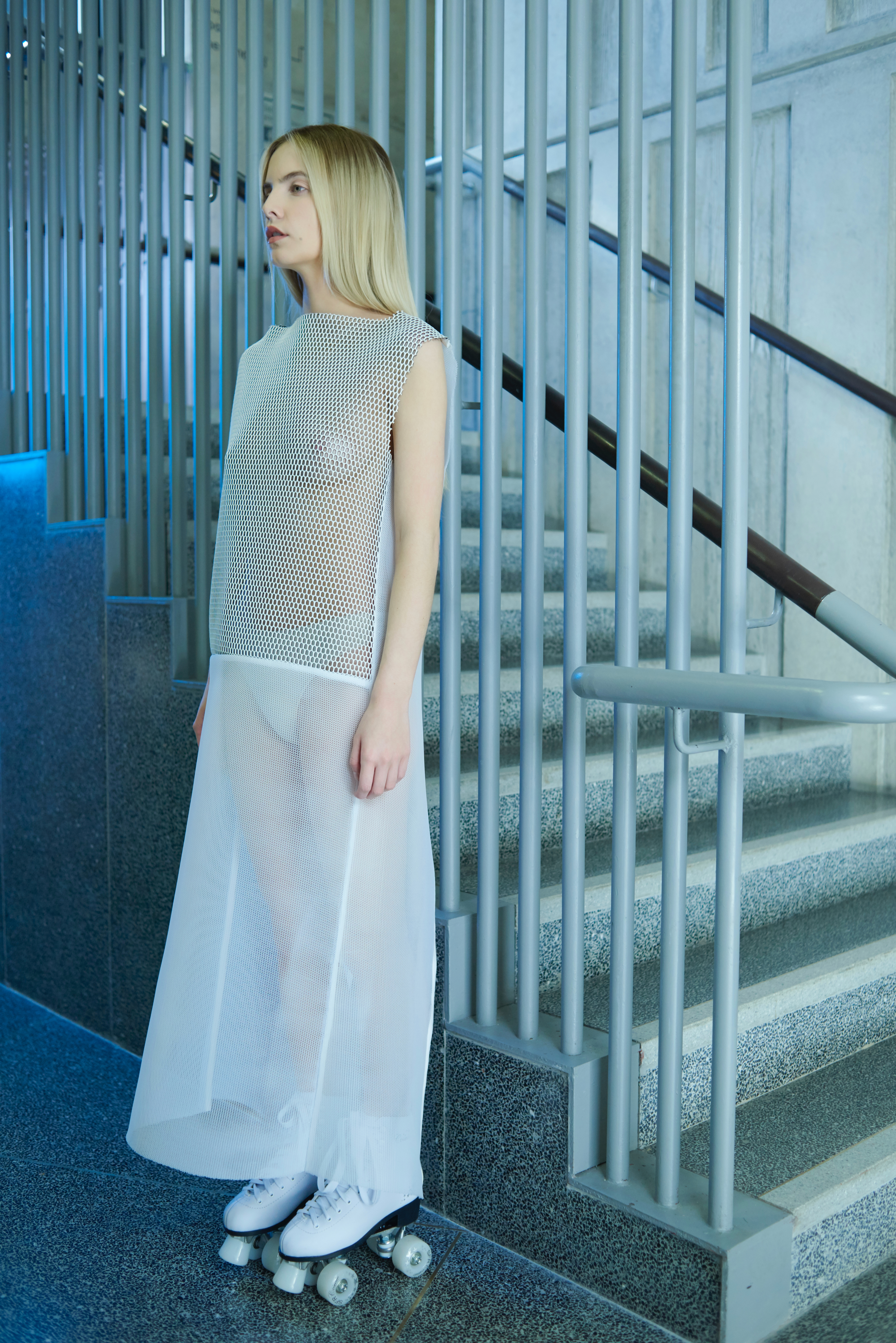 How long have you lived in Belfast and what brought you there?  I actually lived and was brought up in a small town outside of Belfast, it will always hold a special place for me due to family, friendships and existing memories – but I lived in Belfast for 5 years whilst I was at university. So it feels like home too.
Who would be your dream person to dress or style?  There are so many – and name-dropping isn't really my thing – if it happens I'll post it on my Instagram – stay tuned.
What's your absolute favorite place in the city/the world to be?  I always seem to find myself in London quite often. It's great for adventure; culture; visual and creative inspiration – however wanderlust has got me curious for many other places across the world. Right now a memory of Barcelona is quite prominent. I was on holiday with one of my close gal pals and we discovered this hidden gem of a coffee shop – they sold the most amazing pancakes with cinnamon syrup. So yes – pancakes win – Barcelona, plus it has Park Güell, which is one of the most beautiful places. Where is my passport?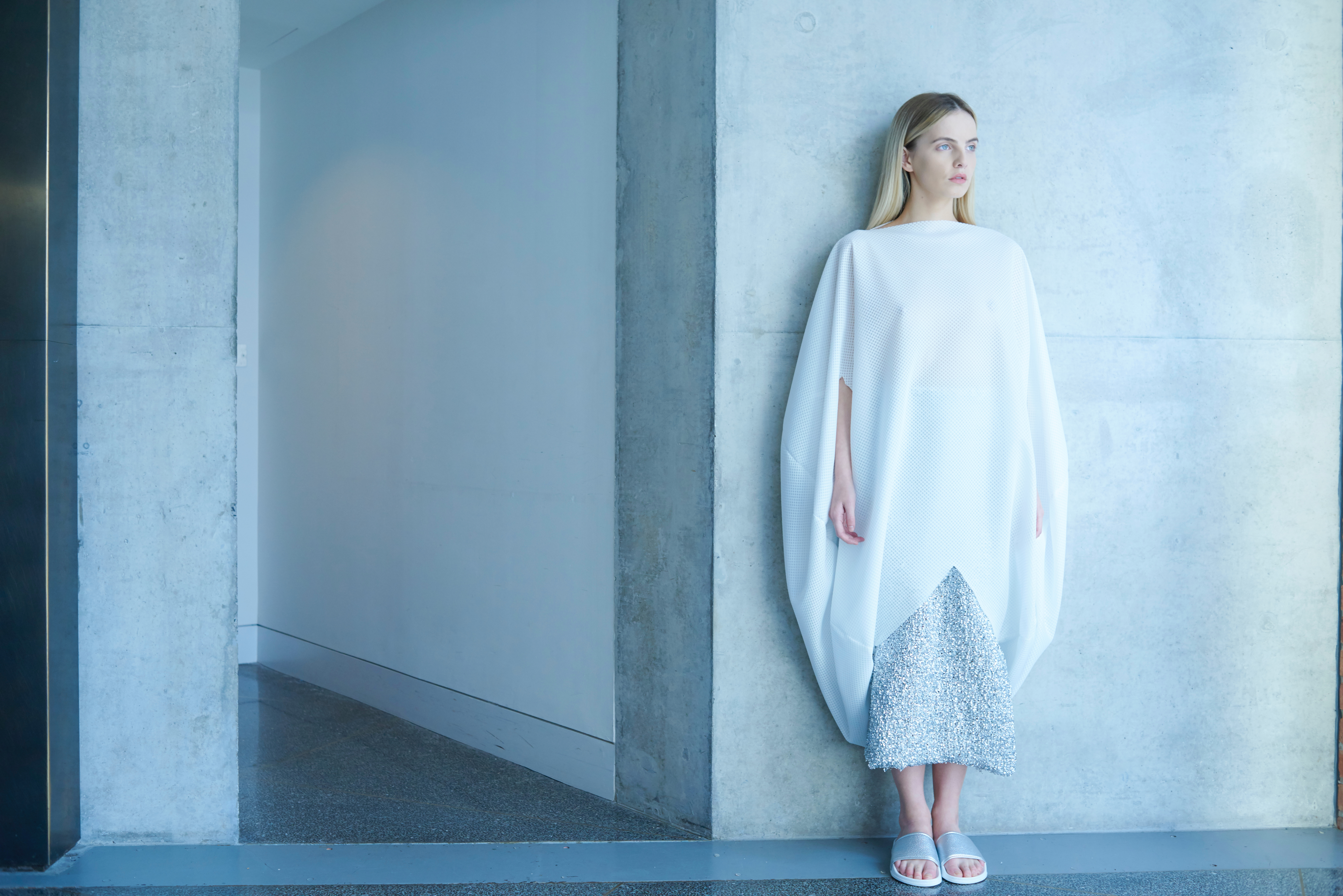 Favorite article of clothing?  I have an insane pair of metallic Silver, reflective BEAM trainers – and I love them. They light up too. They also get quite a lot of attention and questionable raised eyebrows.
Can you share one of the best or worst reactions you have gotten as a result of your work? I have been really blessed to say that I have got a lot of positive feedback – perhaps there are silent haters out there – but to my face and even online everyone has been really positive. I think art is so subjective that there will always be someone who will decide it's just not for them. However, I like to go with gut feelings in my work. I have learned to respect it and listen to it – because more often than not if you initially think something isn't right – going back to the drawing board is always the best solution.
If you had to explain your work or brand to a stranger, what would you say?  Colour, Experimentation and Innovation. I like to try and achieve a modern look with a colourful, playful twist.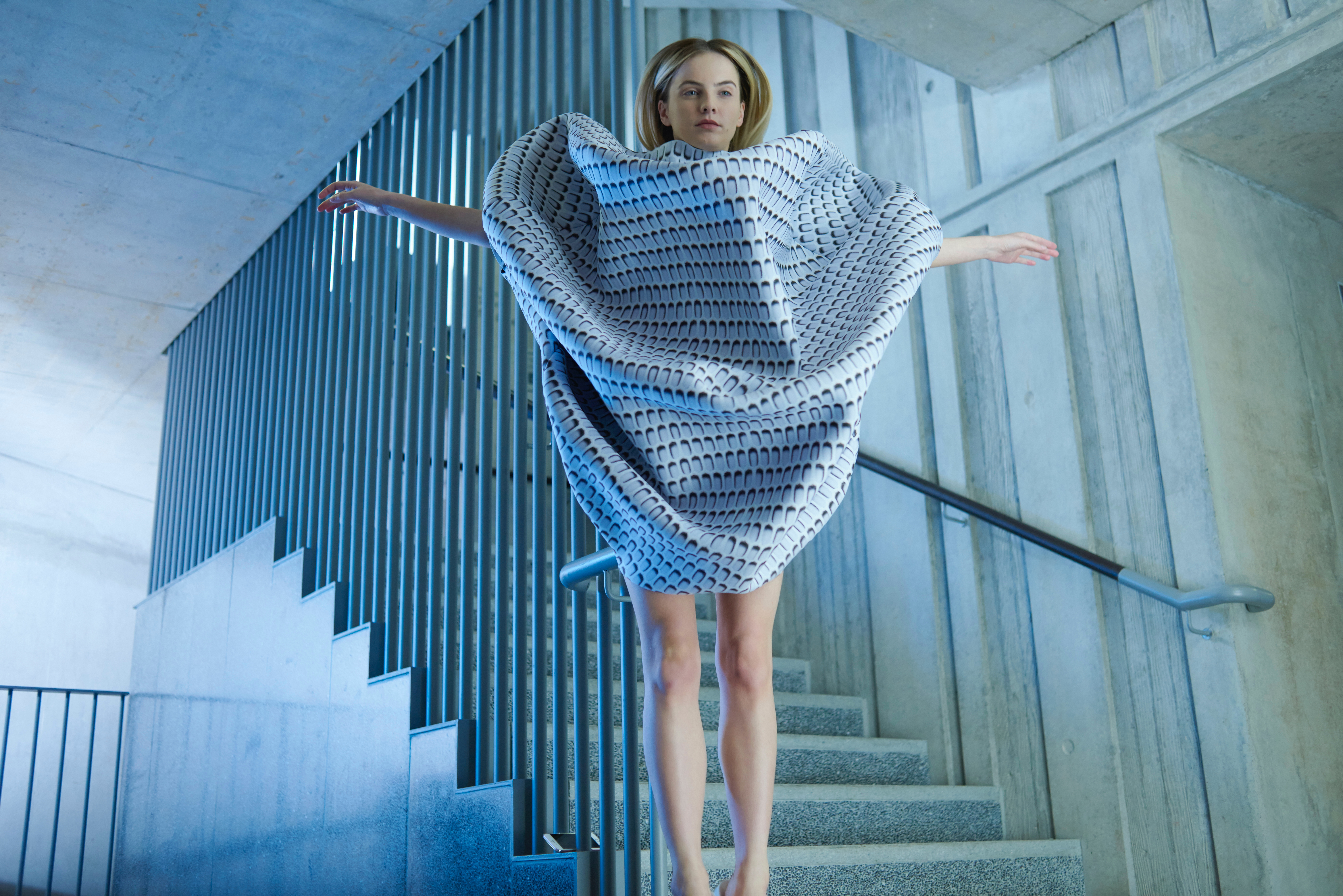 What materials do you use in your work and what is your process like?  I am a great fan of technical fabrics and fur. Anything shiny, new and alternative appeals to me. I love fabric shopping and discovering brand new fibers and palettes. I guess you could say fabric shops are my sweets shop. It's a great place to visually stimulate and get the creative juices flowing. I was in this shop a few months back and found the most amazing fabric – instantly I had several ideas on how to utilize it. I even began draping it in the fabric shop mirror. I knew that I couldn't leave without it. This has almost become part of my process too.
If you hadn't become a designer what do you think you'd be doing?  From a young age, I use to dream of being a business owner – quite young in fact, this eventually changed and I decided that I would love to be an athlete. However my heart was really in fashion- and the heart wants what the heart wants. Secretly though, I do have that inner desire to sing on a Broadway stage – but don't we all?
What are you listening to right now?  No.7 on the Divide Album – by the amazing Ed Sheeran. I have all the heart eyes for this album. The lyrics are all kinds of beautiful.