Tell us a little bit about yourself and what you do. My name is Sky Cubacub and I am the creator of Rebirth Garments. Rebirth garments is a line of clothing, wearables and accessories for the full spectrum of gender size and ability. We specialize in making custom garments and wearable art for people who are trans* and genderqueer and for people with disabilities.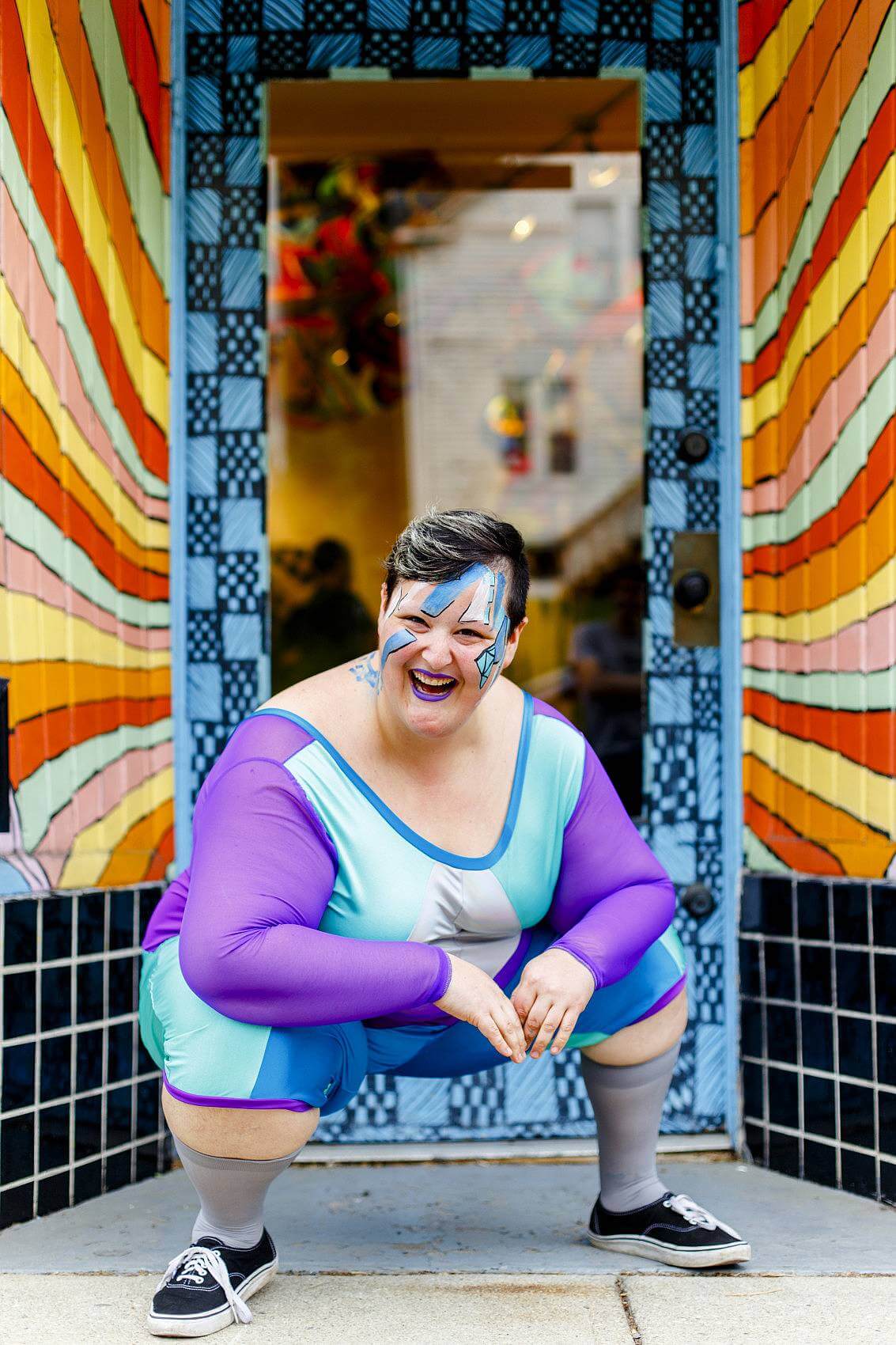 What are some recent, upcoming or current projects you are working on? Right now we are traveling around the country. We were just in Oakland California for a show we dubbed the "Rebirth Radicals Fashion Performance and Talk". Originally I was supposed to show at Queer Fashion Week but due to the inaccessibility of the organizers and venue we felt it necessary to drop out and create our own Guerrilla show where the access needs of all performers could be met. For this show I worked with a lot of queer, fat and disability activists from the Bay Area, and many are wheelchair users and have specific access needs that I wanted to make sure were accommodated.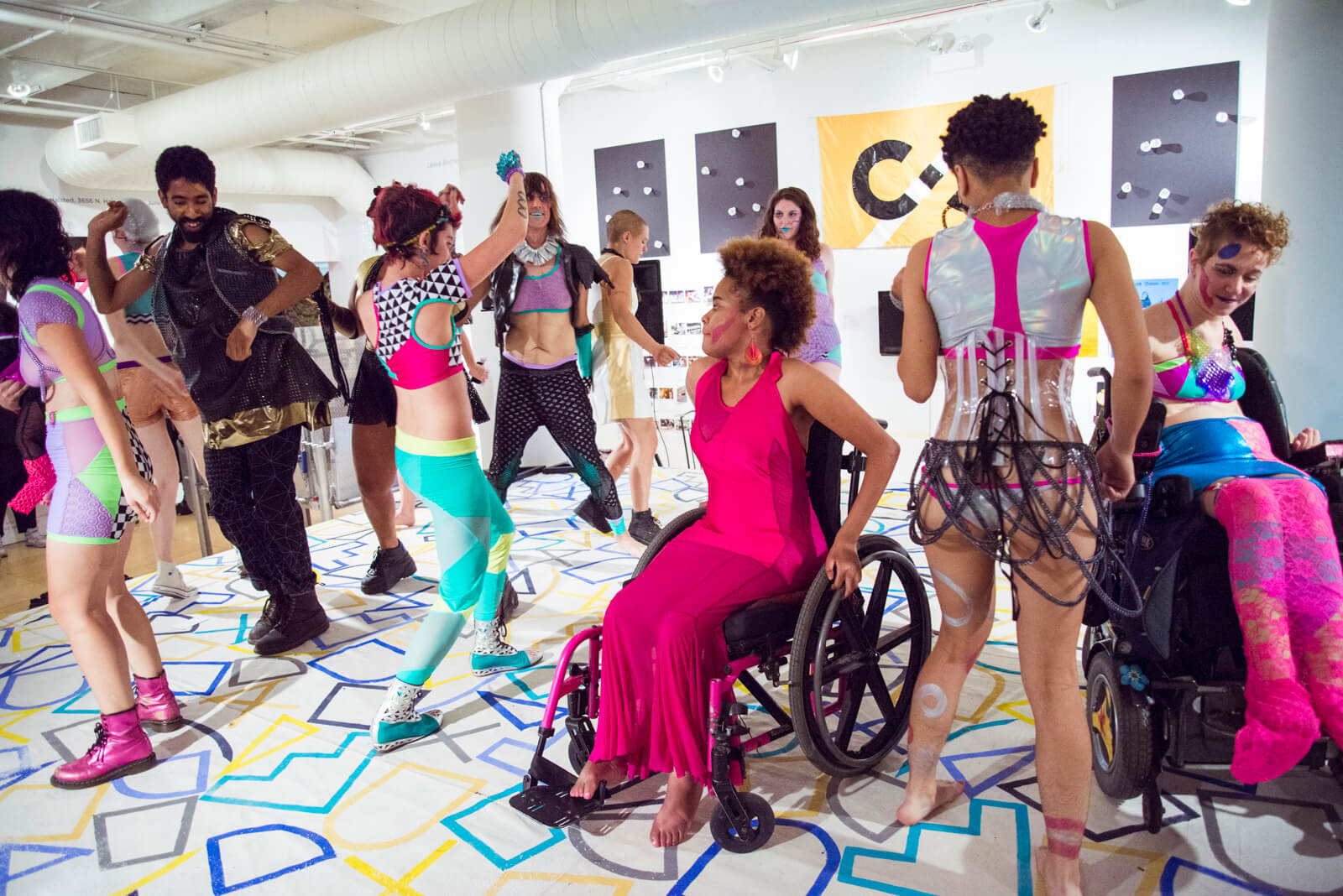 Now I am traveling to the University of Utah for a show and lecture for their pride week. I am really excited to show my work and share my story in a place that might not be used to people who are divergent from the norm. Someone there told me even sleeveless garments are seen as scandalous! I have been impressed with them though, they have been really accommodating. They've been super on-it as far as access needs go. They even made sure we have a gender neutral bathroom.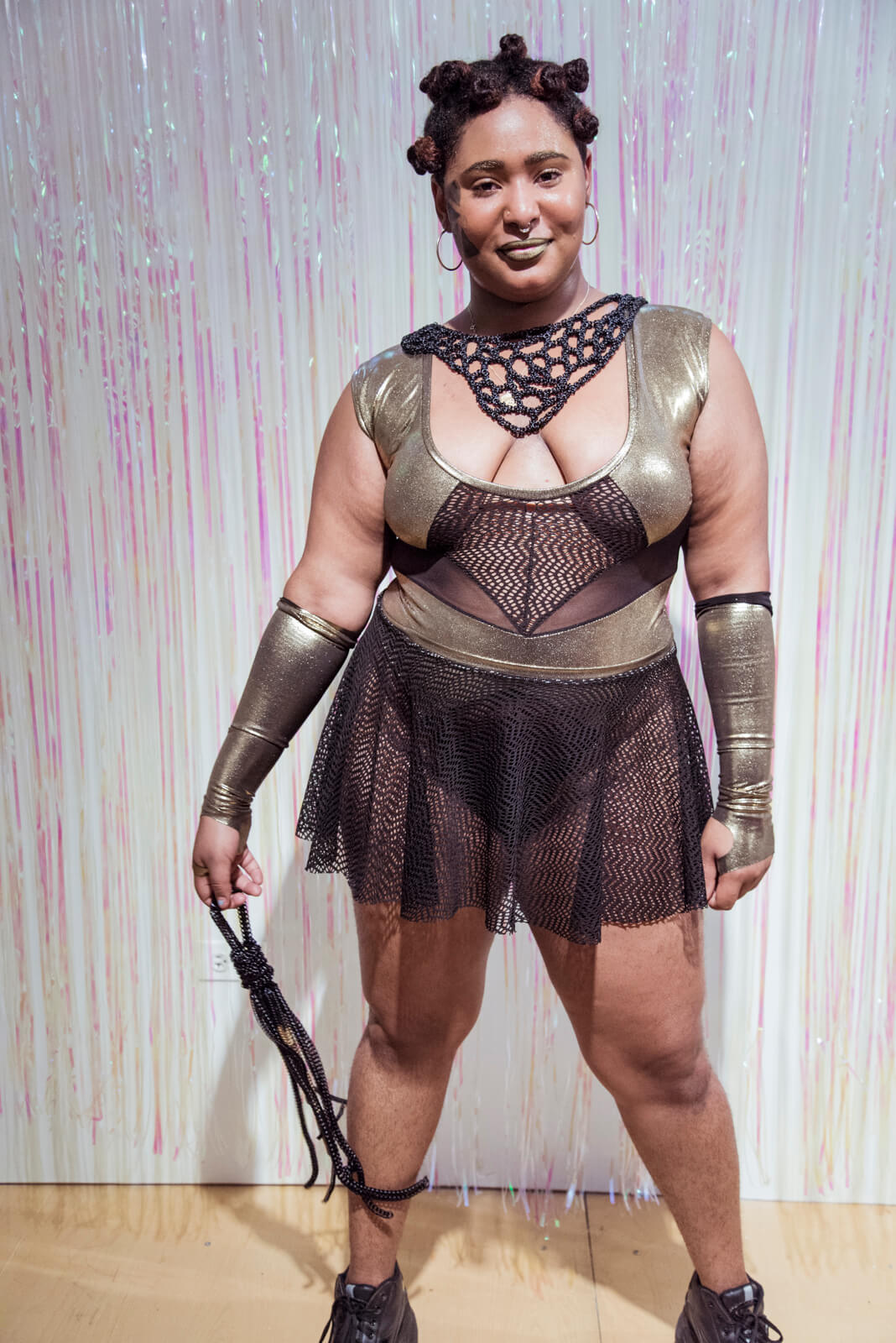 How did your interest in art or fashion begin? Both of my parents are artists so it's kind of just in my blood and I've been doing it for my whole life. The studio I work in is in my family home, and I am really connected to it.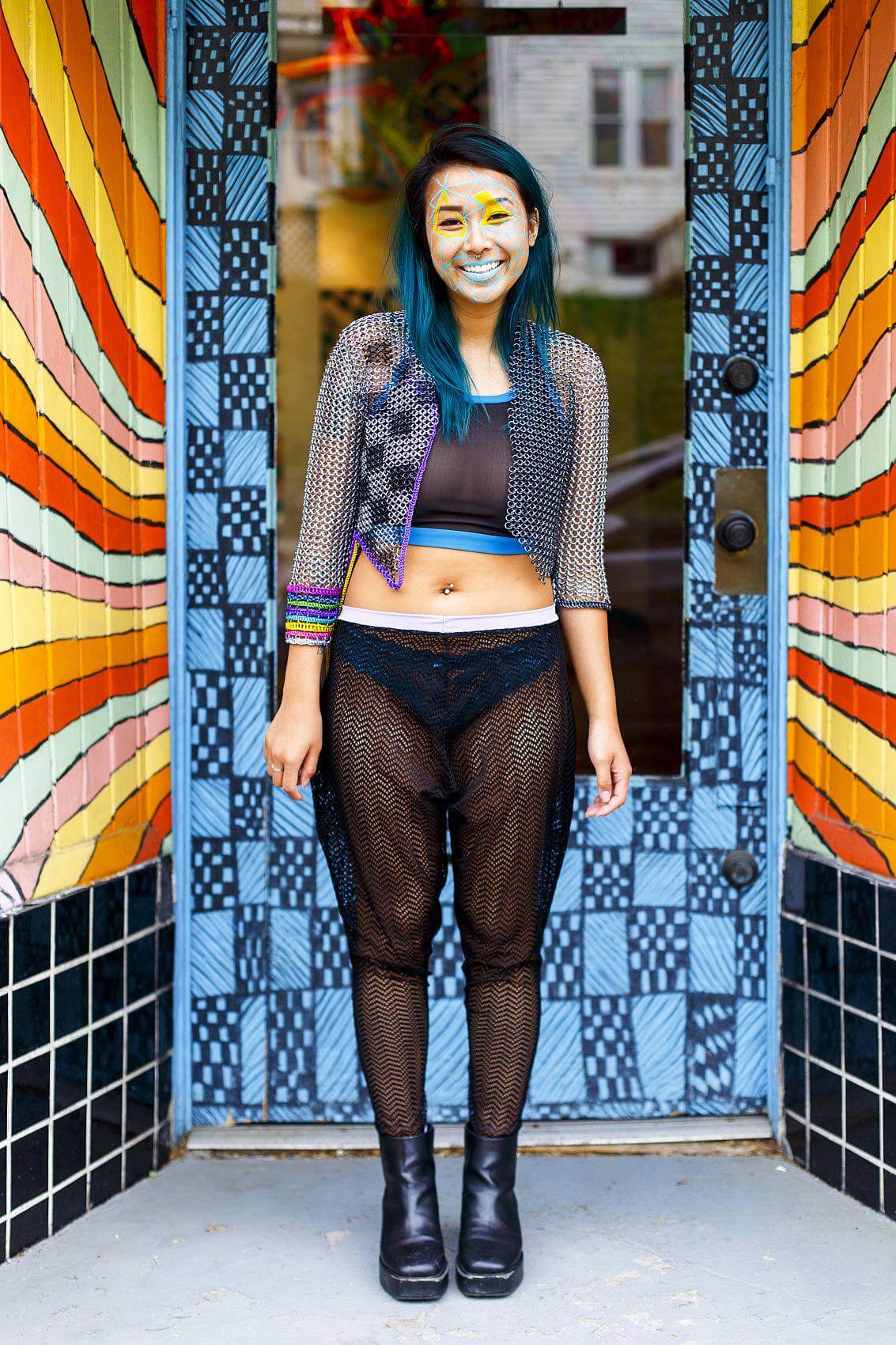 How do you feel about the fashion industry right now? It's disgraceful. I can't believe that we're still stuck in this societal pattern even though there are movements towards better politics and ideas in other areas of thought.  The more I think about it the more upsetting it is that this industry still is catering to thin, white, cis, able bodied people and holds those ideals as the standard for beauty and worth in our whole society. I can see that people don't want to change. I can see it in some of my peers who aren't activists or in the queer scene…they just want to assimilate and stay with how things are because that's what their dream has been their whole life. There's not a lot of room to work around those things in the industry. But I have hope just from what me and my friends have been doing. We have only been doing this for a short while and we have already started to gain traction and create an impact.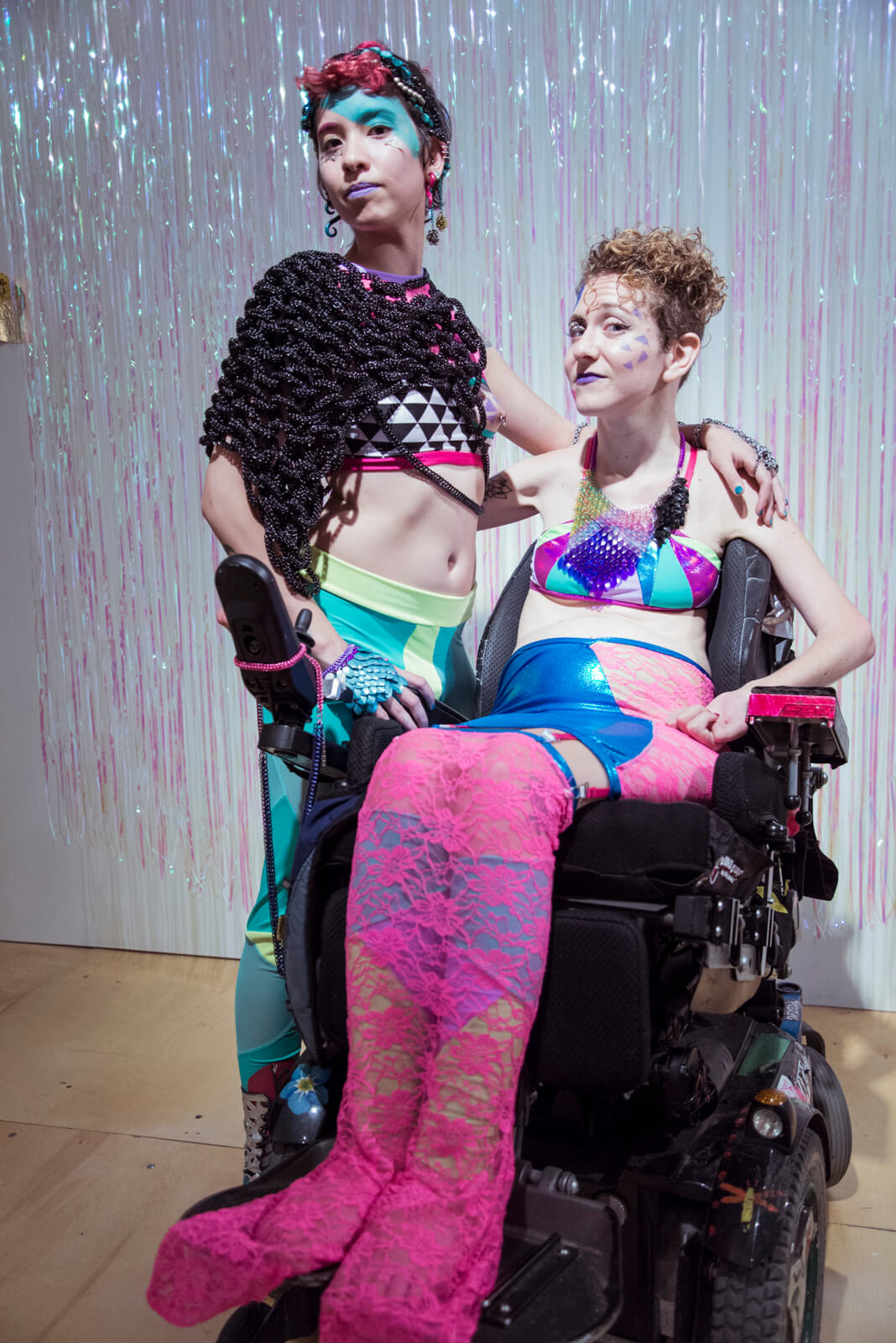 Who is your dream person to style or dress? There are so many cool people in the world! Missy Elliot, Beth Ditto from the Gossip, Lucy Lawless, Rosemarie Garland Thomson, Kate Bornstein, Carrie Sandahl…A lot of the people I have been waiting to dress are activists that now know about my work which has been a dream in itself. For the show in Oakland I was able to dress and do a photoshoot for disability activist Alice Wong. She said she would introduce me to Rosemarie Garland Thomson and I almost died! My heros are very accessible actually. The disability studies community is really small. I can be friends with all of the people I am really excited about and possibly dress them! This Oakland show was a dream show cause there are so many folks I am getting to dress whose work I have been following. For example, I just dressed Nomy Lamm! I made a giant 30 ft organza skirt for a performance later in October. Maybe she was my highest goal. Naw, maybe Xena the warrior princess. And of course it's not possible anymore, but Leigh Bowery would be the best ever.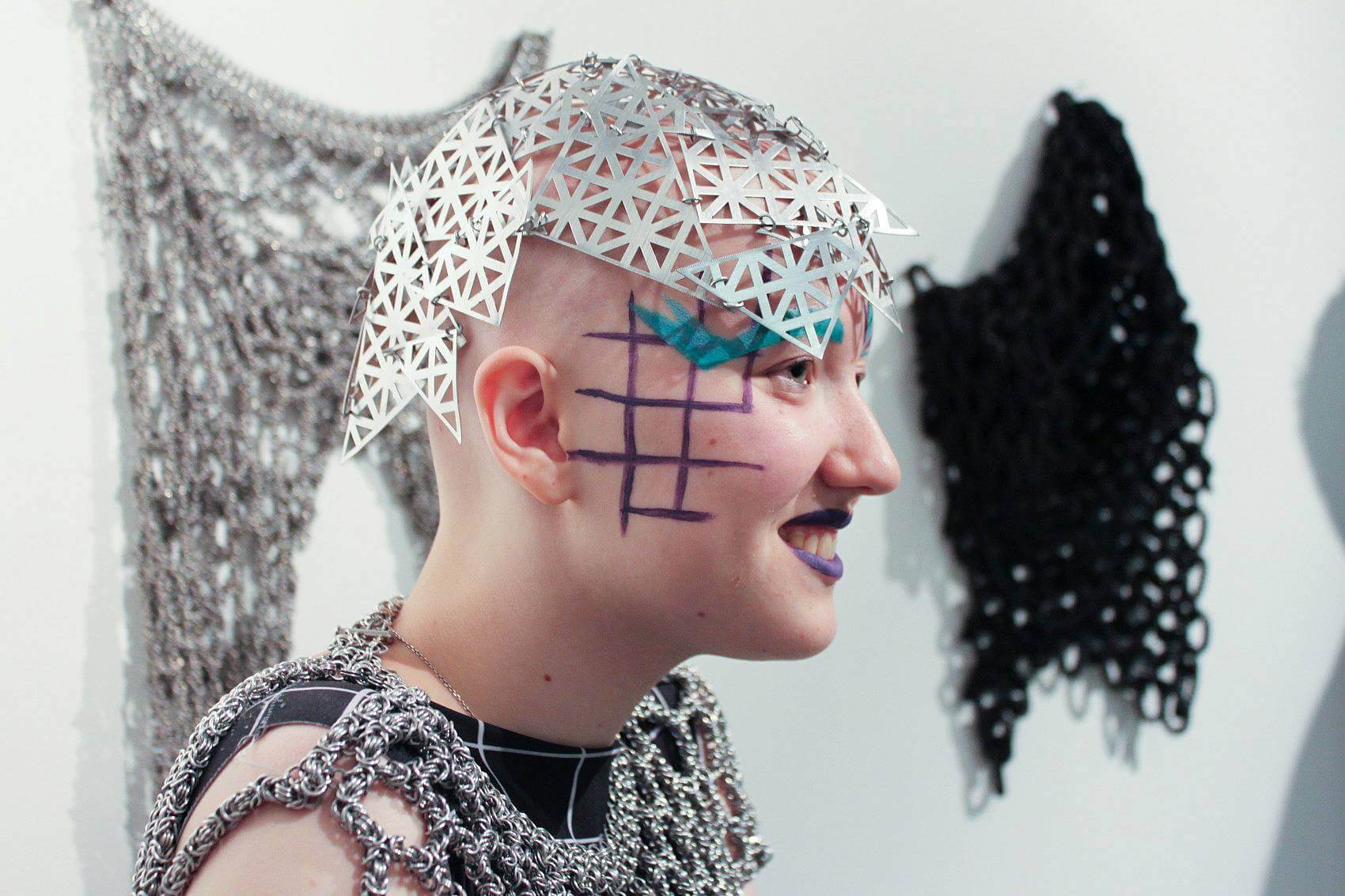 How would you explain your brand? Rebirth Garments is a line that aims to create a community where all people can confidently express their individuality and identity. Our identity is that of QueerCrip, a politicized umbrella term that encompasses queer, gender nonconforming identities, visible and invisible disabilities/ disorders—physical, mental, developmental, emotional ect. In particular, our trans* and disabled communities have very particular clothing needs that are not adequately served by mainstream clothing designers. Instead of being centered on cisgender, heterosexual, white, thin people, Rebirth Garments is centered on QueerCrip people. Rebirth Garments challenges mainstream beauty standards that are sizest, ableist, and conform to the gender binary. Instead, we maintain the notion of Radical Visibility, a movement based on claiming our bodies and, through the use of bright colors, exuberant fabrics, and innovative designs, highlighting the parts of us that society typically shuns. Through Radical Visibility, we refuse to assimilate and can create a QueerCrip dress reform movement.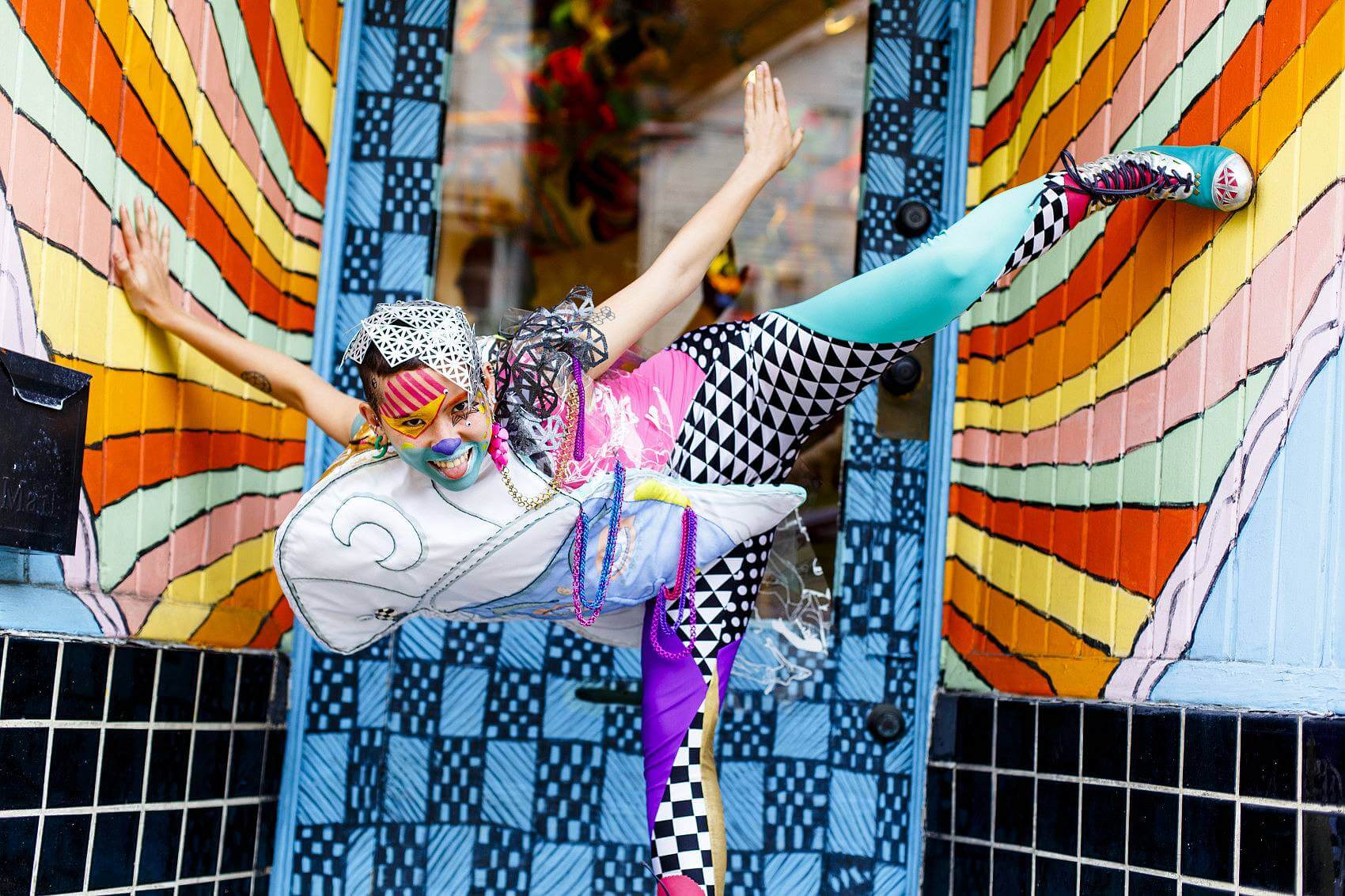 What materials do you use in your work and what is your process like? I use Chainmaille and Spandex in my work. I started chainmailling when I was 13 years old. I was drawn to the texture and the kinetics of it. I was really fast and good at it starting off, the repetitive movements calmed my anxiety because it kept my hands going and producing. This is and always will have been my first love. I am practically the only person I know who likes stretch fabrics more than woven fabrics. Most designers won't ever use stretch fabrics, but I love them because they are so versatile, they can fit so many different shapes of bodies, and they are easier to pull on if you have limited mobility. Also the colors are so vibrant!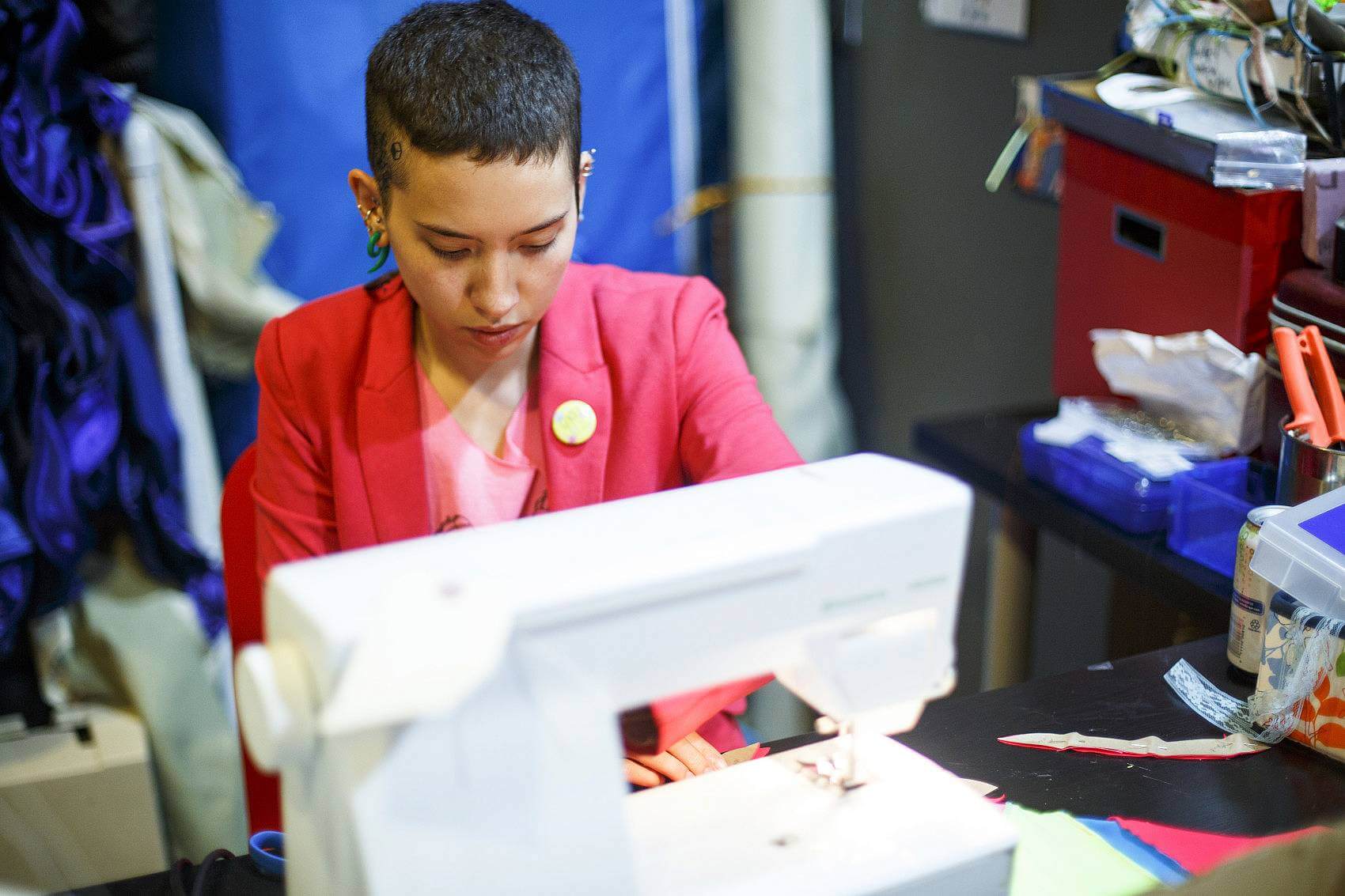 What artists or designers are you interested in right now? Leigh Bowery and Buckminster Fuller are foundations that I return to again and again. Nomy Lamm, Sins Invalid
Favorite thing about Chicago? My community and my chosen family. My autonomy there.
What are your thoughts about the fashion scene in Chicago? I definitely have hope for it. Not the mainstream fashion scene…I think that that's a joke. But I think all of my friends are doing some fun and interesting things right now. I think we are fortunate enough to not have such a big fashion scene so we can really shape it.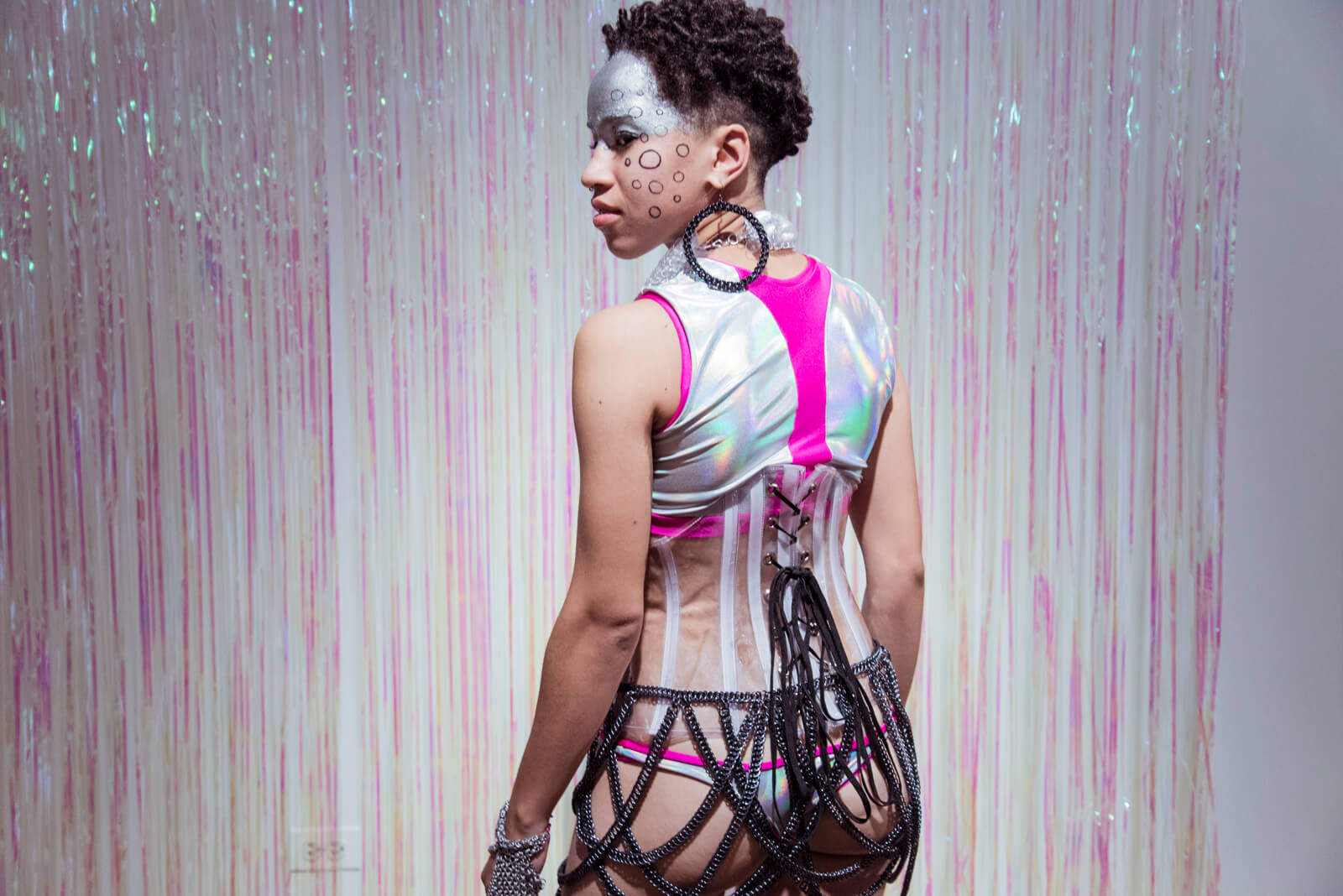 How do you feel about wearing all black? For myself personally, I just pretty much don't do that. I think that's a reaction against how when I was growing up my mom only ever wore all black because she was a dancer and she had all these sizest and fat-phobic ideas about how color makes you fatter and is therefore is bad. Color is wonderful and also being fat is wonderful too! Color has been equated with the feminine, the emotional, the orient, things of race and queerness, basically everything that is seen as irrational or the wrong has been equated with color in some way. Black is supposed to look sleek and tidy and refined and I think that our lives are messy and that's beautiful.
What is your snack/beverage of choice when working in your studio? Kombucha! French Toast from Victory's Banner. Jibaritos.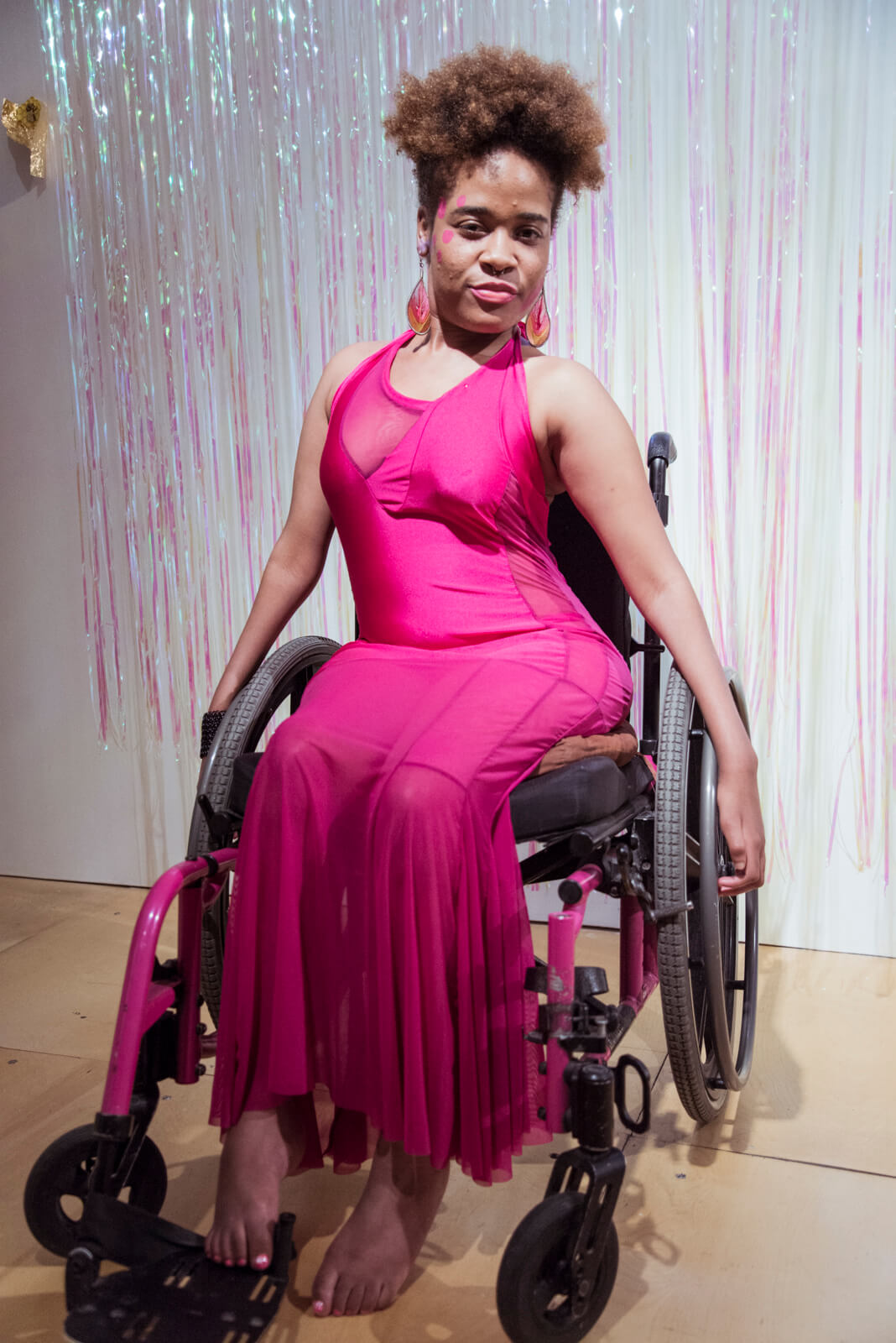 What are you really excited about right now? I'm excited about the show we did in Oakland. I'm excited about what all my models are doing. I think that they're all awesome. I'm exciting about creating this Queercrip network across the world.
What are you listening to right now? The Gossip Live album from London on repeat. The Taxpayers on repeat. Everything on repeat. Must. Listen. Over. And. Over. Again.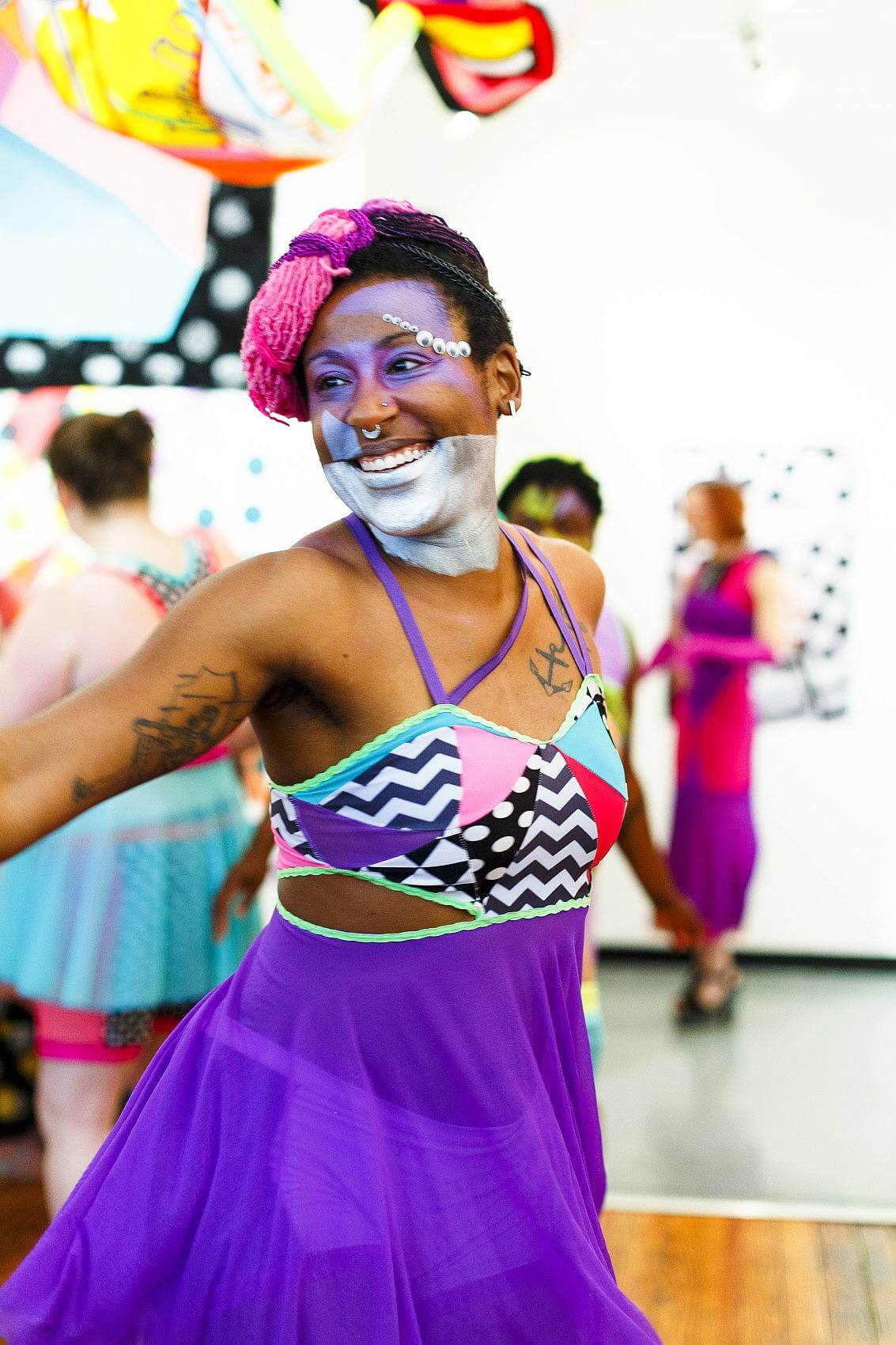 Can you share one of the best or worst reactions you have gotten as a result of your work Worst: Because of our Kickstarter we got a lot more media attention and that meant some hurtful comments. The criticism of the clothes doesn't even bother me that much, but some people used it as a platform to be fat phobic and really hateful. People are really sensitive to the feelings of folks with disabilities (or at least they try/pretend to be, even if they don't act in the way they should) and people are becoming more okay about gender and trans* rights but even in progressive circles people feel free to be openly fat phobic. And I don't even think I focus enough on the rights of fat folks and this experience made me feel like that is more and more important.
When people are happy with their outfits it's the best. People are so thrilled that someone cared enough to make something just for them. For most of the folks I work with that has never been the case for them before.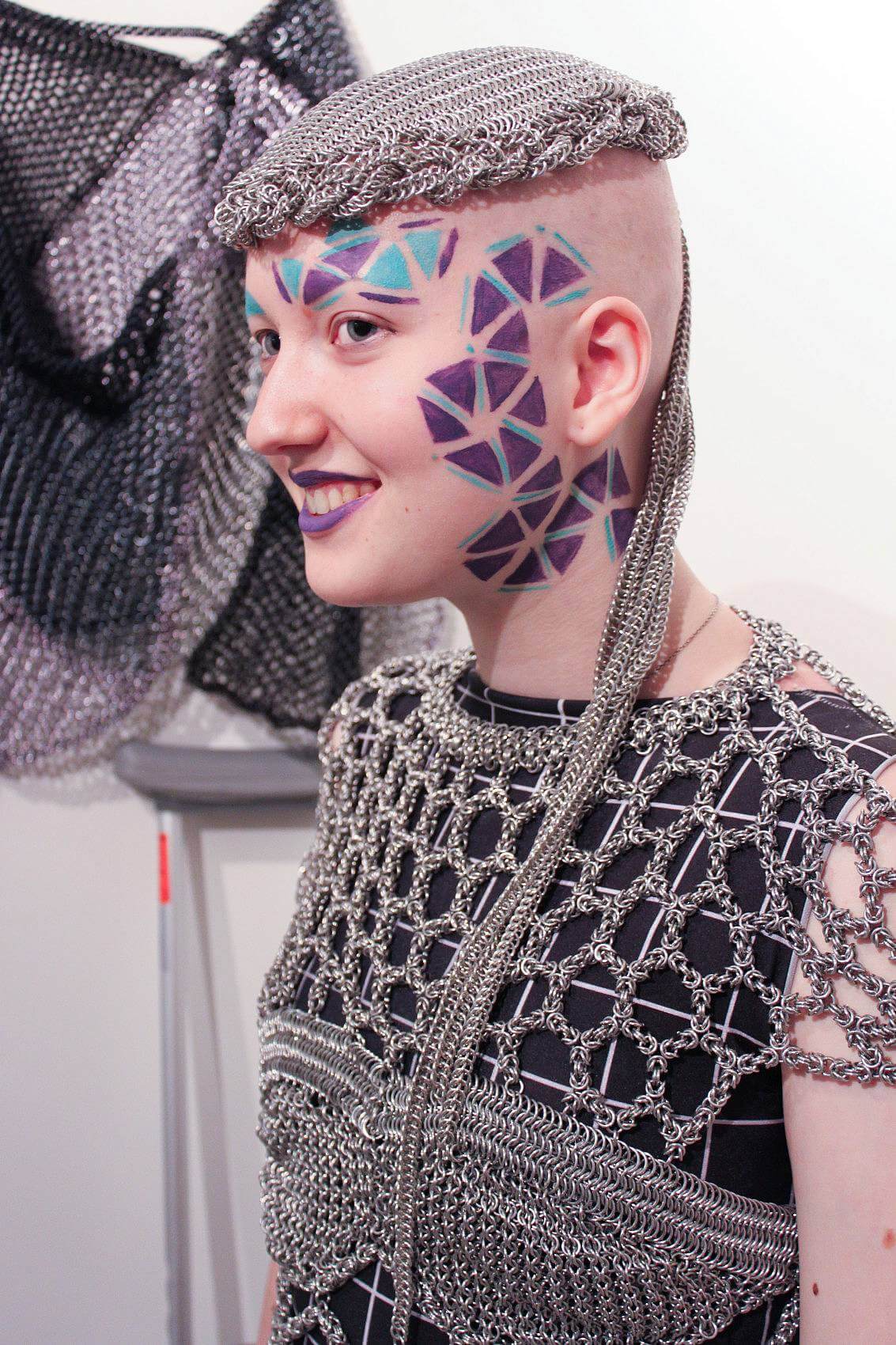 The other best thing has been mentoring young people. I met my friend Milenka who is a student at Northside College Prep where I used to go and her transformation has been so incredible. Milenka has Alopecia, an autoimmune disease that makes your hair fall out. When I met her she had become really concerned about the fast-fashion industry because of the bad effects it has on the environment and the human cost. She found out that wigs were made in that industry and she made a commitment to never wear wigs again. I met her and started working with her, and now she is developing her own line of metal and chainmaille headpieces for other people who also don't want to wear wigs. Her confidence has exploded because of working with Rebirth Garments and it is so awesome and inspirational. She just runs with the ideas. She is only 16 but she is already such a force to be reckoned with.