Tell us a little bit about yourself and what you do. 
KIYA LACEY artist [singer/ songwriter], host & curator of NOT MY FIRST RODEO, and Brand Consultant.
How did your interest in music begin? 
I have always had a passion for performance. I would sing around the house as a toddler, but dance was my first love. I loved being on stage. I grew up around a wide variety of music [my parents were really young when they had me]. I started writing in middle school, and started taking a career seriously after being selected to attend Grammy Camp in Los Angeles while in high school!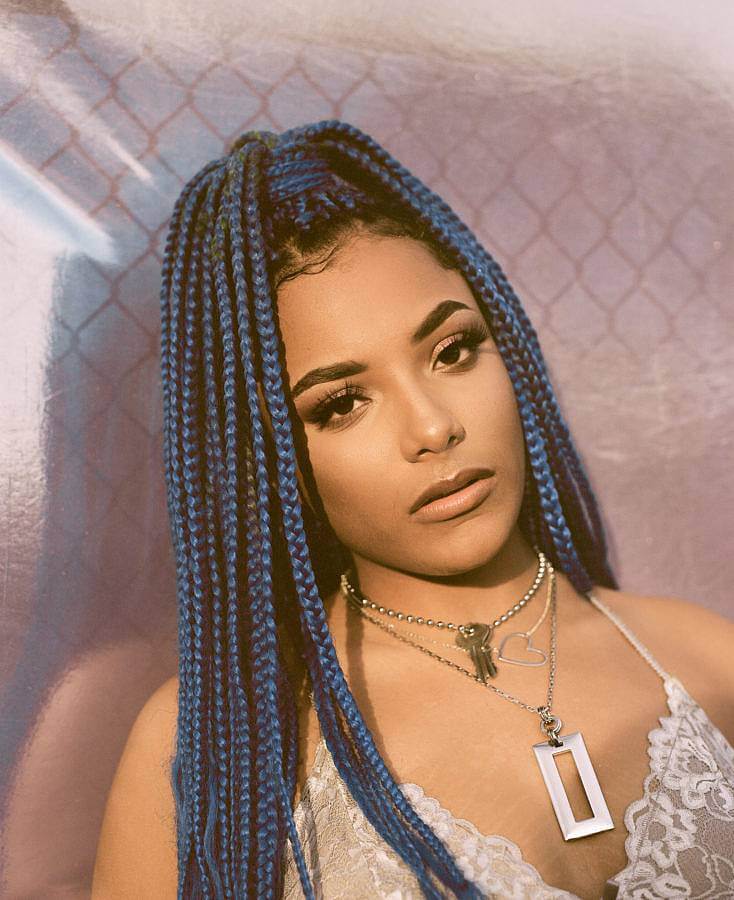 I feel like we can see it through your aesthetic and in aspects of your music, but what has it been like to grow up in Nashville? 
Growing up in Nashville definitely cultivated my ear for music and vocal accuracy. Downtown is super touristy and country, but we still have the projects and areas they never broadcast. I'm an east side baby! I have so much love and hope for the music scene there. There are definitely political and racial setbacks that are displayed in the industry, but I am excited to be breaking boundaries.
What is one of the bigger challenges you and/or other musicians are struggling with these days and how do you see it developing? 
I am starting to realize that most of the challenges I faced in the very early stages of my career had to do with 1) insecurities 2) financial setbacks 3) lack of marketing ideas. I am finally at a place where I understand the importance of confidence no matter how cloudy the outcome is. I always find a way to MAKE IT WORK.
Can you tell us a little bit about Not My First Rodeo? 
Not My First Rodeo is an event series that I host and curate within Atlanta, Nashville and Toronto. We are expanding to new cities in 2020, and I can not wait to announce what's in store! I am very thankful for my friends over at Red Bull that have been believing in my vision. This party started off as a random idea to assist with my career expenses and now it is literally shifting the culture. I wanted to create a place for EVERYONE to feel welcome, and for industry folks to loosen up a bit and have FUN. I wanted to shed light on Southern Culture and Art, and I am so excited about the independent artist that I am able to provide a platform for in these cities. I really love it!
Who would you ideally like to collaborate with? 
ARCA. JAMES BLAKE. FRANK OCEAN. TRAVIS SCOTT. ROSALIA. SEVDALIZA. SAMOHT. BILLIE EILISH. I CAN KEEP GOING. whew.
Okay, we just listened to Yeehaw.. OBSESSED!! What was the writing/recording process like for this single? 
YEEHAW [produced by The Wonder Twins, Blksunchild, Jack Keller], WORK feat Jade million [produced by The Wonder Twins], LIKE THAT feat Bryant Taylor [produced by Jack Keller] were recorded in Spotify Secret Genius studio Nashville. I have been recording in Secret Genius studios since last year and I ALWAYS create magic in there. It is a time for me to be free, and I always feel confident to try out new tones and harmonic expressions. Recording in Nashville with all of my friends was a dream come true. It was the first time I was able to have all of my favorite Nashville musicians and artists in one room.
Do you have any guilty pleasures? Tell us about one. 
Grocery Shopping, going to the mall/thrift store hunting!. sounds odd…but my life is getting so busy now that I don't really have time to do it. So when I do I love to take my time and look at everything. It is just the little things sometimes that just remind me to slow down, and like take in where I am and how far I have come!
What are you really excited about right now? 
THE SHIFT. I was just working 3 jobs end of April/early May. Now I am a full time artist and I am doing what I love EVERYDAY. I prayed and worked really hard for this to be my reality. The visual "Give In" was a representation for what was happening in my life. The lyrics were a cry for help at a time where my jobs, past relationships, and depression were definitely bringing me into one of the lowest mental breaks I have ever had in my life. It is so beautiful to see how I have blossomed. I have shifted my entire life, and feeling so much better about my future.
What do you want a listener to walk away with after hearing your music? 
FREEDOM. I recently decided to be more open and honest about my life experiences in my music. I know that my upcoming singles will bring my fans into my world. I want people [especially those that deal with depression and anxiety to know that they are not alone in their thoughts].