Tell us a little bit about yourself and what you do.
I was born in Southern Missouri. I am a Kansas City Art Institute dropout who makes paintings, sculptures, and sound performances that are interested in the aesthetics of counter-culture movements and how they have developed online. Until 2018 I was living in Kansas City Missouri where I met so many amazing artists and I feel lucky to have been part of such a supportive and creative scene, but I wanted to expand where I was showing and meet more creatives, so I moved to Chicago with my partner. I collect cassette tapes, occult books and poppers bottles, I love to go dancing and thrifting around the city and I am always on the lookout for anything fun and weird.  I currently work as a plant buyer for a flower wholesaler here in the city and I live and make art in Logan Square.
Your work explores a lot of occult symbolism, what was your introduction to these themes?
I grew up in a very religious family and I was always drawn to occult imagery and ideas because it felt dangerous and taboo.  My uncle owned this used bookstore, and I would always look at the occult and paranormal books. I was fascinated with paranormal, pseudoscience, cryptozoology, and extraterrestrials while secretly exploring things like satanism, ritual magick, and witchy shit. I was also reading anything I could get my hands on about the 1960s hippie movement and when you read enough of that, you end up with information about Charles Manson, Anton Lavey and the more out-there philosophies and metaphysical theories. 
When I graduated high school, I ended up at a small-town community college with a great art program to get some credits on the cheap and to build my portfolio in order to get a scholarship to the Kansas City Art Institute. There I was introduced to a newer occult movement called Chaos magick and this opened doors to an entire online community of ritual magicians discussing the occult and I did a deep dive into the research for years. While I can say I have studied myself out of any belief in the supernatural, I am still drawn to the ideas and imagery that surrounds the occult and their practices to this day, so I think it's natural for me to dig into these concepts.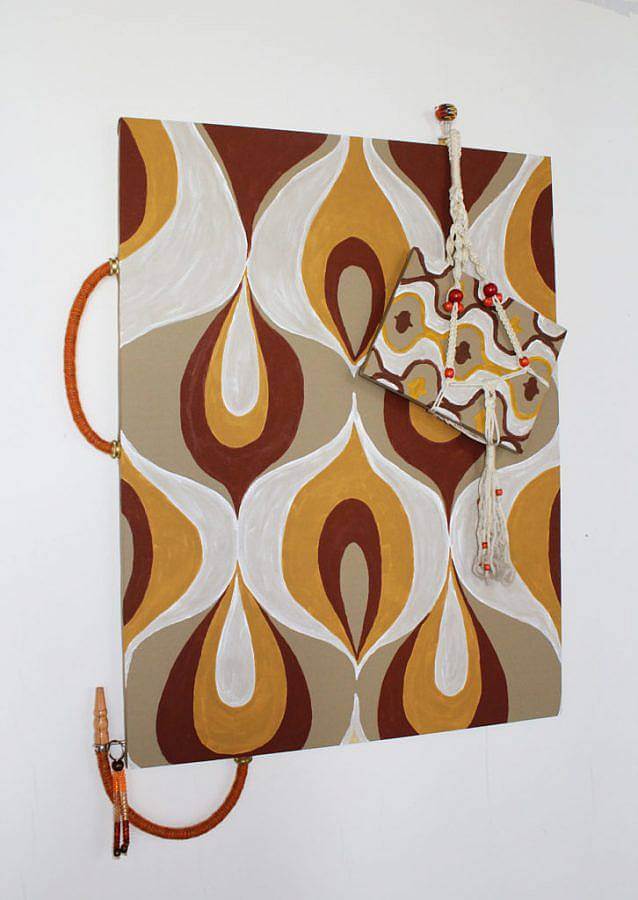 What have you been listening to lately?
I have been rocking this Japanese double cassette mix of Goth, Post Punk and New Wave from the 80's and Beck's album Mellow Gold from the 90's, lots of NPR and I am always playing Nitzer Ebb and old country.
Tell us a bit about the performances you have been doing recently.
I have been collecting new age cassette tapes for a long time and wanted to find a way to incorporate them into my work.  At first, I started playing with them as found objects in studio, but I realized I wanted to explore the full potential of the tapes.  I have developed a performance where I get multiple found new age cassette tapes playing at the same time building a sonic spectrum of minimal-droning sound, calming music, guided meditation and field recordings. In addition to this I have a projection collage of found YouTube videos that I piece together using projection mapping software which enables me to arrange multiple clips together simultaneously.  I typically use videos of people doing new age rituals like charging crystals, or videos associated with new age cults or pseudoscience ideas. I named this project "Teal Swan" after the online, new age guru by the same name, and I am having so much fun working on it. My projects tend to explore an aesthetic appreciation of certain cultural groups, specifically groups that I have been legitimately interested in and or participated in throughout my life, all while being quite critical of them. 
I am currently working on releasing an album that is a small mason jar filled with water from a well in the area believed to have healing properties.  The lid of the jar has a chip in it that links to the playable album online when tapped with a phone.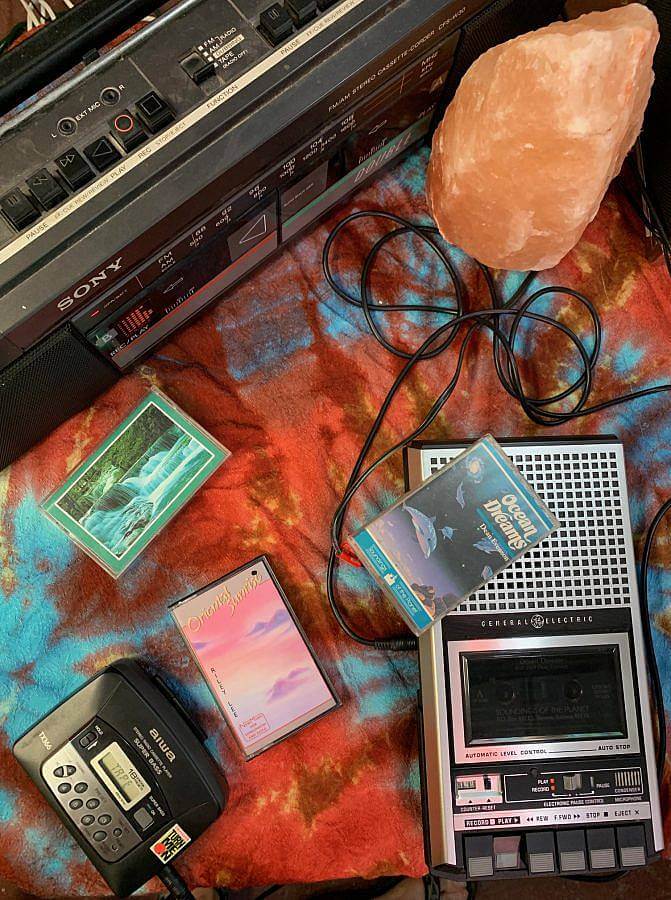 What insights have you gained from sobriety?
I am what some people call "California sober", in the sense that I allow myself to indulge in an occasional weed treat and some psychedelic research, but I haven't had a drink, or let any hard drugs into my body in fourteen years. Some people approach me asking for advice about addiction and I think the biggest thing I learned is that quitting was one of the hardest things I have ever done and that the support of friends and or family through anything difficult like sobering up is where the real power exists. Getting sober is really fucking hard and you are probably going to have to be vulnerable and ask others for support too, which I think is good practice in communication and relationship building in general. Also, I learned that there is a lot of beauty in this world that we take for granted. It is easy to numb out our feelings, but that tends to subsequently cloud out the charm and delicacy of our surroundings too, so I would say, look more, smell the flowers, taste the things, listen to the sounds, be with your people and simply pay attention.
New age spirituality is another prominent theme you deal with. How did you get interested in this topic and what made you want to make work about it?
My childhood interests in 60's counterculture naturally led me to the new age movement and I think new age in general was born out of the hippie zeitgeist. As a teenager I hung out at Head shops and new age bookstores where I was indoctrinated with new age ideas. Then when the internet came along, an entire online world developed with even more bizarre beliefs along these lines, and I became obsessed with learning more.
My work became interested in the aesthetic developments of hippie subcultures and how they evolved online, specifically with crafting and the dissemination of materials and processes. For example, there is an entire genre of YouTube videos where people show you how to make homemade pipes.  I made pipes from found objects as a kid and I liked the idea of showing them as sculptures. I also find the sculptures intriguing as conceptual objects from the internet crafting scene. This sharing of information was also happening within the new age groups as they traded ways of making pseudo-sciency things to cleanse the energy of their personal spaces, and magical contraptions to disperse chemtrails over their properties. I found these to be striking and unusual sculptures as well. A long-time friend and collaborator of mine named Tim Brown and I made a bunch of these objects for a show called, "Now That's A Conspiracy" back in 2016 and I have been on the new age kick ever since.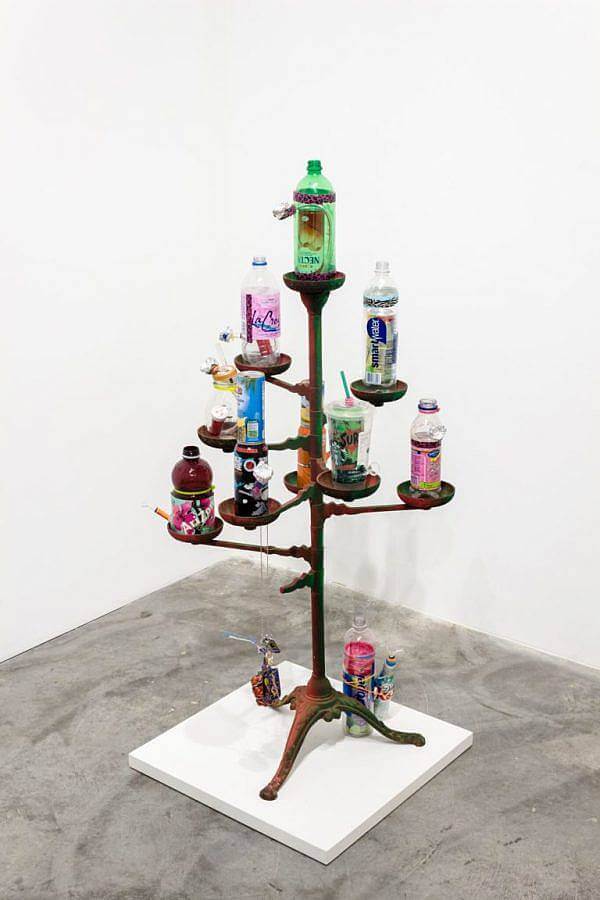 You originally were interested in studying painting, was there a particular moment when you made the decision to integrate more objects and performative aspects into your practice?
I think that considering what a canvas even is, is an idea I have been playing with for a while.  I like having a conversation with the history of painting, while trying to push the way we think about the art form. I try to do this by transforming the structure of the canvas stretcher sculpturally or thinking about different treatments to hang work on in general, like posters, or found materials like hippie blankets and tie dye sheets. By making the paintings structurally into something like a pipe to smoke drugs out of, or an object to sit some kitschy knick knacks on, I hope to bring the viewer closer conceptually to what the abstraction is supposed to be alluding to, while hopefully adding some levity to such a historically "high-brow" medium. I like to play with ways to both elevate and debase my art at the same time.
Thoughts on being a "working-artist"?
I have had careers in food, wine, and now plants, and I have met so many amazing people both in and outside of the art world while working in these industries. Of course, I would like to sell more work and make more money in general, but I enjoy being able to make whatever kind of art I want. While my work is known to dabble with concepts that critique the art world and the art market, not needing to make money on my art has allowed me to make whatever I want, and I think that breathes a certain type of freedom into my art that it wouldn't have if I was concerned about paying the bills with my paintings.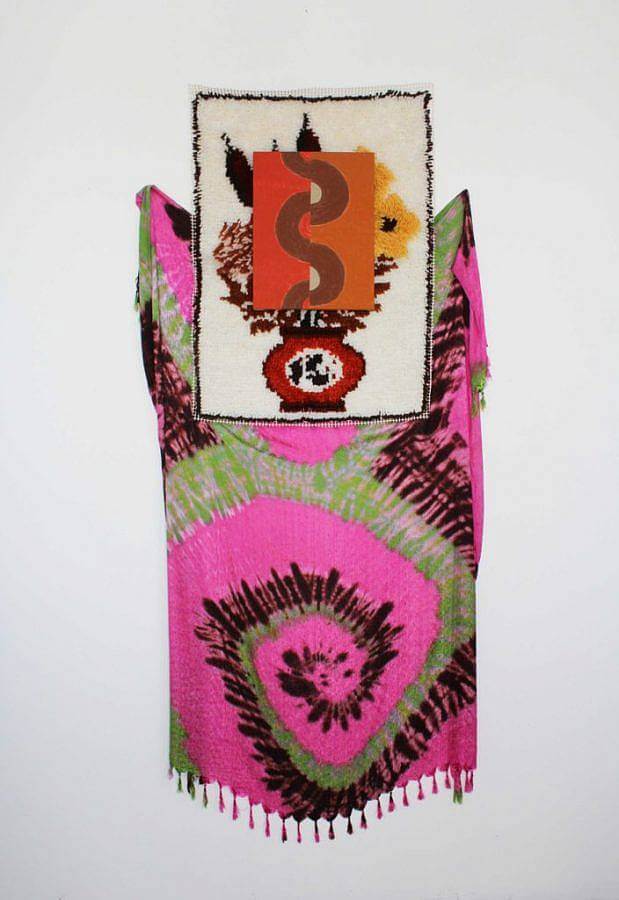 Do you have any daily rituals?
I try to meditate every morning after I get out of the shower.  I have been doing this for quite some time now and I really like starting my day this way.  I don't do it very long, only six minutes, but it has been a real game changer in my life since I started.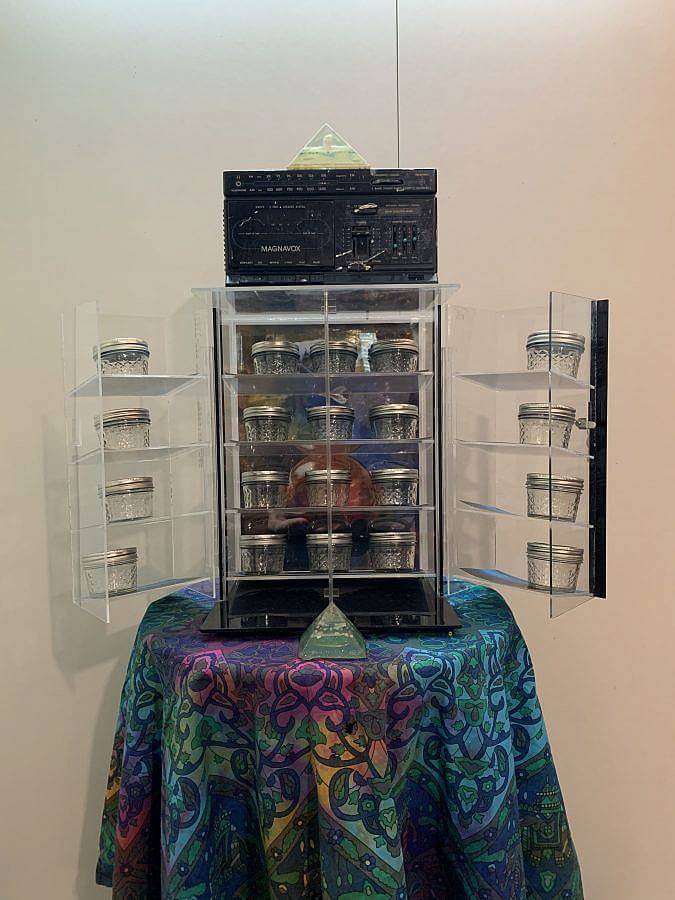 Do you have any upcoming projects that you can share with us?
Totally!  I have a Teal Swan tape release with Tone Deaf Records happening in the next couple of months that I am super stoked about, I am playing an Ambient Brunch at Café Mustache on Sunday July 30th from 12-4pm and I am hoping to roll out my jar of healing water album soon. I will try to do some other weird stuff before the Summer is over as well, so keep an ear out 😉
Interview conducted and edited by Sam Dybeck.