Tell us a little bit about yourself and what you do.
I am interdisciplinary artist living and working in Minneapolis. Drawing on a range of influences including psychoanalysis, contemporary fashion, and human belief systems, my work, which encompasses sculpture, painting, scent, ceramics, photo, and installation, involves ritual, the recontextualization of materials, and aspects of the body. I am also the Co-Founder and curator of Night Club gallery in the Twin Cities, MN. Since graduating in 2020, I have been teaching a range of undergrad visual art studio classes at St. Cloud State University, Minneapolis College of Art and Design, and the University of Minnesota Twin Cities.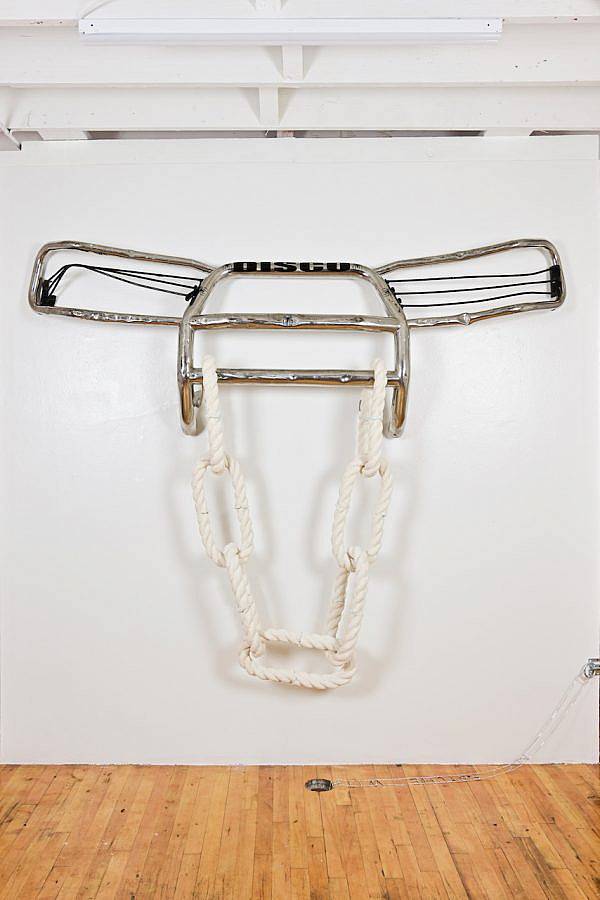 How did Night Club Gallery begin, and can you explain a little bit about your involvement and programming there?
Night Club started as an extracurricular conceptual art club at MCAD that Lee(Noble) and I ran where we would host workshops and conceptual exercises with students and faculty in the evenings during school. This ended when the school closed due to the. pandemic. After moving into our current house later in 2020 we decided to utilize the front space of the house given the odd characteristics of the space. We started hosting exhibitions and performances in the summer of July 2021; after year and a half of programming in our house we opened a storefront gallery space in downtown St. Paul. We have our next and their exhibition, a solo show by Fidencio Fifield- Perez, at the new space opening on June 16th.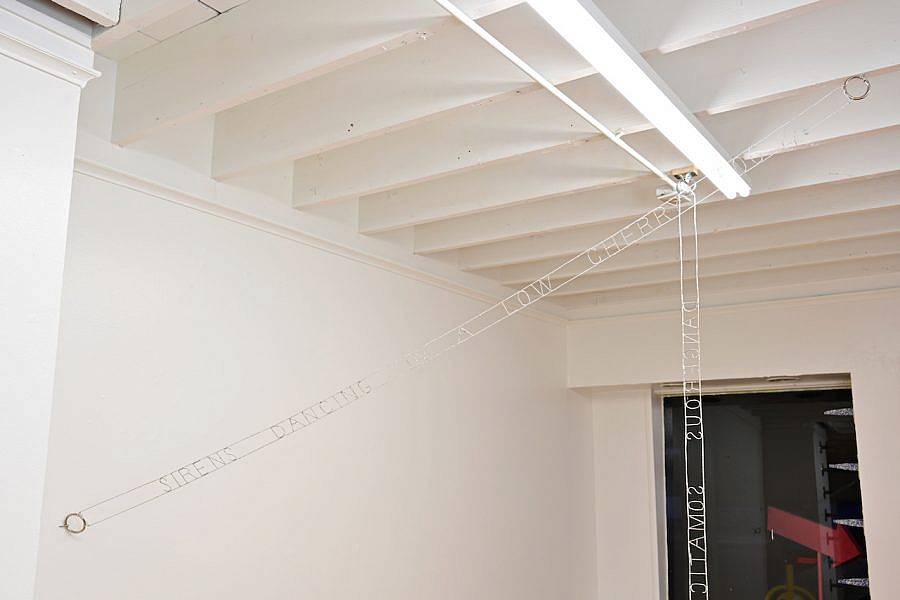 Can you tell us about the cyanotype paintings from your show "Quarter Turn" at Fierman in New York last year?
This body of work was a collaboration between my sister and I in relation to her body building practice. It started out as just a collection of photos I took on my point and shoot 35mm camera during her first competition to simply capture the moment and turned into a real focus for a while. There were several sculptures in the works for this exhibition but ended up creating a
series of these painting like objects using 35mm photograph/found image digital collages exposed on canvas with cyanotype. With these I was thinking about the prepping or staining the figures with spray tan and the ritual of developing the canvases in relation to her practice. There were also a few installation rhinestone chain text pieces included in the show which are a play- off rhinestone text chokers but in this case the space is more of the "figure" being activated; there were more of these in the Hair + Nails exhibition, soldered letters forming lines of poetry describing elements of bodily pain, pleasure, and desire.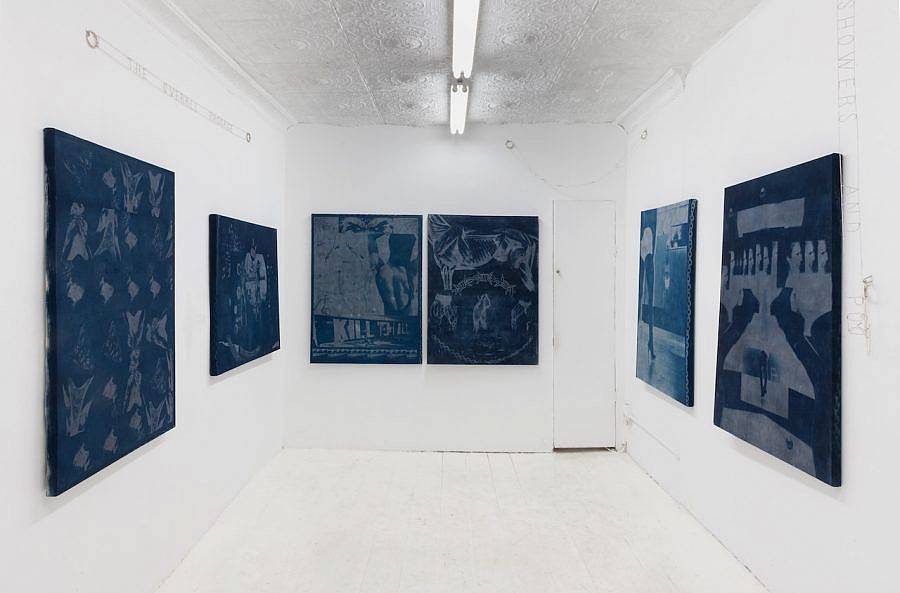 How do you address the overlap in painting and sculpture in your practice?
I don't really think about the difference between the two, coming from a painting background I think the painting format is very comfortable to me but has become less and less important.
Do you have any daily rituals?
Definitely not haha it sounds nice though!
How would you describe your sensibilities when selecting the images and photographs that appear in your works?
I think in general I go through phases of types of images I'm interested in using but overall I'm always considering how much information is really necessary to include to achieve the tension I'm after. I think many times it becomes a practice of jumping and crossing the many threads that are stretched through the work and how can I take that thing and remove it several times until its nearly lost its original identity and has taken on a new form with its associations still lingering but out of focus. Overall I guess this is kind of just the way I'm thinking about my work more broadly beyond images.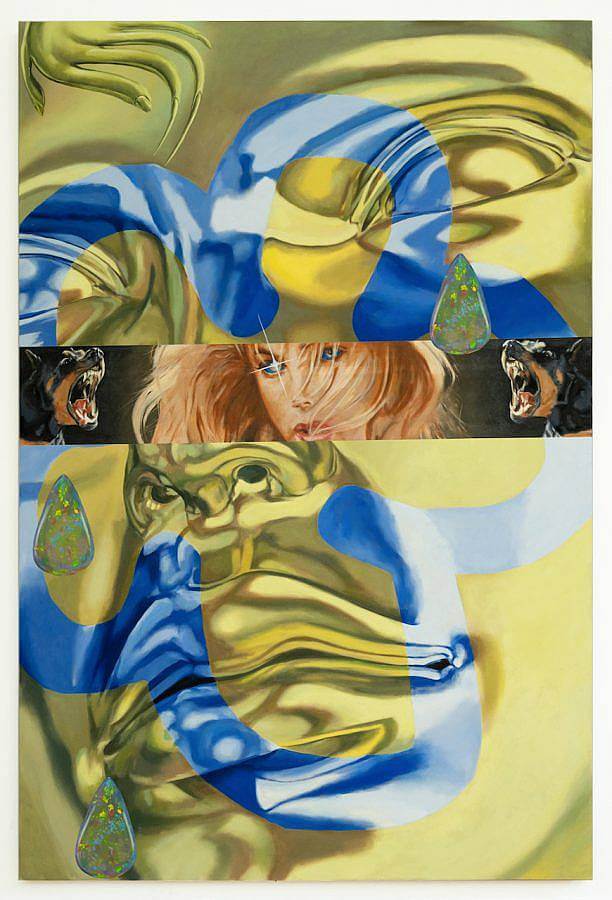 In what ways do you feel like your curatorial practice and your studio practice overlap?
I think they're separate although they're both fairly intuitive.
What artists are you feeling inspired by at the moment?
Trisha Donnelly, Josh Klein, ASMA, Michael E Smith, Haim Steinbach, Kelly Akashi, Rashid Johnson.
How did you become interested in fragrance?
I'm always thinking/excited about associations, memory, transference, momentary information, removal, and reconfiguration of an experience and I feel like scent does all of that in a strong and subtle way somehow. I love the ephemeral and time-based experience of it, how if you stack it right it changes in a really interesting way as its worn.
What galleries do you feel most excited about at the moment?
Deli, Hair and Nails, No Gallery, Swivel, ILY2, M23, Helena Anrather, Lubov, M Leblanc.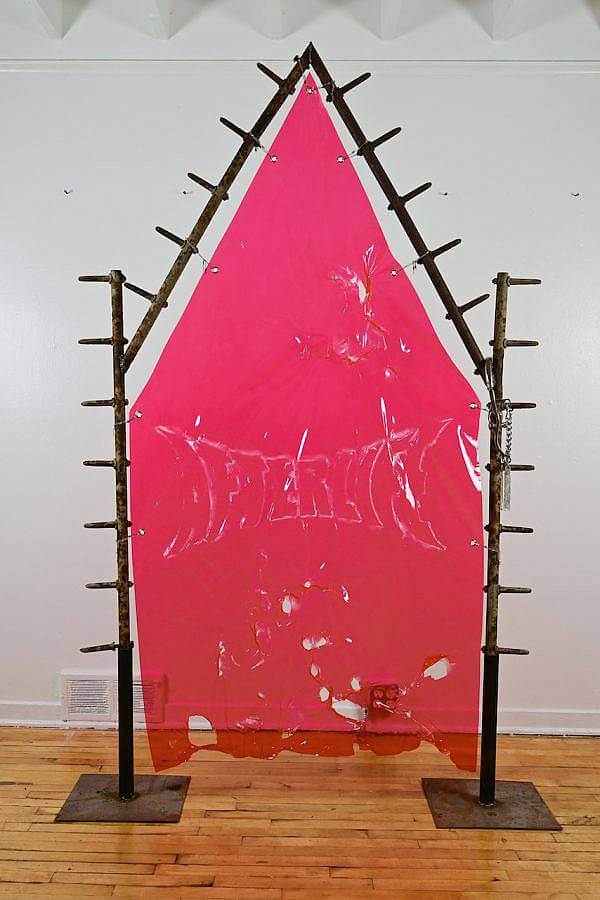 I think that a lot of artists feel pressured to move to coastal, metropolitan cities to begin their practices. Can you talk a bit about maintaining your practices in the Twin Cities?
One nice thing about the twin cities is that space is fairly affordable and available. We have been able to use our living space as a gallery and studio space without compromising our day-to-day life. They are literally giving people spaces for free here because there's so many chronically vacant spaces in both cities. We are able to do a lot here in that way. I think because that is so available its been cool to create/contribute to the type of art scene we would like to see reflected here. By cultivating this we have been able to make connections with other like-minded artists and spaces which is valuable for both our art space and our own practices. Anyways, I don't know what is best but I do love visiting New York when I can, I just don't think we would have as much of a studio practice there as we do here simply because of space and money. But who knows!
What will the drink of Summer 2023 be?
I had an espresso negroni recently and it really surprised me. It may not be the drink of the summer but it's definitely worth a try. I heard cosmos are coming back haha
Any upcoming projects that you can share with us?
I'm working on a few shows coming up this fall which will be somewhat of an extension of my current practice and Lee and I will be working on a collaborative wearable scent sculpture for the Weisman Art Museum. I'm looking forward to having a few months off dedicated to studio time this summer between teaching.
Interview conducted by Sam Dybeck and edited by Emma Kang James.