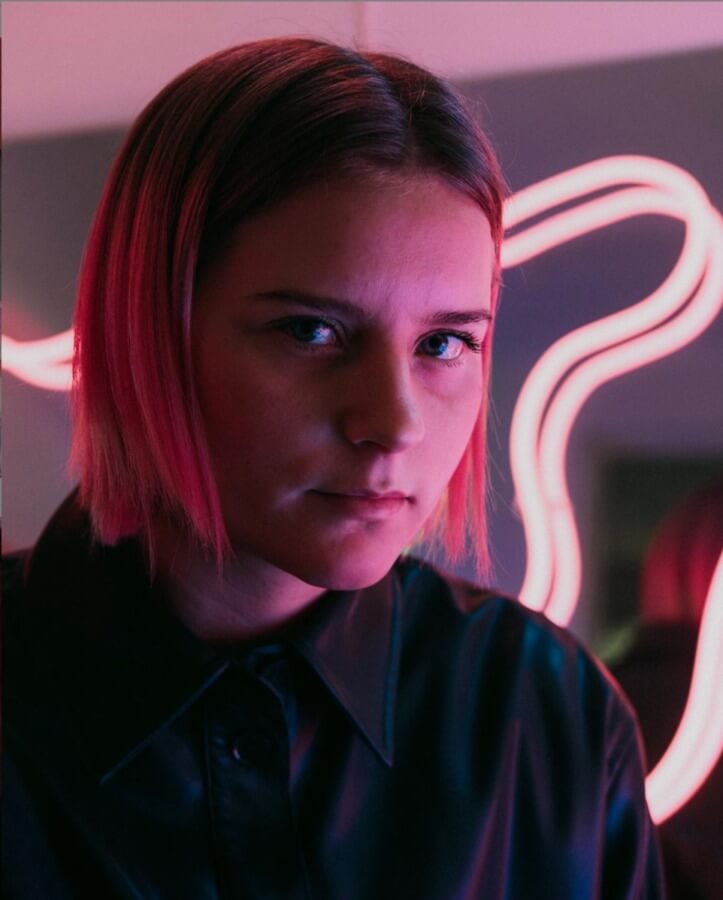 Portrait of the Artist | Photo by Martin Simonic.
Tell us a little bit about yourself and what you do.
My name is Josefin Eklund. I am 28 years old and live in Gothenburg. For the past 3-4 years, I have been creating installations from neon lights. I quit my 9-5 job to study sculpture at an art school, so I also make things from wood, clay, gypsum, glass, and other materials. I recently got my very own studio, which I visit as often as I can with my little dog Maj-Britt. Outside of creating different things, I like dolphins, the ocean, hanging out with my friends, and doing nothing.
How did your interest in art and design begin?
My mother had always been interested in art and taken me to exhibitions, but I didn't grow up with art as something constantly being there. A teacher once told me I wasn't good at drawing, so I stopped doing it for many years. This sort of broke my confidence and its taken a lot of time to build up again. As I grew older, my interest in design and art started to grow again as I learned more about myself. The more confident I was in myself, the more interested I got. Looking back, maybe it was the inspiration from all the exhibitions that helped me find myself.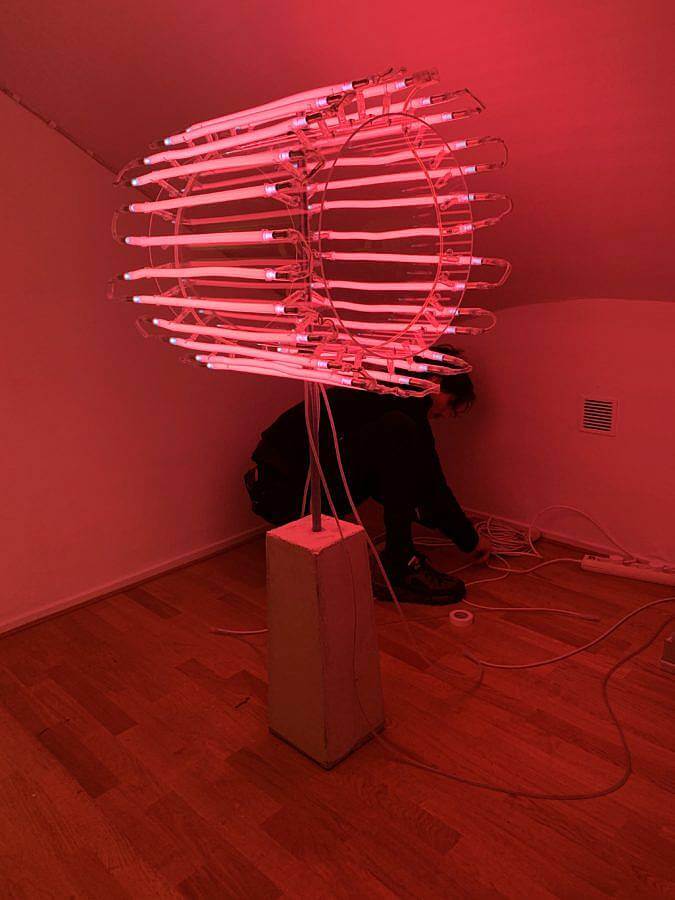 "LOST LIGHT," neon light installation | Photo courtesy of the artist.
Can you talk about your history with neon production?
My relationship with neon doesn't go further back than 2016, which was when I discovered neon light art. In the art section of the library, I found a book by Keith Sonnier, a brilliant mind who made incredible artworks from neon lights with lots of color in strange formations. That moment changed everything for me and I became obsessed with neon light. I started doing a ton of research where I would write down every artist I found that worked with light on my old typewriter and put those notes all over the wall.
I visited many different neon production companies where I procured old tubes and eventually, I was given the opportunity to make my own neon light collection. This was something I never dared to dream about. During that time, I went to Berlin and started working with glassblowers and later on arranged my first exhibition. Since that time, I have worked with neon every day.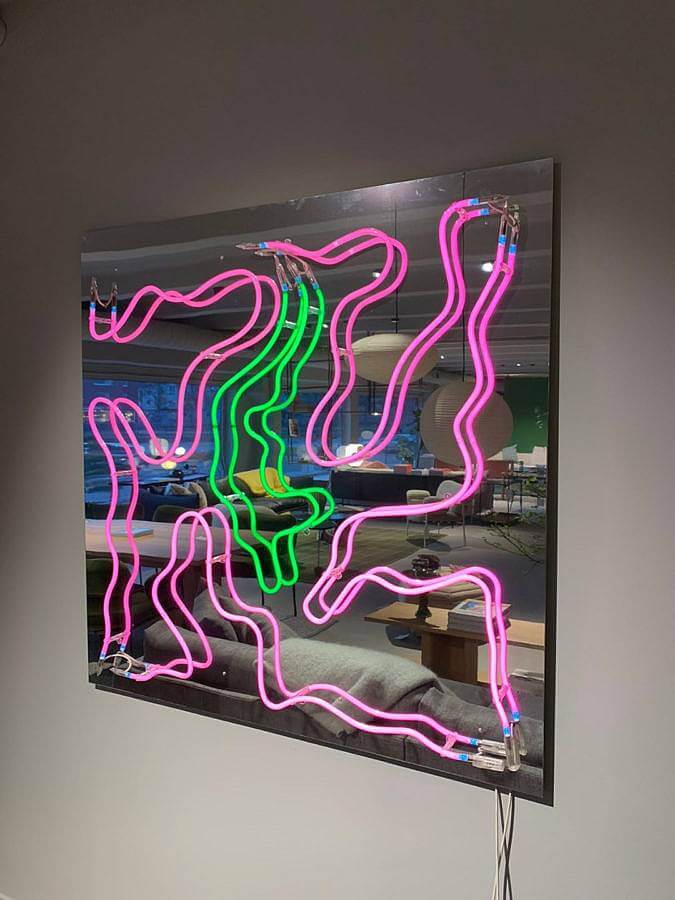 "ANTI WRINKLE," neon light installation, neon, mirror | Nordiska Galleriet.
What are some of your favorite collaborations or projects you've worked on?
I like starting collaborations when I am not entirely free. I like it when there is something I have to keep in mind, it makes it both easier and a challenge somehow. As far as past collaborations, I loved collaborating with Lyft, where I got to interpret a couple of flavors into neon art. The results were some big colorful pieces on mirror acrylic. I also enjoyed working on my exhibition for Fotografiska, which I collaborated on with my ex-boyfriend. Sometimes it's good to bring someone else into your projects to shake things up a bit!
What material properties of glass, gypsum, and neon make them quality materials to create sculptures with?
I like to work with gypsum because it is a fast process where you get to work with your hands and get dirty. I like the way gypsum changes its consistency. I have very little patience, making it perfect for me.
I love that neon lights are glass tubes filled with gas. There is this sense of exclusiveness and they produce beautiful reflections. The downside is that they are fragile and can easily break. This makes me constantly nervous because even a small crack in the tubes will mean they won't function anymore.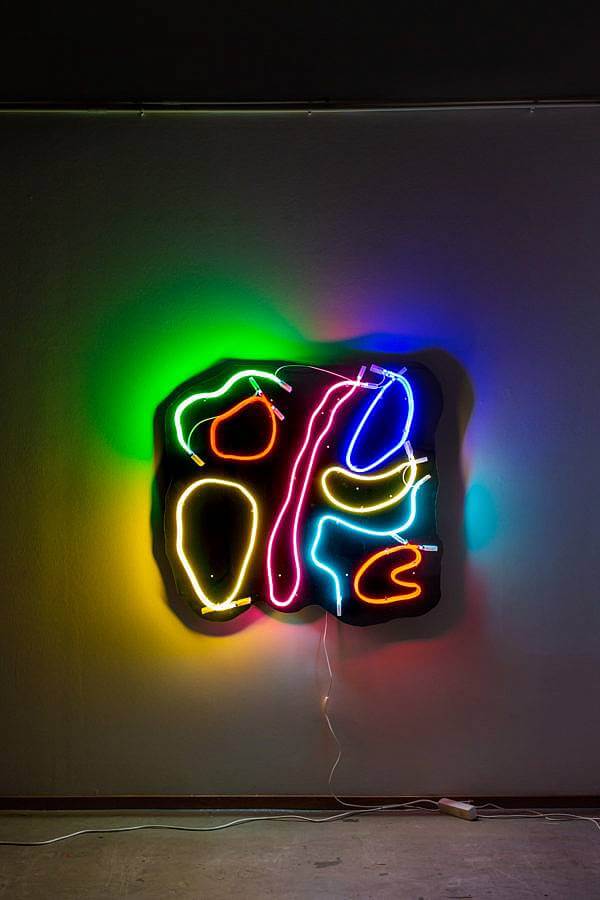 "PINA COOLADA," LYFT/LAB collab, neon light installation | Photo by Pao Duell.
How has living in Gothenburg affected your design practice?
I think living in Gothenburg has made me pretty humble somehow, as it is a small city but filled with lots of culture. It has also made it easier to make connections with places and people and to make projects happen because all the creators in this city are close together. I believe it would have been more difficult to "succeed" if I was living in a bigger city.
Favorite fashion designers and labels?
I like colorful labels when it comes to fashion and I buy a lot of secondhand. But to mention a few, I like Humana, Lazy Oaf, Silfen, and smaller random brands I find abroad when I travel.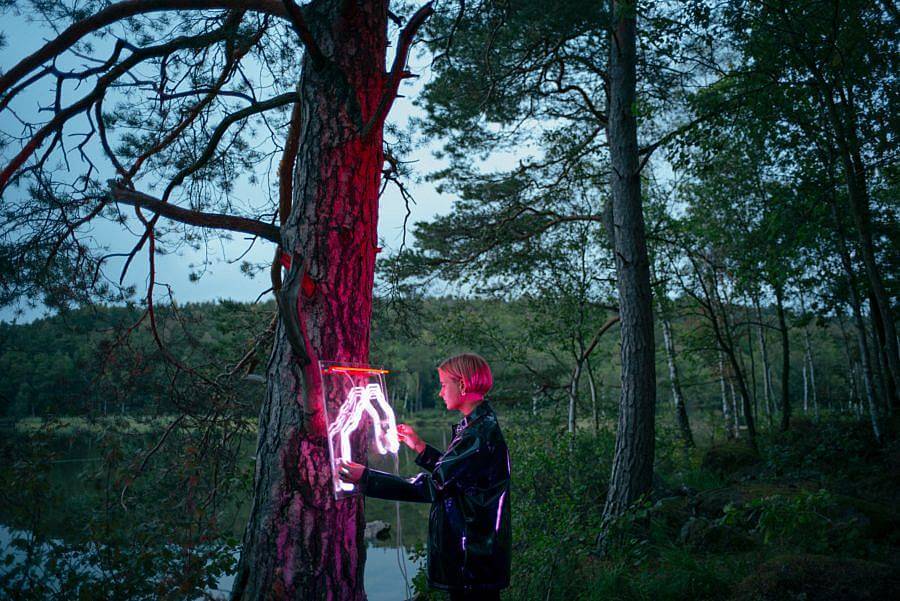 How has Covid-19 impacted or influenced your practice?
As for many other artists, I had both exhibitions and projects canceled. As for my commercial side, I saw a big decrease in requests for works too. Financially it was a bad situation, of course, but it gave me time to rest, think, and focus on other things for a little while.
Favorite designers or artists?
Oh lord, where to start? Keith Sonnier, James Turrell, Tomás Saraceno, Julian Rosefeldt, Dan Flavin, Bill Viola, Arvida Byström and many others.
What are some recent, upcoming, or current projects?
I currently have an exhibition at Svenskt Tenn in Stockholm. At the end of November, I'm taking part in a group exhibition with some very cool artists and designers. Soon, I have plans to take part in a children's book about art, make some ceiling artworks for a big car brand. Plus, I will be selling merch, posters, and smaller neon pieces at a big online platform in December and at the same time finishing my last year at art school. Many exciting things are coming !! Can't wait to show you how it all ends up….