Tell us a bit about yourself and what you do. 
Hi 🙂 My name is Jacquelyn Carmen Guerrero; I'm also known as CQQCHIFRUIT. I am a genderqueer interdisciplinary visual and performance artist, DJ, musician, arts administrator, and advocate. Along with my partner Natalie Murillo (La Spacer), I am a co-founder of the production company and artist duo TRQPITECA. I was born in Hialeah, FL; just west of Miami. My parents immigrated to the Bronx, New York, from Cuba and Puerto Rico, and then moved to Miami. Growing up, I was really into sports, reading, and daydreaming. In high school, I joined the drama club, and after I graduated I ended up going to study theater and dance at Northwestern University. After graduating, I became involved in the burlesque and queer communities and somehow managed to make my way into the arts and nightlife industries. Today I am the Finance and Operations Coordinator at Hyde Park Art Center, a Cultural Liaison with the Chicago Park District, an independent artist, and small business owner with my partner at TRQPITECA. 
How did you get started as a DJ and visual artist? 
I officially got started as a DJ in 2013 when I was invited to host Chicago queer dance party Chances Dances [2005-2016]. When I accepted, they also offered to teach me how to DJ. After one lesson with co-founder Aay Preston-Myint, I had my first DJ gig at Danny's in 2013. I had been coming to their parties as a young queer trying to find myself, kindred spirits, and a good beat on the dance floor. I was beginning to get my footing as a performance artist exploring my intersection of gender, race, and sexuality, and in 2012, I applied for their Critical Fierceness Grant. I received the Mark Aguhar Memorial Grant, a special fund within the Critical Fierceness Grant specifically for feminine spectrum artists of color. This grant, the first arts grant I ever received, helped me expand my performance art practice to incorporate installation art and embroidery. My first official gallery show was "Platforms: 10 Years of Chances Dances," a group exhibition at Gallery 400 celebrating the collective's 10 years of existence. I created my first and most well-known visual art piece, Glitter Beach, as a performance environment and standalone installation. So in many ways, the start of my career as a DJ and visual artist is inextricably linked to Chicago's queer nightlife undergrounds.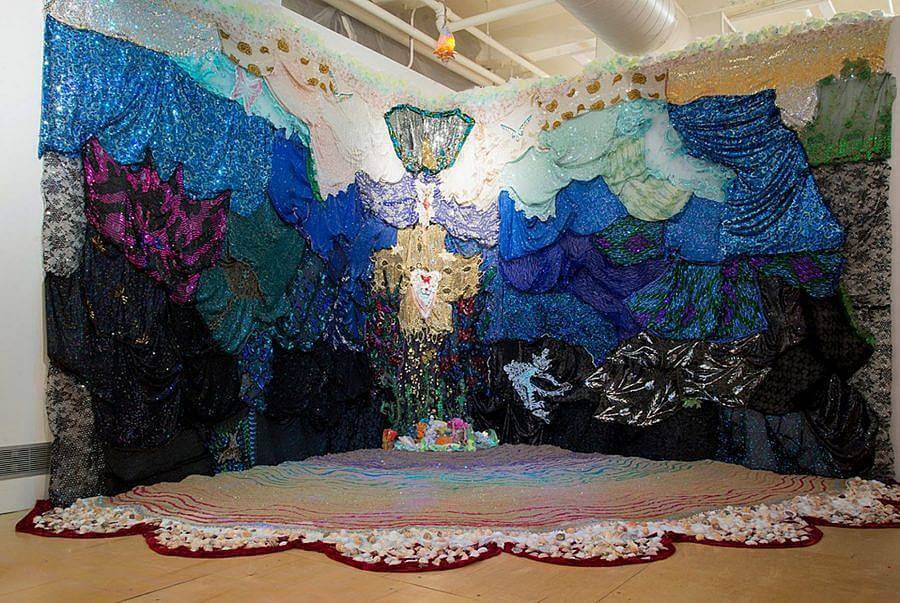 How do you feel your musical and visual practices intersect with one another?
My musical practice started as a child, taking piano, and later voice classes. As an adolescent, the inevitable mix CDs and early fake ID dance floor explorations led to an interest in musical curation. As a young adult, my study of theater and dance at Northwestern exposed me to the world of design through theater lighting, set, costumes; the closest thing to visual arts training that I received. I studied performance techniques like acting and improv, music theory, and dance, as well as critical theory of gender, sexuality, and race in theater and dance. All of these influences led me to my current interdisciplinary practice of creating environments and objects that facilitate public explorations of intersectional identity. Many times, the visual artworks I create are in conversation with musical performance, and as a DJ I enjoy creating visually and sonically stimulating environments. 
Can you talk about the term 'ornate' and its role as a central tenet within your visual practice?
To me, ornate relates to intricacy, embellishment, ornamentation, and decoration. Interestingly, a definition of ornament reads: a thing used to make something look more attractive but usually having no practical purpose. For me, the practical purpose of ornate embellishment is felt on the inside, not on the surface. The beginning of my practice in ornamentation began with my exploration into burlesque performance and crafting. Gluing tiny sequins and rhinestones onto lingerie was my first taste of embellishment, and it led to a fascination with shiny things – sequins, beads, and glitter. I began to collect vintage sequined and beaded garments, integrating them into my performance art practice, which eventually grew to encompass visual art. As I learned about the history of beads and sequins, and their use for thousands of years as spiritual tools that had the power to reflect malevolent gazes and spirits, I grew to appreciate them even more. I learned to embroider sequins and beads out of a book, and my first embroidery project was a series of small talismans that I gave audience members at a performance in early 2015. Later that year, I would create my first major installation, Glitter Beach, out of repurposed sequined and beaded garments. Glitter Beach evoked the spirit of the ocean and was a site of healing and transformative performance work. These garments, originally embellished for wealthy (white) women by the hands of brown laborers, become powerful talismans that transform the inner and outer state of those who wear them. They can tell a story; tiny beads and sequins stitched in lines or patterns to form confetti, flowers, butterflies, or fireworks. In my work, they form eyes, snakes, manifestations, and warnings. As decorative objects, their frivolity (art's frivolity) is not lost on me; however, I do believe in the practicality of their power, and the power of art, to uplift and evoke spirit.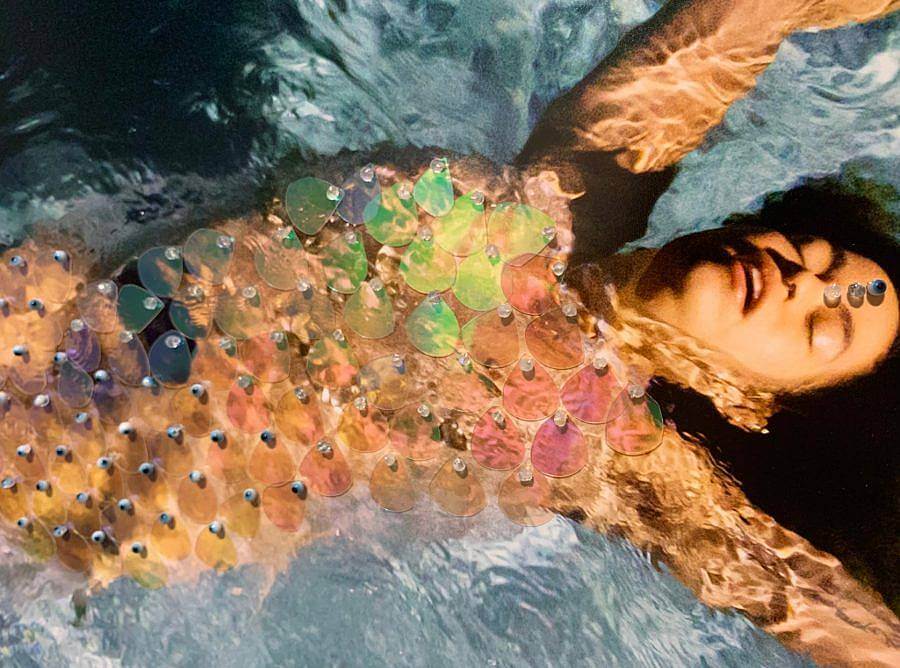 Can you talk about your use of embroidery & beading in your recent solo exhibition Human Shell at Chicago Artists Coalition? 
Human Shell portrays a series of experimental movement performances by myself, photographed and recorded on video by ColectivoMultipolar during my 2021 TRQPITECA Miami Artist Residency. These performances reflect the shifting, migration, and intertwining of human and nonhuman bodies in natural and artificial environments over time. The works exhibited include photographs, printed in large format, which I then embroidered with gemstone and shell beads. Like scars healing from the punctures of the embroidery needle, these mutations signal the regeneration of my physical and spiritual bodies in response to intense natural and man-made processes experienced throughout my life. The use of both gemstones and shells as adornment is a practice that goes back thousands of years in human history. Like my ancestors, I channel the power of these natural materials for my own wellbeing, and to facilitate spiritual communication with those who experience my work, and with the nonhuman species and elements present in these works. Humans have propelled the world into the Anthropocene epoch; marked by urbanization, depleted biodiversity, and natural resources, climate change, and the cult of technology. Colonial ideas of human progress have been marked both by the distancing of Homo sapiens from other animals and nature, as well as dehumanization and exploitation of humans by ruling classes. This body of work imagines a different kind of dehumanization, where the human-led hierarchy of species on this planet is dismantled, and the lines between human and non-human bodies are intertwined.  
What was your experience like speaking on the recent roundtable Sequins for Healing for the "Radical Femininity: Women of Color Imaginaries, New Political Iconographies speaker series?" 
The roundtable discussion was such a great experience for me. I presented my work, from performing in nightclubs to showing at galleries, and my relationship with sequins and beads over the course of my practice. Sharing space with scholars and activists allowed me to contextualize my fixation and relate to other practices. Admittedly, I took up more time than was offered to me, a lesson in humility. Big shout out and thank you to Dr. Jillian Hernandez for inviting me to participate in the panel discussion. As an artist whose work has proliferated in underground spaces, opportunities like this place my work in the canon of contemporary art scholarship in a way that feels important.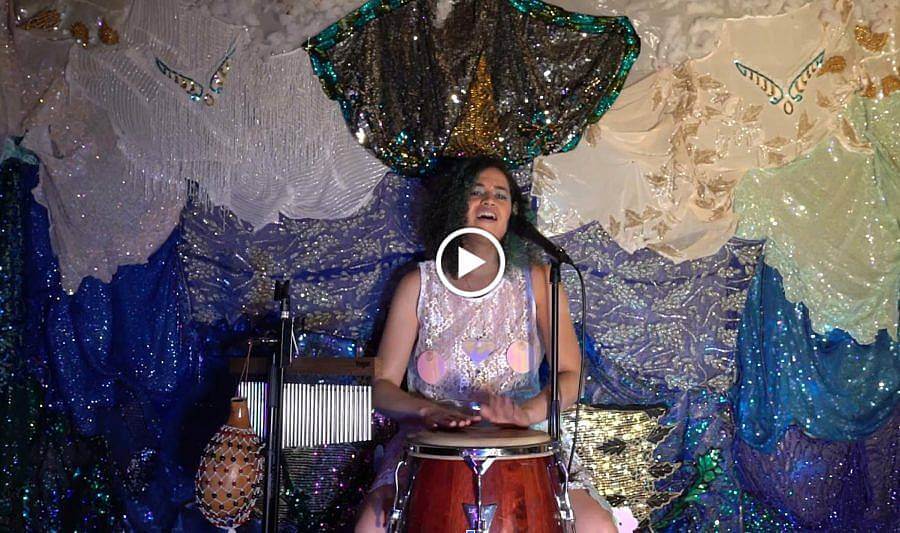 CQQCHiFRUIT – Guardian Angel Live Performance from CQQCHIFRUIT on Vimeo.
What does it mean for you to create space and opportunities for queer ALAANA folks as a part of TRQPITECA's mission?
 To create spaces for others as TRQPITECA starts with creating spaces for ourselves – myself and my partner. We start TRQPITECA in January of 2015, but that wasn't the first party we created together. In 2014 we tried to make a series of queer parties after being invited to DJ at a bar in Logan Square. It was … not cute. Not because of us, but because the space we were trying to create was destined to fail in a space catering to white masculinity. Flash forward to a few months later, and we were both living in the Lower West Side. It was winter, and we decided that we wanted to create a space in our neighborhood that would evoke a warm, tropical environment (like my hometown), and welcome queer and BIPOC community into an underground nightlife space playing house and techno music (like Chicago).
Essentially drawing on both of our experiences – me growing up in Miami and my partner growing up in Chicago – TRQPITECA brought those experiences into a future that held space for us and our communities. We also wanted to incorporate visual art into the nightlife space from the beginning, inviting video artists and performance artists to be on our lineups, and decorating the space with installations that we crafted ourselves, starting at Junior's in Pilsen. Back in 2015 when we started, there weren't very many spaces that centered queer and BIPOC artists. So one of the most important aspects of TRQPITECA has been not only creating spaces but economic opportunities for our community. Together, we have self-produced over 30 nightlife events and 2 major festivals, and curated lineups with over 250 artists. Co Organizing these experiences have been very challenging, but I can honestly say that my favorite memories in Chicago are from TRQPITECA, and I will forever be grateful to my partner, and every single person who has supported us, for bringing me so much joy.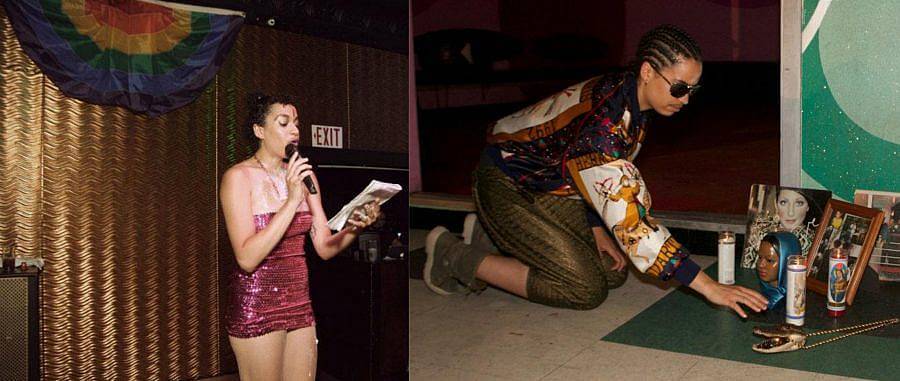 Where do you see the intersection between spirituality and queerness?
For me, the spirit of queerness is a spirit of simultaneous resistance and radical self-acceptance. As individuals systematically excluded from the utopias of most religious texts, we have created our own utopias. From bedrooms to ballrooms to basement nightclubs, queer collective sanctuaries are often temporary, claimed for a night or a few hours. We worship our bodies, ourselves, each other. Important connections to spirit also occur in nature, away from society, where our bodies have space to breathe easier and coexist with the bodies of other beings. To me, being queer is being a kindred spirit, constantly fighting for collective freedom. 
What are you listening to right now? 
I'm currently listening to a thrift store find – a 2002 compilation CD called Arabesque. I really love music that combines traditional rhythms, instruments, and vocalization with electronic music.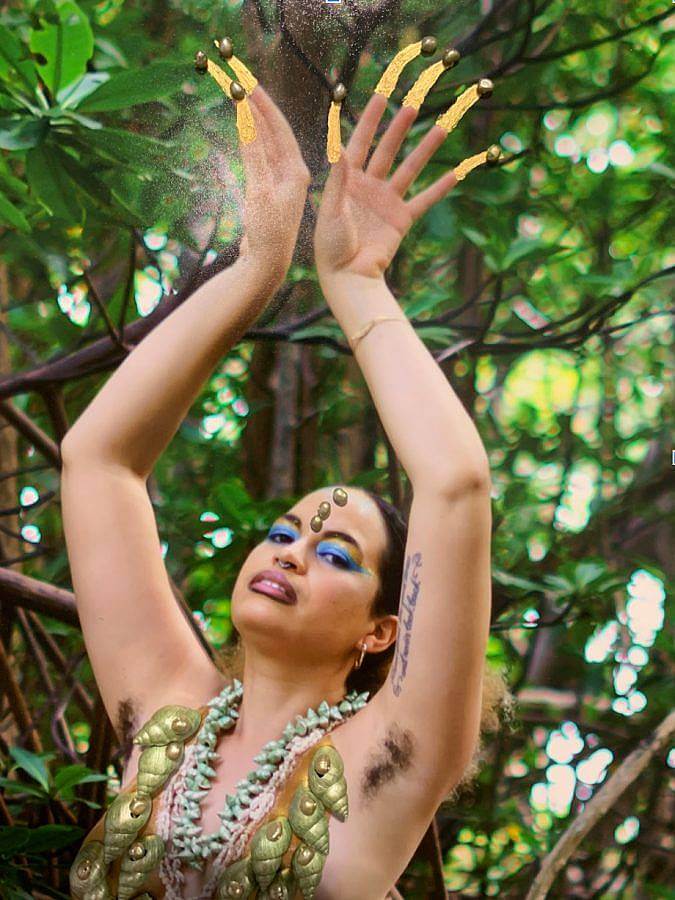 Any upcoming projects?
Coming off of my recent exhibition, a major project that I have coming up is called Organizing My Life… lol! All jokes aside, even in the midst of a pandemic I somehow managed to burn myself out, so a major goal is to find a work-life balance, and that means spending time taking care of my home life and my personal life. My next exhibition will be in St Louis in the fall, but I'm in no rush to get there. In the back of my mind is a burning desire to record and release music with my partner. Being a DJ has been so fulfilling, but I see that as a stepping stone to where I want to be as a musician. I would love to use my voice to express, reflect, and inspire transformative experiences with others, using all of my musical research as a DJ as a starting point. Wish me luck!
Interview composed and edited by Joan Roach.