Tell us a little bit about yourself and what you do.
I am an artist born and raised in Sweden who went to grad school at UC Irvine in California and was most recently based in New York. I work across many mediums such as drawing, painting, sculpture, video and installation and I often draw from my own experiences, memories, and family relationships. For the next three months I will be taking part in a residency at Crosstown Arts in Memphis, Tennessee, together with my husband who is also an artist and our two-year-old son.
How did your interest in art begin?
I grew up in an artist family, both my parents are artists as well as three of my grandparents, so art has always been a natural part of my life. My mother had her studio at home so my siblings and I were immersed in that kind of environment our whole childhood but we would make her move her studio every couple of years to make it one of our rooms and finally she was forced to make the living room her make shift studio. She taught me that you have to be able to work in any kind of setting as long as you get the work done and that has been a really great advice that I've taken to heart.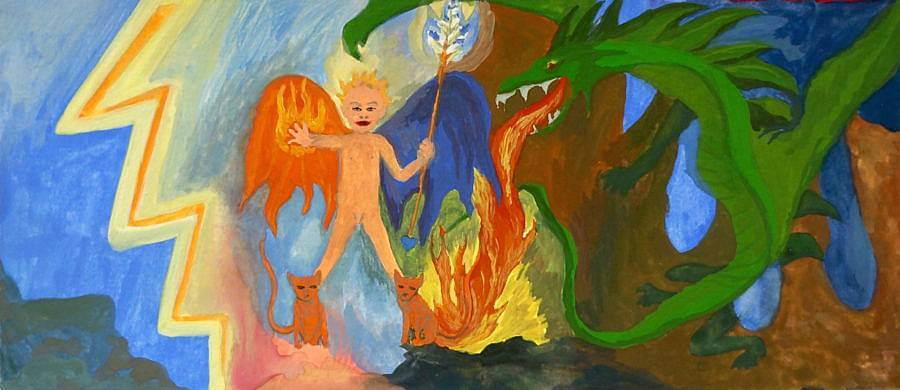 Can you talk more about your project-based process and what themes you
consistently work with across your many mediums?
Some common themes that I continually investigate are mortality, desire, memory and more recently superstition.
I call my practice "project-based" in lack of a better way to describe it. I usually think of the individual pieces I make as belonging to a larger context, usually resulting in installations when presented in a gallery setting. There are times when I make one offs too but what often happens is that years later I might include that work in an installation of more recent work. It can take a while for me to figure out where a piece belongs, as I have a tendency to follow my impulses to make whatever I feel most excited about, without necessarily knowing what it will result in, but later on suddenly it starts to make sense to me where that work fits in.
Unless I have a pressing deadline I almost always work on several projects at the same time. I enjoy the spontaneity it allows me and how one project can start to inform and cross over into another. My projects also do not necessarily end after they have been shown. I tend to keep working on them as I get new ideas and I like to show work again but in a different iteration.
With your work being so personal, are you drawn to depicting specific
objects based on their familiarity? Or something else?
I choose the objects that I want to depict based on the emotions or memories that I associate them with on an often deeply personal level, but I avoid working with objects that are purely nostalgic. In the piece "Leo in my mouth" I reconstructed an enlarged version of my retainer that I had when I was 12 years old. Inside the purple and sparkling retainer is a picture of Leonardo DiCaprio, originally created by my dentist without my initiative. The reason that I wanted to recreate this object had to do with its sentimental value but most importantly with the absurdity of the object itself, its alien like appearance and its intended use, sitting in your mouth in order to "correct" what is otherwise naturally growing teeth. I remember thinking as a kid that it was kind of strange to have an image of this person that I didn't know but who I nevertheless had a crush on sitting in my mouth. Sadly I lost my Leo retainer to a garbage can at McDonald's only about 6 months after I got it, but the strangeness of the object grew even stronger over the years and that prompted me to make something with that memory.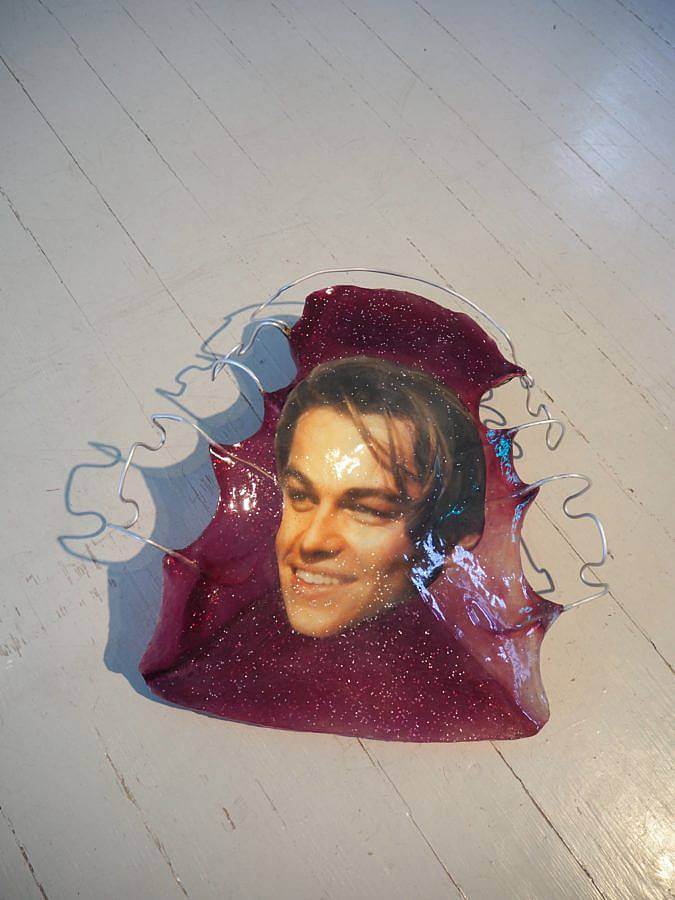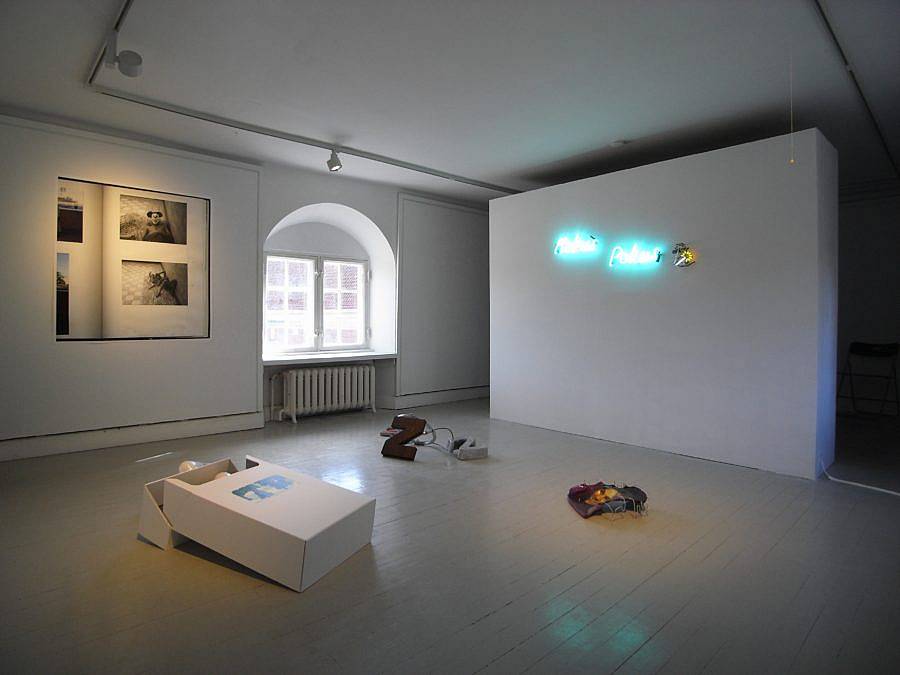 What do you want a viewer to walk away with after experiencing a piece or
installation?
I have different hopes for what each piece will do to a viewer but my own most profound art experiences are of work that is at once both attractive and repulsive or familiar yet unfamiliar bringing up conflicting emotions. My hopes are to make a viewer get in touch with their own emotions and desires, be it though the use of humor or by getting closer to the uncanny. I am also very interested in the notion of déjà vu, the experience of familiarity with something that is completely new to you as well as, for me, an even more interesting concept, jamais vu, where you experience something you are deeply familiar with as if it was completely foreign. This is something I wish to explore more in future work and that I hope to be able to evoke in my viewers.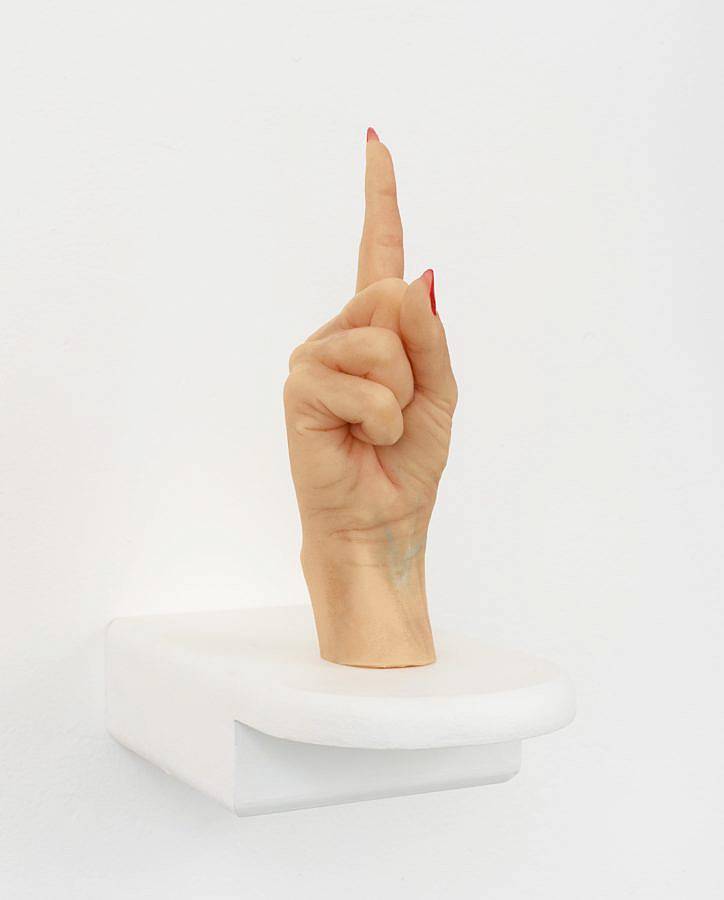 What are some of the best or worst reactions you've received as a result of
your work?
The one person who I always look for a reaction from is my grandmother. She is the most devoted art viewer I have ever met, a real art lover who goes to every show there is in nearby cities in the south of Sweden where she lives. If she really likes something she will start crying. I think in general that I get very thoughtful responses to my work from all kinds of people, with or without an art background, and they have not necessarily been all positive but they have been genuine. What I think is most upsetting is when I get a lazy response from someone I know has the ability to intellectually and emotionally engage with what they see. I think that it is very easy to dismiss things on a surface level but it is actually very hard to keep an open mind and to actually really look at art. I go to a lot of art shows on a regular basis and I find that it keeps me both open minded and energized as I often changing my mind about what I see. All I can hope for is that the viewer actually really looks at the work. I also think that paying too much attention to other peoples reaction to the work can be a bit damaging for artists. Jokingly quoting musician Ricky Nelson, my artist friend Jenn Berger would say "ya can't please everyone, so ya got to please yourself", which I believe in when it comes to making art.
How was it to collect imagery and research of The Red Mill for your recent project Call to Fire?
"Call to Fire" is the title of my most recent solo show at Galleri Detroit in Stockholm, Sweden, this past February. The project builds on the myths around a diner, lounge and bowling alley called The Red Mill that was owned by my husband's great-grandparents in Detroit, Michigan through the 1950s and 60s. The Red Mill burned down twice under shadowy circumstances and closed after the second fire. Through the use of photographs and postcards of The Red Mill that were collected by my husband's family and that I found online I started recreating scenes and objects inspired by the diner as the fire begins. In a twist of the narrative I also inserted my own toddler son into the chronicle of The Red Mill as part of my own fantasies that my sons mischievous and spirited nature derives from his past life as the cause of the fires at The Red Mill. This created a surreal installation that I hoped would quell my own fears of my son becoming a future pyromaniac. The research involved in this project is ongoing as I am still making new work for it and I am not following a traditional kind of research in the sense that I am attempting to collect data to get closer to the truth of what happened. I am rather interested in keeping the cause of the fires as myths and I am playing with adding my own narratives to those myths. To be able to both dig into the personal history of my husbands family while simultaneously allowing myself to bring in my own present experiences of becoming a mother and the kind of neurosis that I feel is involved in that has been liberating on many different levels.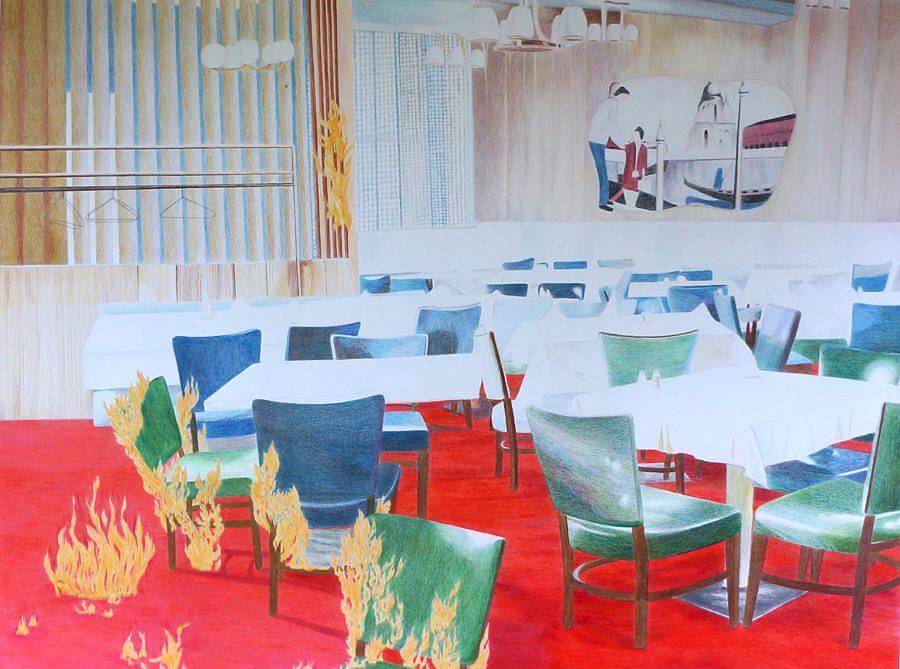 Can you talk about your recent themes of fire in your latest three projects?
I have been fascinated with fire and its physical, metaphorical and symbolical qualities for quite some time and it has shown up in my work before but in my latest projects the theme of fire has been very prominent. After having lived in Los Angeles for many years the annual forest fires raging during the summers became a symbol for destruction that I wanted to reflect in my work. There was also a strange parallel happening in my native Sweden with an unprecedented number of forest fires all over the country during last summer. This resulted in a show titled "I Will Tell You How Fire Comes" at OK Corral in Copenhagen, Denmark, that attempted to confront and escape my fears of disaster by becoming absorbed in the imagined scenarios of destruction. I had daydreams of my neighbors houses surrounded by flames and I drew these images on the former curtains of my LA home and exhibited them in the gallery. In another drawing depicting a field in the Swedish countryside the landscape is consumed by ghostly flames and throughout the length of the exhibition a miniature forest fire was burning in the form of handmade pine tree candles, sculpted and cast for the exhibition.
The powerful symbol of fire took a hold of me while working on that show and influenced other projects. Fire is simultaneously terrifying and strangely seductive, a contradiction I like to play with in my work.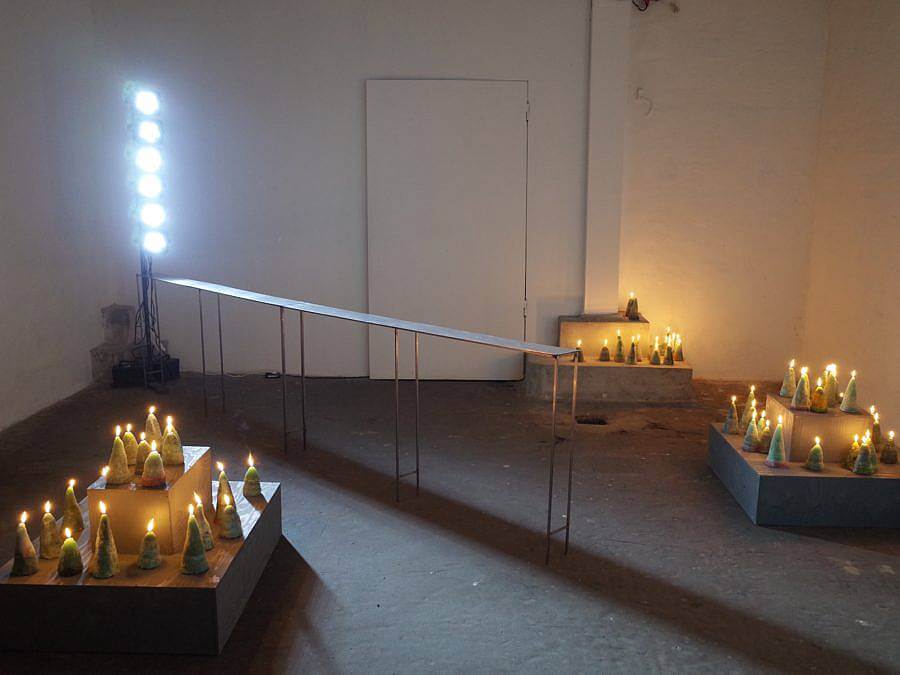 What was the last exhibition you saw that stuck out to you?
I try to go to exhibitions as often as I can and I like to support artist run and less established galleries. A recent show I saw at Elephant Art Space in Los Angeles that I felt I really could relate to was by Kari Reardon, whom I will have the privilege to work with for an upcoming show about superstition that I will be co-curating together with Kellie Lanham-Friedman at FOCA in Los Angeles in 2020. At Elephant Kari was exhibiting work that had to do with her experiences of recently having a baby, including a wall that was covered with handmade breasts with crystal nipples. The use of humor in unconventional ways in Kari's work is very attractive to me. Two other shows that really struck me from the past year was Gertrude Abercrombie's show at Karma and Ben Schumacher's exhibition at Bortolami, both in New York.
What are you currently working on and what's next for your work?
I am currently working on a series titled "Baby on Board" that focuses on my son and my fears as a parent. The project uses superstition as a major factor in trying to influence my sons future in positive ways, like attempting to prevent him from ever being in a car accident. In small gouache paintings I have given my son supernatural powers, traveling through various landscapes surrounded by different creatures, sometimes riding on two cats or floating on a flying carpet. In other paintings the text "baby on board" is repeated over and over, referring to the signs on the back of cars to signal that other drivers should be extra cautious around their vehicle on the road. Only here the text is sometimes barely legible, made in a psychedelic style, always with a version of the "evil eye" lurking in the background. In a kind of twisted logic I like to imagine that if I process these fears in my art I can prevent them from happening in real life. For the next few months during my residency in Memphis at Crosstown Arts I will be making work, using a cnc machine and laser cutter which I am really excited about!