Tell us a little bit about yourself and what you do.
My name is Caroline Jacobson. I'm an artist, designer, and entrepreneur working in sculpture, painting, photography, and overall world building. My work operates from the viewpoint of the fractured Millennial mind, the bridge between digital and analogue, past and future. It is a car crash that equates reality tv with art theory, Mina Abramovich with Paris Hilton, and Michelangelo with the McDonalds clown sculptures. One could argue that it is a byproduct of/exploration of the overall disfunction of our hierarchical, imperialist, and overheating society. It's my own short circuit.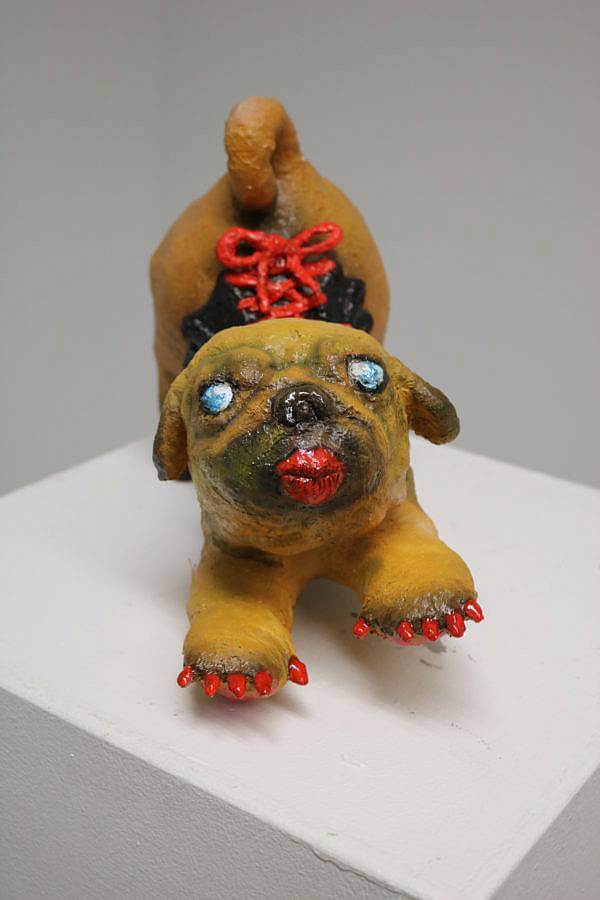 What are some recent, upcoming or current projects you are working on?
I have an upcoming two person show with Andy Hunt at UGLY gallery in Chicago this September. I currently have work in the "Clotheshore" exhibition at the Indianapolis Art Center as well as in "With a Capital P" curated by Jose Lerma at the Elmhurst Art Museum. I recently participated in SAIC's MFA show at Sullivan Galleries in Chicago and in group shows at The Research House for Asian Art and at Z1 gallery. Also, my custom acrylic bra making process has been an ongoing part of my practice for years.
Images of high heels, little dogs, and Barbie repeat throughout your work, what inspires your aesthetic choices?
It all started with self-portraiture and a desire to find placeholders for self. I was attracted to dogs and dolls because, to me, they are an example of human projection, of humanity's sadistic desire for mastery and control that runs concurrently with our need for tenderness and empathy. My interest lies in what happens when you empathize with the animal, when you see yourself occupying the space of that animal, as being both the one in control (subject) and as the entity being controlled (object). It becomes about power, who has it, and how one reclaims it. High heels are a perfect symbol of that potential reclamation: they embody the tropes of being an object on one's own terms while having fun with it. It's about pushing up against and/or existing as an embodiment of "the problem".
The Barbie isn't just any Barbie though. I use her as an avatar to explore the performance of privilege and how it is consumed and created in the media. Her name is Metrosexual Icon Ferrari Bruth, she's a globe trotting painter, and the owner of Bruth Billions Worldwide. She and her man, Chadward love to travel the world. He recently proposed to her at the Trevi Fountain and had a destination wedding in the Caribbean. Is Chadward really the father of her baby, Rich Babie Crown Jewel? Is she as faithful as she says she's been? Could the best man, Cristal Courtesan have something to do with it? Are Candy and Shannon really just friends? We'll find out once the paparazzi can track her.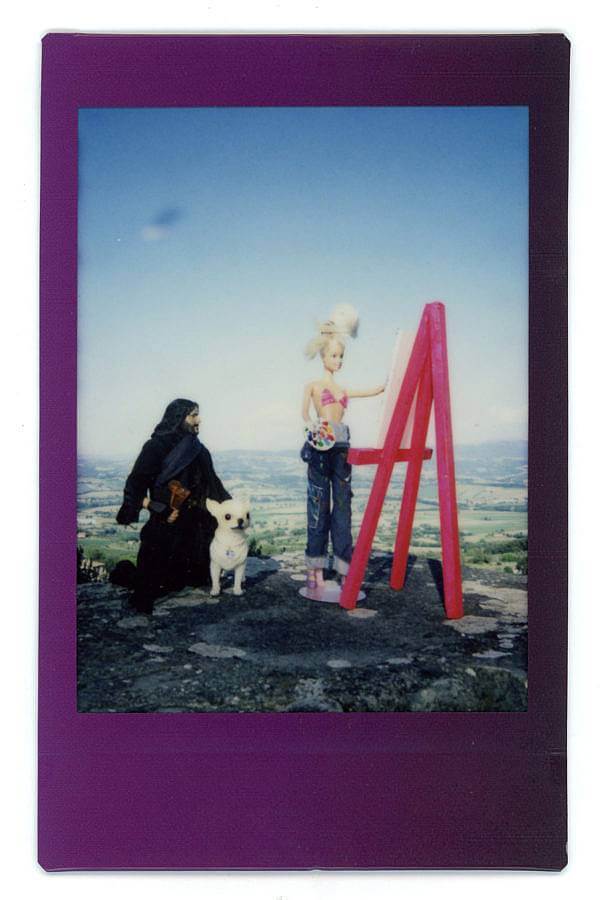 What does your process typically look like? Does this change depend on if you're making accessories vs. a painting?
There are many different facets to my practice and many different ways of working, however, the thing that unites my entire practice is the visual databank I have developed/created for myself. I spend a lot of time assembling mood boards for pieces I want to make or just for things I find interesting. I have been creating my own library of images and sources. There is nothing I like more than digging through things such as the internet (image sourcing), my aunt's basement, thrift stores, jewelry boxes, the library. You never know what you'll find that makes the next step click. Furthermore, I pull from many disparate sources such as "Learning from Las Vegas" by Robert Venturi, "The Bachelorette," and Lord of the Rings, as my interests are very widespread and not always 'art' related. Although the process for my accessory practice and painting/sculpting practice look different, I believe at their core they are congruent. In my fine art practice, I get to talk about the dress/style/attitude as an act of resistance/source of empowerment, while in my design practice, I get to make garments that make living humans feel empowered.
What is it like living and working in Chicago?
I have been living here for about 10 years; it's a special city. There are so many unbelievable creatives here that have been overlooked because of our location. However, I feel like that is changing. Chicago is a really great place to make work as it is relatively affordable and there aren't too many distractions. We're not NY or LA, and we don't try to be. We get to be our own world apart and there is so much freedom in that. What I love about this city the most is that you can build a very strong, reliable, and supportive community. I love my Chicago family.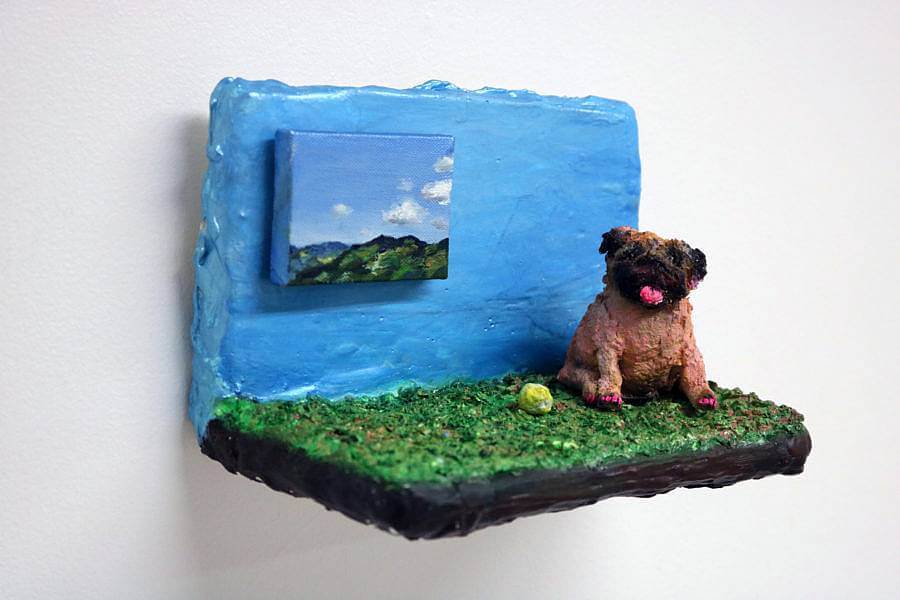 How would you explain your work to a stranger?
I would explain that I use human/dog hybrids and dolls as placeholders for self to explore the pervasiveness of (pop) cultural and political violence and its effect on the psyche of the individual. As symbols of innocence and vulnerability, dogs are used as tools onto which identity is projected, while also serving their function as living trophies that signify status and wealth. By hybridizing them with humans, the work aims to confuse the role of subjecthood, objecthood, and agency.
What was the last exhibition you saw that stuck out to you?
Definitely Scott Reeder's show, B-Side of the Moon, at the John Michael Kohler Art Center. As a builder, I have been really interested in and excited by set design. The show is very generous in that he allows you to see how everything is made. You really get to experience DIY movie magic in that from afar, everything looks very seamless and "real," but when you get up close you get to see that the stars seen from a window are really just holes in a black piece of paper. I also got to participate in the filming of the B-Side of the Moon and I really can't emphasize how much I learned.
Who is someone you admire and why?
My biggest influence is Rihanna. Some artists that I really admire are Chelsea Culprit and David Altmejd. They both approach their work with so much fearlessness and material exploration, which I find very exciting. I also really appreciate how much Chelsea takes on in her work and to be honest, it's all really hot. I love a good coming together of the beautiful and the grotesque.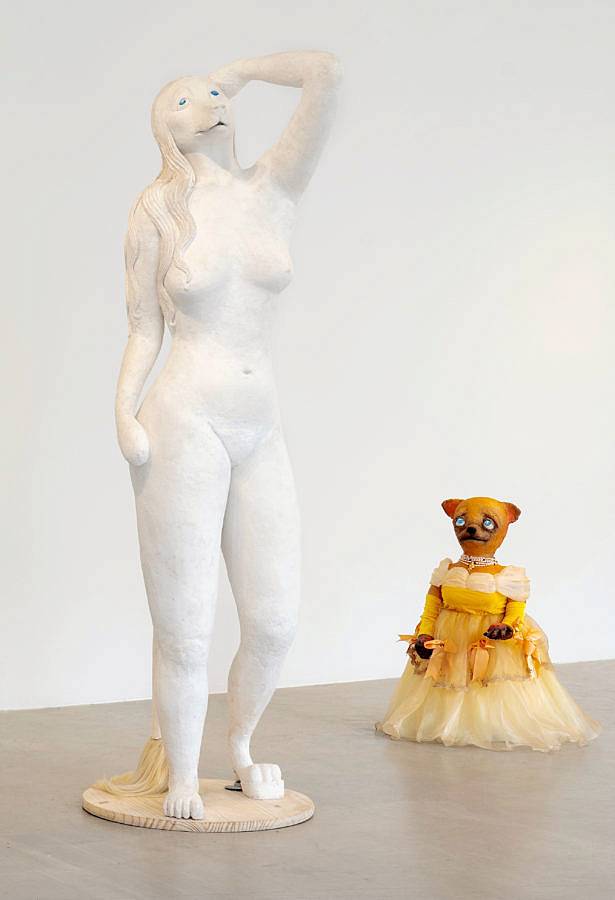 What do you want a viewer to walk away with after experiencing your work?
With my work I don't aim to give answers, only to pose questions as it tends to be more generative for myself and for viewers rather than declarative gestures.
I believe my work forces a deeper reading on things we are conditioned to see as being superficial, trivial, and/or not worthy of serious academic inquiry. That being said, I want my work to make the viewer have to confront their own systems of value like holding up a mirror to their thought patterns. I seek to generate discomfort in the viewer, not for the sake of discomfort, but to trigger empathy from viewers who normally guard themselves from it.
What is one thing you always consider when installing?
I always consider drama, placement, and lighting when it comes to installation. I'm very interested in how lighting and placement of a sculpture within a space can create an entire narrative of its own that did not exist before. I spend a lot of time playing with placement of sculptures, especially when introducing multiple works into a space because entirely new and unexpected psychological relationships between the sculptures can begin to develop. Lighting, however, is never an afterthought. That is something I consider throughout the entire making process as it helps to inform the mood and drama I am trying to strike with each piece. One thing I believe every artist should practice and consider when installing is balance and restraint.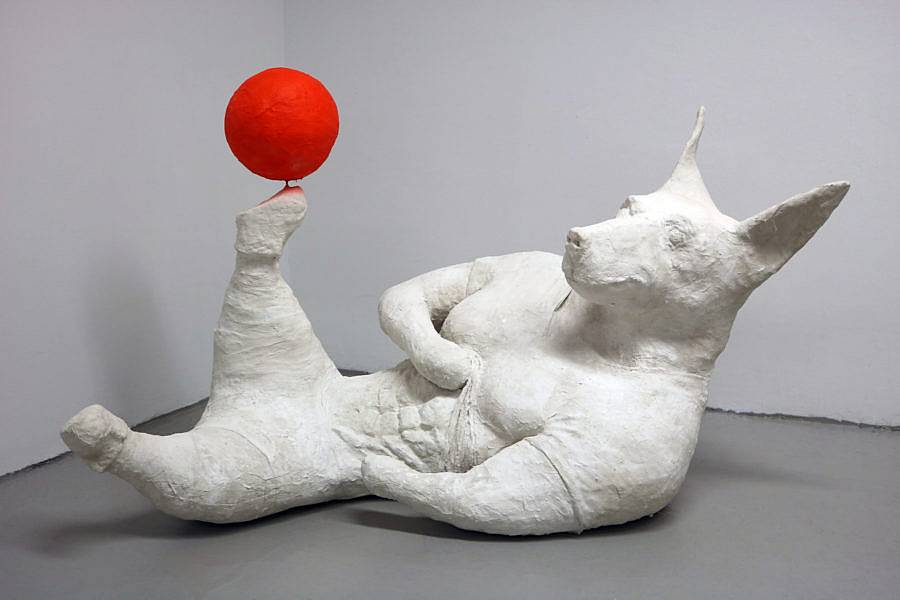 What is the best advice you have ever received?
Stop thinking and just do! Stop reading and just make! And to stop trying to justify every decision I make. To trust myself.
Where do you see your practice going next? Any major changes happening in the studio?
Having worked predominantly as a painter for years, the introduction of sculpture has been a major change in my practice. I have become completely obsessed with it. Being able to engage with my brain and body in completely new and very involved ways has been very rewarding for me as an artist. I grew up playing basketball competitively, so being able to involve my body in my practice activates a special kind of power and new ways of thinking/creating. Currently, I am in the process of making two large sculptures for the upcoming show at Z1 gallery. I'm very much in a high production mode and am surrendering myself to the process. My developing interests are related to period pieces, dog shows/extreme dog grooming, and how they function socially.