Tell us a little bit about yourself and what you do.
My name is Emily Endo, I am an artist based in Joshua Tree, CA. I make sculpture and installation integrating glass, sensory experience, natural materials, and found objects.
Water, the human body, and transformation are central themes within my practice. My recent work explores the relationship between these elements by representing the body as a translucent and permeable membrane. In this work, the fragmented body, beautification, and corporeal self-expression intersect with fantasy and idealized representations of the female body, creating references to ancient and modern ritual purification as a means to simultaneously celebrate the body and transcend its materiality. For me, the transformation into and absorption of the ephemeral speaks to the yearning to connect to the universe and escape from the trappings of a body that at times is alien to myself.
How did your interest in art begin?
I have always loved making art and working with my hands. As a kid, I would make collages and tiny sculptures out of anything I could get my hands on – newspapers, photographs, rocks, flowers, discarded objects…
What are some recent current projects you are working on?
Over the past year, I have been exploring water in its many forms – liquid, solid, scented and flavored as a means to reflect on the interconnectedness between the human body, water, the natural world, fantasy, and desire. These ideas have manifested in several different forms.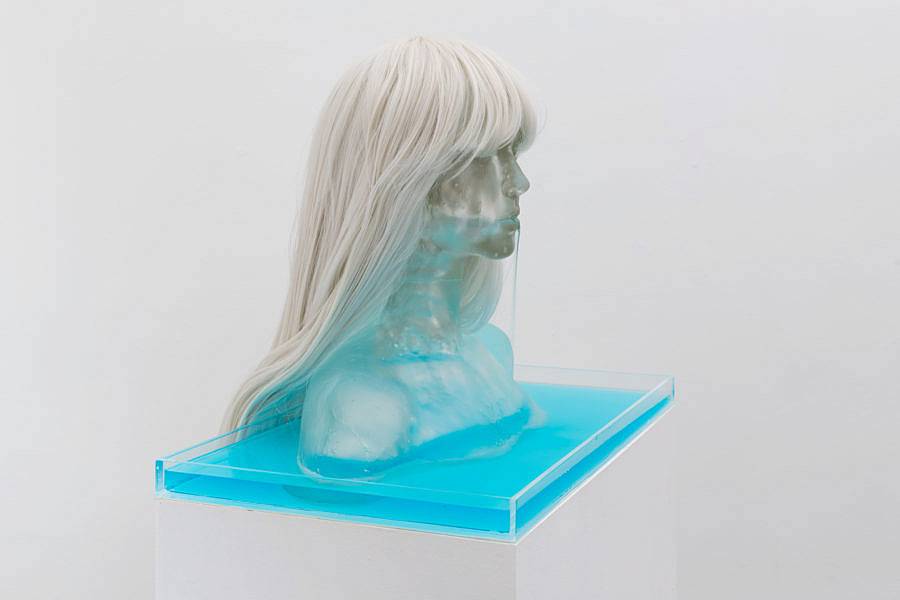 My recent exhibition Immaterial at Bullseye Projects explored the relationship between these elements by representing the body in transparent glass. This is most apparent in She-Wolf, Water Baby Fountain, Neon Venus, and Transpiration (A Sculpture that Sweats).
She-Wolf is a sculptural fountain based on the Capitoline Wolf, a Roman sculpture depicting a mother wolf nursing the mythical twin founders of Rome. As water circulates through the fountain, it drips through the breasts of the form. In this piece, the wolf becomes a stand-in for the female body and a representation of strength, fluidity, and the nurturing quality of water.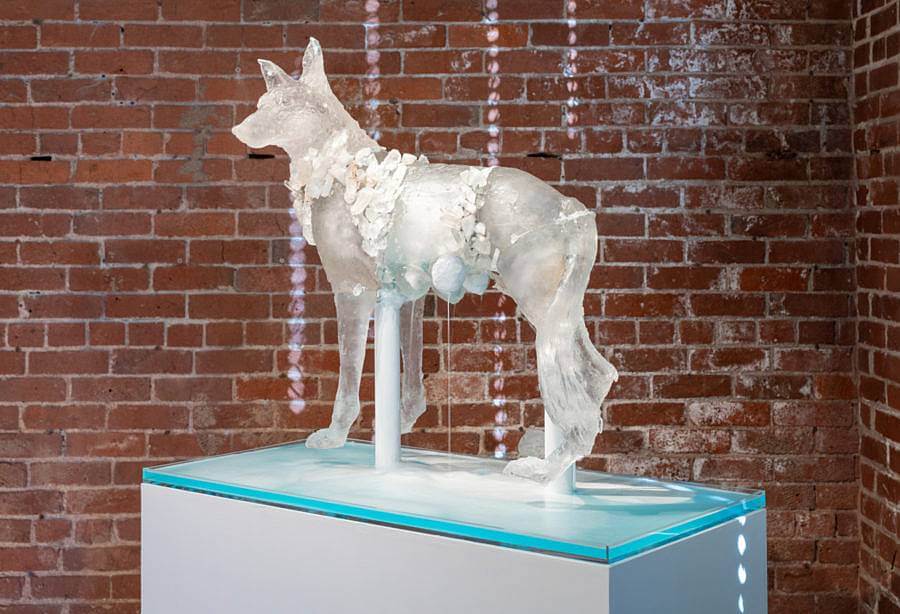 Fluidity, the symbolic female body and ephemerality are also explored in Neon Venus. Neon Venus consists of two conch shells with glass bubbles emerging from the shells' cavities. Scented pink and blue water, referencing gender codes, bodily fluid, and cartoon imagery pumps through them using medical and aquarium tubing.
Transpiration (A Sculpture that Sweats) consists of a hollow cast glass female head with salt scented liquid that drips through holes drilled into the figure's face, creating the appearance of sweat and referencing liquid entering and exiting the body.
Prior to the Immaterial, I created an exhibition titled Water Baby that explored water and feminine symbology through the language of materials and cartoons. My favorite piece from this series was called Singing Shell. Singing Shell, consisted of a conch shell embedded with an Arduino, speaker, and a proximity sensor. As the viewer approached the piece, the shell would project an edited version of Angel Baby by Rosie and the Originals. Angel Baby is a song about adolescent desire – the sound distortion created in the reworking of the song as well as the natural echo effect created by shell's cavity emphasized the sense of longing, obsession and entrapment within the song. I had the privilege of collaborating with musician Derek Monypeny on this piece. In this piece the shell becomes a stand-in for a telephone or radio. This use of natural objects as a surrogate for modern technology is a hallmark of cartoons.
I am currently continuing to develop these ideas through new sculptural pieces. Additionally, I am working on two projects that delve deeper into sensory experience – a fragrance line called Out of Range and a shaved ice pop-up called Sun Song. Both projects are scheduled to launch spring 2020.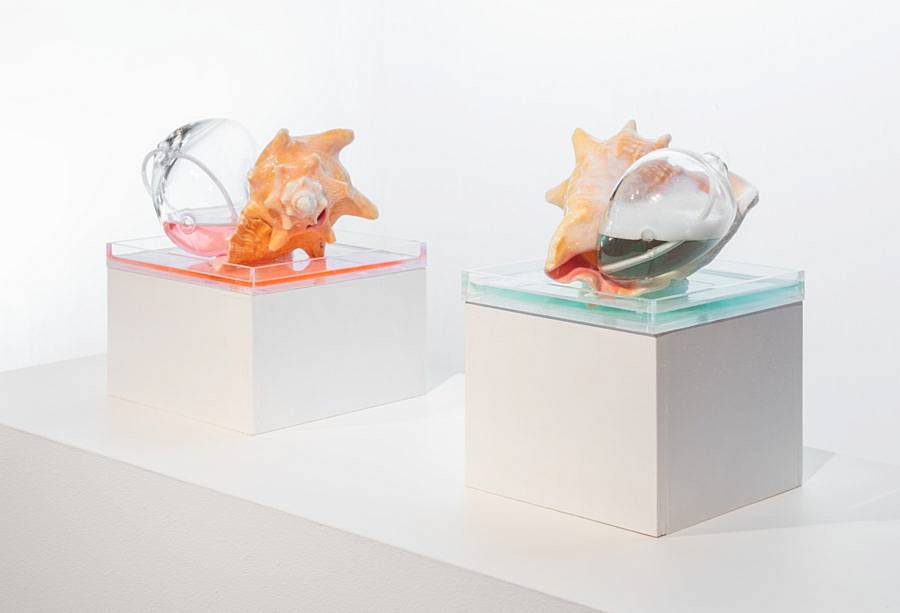 Cast glass seems to be a repetitive medium in your work, can you tell us more about
your art-making process?
I am interested in the cultural connotations of materials. Glass is associated with mysticism, science, preservation and fragility. Through transforming and replicating objects into glass, my sculptures are able to tap into these associations.
I like to combine glass with other materials and objects. Before beginning a new piece I spend a lot of time grouping materials together – chunks of glass, acrylic hair, rocks, jewelry etc. Through this process of spending time with the raw materials – material, color, and textural relationships start to emerge. From here, I begin sculpting the glass components – once the glass pieces have been cast and cleaned up then I begin adding and collaging in the other materials that I selected during the original grouping process – embedding different types of hair into the forms, piercing the glass with jewelry studs, etc.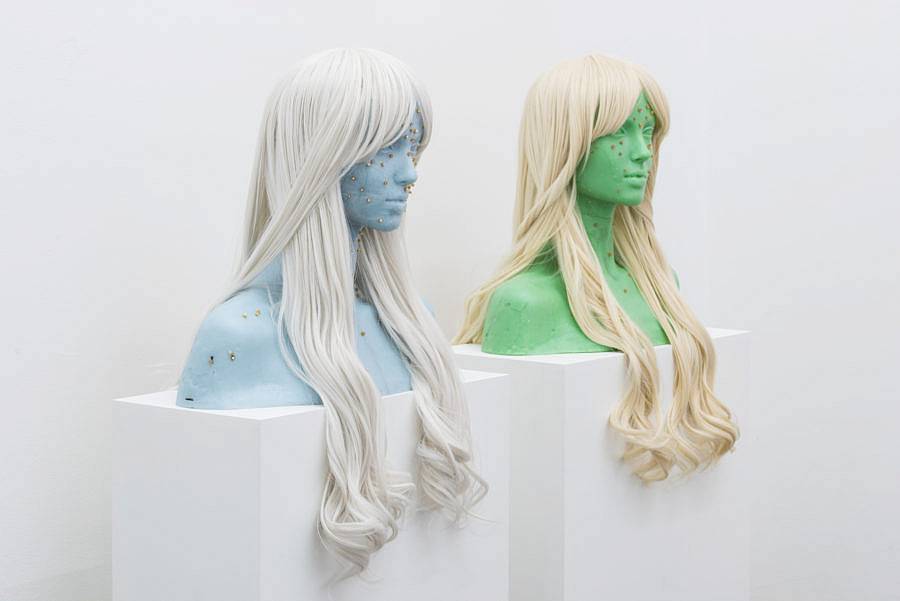 Your work has evolved from glass busts to working fountains, what led you to this
alteration?
The idea for the busts and the fountain pieces emerged around the same time. I was researching bathing rituals and beautification processes in ancient Egypt, Rome, Greece, and Japan. This research got me thinking about the porosity of the body and sculptural representations of the female body throughout history.
What are some determining factors when selecting a scent for your fountain pieces?
Scent is an invisible and uncanny medium. I am interested in creating scents for my sculptures that are both familiar and strange, that fulfill or flip expectations, that indulge or question fantasy. Most of the scents in my work are a combination of natural and synthetically derived scent molecules. Neon Venus is a good example of this. The pink water in the piece was scented to smell of electrical smoke. The electrical smoke scent was created by combining synthetic scent molecules as well as a natural rose extraction that in the right dosage smells very metallic. The blue water was scented with a combination of extractions from natural white roses as well as a combination of synthetic scent molecules designed to replicate the scent of a white rose. Many of these synthetic rose ingredients are used frequently in cosmetics, scented kids toys, and in generic rose fragrances. The resulting fragrance is something that smells natural and artificial, familiar and also unplaceable. When the viewer stands in between the two shell fountains the combination of the electrical and rose fragrances create a new scent designed to smell like a neon rose.
As a person who loves materials and the cultural connotations of materials, I am also interested in the poetic power of the material list. I consider the fragrances added to a sculpture as a sort of alchemical poetry. I am interested in the real and perceived rarity of an ingredient, and the associations they evoke.
There are some reoccurring themes within your work. What is the importance of some of
these major themes such as crystals, hair, and hands?
The elements and materials within my work function as a language of recurring symbols. Crystals represent natural transformation and mysticism. Piercing studs represent corporeal self-expression referencing both the inevitable change of the self through time and the yearning for metamorphosis.
Hair, hands, and shells are stand-ins for the human body. Hair has been used throughout human history as a socio-cultural signifier of gender, race, class, and culture. The hair extensions and wigs I use in my work are a reference to the long, shiny, straight hair I wanted as a child, which at the time, I associated with the pinnacle of feminine beauty.
Shells are a stand-in for water as well as the fragmented female body. My use of shells is a nod to representations of the biological female in art history and mythology. The Birth of Venus by 15th-century painter Sandro Botticelli is an example of this. In this painting the goddess Venus emerges from the sea standing on a giant scallop shell.
If you had to explain your work to a stranger, what would you say?
I make multi-media sculptures that explores transformation, nature, sensory experience, the human body and water.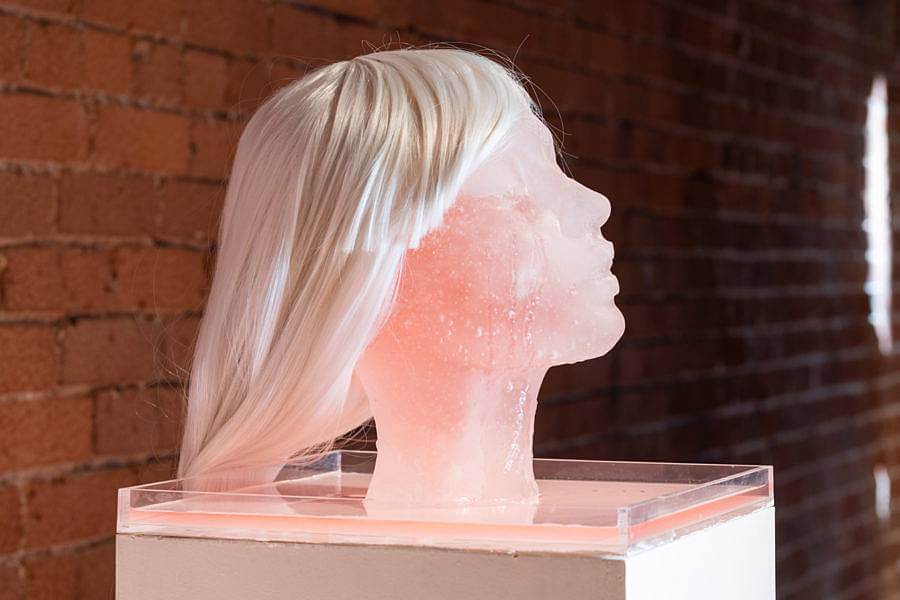 What are some influences on your cast glass busts?
The main influences on my glass busts have been classical and ancient sculpture – particularly sculptures that reference mythological depictions of the female body as well as the cartoons and toys marketed to girls in the 1990's.
How has living and working in Joshua Tree impacted your work?
Moving to Joshua Tree has had a significant impact on my work. One of the major shifts I have experienced has been my heightened awareness of water. Living in the desert, water becomes a central part of life and a precious commodity. I spend a lot of time monitoring, recycling and collecting water.
Simultaneously, living closer to my hometown of San Diego, has prompted me to reflect on my childhood fantasies surrounding water – things like pool parties, mermaids, beach culture, etc. My recent work has explored these different and yet interconnected concepts – contained water systems, the luxury oasis, and fantasies surrounding water.
This increased interest in water has also made me consider water from an internal and external point of view – the human body and its relationship to water (bodily fluids, extracellular fluid, intracellular fluid) and the global importance of water. Water, more than any other element connects us as human beings. Not only are our bodies made predominately of water, but the state of our oceans and access to clean water is critical to our species' survival.
What was the last exhibition you saw that stuck out to you?
Hmm it's hard to choose. I would have to say the 2017 Marisa Merz retrospective at the Hammer Museum in Los Angeles, CA. This exhibition, titled The Sky Is a Great Space, brought together five-decades of Merz's work. Marisa Merz (born Turin, Italy, 1926) was an Italian painter, sculptor and installation artist. Her use of materials and form has stayed with me – her approach was rigorous, delicate, brutal and playful all at once. This simultaneous attention to detail and irreverence has impacted how I approach my own work.
What do you do when you're not working on your art?
Collaborative curation and teaching are also components of my practice.
My partner, Michael Endo and I run a collaborative curatorial project called Dust to Dust. Dust to Dust mounts art exhibitions and experiences that take a non-hierarchical approach to material and method, promoting playful and critical dialogue. Recent exhibitions have explored aliens, global warming, flowers and ice cream through a range of media including painting, sculpture, sound, scent, bongs, ceramics, food and flower arranging. Dust to Dust began in 2018 as a gallery inside of an independent record label and vintage clothing store in Portland, OR and is now based in Yucca Valley, CA.
I also regularly teach workshops on glass, textiles and fragrance at my home studio the High Desert Observatory, the Yucca Valley Material Lab and at different venues across the country. The High Desert Observatory is a studio and education center that Michael and I are building at our home. We offer workshops focused on sustainable craft and desert ecology. The Yucca Valley Material Lab is a non-profit glass studio and artist residency founded by Heidi Schwegler. I teach glass classes there and serve on the Advisory Council – assisting with program development and the studio.
Outside of those projects – I have been spending a lot of time learning about the ecology of the Mojave and Sonoran deserts as well as collecting and growing native desert plants for scent distillation, incense-making and textile dyeing. I also drink a lot of coffee, hang out with my dog and volunteer in my local art community.
What are some of the best or worst reactions you have gotten as a result of your work?
I want my work to resonate with people and be a bit uncanny. The best reactions for me are when an artwork resonates with someone. When something about hits a person in just the right way and they have a natural intuitive response to it – sometimes the response is positive and sometimes negative and that's ok with me. The worst reactions are when a viewer shuts down – when they don't want to spend time with a piece, when they label it as something and walk away.
What are you most excited for right now?
Water, scent and snow cones.