Tell us a little bit about yourself and what you do.
I was born and raised in South Korea. I grew up in a city environment but when I think of my childhood growing up, some of the everyday highlights include rollerblading with bro at a park, a lot of skiing and swimming with the fam and driving to mountains, rivers and beaches exploring. Also looking at my fam gardening and mom baking Madeleine the night before we went skiing in the morning too. Fam time is very important to me and it gives me the feeling of care I have or think of often. I lived in LA at my cousins' for a bit before I went to SAIC for an undergraduate and travelled through painting~ viscom~ print media and ended up in photography in my final years. I like all of them for different reasons. I went back to the school for a year in the sound department later and it was very helpful. I like to experiment different mediums and it affects the way I work. Currently, I am a second year graduate student in the Art Theory and Practice department at Northwestern University. Other than art, I am very into food and cooking. I like to cook more than to eat which I think is funny hahah so I considered going to a culinary school for a while because I was so serious about cooking but decided to keep it as a hobby for now and incorporate it into my artwork instead. I made some pasta and bread yesterday as a part of my work so it's been working so far.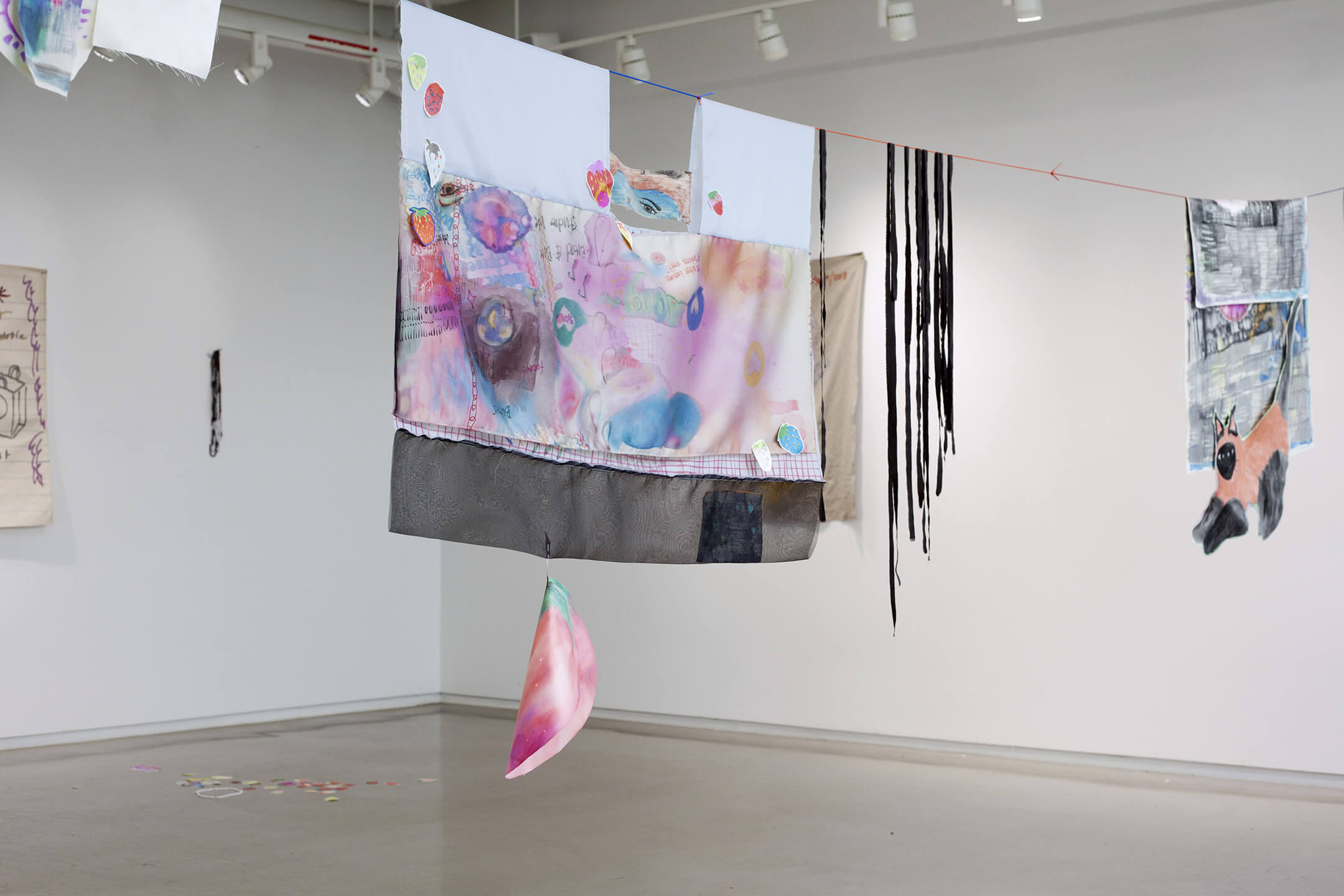 What are some recent, upcoming or current projects you are working on?
I have a thesis show for my MFA on May 2nd. I will be showing a few different paintings and drawings alongside a table that I am working on for displaying pasta and bread on top but also as a way to incorporate the idea of kitchen in a subtle way. I haven't made a table before and the process has been very exciting and inspiring for the future projects. The next day on May 3rd, I have a group show opening at OPEN gallery in Glenview. My dear friend ㅌr1N ㅐ4yd3n curated the show and I will have blue things scattered occupying the floor. And on May 25th, I will be participating in this year's LtdWear. Sewing time! Come check out the shows in person♡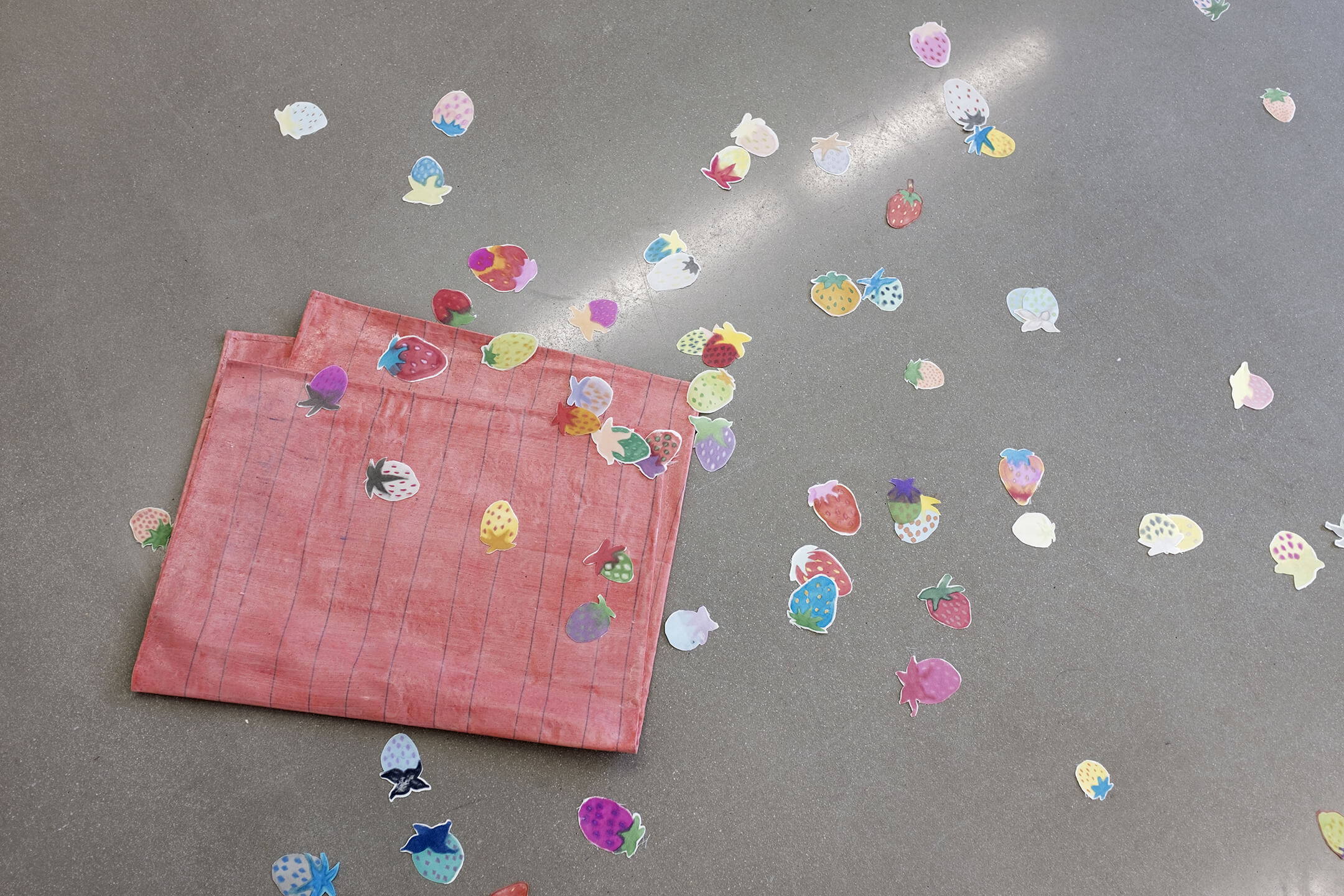 What materials do you use and what is your process like?
My works are connected to each other thematically in a larger sense but materially varies depending on the projects. I like to consider all the available materials at the moment to begin a project. In general, I like to engage with space and make installations more than hanging objects on a wall. my medium includes painting, drawing, photography, sound, video, cooking, ceramics and wearable things. In terms of how I work, I work on a few different projects at the same time- I think it helps me with my energy. I like to be in an environment that makes me able to focus on each material and I want to use the right energy at a right space so I can make things more in an honest way. For example, I can work on my strawberries anywhere basically with a piece of fabric and markers. The strawberry pieces actually go on the floor scattered in the space so I feel good about this way of making them kind of in a floaty way. I can work on the food related art in my kitchen where it makes the most sense and I can make stuff in my studio with paints, a sewing machine, soldering etc. The flexibility makes me feel free.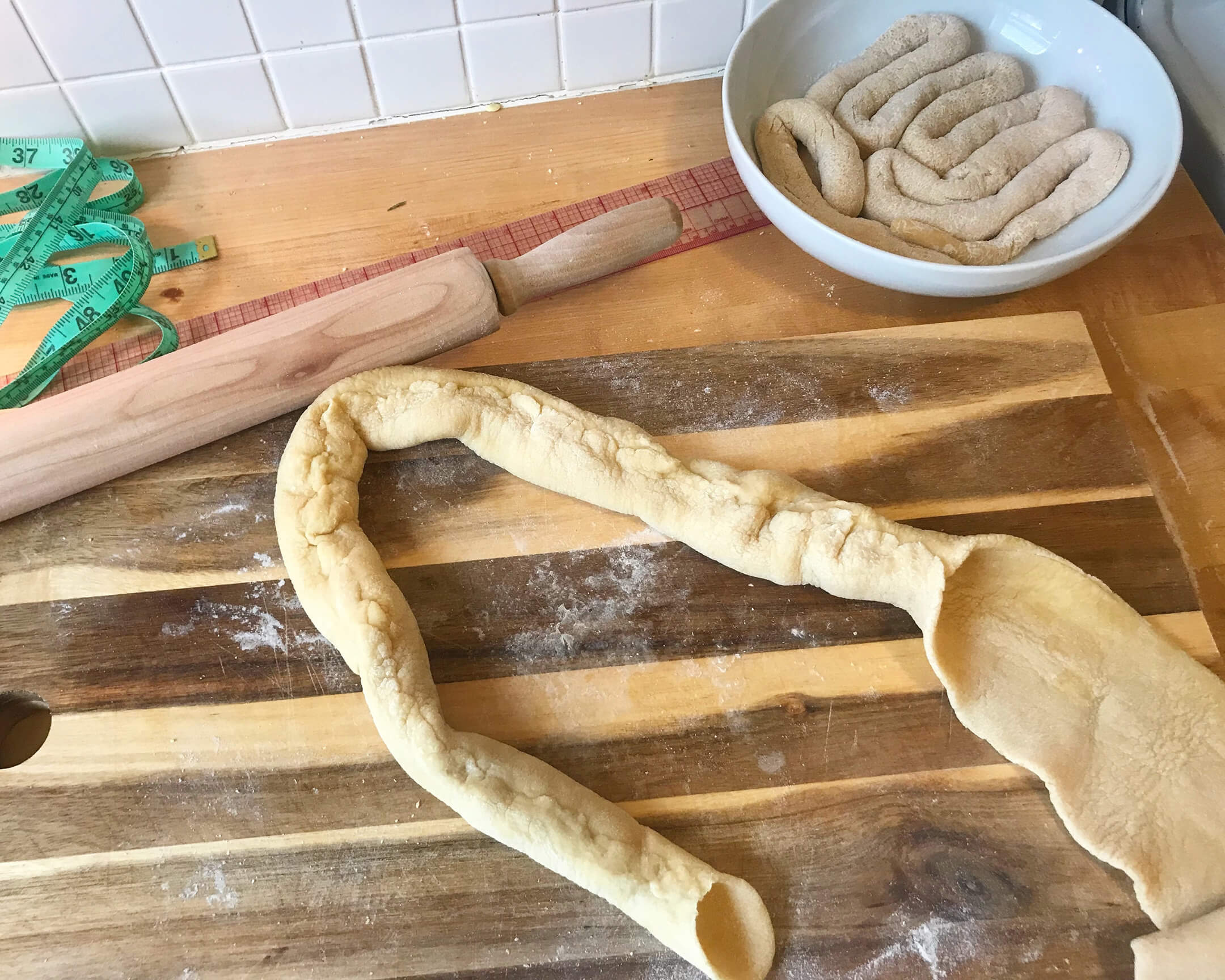 What is currently inspiring your practice and imagery?
I've been getting into landscape recently. I am used to seeing mountains everywhere which I am missing a lot here in Chicago. I spent a year back home in Korea before I started the graduate school and I loved it. I did a lot of gardening and focused on art making and spending time with family. I would go back home during the summer times before almost every year but it was a different experience because this time I was able to have everyday normal life for a year at home without visiting home making an event. Since then, I've been thinking about reconnecting with my roots more and how landscape, environment, or surroundings affect people and the relationships between them but also the dynamics in a group and the relationship of each individual to another. I am also very into how human interacts with food and how it's in the middle of a lot of things related to human activity and language. I like to look at food, not only as a substance to life in a functional manner but also as a way to look into different cultures, gender roles, labor, power dynamics and hierarchy, etc and kitchen as a gathering area. My partner introduced me to Magic: The Gathering and we've been playing with our friends recently. It makes sense with my interests in dreams, mysteries and things that are kind of surreal so I got very into it. Also last winter we watched the whole Harry Potter series again and this winter, it was The Lord of The Rings. I am also into making doodles whenever exploring subconscious.
If you had to explain your work to a stranger, what would you say?
Exploring Food and communication have been the overall theme recently and I mostly think of my work in an installation form. I make things derived from everyday life and I try to figure out human interactions in landscape/space and how things work and affect each other. I use many different materials for different projects. For example in one of my sound installations, I had a bubble machine and two buckets filled with ice on a piece of fabric that looked like a stage. I also had contact mics connected to the ice in the buckets and you could hear the bubbles freezing and eventually popping leaving the bottom side still frozen. You can hear the sound of the crispy bubbles that are kind of like dry leaves in fall. I also make pasta and bread that look like a snake, a worm and an intestine at the same time. I am interested in things that could exist across different categories blurring the boundaries.
What was the last exhibition you saw that stuck out to you?
Mimi Gross: Among Friends show at eric firestone gallery in nyc! I really enjoyed the colors and the texture of oil crayons as well as the composition of the larger works that have multiple people occupying the whole space on the canvas. They reminded me of group portrait photos but they were painted in a way that the figures seem so lively and present in the moments of the gathering. I think it's also the connection and the dynamics they share among the figures that interests me a lot.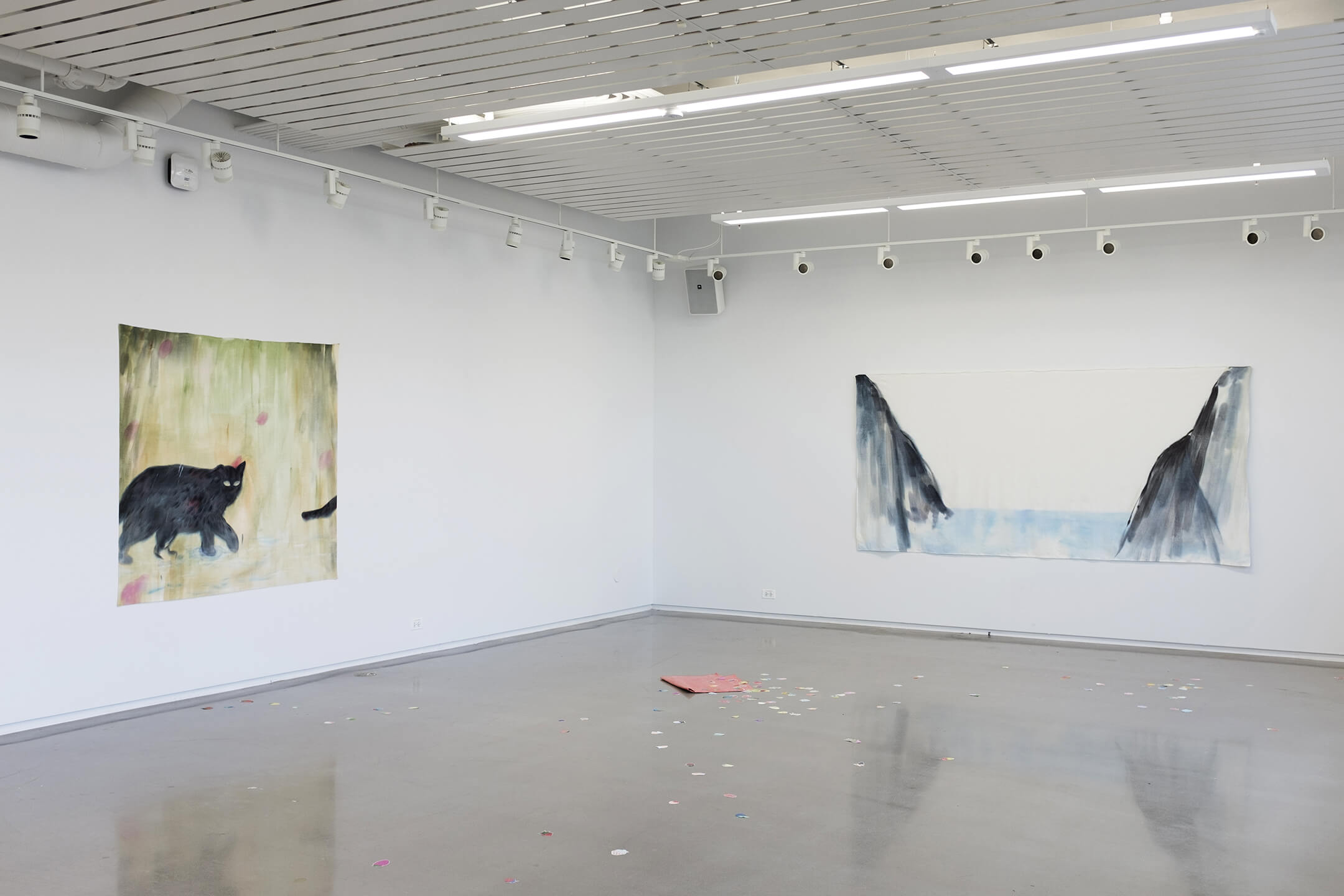 What's your favorite thing about living and working in Chicago?
I love my friends, the art community and the lake♡
Describe your current studio or workspace. 
I have a studio space at the school. I love my studio, it's got a very nice feeling with a window. I will have to get a studio once I graduate in June this year, so I am keeping eyes on the spaces available. And my kitchen of course!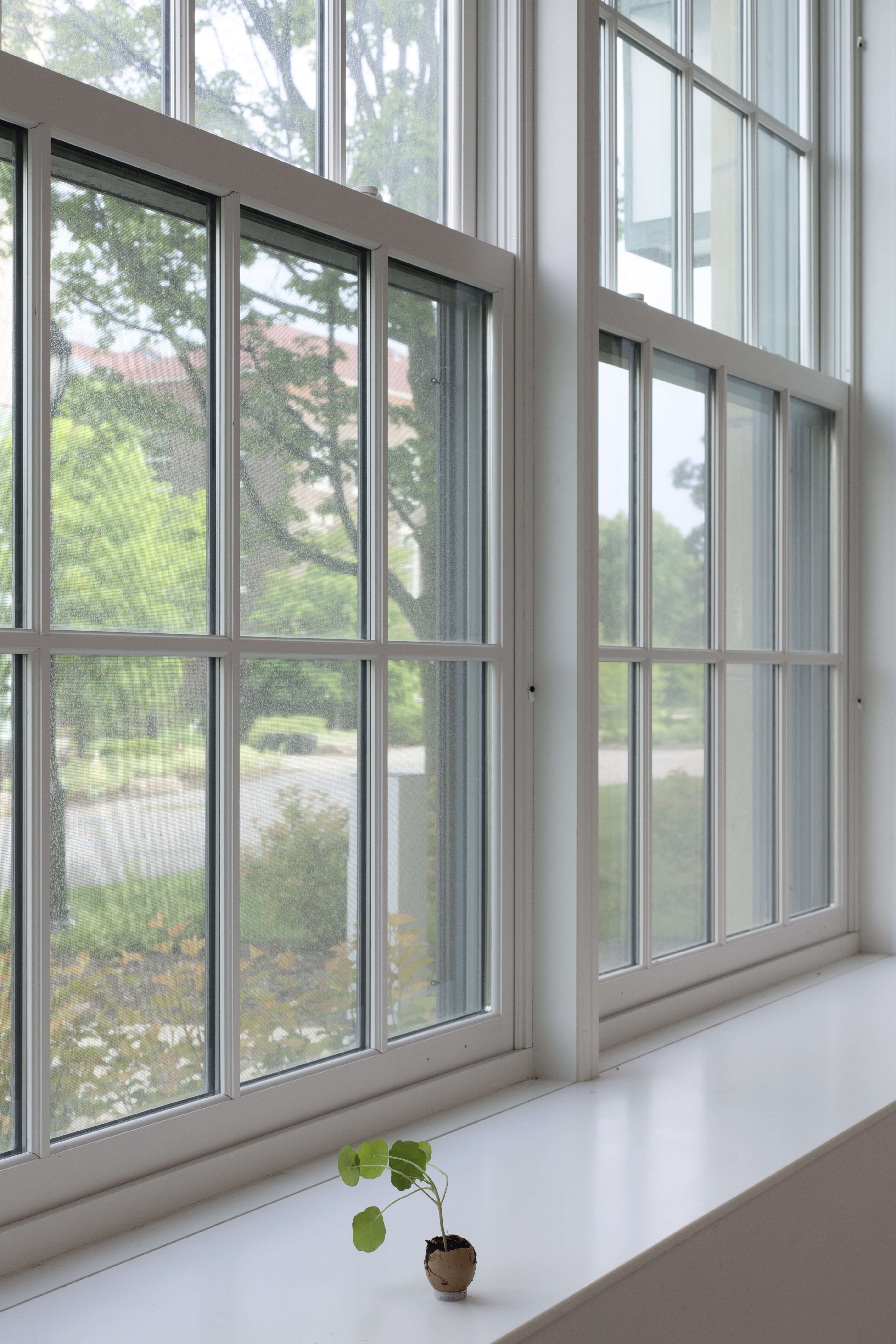 What do you do when you're not working on your art?
cooking, *researching* at grocery stores, looking up things online, reading or watching things about food and anthropology + ancient history, listening to nature sound, watching survival videos like catching fish and building structures on YouTube, investigation tv shows/documentaries, playing Magic: The Gathering with friends, etc. I can't wait to exist on the grass at a park and just walk around outside with the sunlight without feeling cold or hot.
Where do you see your practice going next? Any major changes happening in the studio?
I recently went back to painting so that's already a major change but other than that, I've been reading about history of food and making food themed ceramic works. I will be done working on the table this week for the thesis show but after this, I want to make more wooden structure that people could sit on and experiment with composition of them and also with ceramic together. I want to start collaborating more as well. 😉