Tell us a little bit about yourself and what you do.
I'm mostly a painter, but I also sometimes make drawings and silkscreen prints. My paintings depict scenes of girlhood; they are detailed, colorful, and the imagery often references children's storybook illustrations.  I grew up in St. Louis, Missouri. My father is an artist and a painting professor, so I spent a lot of time around art as a kid. I lived in Qatar for several years, and I'm now back in Missouri, where I have my studio.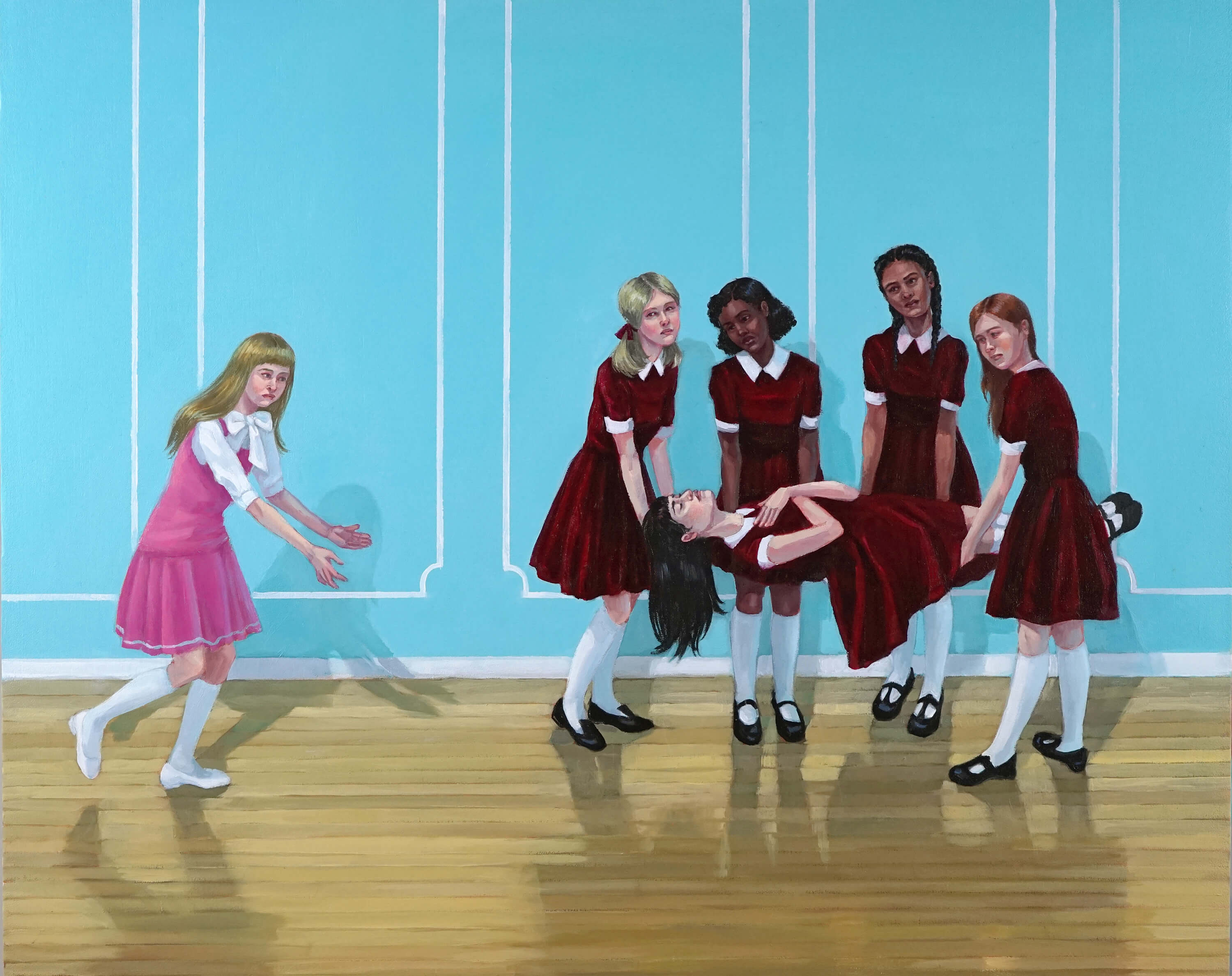 What are some recent, upcoming or current projects you are working on?
I currently have a painting included in The Moleskine Project VIII by Spoke Art, San Francisco, which was really fun to work on. For the project, artists are invited to make a piece inside a Moleskine notebook, a tribute to the role that sketchbooks play in the creative process. I'm also working on some small 6×8 inch paintings for the upcoming Small Works exhibit at Sager Braudis Gallery here in Columbia, MO. For both of these projects it's been challenging to pare down my scenes into smaller vignettes, with fewer figures and a more distilled narrative.
When did you first begin painting?
I didn't attempt oil painting until college; I originally had a drawing focus, but as soon as I took a painting class I was in love with the medium!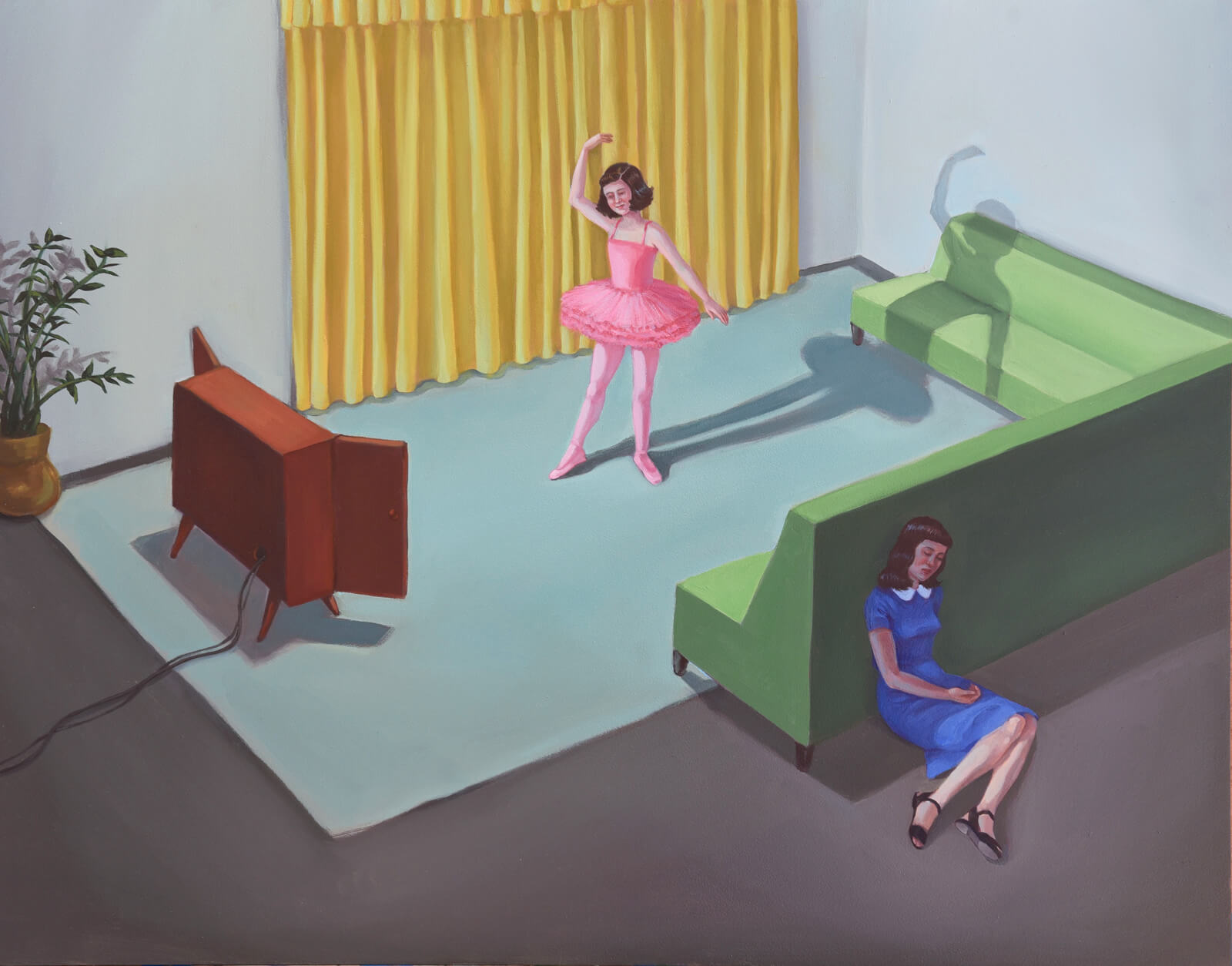 Similar imagery and characters repeat throughout your work. What can you tell us about the girls you paint?
The girls I paint are all struggling to navigate their social, physical, and emotional environments, caught between childhood and adulthood. I paint them to be intentionally archetypal; I think this allows the paintings to function more as allegory than if they were based on real people and real spaces. I want to create the feeling that they inhabit their own little fictional worlds. The neat suburban lawns, schoolrooms, and wild landscapes are all stand-ins for real life, like theatrical stage sets where the girls act out their narratives.
What draws you most to the age of adolescence, the time somewhere between girlhood and womanhood?
It is a strange and fascinating period of transition in everyone's life, and I think looking through the lens of adolescence reveals a lot about our culture, about gender, how we socialize and find belonging, and how we discover our identity.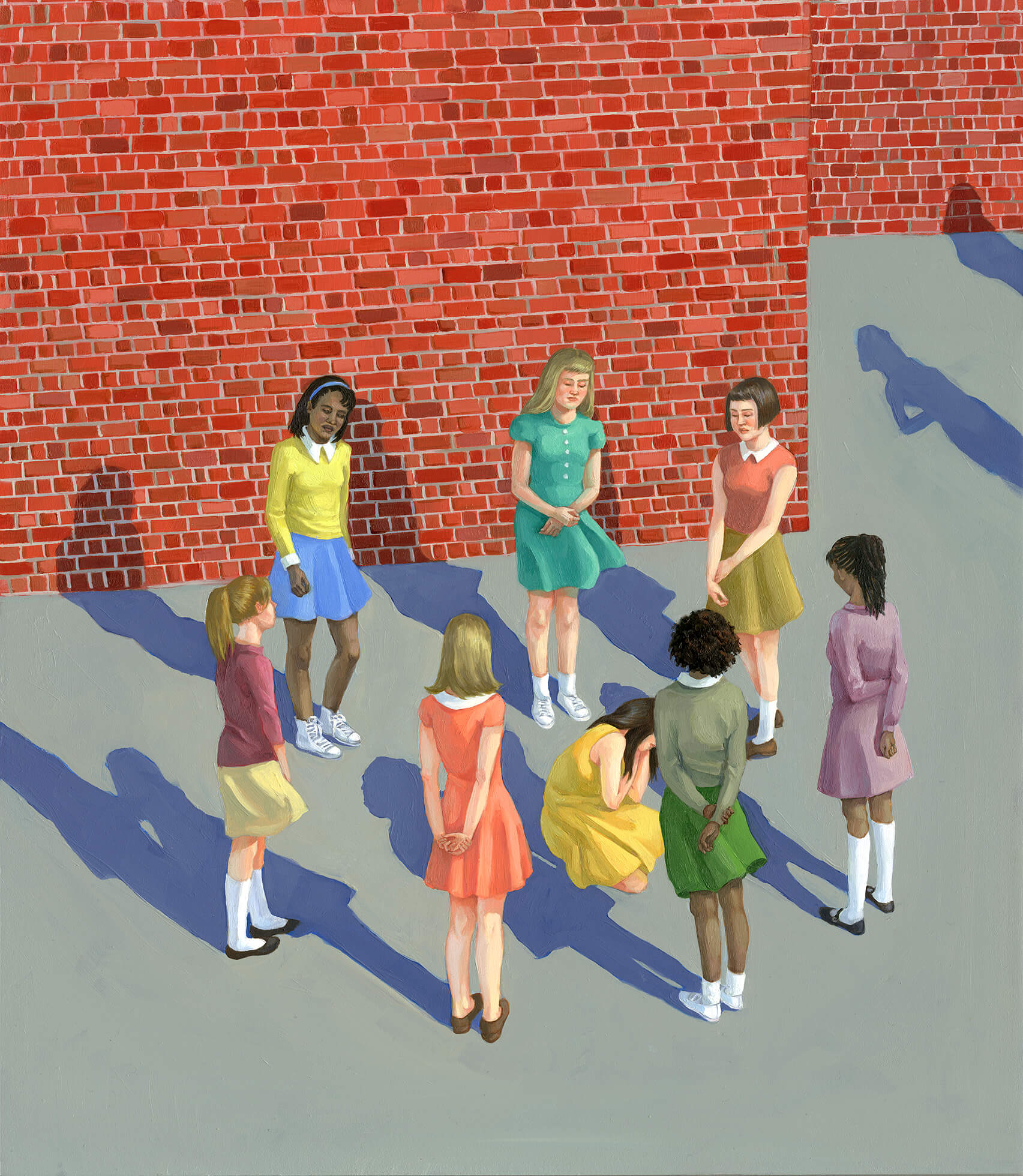 What does your process typically look like?
I've compiled a library of source material over the years that I pull imagery from (poses, settings, clothing, hairstyles), which I have organized into categories. Usually, I find these images in photography archives, school textbooks, vintage postcards, mid-century clothing catalogs, and other printed matter. Sometimes I start with an idea for a painting and then search my collection for imagery that will fit, while other times the image itself sparks an idea that is developed into a narrative. In a gouache sketch, I piece together these found images with other elements (either imagined or from memory) and place the figures within settings, like dolls in a dollhouse. Occasionally I build a sort of miniature stage set out of painted paper and cardboard as a visual reference, which I think increases the sense of theatricality and fiction in the paintings.   
Describe your current studio or workspace. 
I work in a converted warehouse/shipping dock in downtown Columbia, Missouri, that now houses multiple artist studios. My favorite thing in my studio is a set of vintage architect's flat files that I use to store paintings and categorize my collection of source material.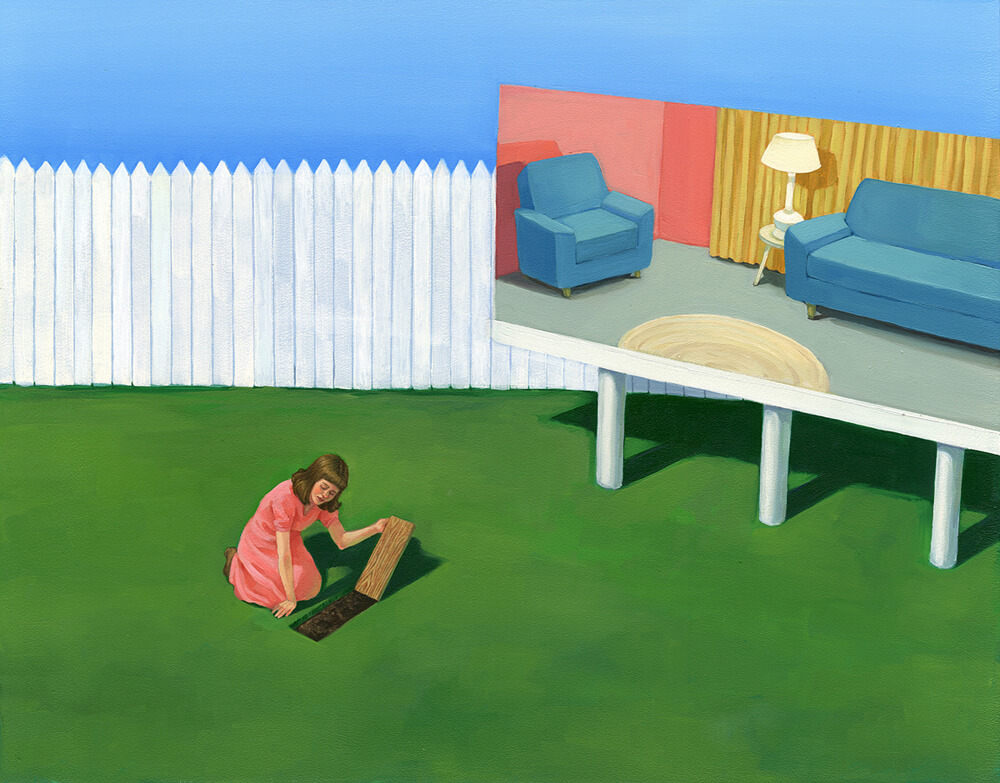 If you had to explain your work to a stranger what would you say?
I would say that I make narrative figure paintings that are about girlhood, gendered socialization, feminine identity, adolescent anxieties, and belonging. The paintings are meant to appear rather sweet and familiar at first glance, but reveal something more dark and unsettling upon closer examination.
Where do you see your practice going next? Any major changes happening in the studio?
I'm thinking about trying to make larger paintings, while keeping the figures at the same doll-like scale, so I can make more expansive scenes with more characters.