Tell us a little bit about yourself and what you do.
I am a weaver with deeply entangled mathematical, technical, and philosophical tendencies. I love to overcomplicate the things that I am working on, and am learning to be a better editor over time. Teaching and learning are also really important aspects of what I do and why I love working with looms – which I see as a multiplicity of tools with ever-expanding possibilities of artistic production.
I'm process and alchemy obsessed in ways beyond the textile world too – my favorite job was working as a distiller and observing the state shifts involved in making a good whisky. I love biking and part of this love is definitely in knowing how to take my bike apart and put it back together again.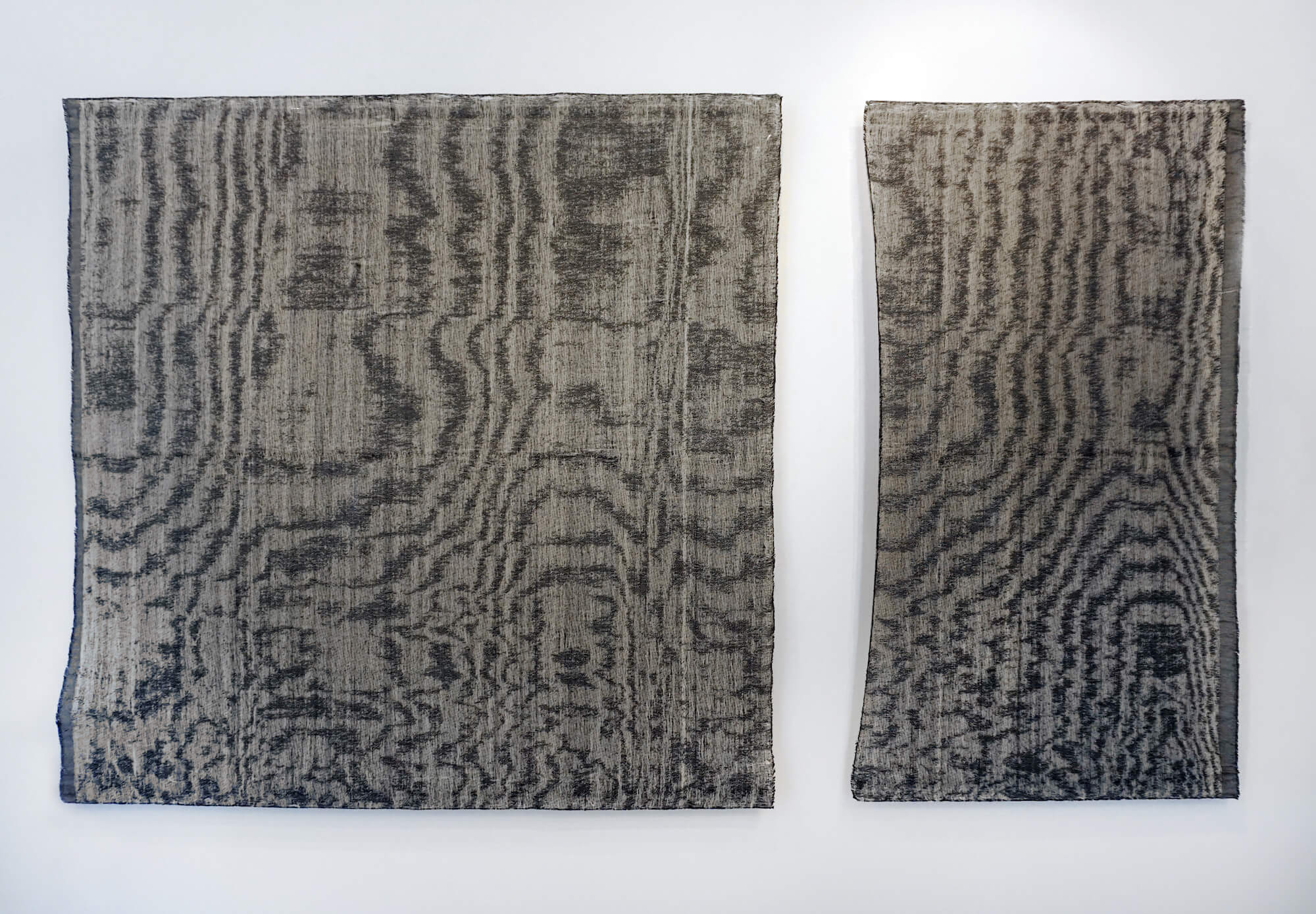 How did your interest in fiber art begin?
Cranbrook Academy of Art is known now for its MFA program, but it also has and entire K-12 private school on the same grounds. I was privileged to go there, and to find myself at the age of 15 in a weaving studio that was approximately the size of a football field. I was already very crafty at home, and weaving took this to the next level.
Then when I was a junior, I had the chance to take a weekend workshop with the artist John McQueen. Over a few hours he taught us how to make simple square plaited baskets with reeds. He was not the archetype I had built in my head of what an artist was like: fame seeking, extroverted, flashy, unapproachable. And that day I wondered if I could forge a life like his. I was still very fuzzy on what that life might look like, but it suddenly seemed possible.
What are some recent, upcoming or current projects you are working on?
Right now I am working on a project called Queer Encrypted Weavings – and I think I will keep this title even though the works will not be all strictly woven. In this project, I am creating a series of queer heirlooms using contributed encrypted text recoded into textile structures. It will be exhibited in May at the Textile Center of Minnesota alongside the work of my cohort of two other Jerome Project Grantees.
This project has involved a huge amount of vulnerable communication, which is exhausting and incredibly rewarding in turns, and very different than more solitary adventures in weaving.
I am also working in collaboration with a friend Kate O'Brien, an artist currently engaged in doctoral research in England investigating the mathematical practices of textile artists and the aesthetic practices of mathematicians. We have been in regular dialogue over the last year, sharing research and working methods, and we are working towards co-authoring a paper together, and performing a series of intensive studio .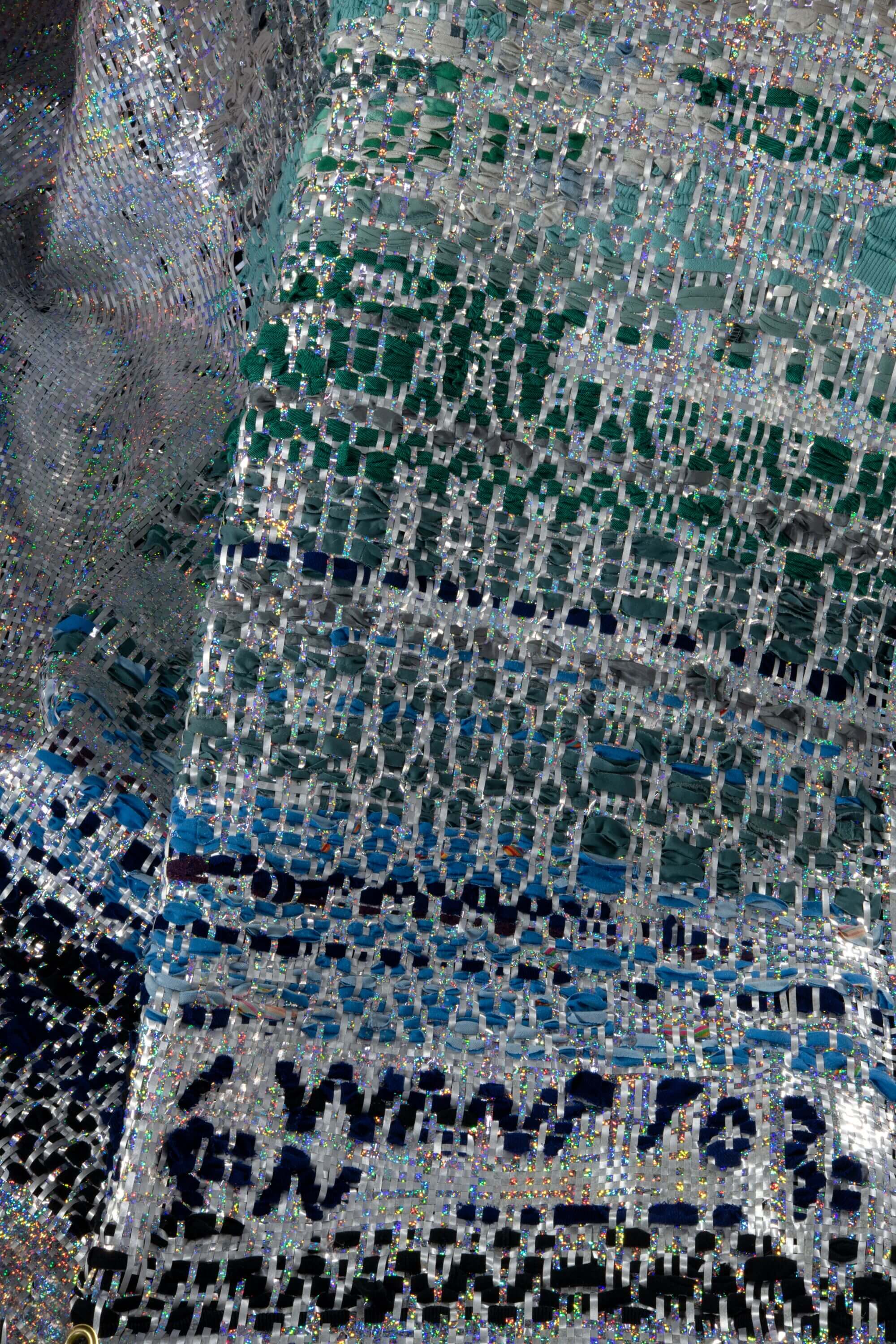 What is the most powerful thing about weaving
There are so very many things I love about weaving, but the first few relate to teaching, and the multitude of ways that you can approach it. You can weave because you are into color and color mixing. You can weave because you want to make useful objects. You can weave because you love soft things.
I have always loved math – it offered the escape of "right" and "wrong" from a fairly unstable childhood home. I didn't think about it at the time, but weaving is a way I think I intuitively materialized math. In college I didn't weave much, but right after I graduated I spent a year studying kente weaving in Ghana, and a few years later I went to India and worked with mechanical Jacquards for six months. At that point I feel like weaving became another language that I speak, and I use it to relate to the world.
I've been really focused on multi-layered structures for several years now, and I love working back and forth from draft to loom because it stretches my brain in really incredible ways. It's a form that I keep having ideas for, and I think I've already had more ideas for things I want to do on the loom than I have time for in the next several decades! We'll see, I also change my mind pretty regularly.
This is incidental, I think, but I also love how physical the weaving process is. I think if I were a dog I'd be a cocker spaniel – very sweet, but kind of an anxious wreck if I don't physically exhaust myself on a regular basis.  
What was the last exhibition that stuck out to you?
A recent show at the White Page Gallery in Minneapolis called Love and regard in the confines. It was a duo-show with work by Tia-Simone Gardner and Rini Yun Keagy, curated by Mara Duvra. The artists considered this: "The question remains how do we attend to black death?" The work was contemplative, violent, and ghostly all at once. The shape and size of some of the drawings, how they were cropped, the way the material of a page was redrawn, and then layered onto another material. Titles were these devastating lines from slave histories, African-American literature, and contemporary studies.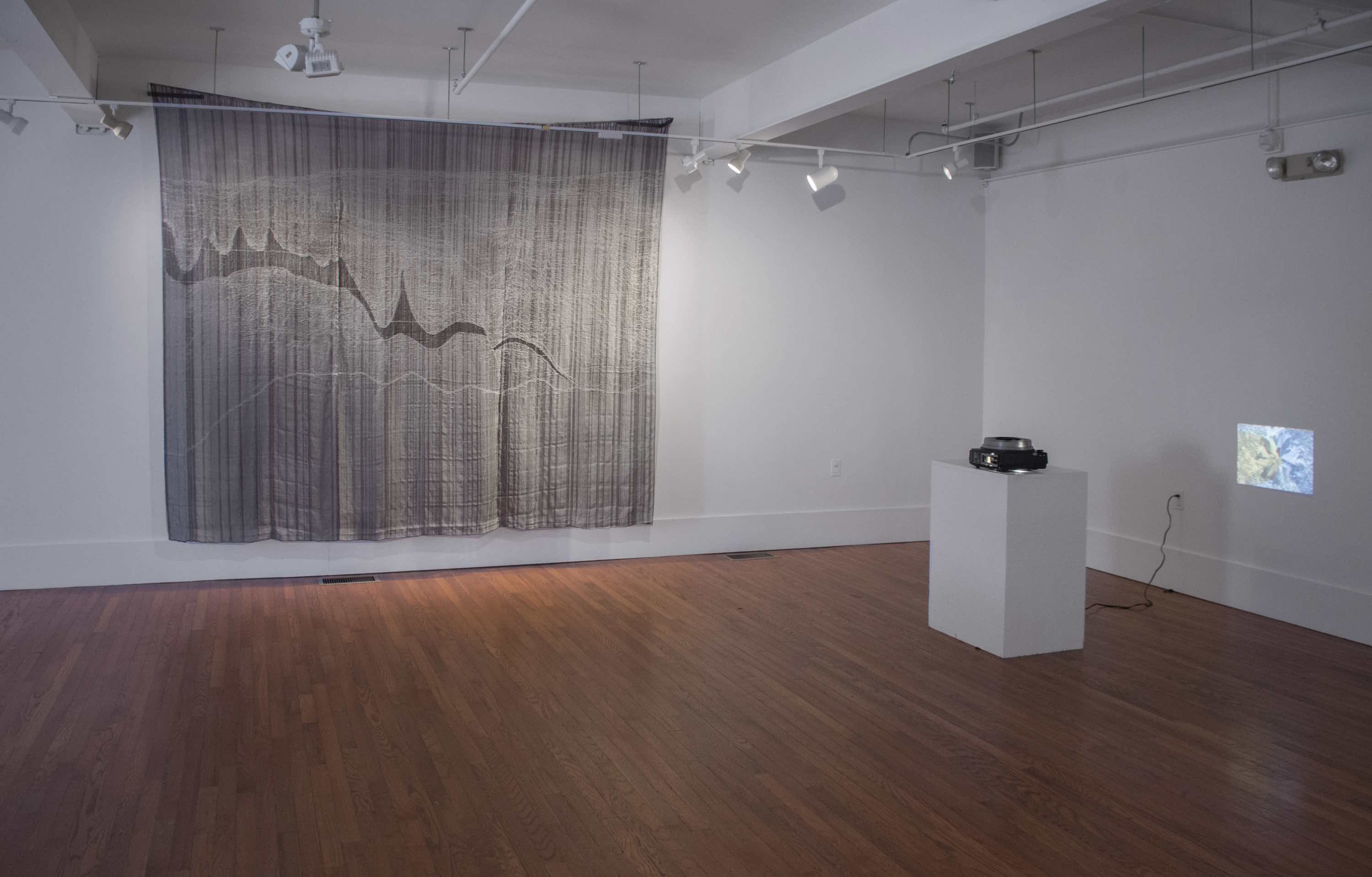 Where are you currently based and how is this influencing your practice ?
I moved to Minneapolis about two years ago for love. This move came after a few years of chasing professional opportunities and jumping through the hoops of academic job applications, and it was such an freeing thing to make a decision based on a totally different and much more personal set of criteria.
There are a lot of things that keep me in Minneapolis, and many of these feed directly or indirectly into my practice. Minnesota has really amazing arts funding – the highest in the country per capita after Washington DC. I received a Jerome Project Grant last year, and plan on applying for more grants this year. This also means that there is a lot of art happening around me, and performance and puppetry are two fields that are particularly strong here.
There is a very large and active weaving community here as well which I have engaged with – although the focus is much more on functional work rather than experimental, artistic production.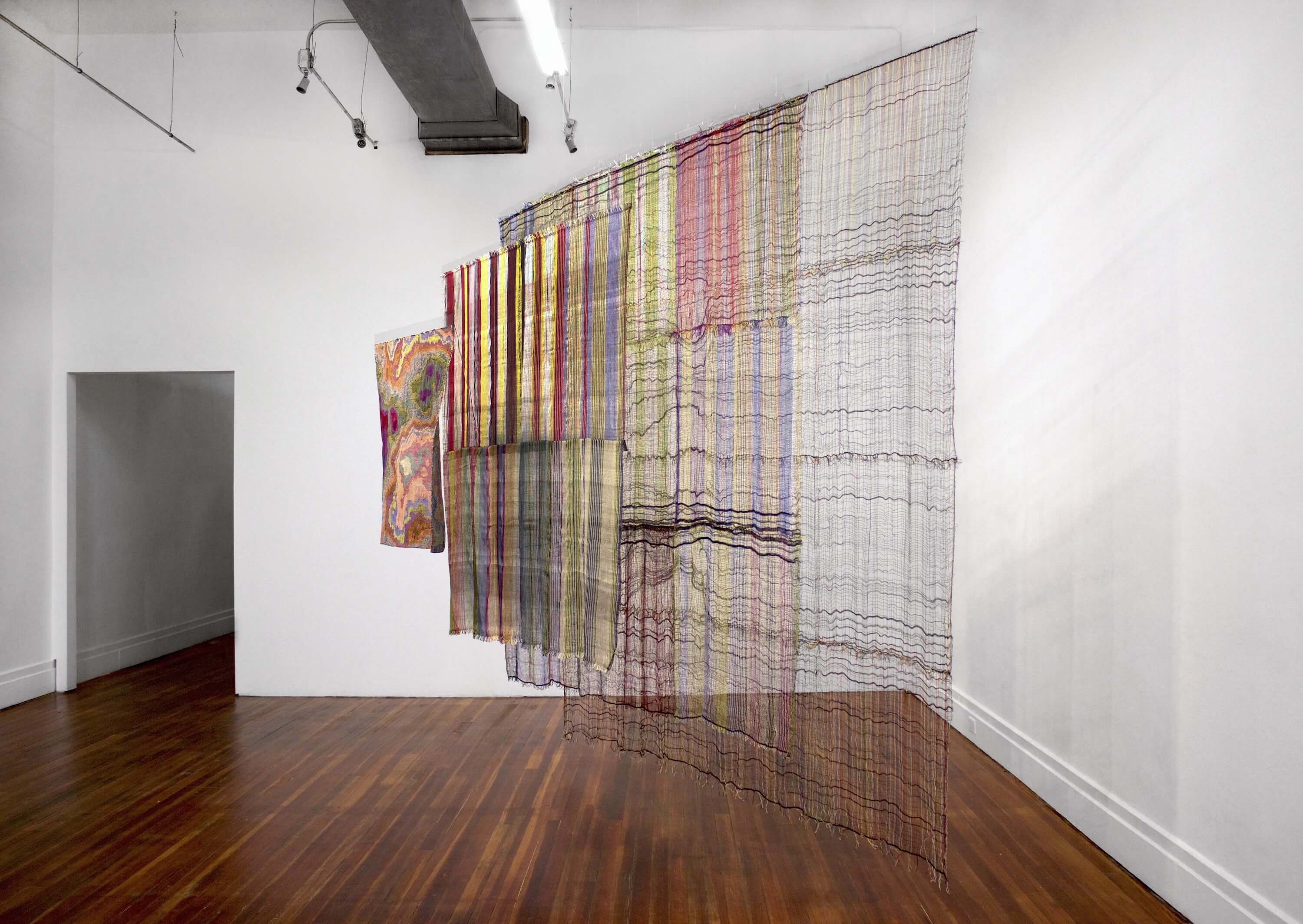 Describe your current studio or workspace. 
I work out of the Mirror Lab Collective in Minneapolis. It's a studio I share with 8 delightful other artists. It's a big, flexible space, and my loom doesn't look like the behemoth that it is. I have never had a consistent daily practice – right now I am also working in the living room of my house because it's a cleaner space, and my housemates somehow don't mind there being bits of fabric and thread everywhere.
What do you want a viewer to walk away with after seeing your work?
This is something I struggle with, since weaving is not a very accessible process. But I like playing with the ways that we take for granted the cloth in our lives, the systems that we are embedded within, that we rely on so deeply but with such little conscious consideration. I would love for someone who sees my work to leave with a different idea of the potential and power of textile objects, how they can tell stories and materialize philosophies and systems. If someone considers the material histories of objects in their own lives, that is even better.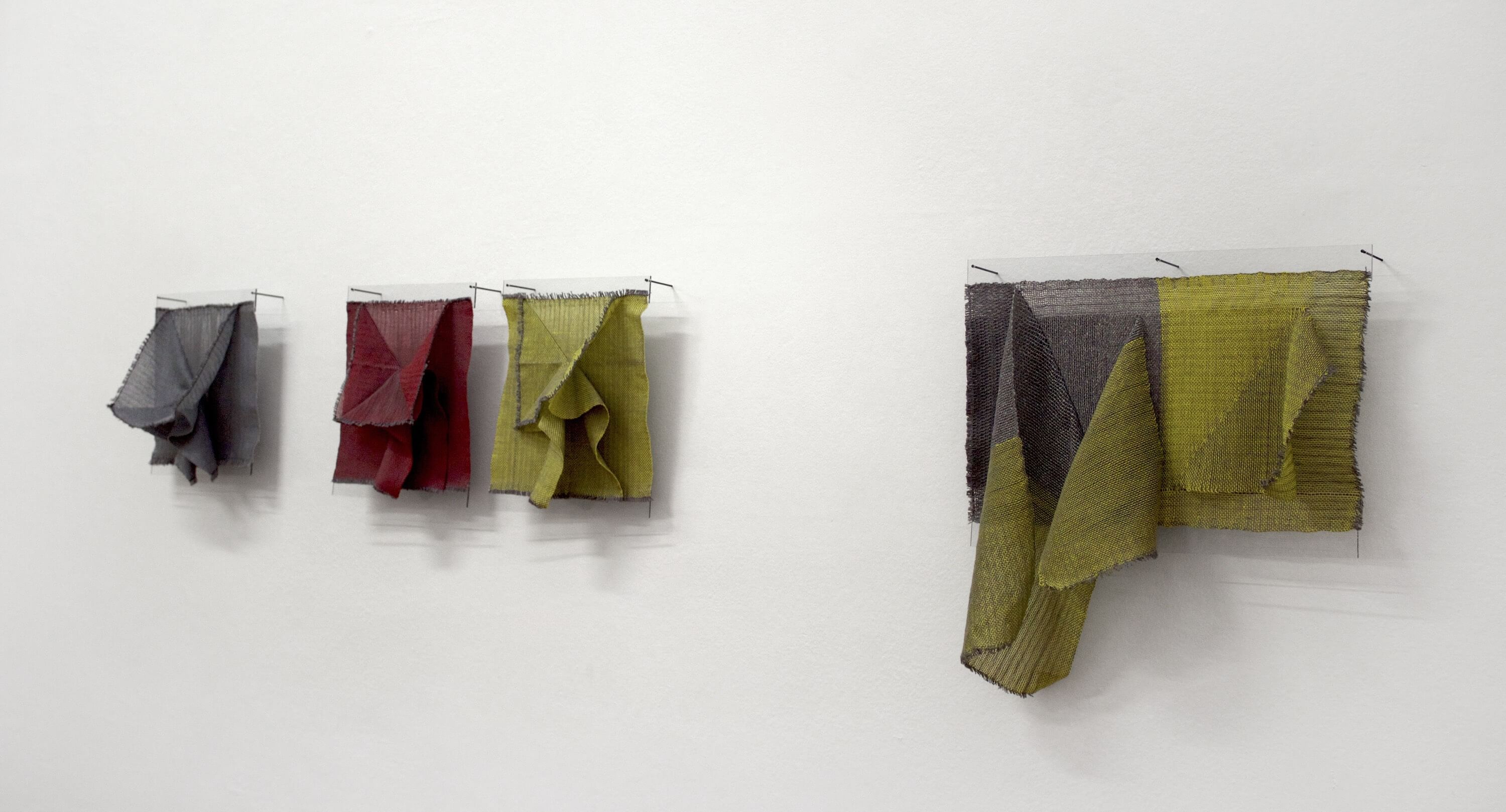 What is one of the key elements you consider when installing your work?
Gravity. Textiles are bodies, and a part of their authenticity is that they respond to the force of gravity rather than pretending they can escape the material realm. It takes me forever to figure out how to install work.
What is the best advice you've ever received?
Something I've been thinking about lately was a question my therapist asked me about two years ago. I had expressed feelings of gratefulness for friends and my community, I was feeling buoyed and supported. And he asked me, "Is there any room for gratefulness for the self?" There really wasn't at the time, but the question stuck in my mind, and perhaps I'm circling closer to feeling a gratefulness for self that correlates to a very basic level of regular self care and caretaking.
Where do you see your practice going next? Any major changes happening in the studio?
The big project that I have been working on for a year or so now in parallel to my studio work is acquiring a digital Jacquard loom into a shared studio space here in the Twin Cities. There is still a lot of work to do before it's a reality, especially on the fundraising side of thing, but if all goes according to plan it will open next spring. That said, every step of the way has taken about twice as long as I think it will, in part because I tend to say yes rather than no, and inevitably I am working on too many things at the same time.