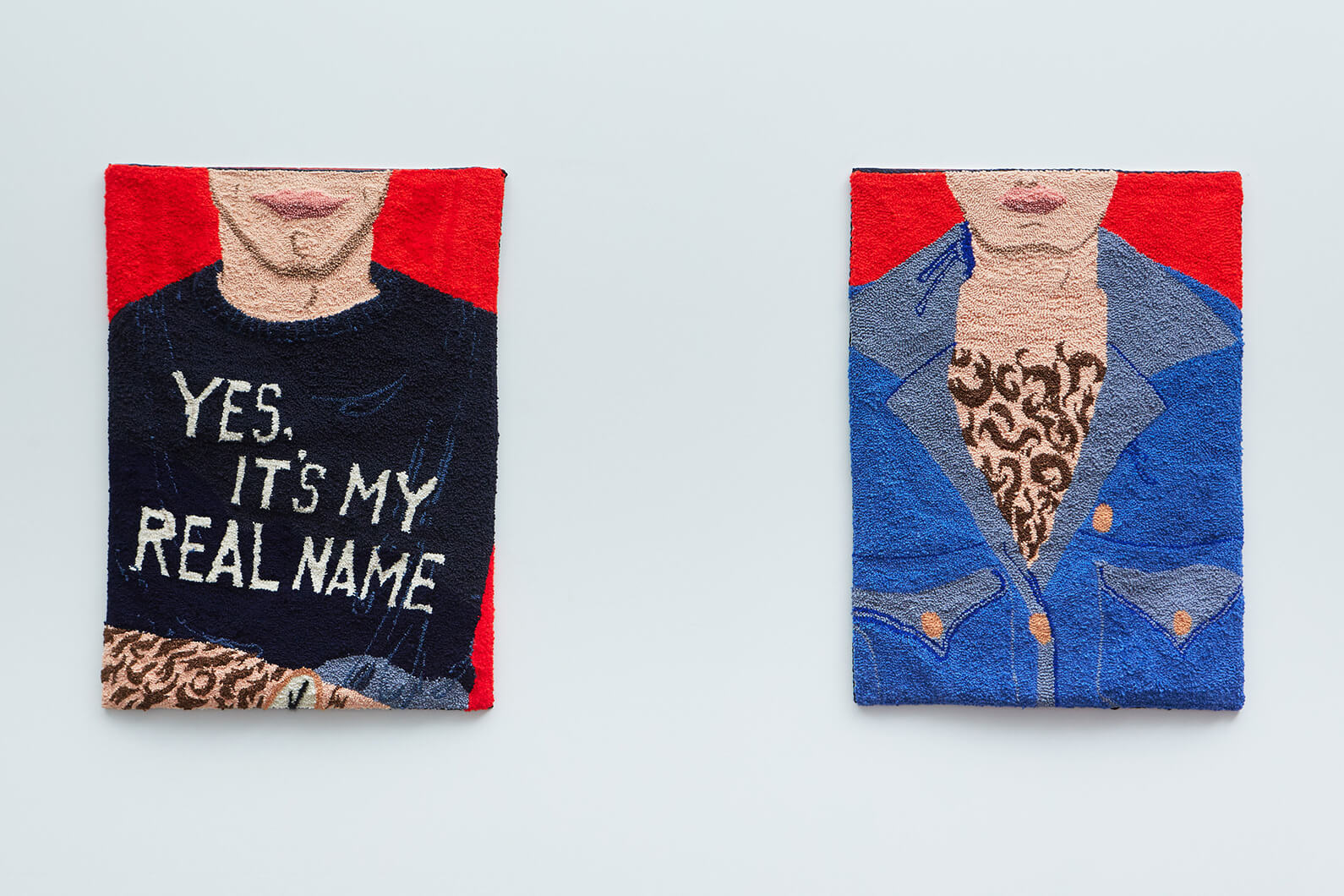 Tell us a little bit about yourself and what you do.
In short, my practice addresses intimacy and vulnerability. I wallow in my inability to communicate emotion and desire by examining moments in pop culture and translating them into my own adaptations. Displaced from their original period and significance, my references are at once unsettling and familiar. Through use of inviting materials such as satin, latex, and organza, my works act as an aggrandized display of bodily pleasure and discomfort. I amplify sensuality in my work as a way of providing autonomy over my fears, desires, and the source material I am inspired by.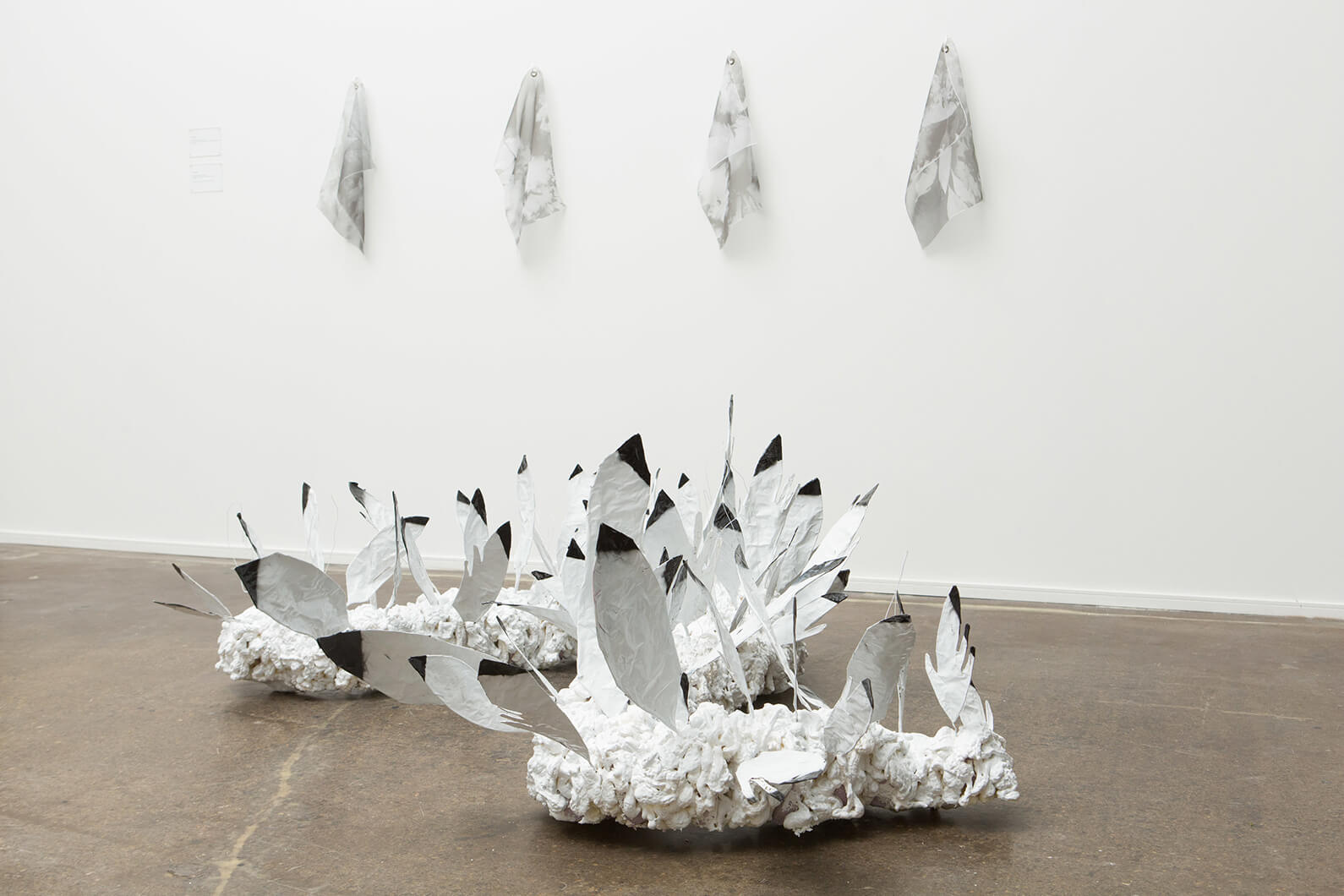 What are some upcoming or current projects you are working on?
Right now, I'm working on a series of wearables. I want to translate some of my drawings into garments through piecework. With a desire to flesh out the universe-building techniques I employ in my studio practice, garments seem to be a natural transition. I have a background in fashion and have been aching to use this skillset once again. I'm still in the ideation phase of this project, but I feel it's a good way to refocus my practice at the moment.
What inspires your material choices?
I think a lot about how to translate source material while still preserving the integrity of the image/still/memory. I consider the tactile qualities of what I am inspired by, and what material choices compliment that.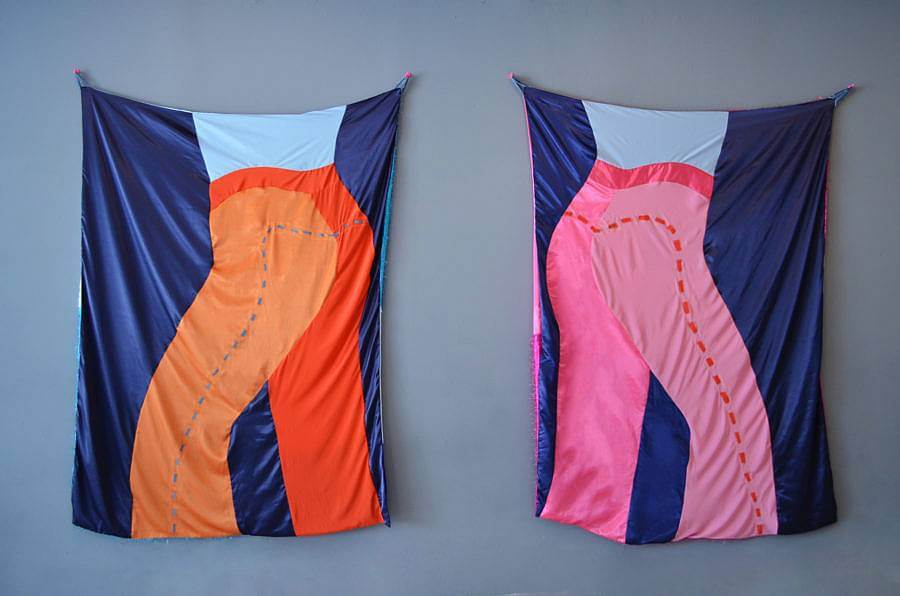 I also enjoy "over finishing": if a viewer were to walk 360 around my work, what would they see? Thinking about this allows me to insert secrets into the work. I'm essentially the only one aware of them, but I think there's a private pleasure there. Sometimes showing my work can feel so vulnerable, especially in its scale and content, that having a part just for me to relish in provides a sense of security. I try to finish the back of the work with just as much consideration as I give the front, and often find myself putting latex or satin linings into my sculptural works.
How did your interest in fiber art begin?
I come from an Italian-American working-class family; all of whom have day jobs to pay the bills, but vibrant passions outside of work as well. I grew up around singer-songwriters, sculptors, sewers, and bakers – so I think this environment was very creatively nurturing throughout my childhood, and sparked my interest in art to begin with. It wasn't until I went to college that I gained a broader understanding of what my interests were. I had a very keen attraction to fashion design in high school, and planned on pursuing that through my undergraduate degree at SAIC. However, I fell in love with the materiality of the cloth itself, and not just how it can be manipulated on the body. And that's how I migrated into fibers, however I think there is a consistent reference within my practice to fashion – directly and indirectly.
What do you want a viewer to walk away with after seeing your work?
I feel like so much of my work comes from an intersection of personal and public space, so I think I want my viewers to walk away with a sense of that. One part embarrassment, one part fascination. In the same way that stumbling across your older sister's diary is at once forbidden and tempting, so much so that you can't help but stare. I hope my audience feels that same pang of delightful intrusion. Additionally, I like injecting humor in the absurdity of my work. I hope my viewers get a little laugh as well.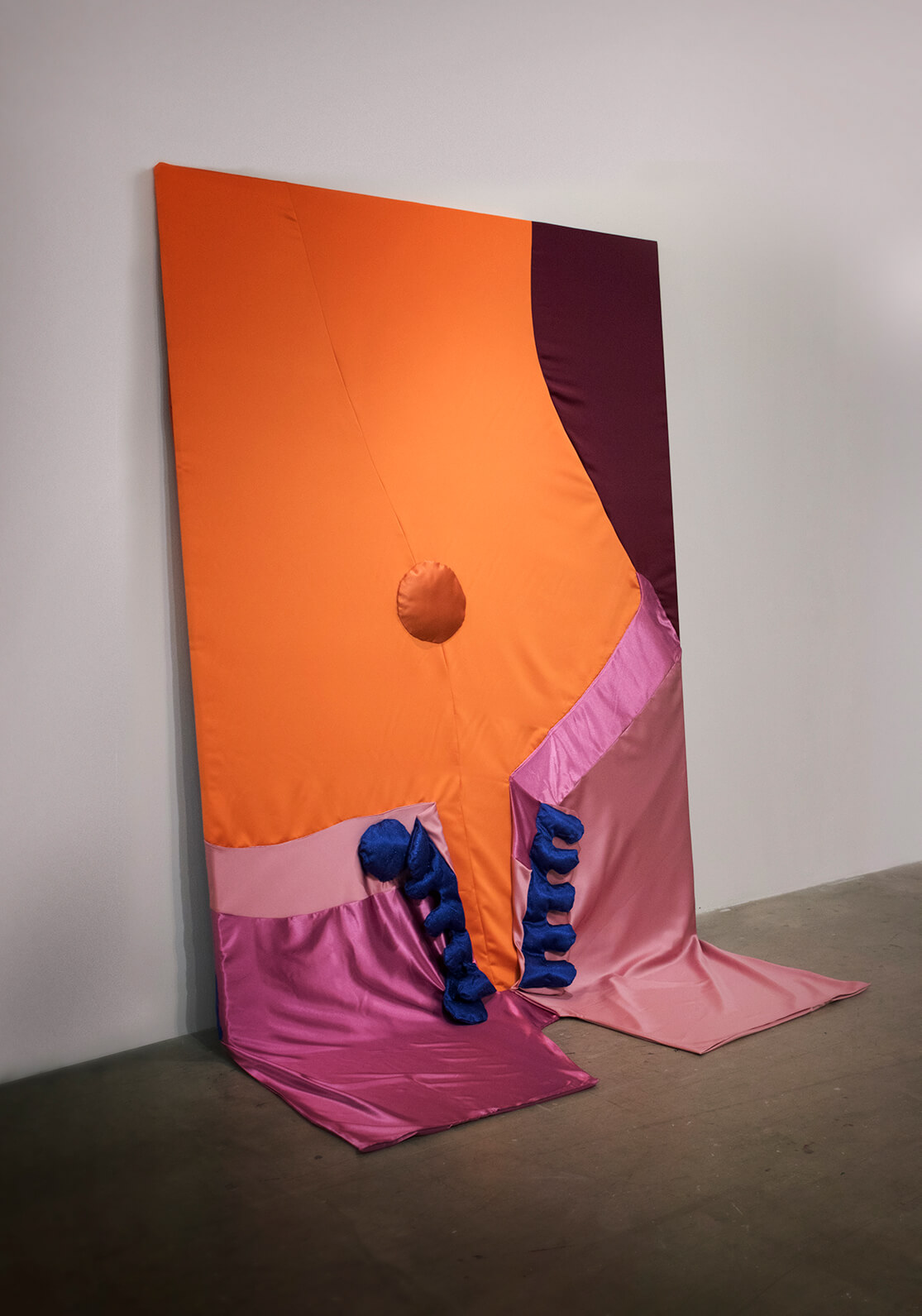 Soft Image Slow Body
My work has an overwhelming tactility, yet for the viewer to be unable to touch it hopefully will disrupt the notion that it is singularly fiber art, transcending arbitrary categorization to exist somewhere "in-between."
What is one of the key elements you consider when installing your work?
I like to understand and study the space that I'm installing in. Odd architectural elements can add nice flourishes to my work at unexpected moments. For example, light streaming in from a window can add shadows throughout the day, almost creating a new language for an otherwise static piece over time. I loved observing these changes during my exhibition Touch Too Much with Regina Rodriguez at Comfort Station last summer.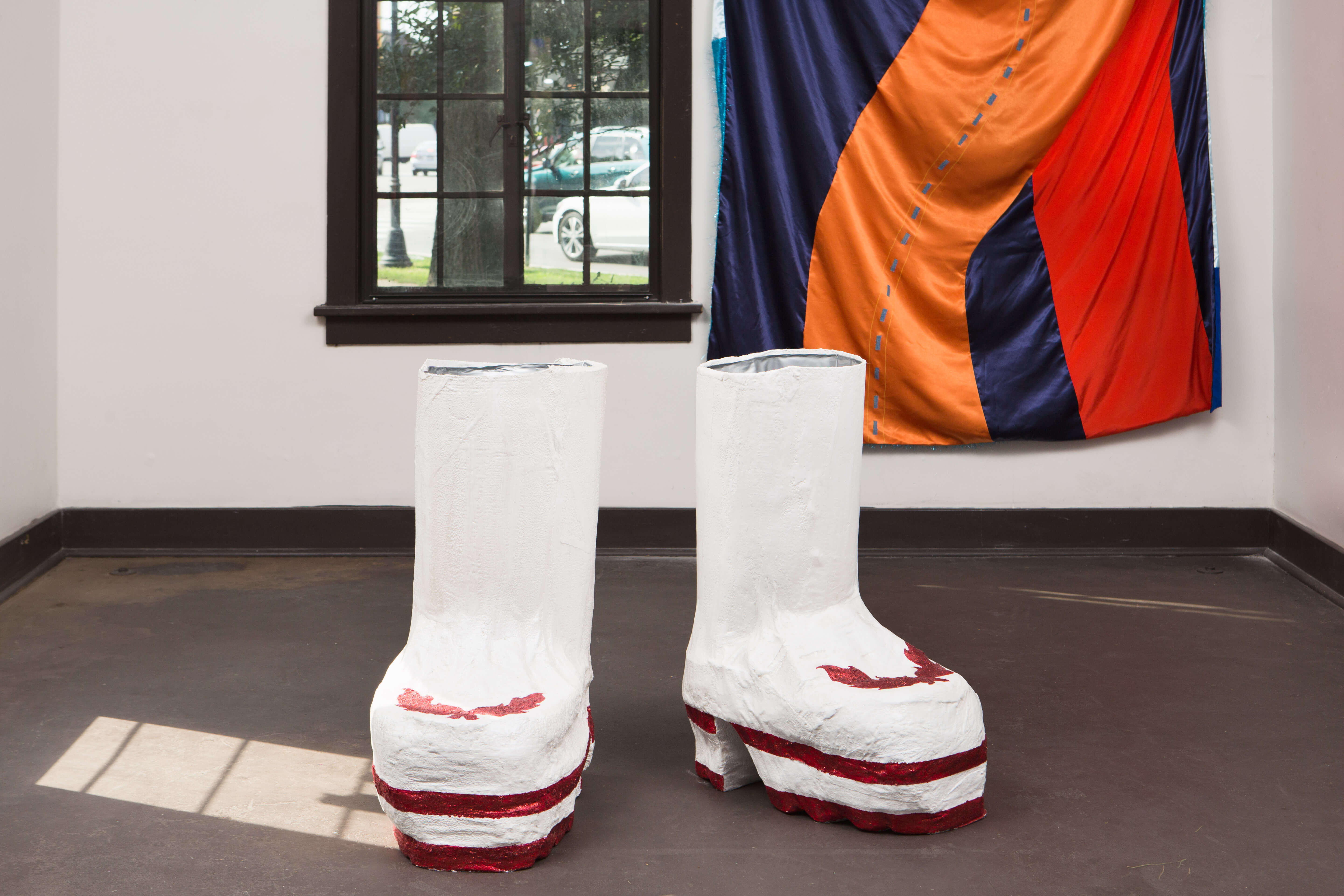 What is it like living and working in Chicago?
My family is from just south of Chicago, and I've spent a little time living in Minneapolis. Currently, I've lived in Chicago for just under the past 6 years through school and now post-grad, so it certainly feels like home. Outside of my practice, I am a Merchandising Assistant for a small soft goods and furniture company, which is a great supplement to my studio practice. My work allows me to think creatively, and a lot of what I do translates to how I problem solve in the studio. Chicago has a nice pace for me right now, and is affordable enough for me to comfortably work.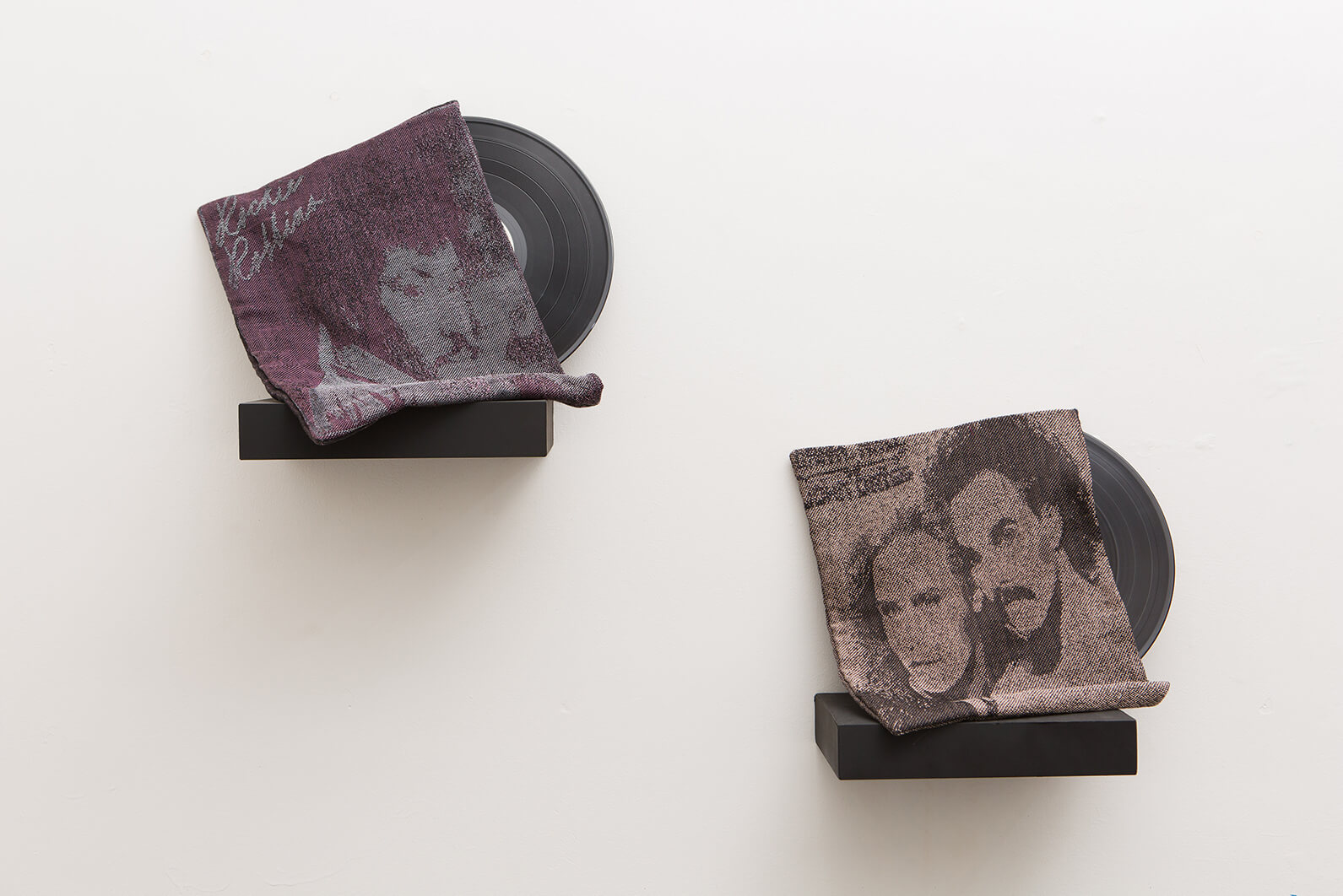 Who are some of your favorite artists?
I've always admired Amanda Ross Ho and Kris Martin – their use of scale and interest in the visual language of the everyday is inspiring. I also like Michael Rakowitz a lot, the way he simultaneously navigates overlapping personal and political histories is incredible and something I think about often. I think recently, I've been really excited to see some of my friends make and show great work around Chicago as well, in particular Amanda Assaley, Wen Liu, and Yesenia Bello.
What is the best advice you've ever received?
"Time spent working on one thing is time spent not working on another" – my boss uses this phrase often. Essentially, don't waste time on something you aren't in love with. Additionally, don't rush through a project only to have to go back and re-do half of it. Do it right the first time, and make sure you're passionate about it.
Where do you see your practice going next? Any major changes happening in the studio?
I'm mainly excited to move into wearables, the direction is familiar but refreshing. I'm also about to move, so I'm excited to curate my space/studio. It seems that I'll be there for the foreseeable future, so it'll be nice to feel like I'm settling into a home after moving around so much. Other than that, I applied to a few residencies that I'm crossing my fingers about.