Can you tell us a little bit about who you are and what you do?
I'm a Peruvian artist but I've been living in the states for the past 5 ½ years. I've lived mainly in the southern U.S., but I recently moved to the Midwest to Kansas City, Missouri. I've worked in different aspects of the contemporary art world, having worked in galleries and on multiple curatorial projects. Recently, I created an online gallery platform with my partner. I am also an artist, but I've tried to have a "real" job to sustain my art practice. 
How did your interest in art begin?
My mom took me to painting classes when I was young, but I think the pivotal moment was during my senior year in high school, with my art teacher Fiorella Mazzotti. Mazotti showed me what contemporary art was, and everything has changed since then. I remember thinking about being a journalist for a long time up until then. Also, discovering Marcel Duchamp when I was 15, was an important moment.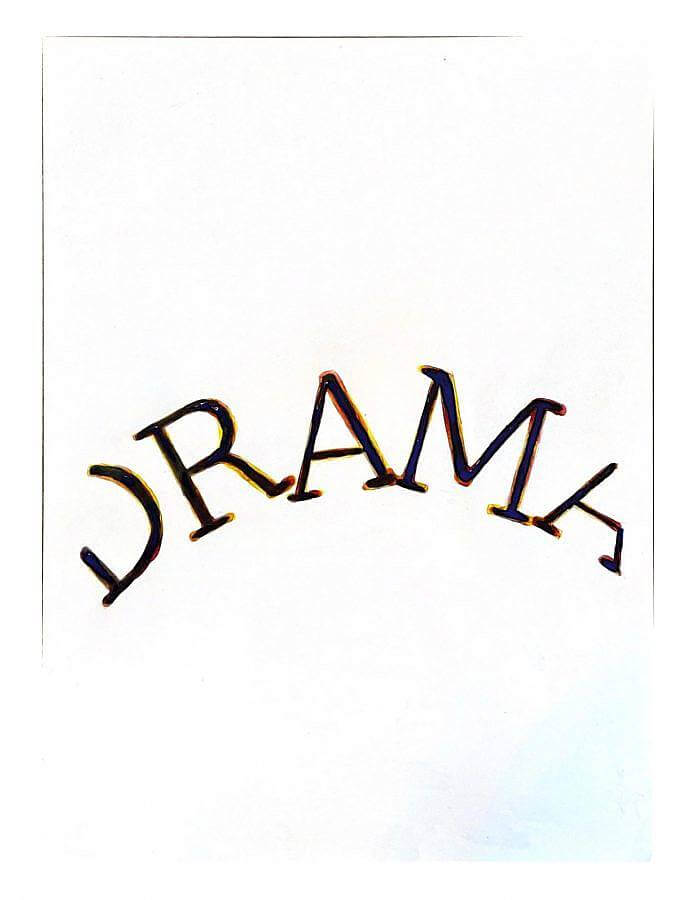 Can you talk about your experience as the first virtual resident for Chuquimarca Projects?
It was both a challenging and interesting experience. I have been following Chuquimarca Projects since the beginning of the space. John, who directs Chuqui, was visiting Lima and saw a show that I was having there. I think that was the first time when we connected, I might be wrong. Anyways, August 2020 was Chuquimarca's first residency. During that month I had around twenty different meetings scheduled with curators, artists, and peers via the virtual residency program. It was intense because some days you don't really want to talk, but in the end, the conversations helped me a lot, especially regarding my current body of work. I am really grateful for the experience and I was able to meet a lot of great artists!
How does working between Kansas City and Lima impact your art practice?
In late March I moved to Kansas City, and it's been challenging for me to connect here, because of the pandemic and everything being close down. Lima is always a safe place for me. I went back last November for several events, including a group show I had up. When there, I saw that the Lima scene had really changed. There are a lot of young artists and more alternative spaces than ¨formal¨ boring galleries. I´m planning a show for 2022 there so will see how it is then.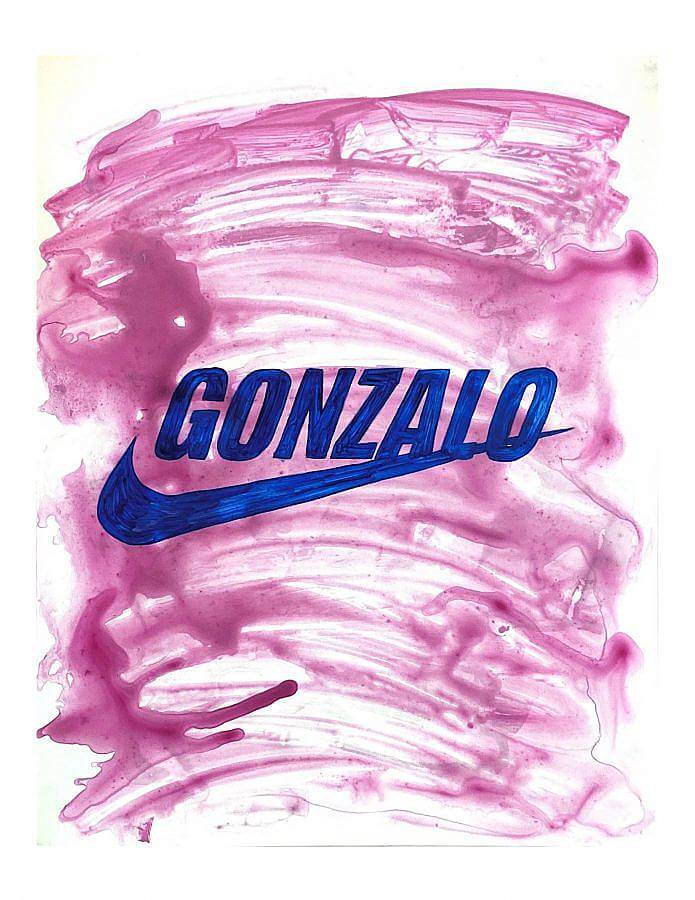 I've noticed this symbol, "):)" popping up on your page, and it's also the title of your current show at the SCAD Museum of Art. What's the symbol's significance to you and your practice?
I started a research project last year about symbols/text and lines, for my painting work. Additionally, I have been collaborating with Todd Schroder and I think that's when I started looking at symbols and signs too since he uses them a lot. Anyways on one of the days researching I found this symbol "):)", that translates to mixed feelings, I thought it was perfect! Closed Parentheses, Colon, Closed Parentheses. The idea of creating an emoji or a symbol is to simplify communication, but with this symbol that becomes really hard to define. I think this is important. It's also related to how I felt all of 2020. I've done a lot of things, and also have my first solo exhibition at the SCAD MOA, which is a big "step" in an artist's career. However, at the same time, people are dying because of the pandemic. I think mixed feelings are relevant to our time right now.
What's the impetus behind your use of yupo paper?
I found yupo paper because of another artist in Savannah, Betsy Cain. She was using it in such a brilliant way, and that I thought I would try it. I tried it and it was an instant connection. It is a plastic paper material where you can erase and make marks and erase them again. I think I'm in the early stage of exploring the paper. It has this quality of being plastic and industrial that I love. I find myself really disconnected from the use of materials of canvas and oil right now. So I used only acrylic paint, water, and yupo paper.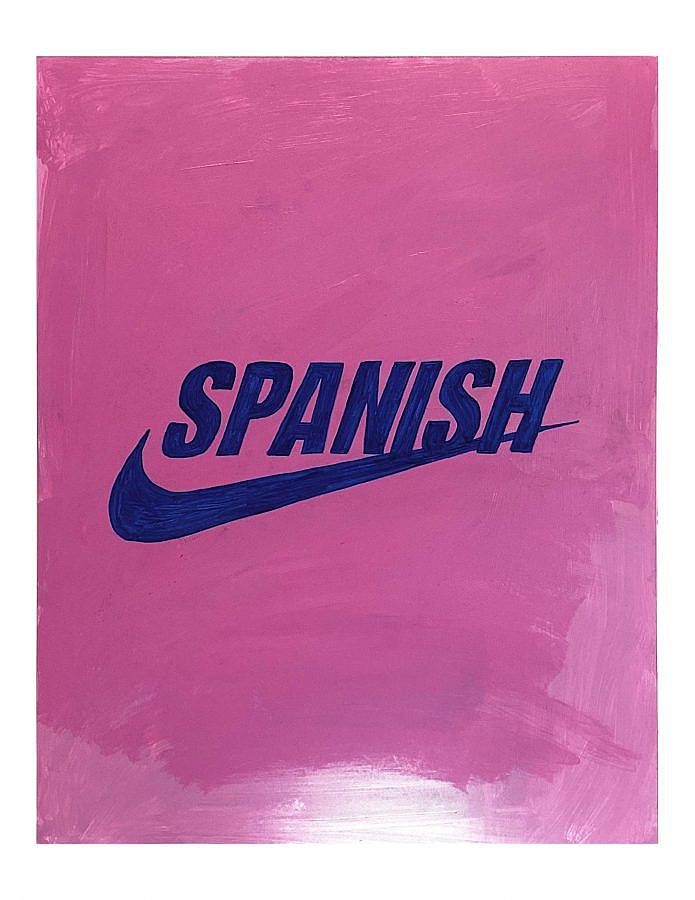 What artists or creators have influenced your work?
That's a hard question, there are a lot. The work of Gabriel Orozco is something that I have always looked at. I have a lot of artists that have influenced me. Some of them are, Armando Andrade, Nicolas Lamas, Juan Javier Salazar, Alberto Casari, Todd Schroeder, Garry Noland, Ulises Carrion, and Lawrence Weiner. Another group of artists that I follow, Martine Syms, Sondra Perry, Marisabel Arias, Ingrid Pumayalla, there are so many!
 In works "24" & "25" of your yupo, 2020 series, you placed the term "Spanish," and then your name, "Gonzalo" with the Nike symbol, a symbol fraught with associations of authenticity and capitalism. Can you discuss your intention with these pieces and their relationship with one another? 
Language and symbols are something that I'm researching right now. I'm working on a collaborative project with Todd Schroeder called "Spanish is Hard." After a couple of conversations with Todd, where we were just thinking of phrases like, just do it, o tu puedes, I began looking at how to replicate the brand in a new way, with the term 'Spanish' or even my name. For some reason my name is so hard to pronounce for Americans, I thought that maybe if I simulated the symbol and interchanged Nike for Gonzalo, they might now say it properly!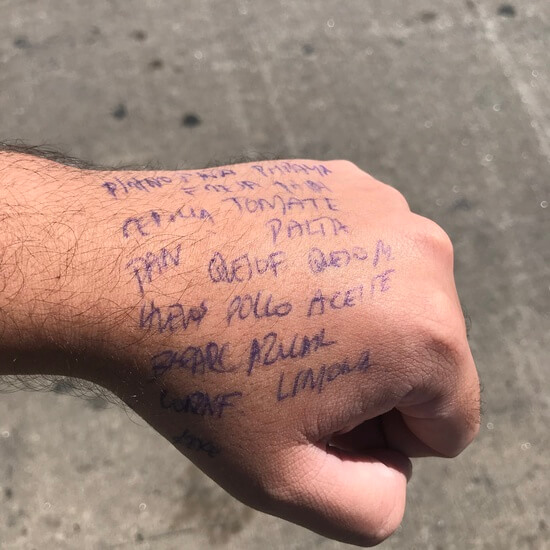 Whether it's an image of you falling, or you've written upon your hand, or your name is featured, you often include an image of yourself, the artist, in your work. Why include yourself in your works? Why acknowledge the role of the artist?
I think this practice started during my undergraduate. I was using a lot of images of myself, it was easier to get the painting done, you just need to get a good shot. But then I think it was more about the idea of trying to step down the idea of the artist as a superhero, or just unreachable. By using my image I think people can relate. You know, there's a common guy depicted, there is nothing extraordinary about being an artist, it is like another job. 
In the past, you were working with sculpture, photography, and fabric. What inspired your shift towards text-based paintings? 
Text-based media have always been present in my work, mainly in my paintings. I just feel that simple text work is what I need right now. It started as a daily practice and it has grown since then. There is something about the news, media, etc.. that relates to the idea of text as "true" statements. Right now I'm exploring how to continue with text and try to take it further into abstraction, that is something that I haven't really explored a lot.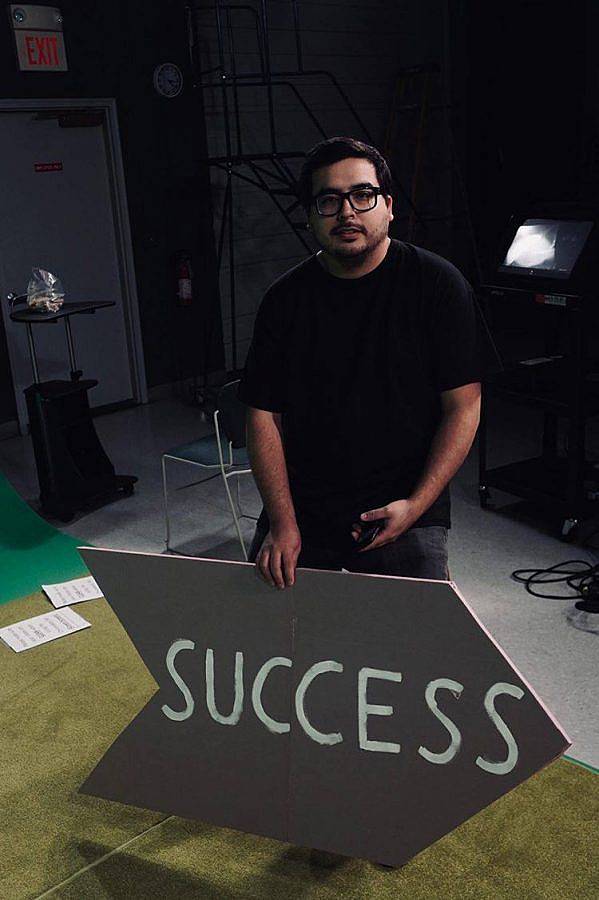 This year you've curated multiple shows and even founded a new online platform, Abrir Galeria. What has your approach been to curating amidst the current reality of Covid-19?
Yes, I curated at least three shows this year. I started with a small show at Laney Contemporary in Savannah that I organized, which presented a new view on pieces that we had in our storage room. The show was called Present Tense, we planned the show early in March and it was a response to our current situation. I wanted a visual representation of the time + relation with some of the artists that Laney represents. After that, I opened Abrir, which is an online platform/gallery, and curated two exhibitions. What I believe was the most successful idea, was an exhibition called "PDF" which featured twenty-one artists and one idea, where they each created work in a pdf format. The most recent exhibition that I curated is currently open at Holsum Gallery in Kansas City. I was invited by Holsum space director, Garry Noland to curate the show Momento, with artists Cory Imig, Andrew Ordonez, Annie Woodfill, and Emily Stockwell. The show ends on November 28th, and it's a lot about the process, the process of making, the artist, and intuition. I don't want to spoil a lot about it.
Do you have any upcoming projects or shows?
I'm getting ready to leave for a residency in Erie, Pennsylvania, thanks to Long Road Projects and the curator Aaron Levi Garvey. I will be there until Nov 28th. I'm planning on new work for that residency and also working on a collaborative project with artist Todd Schroeder for an exhibition in fall 2021 in Atlanta. Plus  ):) opens at the Scad Museum of Art on Nov 17, in Savannah, Georgia, and it is my first solo exhibition at a museum. 
Interview composed by Amanda Roach.