Tell us a little bit about yourself and what you do. Just a girl, living in Chicago… trying to create creature friends to take over the city… My family is Turkish, so it was always interesting growing up multicultural and trying to figure out how I fit into the world. I started knowing I loved sewing but I wasn't sure where I wanted to go with it at first… I never was interested in creating commercial garments. I thought it was kind of pointless and boring for myself. I always wanted to help people in a way and spend my time with something meaningful. After searching far and wide for my path, I found my creatures. I noticed how they helped me in my daily life, helping me therapeutically designing them. Also, I noticed how happy it made people, and I realized that I just want to entertain people and distract them from the cruel world!
How did your interest in your work begin? I always liked to make things, but my art was a lot different a couple years ago. The colors were darker and the concepts were a lot gloomier. I remember trying to come up with a concept for my junior year collection. I was getting so stressed out trying to think of a concept that's deep and meaningful in a dark way. Then I one night I said fuck it. I locked myself in my room, light some candles and turned off the lights. I put on music to set the mood. Then I started drawing… weird shape and creatures. I laughed to myself the whole time doing it. That's when I knew this was the path for me. To make things that make me happy and laugh. My creations are still meaningful and dark, but in a comedic way, so I found a good balance.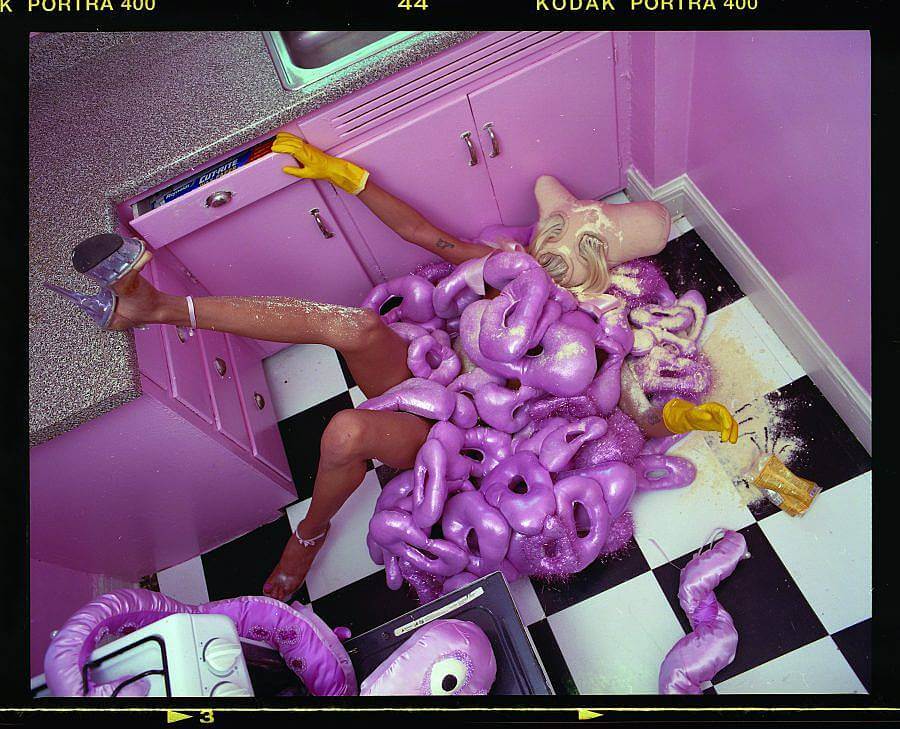 What materials do you use in your work and what is your process like? I work with various materials and test new materials all the time. I work from fabric, ceramics, plastic, and foam. I work with sculpture, mold making, drawing, sewing, and writing. It really depends on how I am feeling or what is in my reach. Sometimes I just draw in my notepad if I am at work or make manipulations that turn into sample garments if I am at the studio.
What is it like living and working in Chicago? I LOVE IT. I haven't felt once that I was left disadvantaged not living in New York or LA. I get to live close to my family, live for cheaper, and have the pleasure of working with Chicago's greatest artist. I feel like Chicago is a great place to start out because while it is small compared to other major cities, you can really get to know your community.
What kinds of things are influencing your work right now? Life, my feelings, and nature. I feel like a lot of things can influence me, even the smallest events can influence me. My designs, creatures, and stories are a therapeutic way for me to get through my daily life. Whether it's my anxiety or fears, they are there to help carry me through crowds as my companions, as well as a way to get out what I am feeling.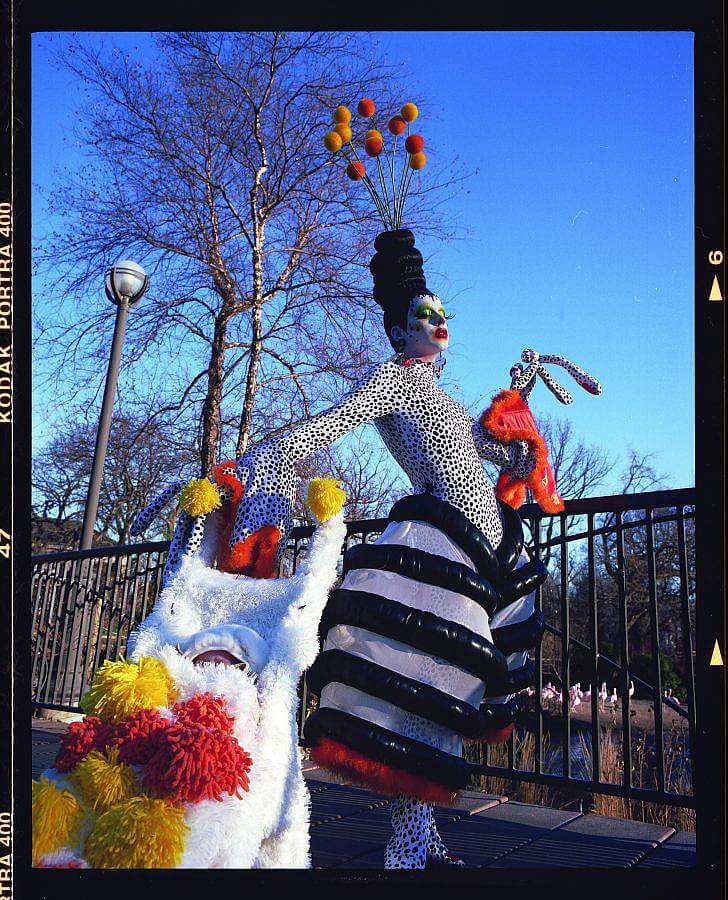 What are some recent, upcoming, or current projects you are working on? I am currently working on a collaboration with the MCA to work with children. My plan is to take the children on an imaginary tour with my creatures. I want them to show what their ideas of creatures are through their own drawings as well as playing dress up in my garments to turn it into something of their own. I am also working on a new collection inspired by my mom and aunt. My aunt is sick with a very aggressive cancer. I won't say much, but it has been a battle. I want to show them as beautiful warriors against these diseases. Also, give her a show that we always envisioned of her going to in the far future. My mom and she always talked about them sitting front row at my shows in a sea of artists they don't fit in with and sticking out like a sore them with their Chanel coats and BIG custom hats by me.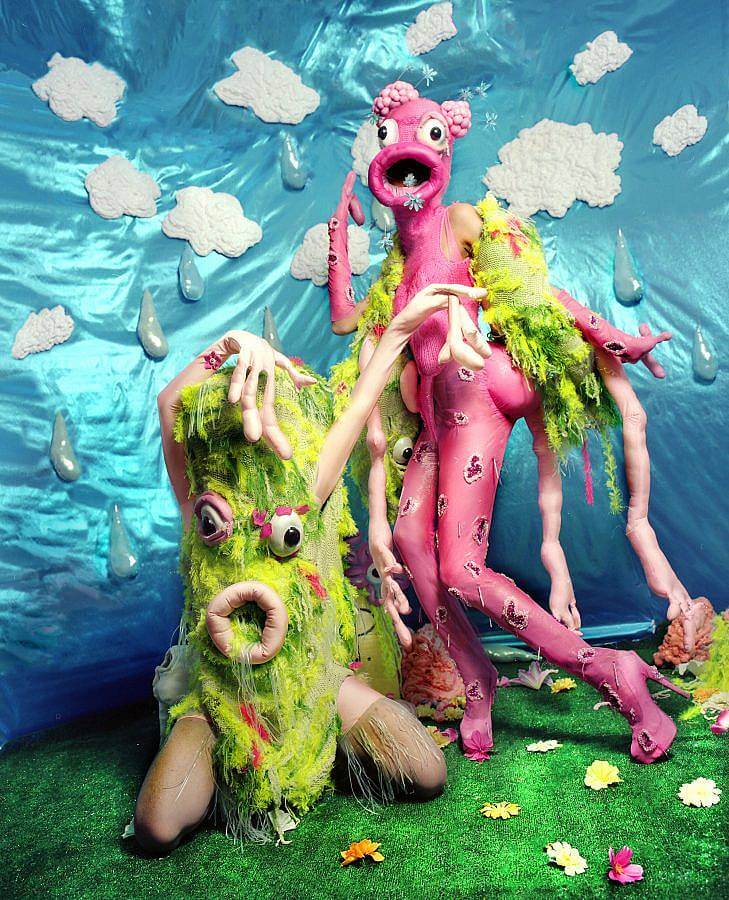 What is your absolute favorite place in the world to be? That's hard to say… I feel like I don't know the whole world yet. So far, I love wherever is open and free. I LOVE camping and being in nature, to be free and rest. I love going to Turkey because I feel like I am visiting a missing part of myself and my knowledge of my culture. Then, I also love being lost in my imagination, that takes me anywhere I want to be and helps me find creatures to create. I feel like each gives me a certain thing, and I love them all for it.
Top 3 favorite or most visited websites and why? I don't really surf the web… Google? Spandex House… and Gmail.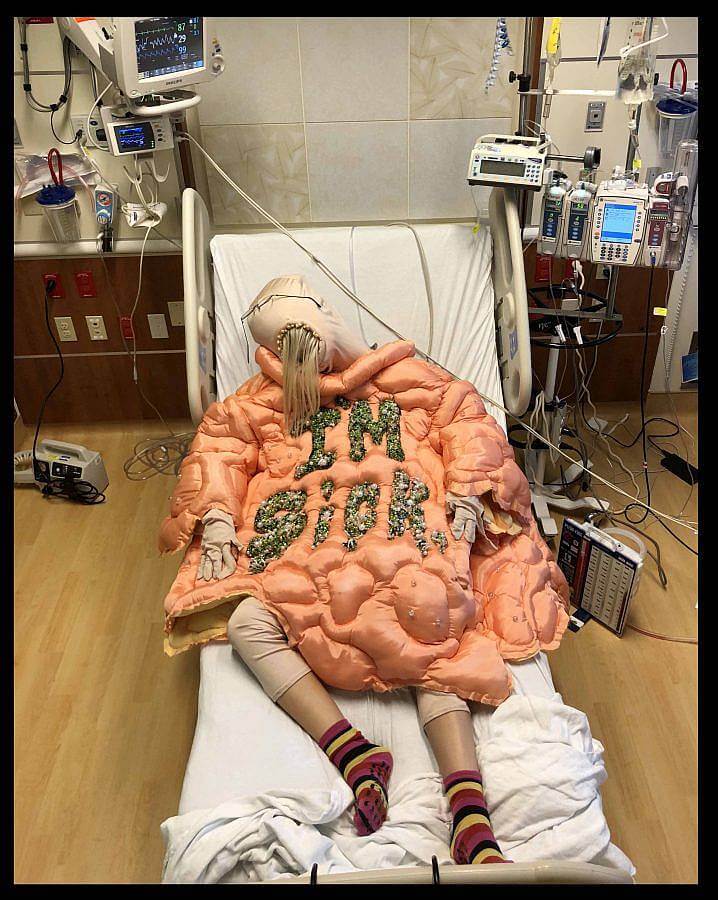 What was the last show/exhibition you saw that stuck out to you? It was a show last winter in New York, Comme Des Garcons and Victor and Rolf were shown there and it was really amazing to see the work up close. There aren't many high-end designers that catch my eye. Although, it's always very inspirational to see designers like Comme Des Garcons and V&R up close because you can appreciate the craftsmanship and flawless execution. I always aspire to create impeccably patterned and sewn garments, while keeping my aesthetic.
Who would you ideally like to collaborate with? Authentic Skid Mark, she is my sister from the other mother but same mother. Also, anyone that appreciates my aesthetic without the need to change it. My one problem in school was trying to 'find a client'. It made me nervous that I had to change myself for the people I worked for. Although, when I found people that are willing to wear my designs, it made me realize that anyone who accepts my creatures is the people that I want to work with.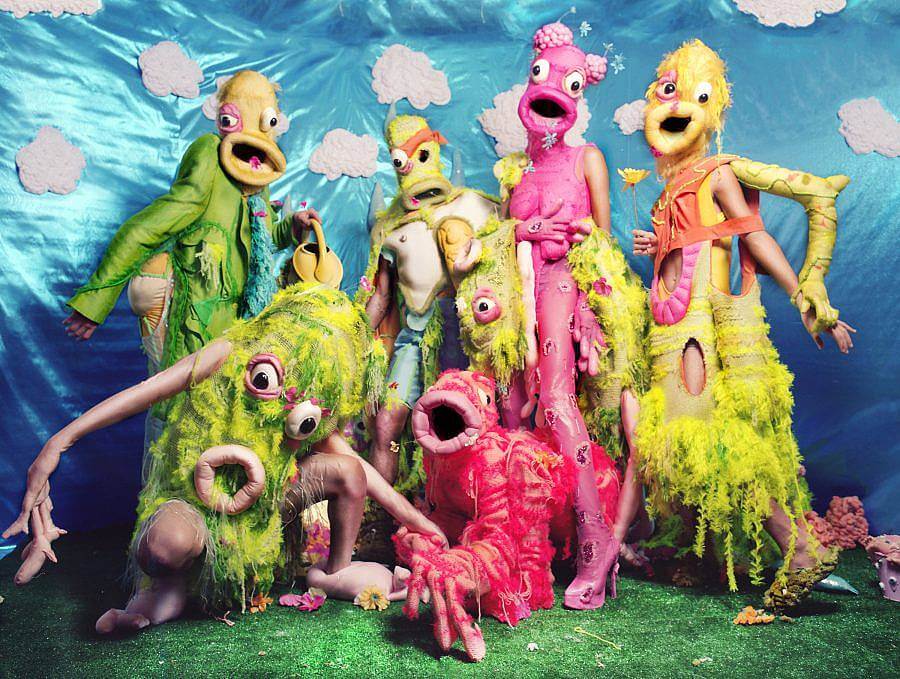 Favorite places to shop? Textile Discount Outlet… the best fabric store in the Chicago. Although if you mean clothing, its thrift stores.
What artists or designers are you interested in right now? My roommates, Abhijeet and JforPay. We're all different in ways, but I love what they turn my garments into as well as where they take their own drag to. It is the most inspiring thing to live in an art house, and the creativity is never restricted. They are the two I can depend on when I need them, and I for them. They keep me going creative wise. When I come home tired from sewing for 12 hours, maybe even with a little self-doubt, they encourage me to keep going.
What are you really excited about right now? I am really excited about it being warm again. Every time the sun is out and it not being below 20 degrees out I think, wow it's gonna be summer. I really just want to have a tea party out on the beach or a park with my creatures. But every nice day in this Chicago weather follows by a random cold day. SO it keeps delaying my dreams. I know the end is near, but not near enough.