Tell us a bit about yourself and what you do
My name is Taylor Amilas Bates. I'm an artist, model, and the owner of Dusk Lily Floral. Dusk Lily is a small floral design company based out of Chicago that focuses on texture, color, and the essence of all things unique. I aim to explore flowers through an abstract lens to create something modern and timeless.
I started my floral business in 2020 during the pandemic. I didn't initially intend on starting a floral business; at the beginning, it was more of a passion project that stemmed from me feeling uninspired during isolation and missing working with flowers on a day-to-day basis. I spent that time experimenting with different styles and eventually established my aesthetic. I'd post my designs on Instagram and received positive feedback which was really exciting. I started selling my arrangements to friends & family which then led to working with a ton of other clients including Herman Miller, Notre, and Soho House Chicago. Dusk Lily offers custom floral arrangements and installations for client commissions, events, and small weddings.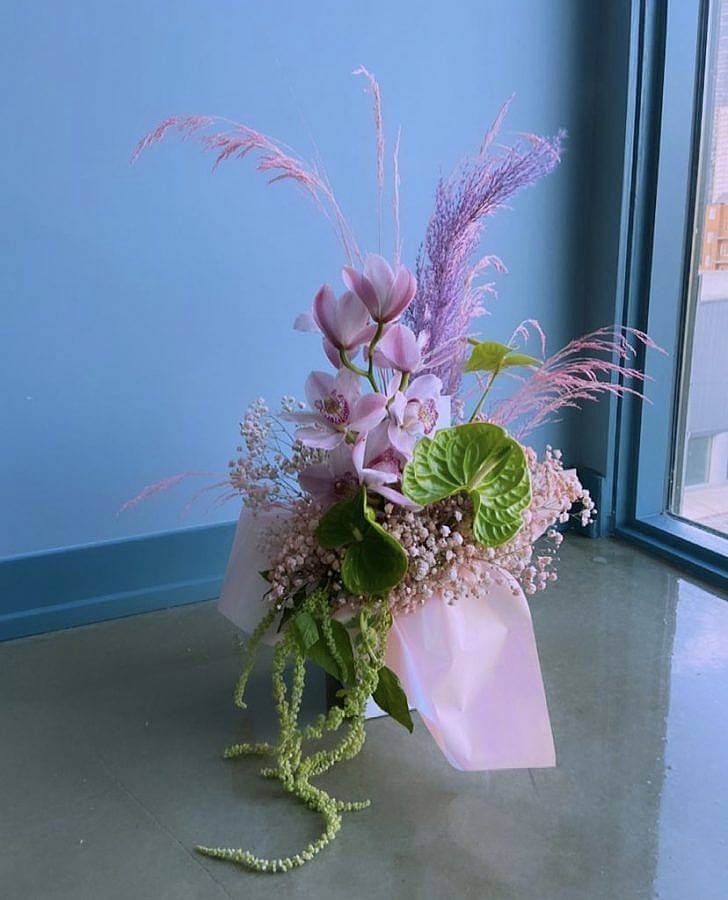 How did you settle upon the name Dusk Lily?
One of my friends who believed in my brand at the very beginning helped me establish the name. I kind of just wanted to convey something personal. I've always admired nature and one of my favorite things is the way the sky looks at sunset/dusk. There's something so ethereal and majestic about it. I wanted to incorporate that cosmic essence somehow in my brand.
The concept of the Lily flower stems from my cultural heritage. Featured on the Louisiana Creole flag is the Fleur De Lis symbol which translates to "flower of the lily" or flower lily. The Fleur de Lis represents faith and wisdom. Regrettably, this symbol was also used during the Code Noir (Black Code) era as a brand to mark runaway African slaves in Louisiana in the 1700's. As someone with strong Creole roots, I thought it was important to represent my culture and the symbolism of the lily flower in a positive light.
What first drew you to floral design?
I've always been someone with a love of nature as well as art. I was drawn to flowers even as a child. However, I didn't realize that I held this gift until I started working for a local flower shop in 2018. I learned so much there and completely fell in love with the craft. I've always been crafty picking up different artistic mediums such as painting, pottery, and jewelry design, but this was something that combined both of my passions. Working with flowers became something that I felt completely confident and happy with.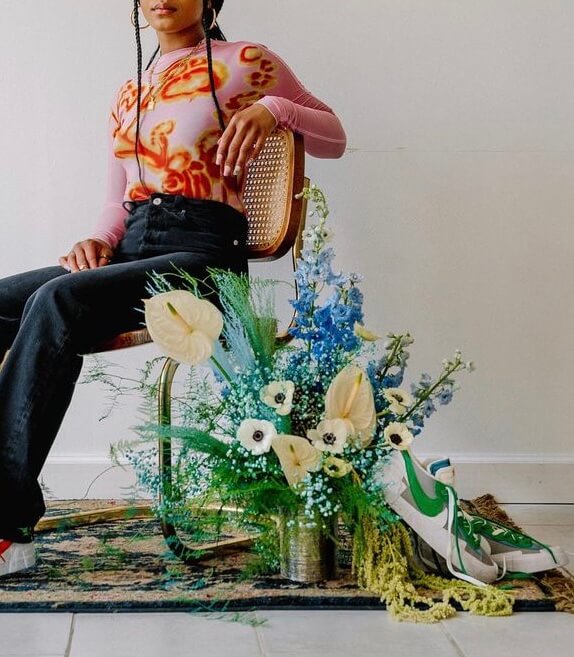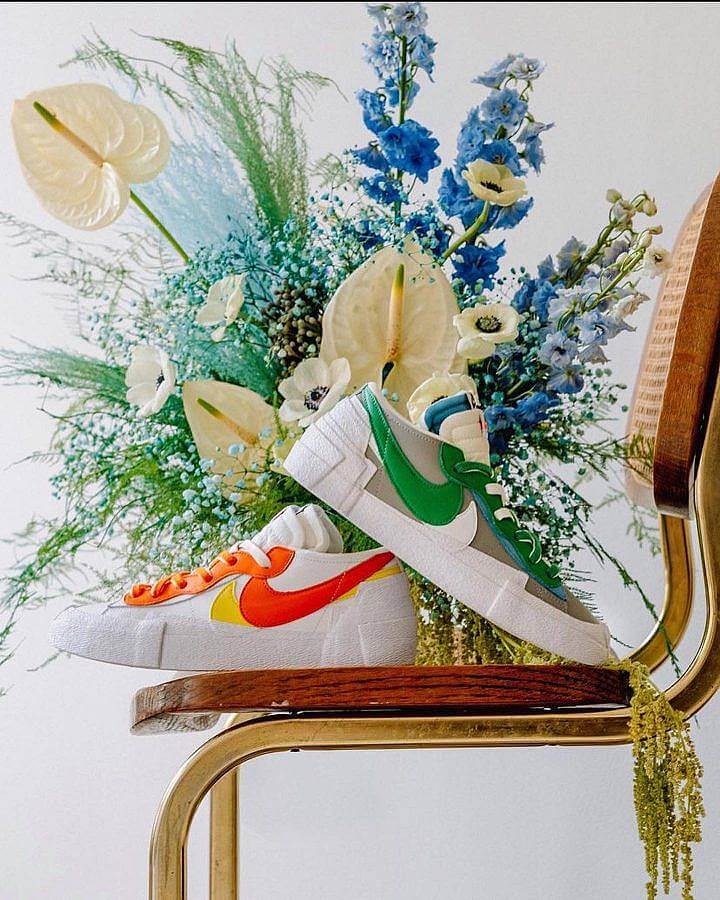 How does your relationship to flowers as living material inform your arrangements?
Working with fresh flowers is a beautiful experience for me because it involves working with delicate living material. Each one has its own personality and way it likes to be cared for. It can be challenging keeping all of these things in mind, but I think it's one of my favorite things about them. They all have a voice as far as color and care. I like mixing these living elements with dried or artificial elements. I think that's similar to how we operate in the human world and there is beauty in mixing something unnatural and otherworldly with something that mother earth has produced. It's fun to create something new.
How do you see the soft whimsical nature of your arrangements contrasting with the cold and gritty setting of Chicago?
Like you said, Chicago can be a very gritty place. It's also one of the most charming cities I've seen so far,  but it's not always friendly and does teach you to have thick skin. I often enjoy taking photos of my arrangements in unsightly settings like alleyways or just on concrete to convey these vibrant otherworldly arrangements coming out of something real and raw. I don't feel as though perfection equates to beauty so I enjoy the contrast of the authentic gritty city environment mixed with the playful fun elements in my floral arrangements.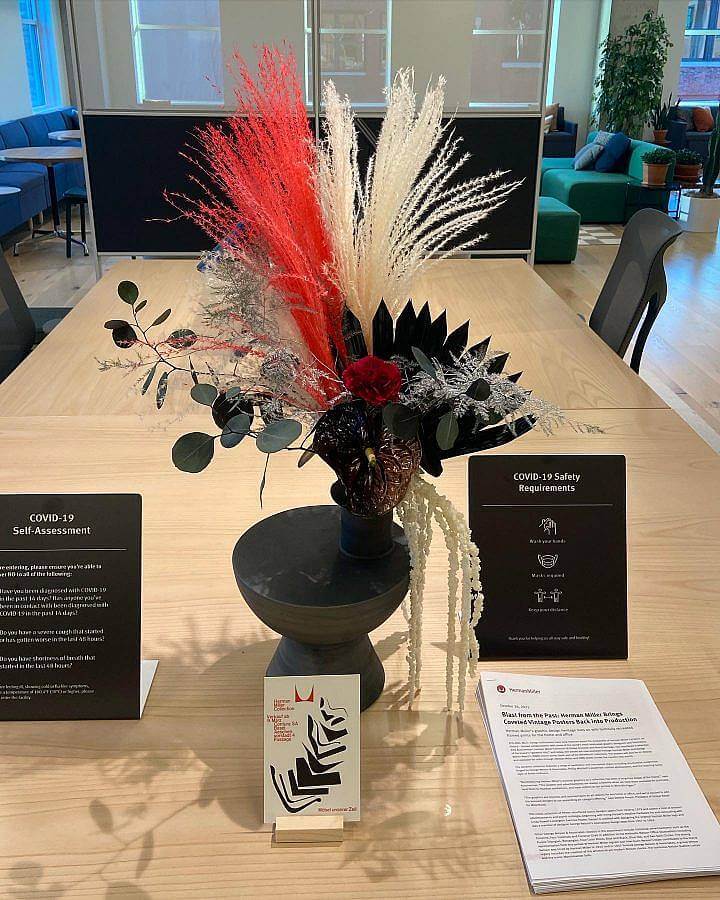 What have been some of your favorite flowers and foliage to use lately?
I love tropical flowers, however it's a bit hard to source that kind of stuff here in Chicago so I try to incorporate varieties such as orchids and anthuriums whenever I spot them at the local markets. I also really love roses and tulips. I know a lot of people think  those varieties can be " basic" LOL, but I think they're beautiful. I appreciate the way they can transform and take on a different shape and aesthetic completely. I typically always use the reflex method, which is just the act of gently folding back the petals of the flower,  in my roses and tulips.  I just prefer that lush look it gives.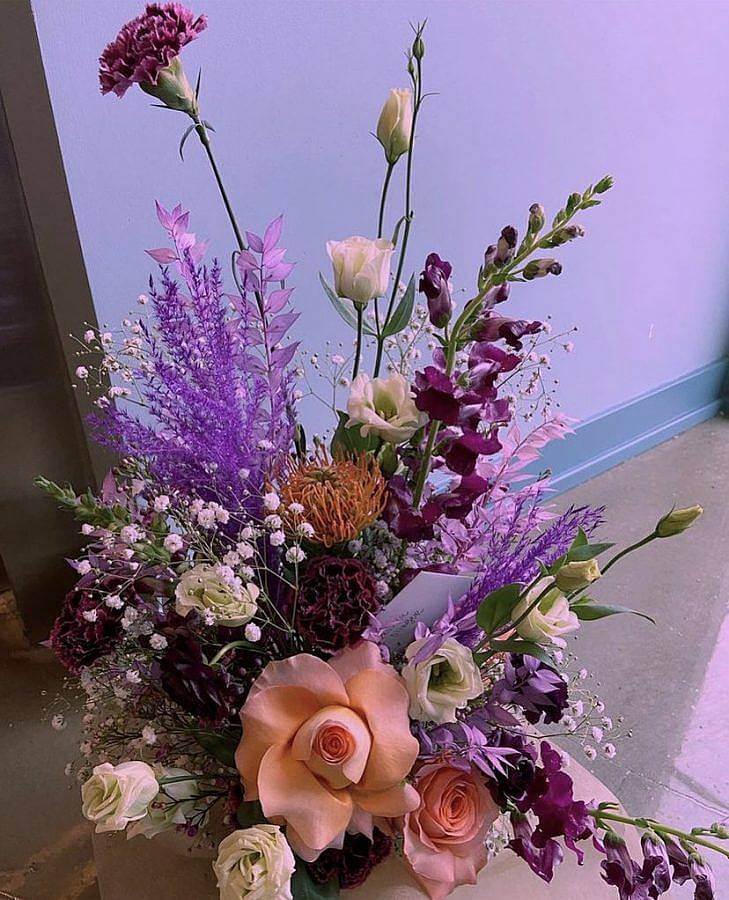 Your bouquets typically feature bright, almost neon colors; adding an electric touch to organic material. Walk us through your process for dying flowers and how you choose the added colors for an arrangement.
I enjoy using vibrant colors to convey different perspectives in my work. Vibrant colors take your mind to a different place; they introduce you to a different world. When choosing colors, textures, I typically choose based on the theme that a client has in mind or I go based on my mood. Sometimes that means whimsical and playful to which I use a lot of pastels or bright colors. Oftentimes, I'll spray paint my foliage a really dramatic unnatural color like pastel blue or silver. Sometimes I go for the dark & moody elements in which I'll incorporate black which is also typically a color you'll never find in flowers or foliage.
What music is typically playing while putting together your bouquets? 
I love everything so it truly depends on my mood, but most likely some sort of house music or something upbeat.  I've been listening to a lot of Kaytranada, Kelela, and Afropop/afrobeats.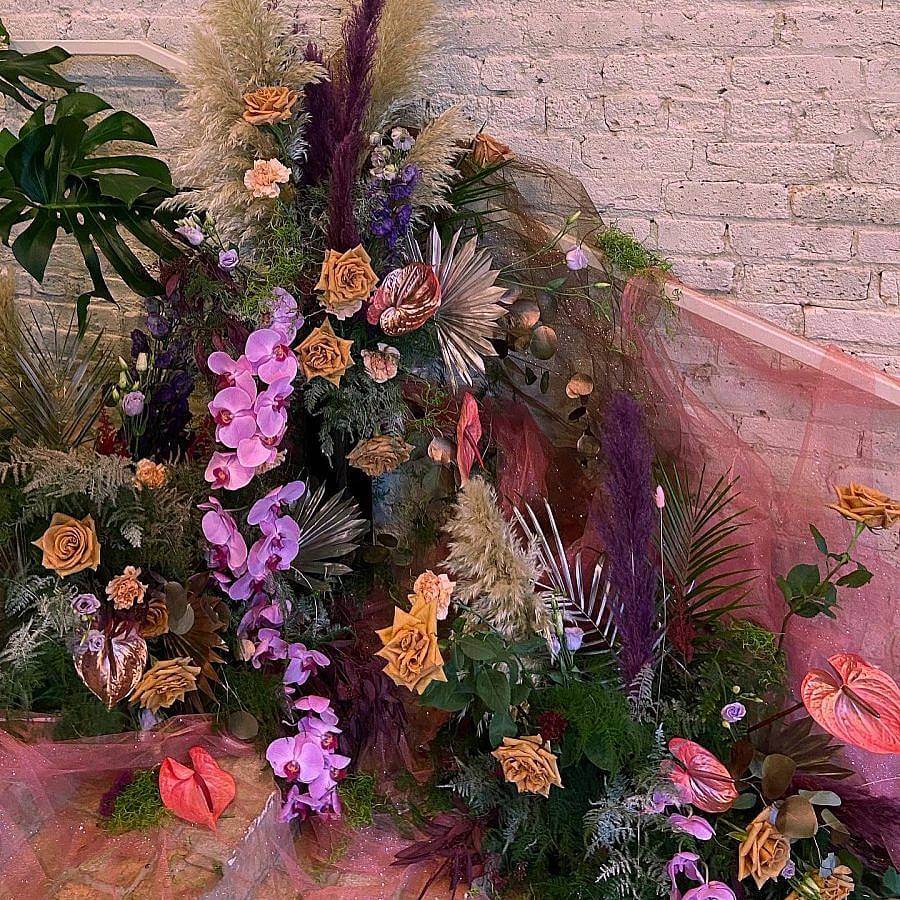 Tell us about your favorite projects you've worked on thus far.
One of my  favorite projects so far has been my collaboration with Notre Chicago. I was able to work with their incredible team, alongside photographer Elizabeth De le Piedra, to create these amazing multidimensional installation pieces for their women's fashion event back in November. I loved working on this install because I pretty much had full creative freedom and I was able to create something on a large scale which is what I enjoy the most about this work. It was like I had a huge canvas to play with.
What are some of your goals for Dusk Lily moving forward?
Within the next few years, I want to expand to working in a larger studio space and hopefully hosting events to showcase my work. I'm also looking forward to creating brand merchandise and collaborating with other artists.
Interview composed and edited by Ruby Jeune Tresch
Portrait of Taylor Amilas Bates by Ashley Young