Tell us a bit about yourselves and what you do. 
Charlotte: Our names are Emma and Charlotte Kohlmann. We run Mundus Press, which aims to work with other individuals to create publications and exhibitions.  Mundus aims to garner a collaborative community that is equitable and affordable. I am a layout designer, curator, and writer. Emma and I live and work in Northampton, Massachusetts, and we grew up in the Bronx, New York. 
Emma: I am a visual artist, who mainly works in painting and watercolor. I have been working in a studio and showing for the past eight years. I started my career self-publishing zines of writing and illustrations, in addition to working collaboratively with friends.  For the most part, my practice is based on intuitiveness within the natural world. I like working from dreams and stories. Right now I have been painting mostly on canvas and linen. My lineage was always on paper, I think that is why I still enjoy working in publishing.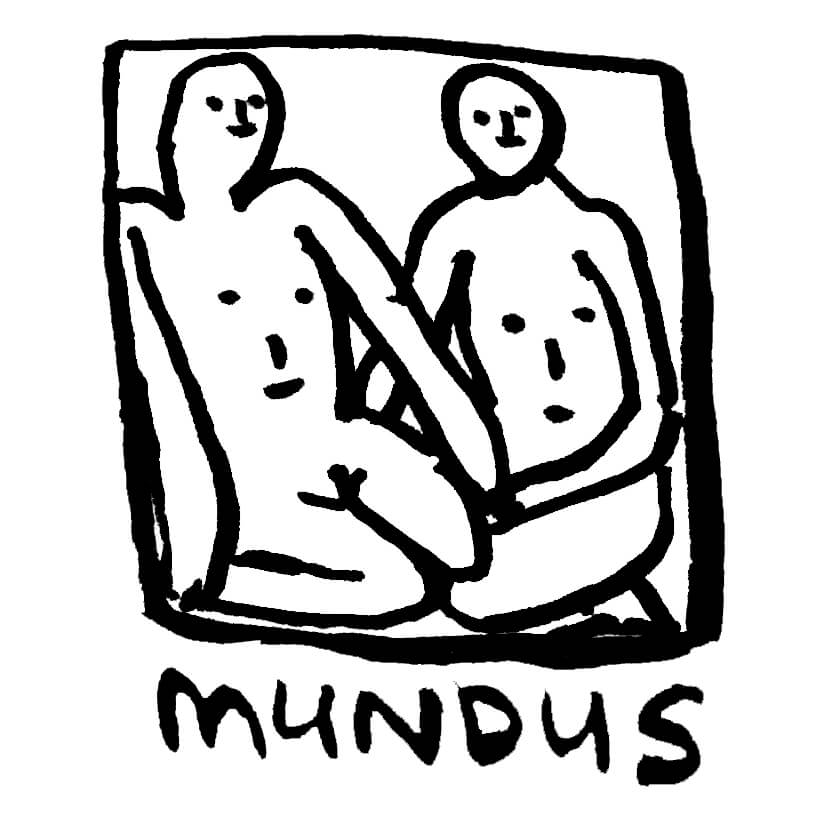 What brought about the genesis of Mundus Press? 
Emma: The idea of Mundus came from the want/need to make work under a moniker that wasn't just ourselves or for ourselves. Charlotte once asked me if I wanted to make a press, and I immediately said yes. I think there was always a strong urge to work here. She would always help me with layout design in my own zines. I am very much an analog person. Throughout the pandemic we made projects that were geared toward fundraising, we made a set of prints for our first project together. We wanted to have physical objects for sale, but also have them completely free to print it out and distribute it. We ended up raising a lot of money for different local organizations near us. It was just nice to make something together that felt unrestrained. In my practice, I feel like there are aspects of expectation that feel stifling. I love deriving meaning from things that I am passionate about. Working alongside my sister is one of them.    
Charlotte: Books and ephemera have always been an integral comfort and part of us as individuals.  Mundus took a natural progression from that one conversation as Emma mentioned. Printed Matter book fairs and seeing our friends start their own presses always inspired me growing up. I truly enjoyed spending time studying the technology of reading and writing and the history of books in undergrad. I always wanted to create something that was communal and not harmoniously aligned to one kind of notion for what a "press" could take on. When I spoke to Emma about this, she instantly agreed.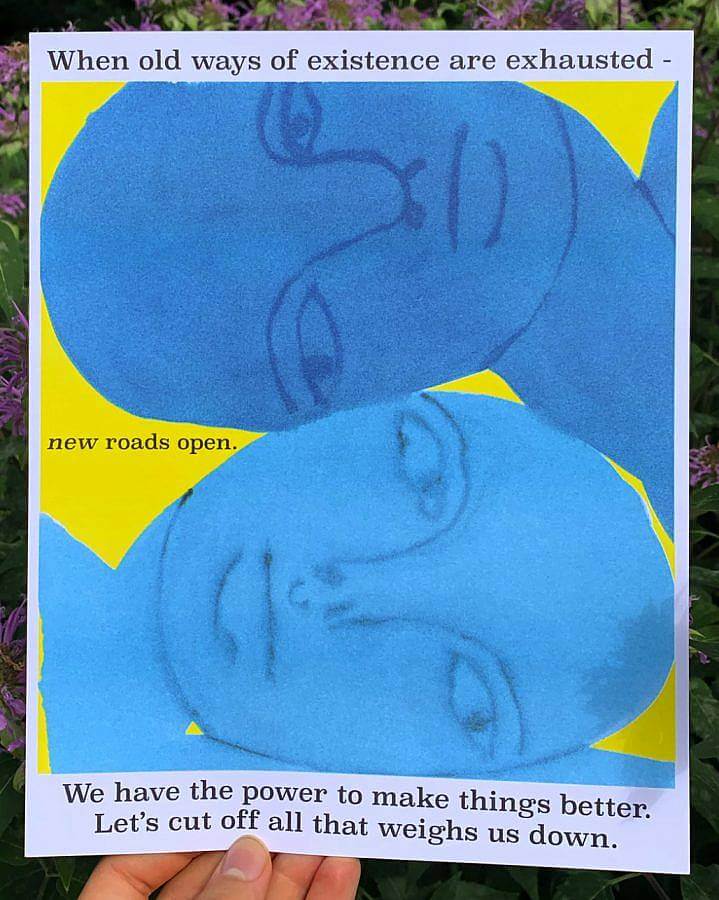 Tell us about the significance of the term "Mundus" and why you chose this as the name for your press.
Charlotte: "Mundus" can be traced to Etruscan and Latin roots and can be defined as "womb and world", "the universe and its inhabitants", "to keep time".  I found the term in a book once and I would always go back to it in thought. This homonym encompasses both the mammoth and the minuscule parts of life that are so indispensable. I thought this was a fitting association for a press that did not want to harbor any kind of idea or style. 
Exhibitions and presses happen due to the work of many individuals and communities. Can you talk about how collaborative work shapes Mundus and its network of creative and local communities?
Charlotte: Collaboration and community is the root of what we want to accomplish. We kind of see Mundus as this directory of people from all different backgrounds that's constantly growing and interacting. It would be nice to think of Mundus as a way to bridge gaps between different worlds of art communities and communities in general. Ones that are not involved in the arts at all. For instance the potato farmers, local government, and environmental groups that I was in contact with for planning The Swamp Show. We want to see inclusive art collaborations that are accessible to interact with and obtain. Mundus is about the people involved and the people who participate.  
Emma: I think the community of creatives is what drives everything. If we didn't have each other where would we be? It has been so important in my life to have people who work and make things that are important or cement some kind of cultural exchange that is meaningful. It shapes everything that I do as an artist, therefore the press we make is an extension of that. This time it isn't about only the work I create, but getting others involved in showcasing their own, or connecting in some capacity. Uplifting artists helps everyone, and I think that is an important lesson that I have learned over the past decade.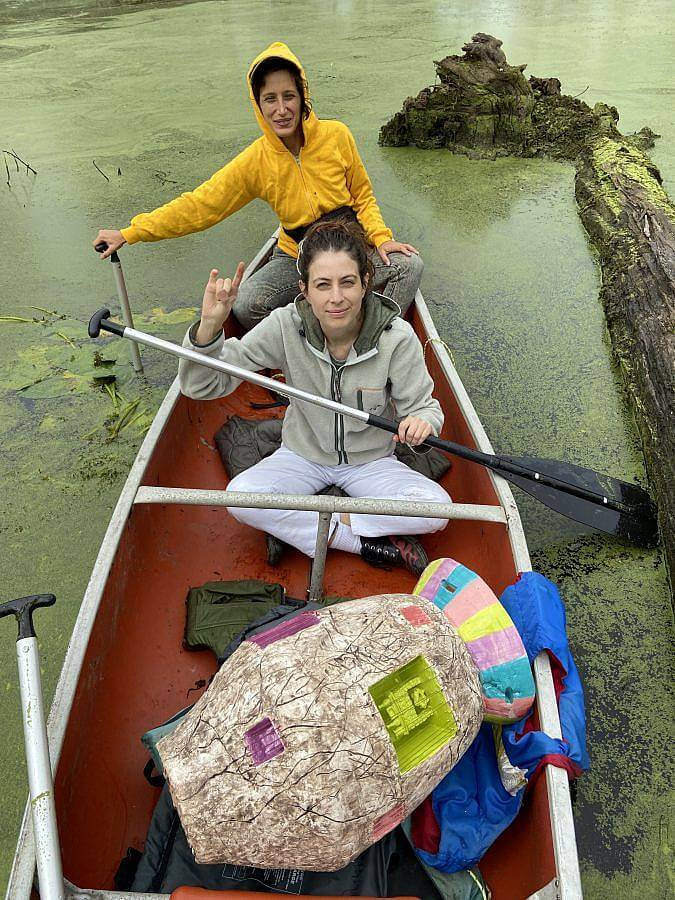 Tell us about The Swamp Show! Are you planning on curating more of this style of exhibition moving forward?
Charlotte: The Swamp Show was an outdoor exhibition that took place along a small inlet of a river that runs through our home in Northampton, Massachusetts. This particular portion of the river has an Oxbow, which is this natural U-shape formation found in a river or lake.  The exhibition was accessible by canoe ride and people could sign-up for a free appointment to see artworks hung up in trees, submerged in the algae-ridden water, or nestled in and around the coastlines. Our friends and community members were a big help in the install process and by the end of the weekend, it was something they also seemed proud to be a part of. Whilst the show was taking place for three days last October, friends with canoes brought theirs down to the inlet so more strangers could climb aboard and see the show. Our friend Andrew is a talented arborist and helped hang a few works that were 20 feet high in the trees. He also cleared away dangerous limbs and vines that were taking over the coastline. In addition, we had a small crew of friends like Jackie and Lucie, who helped us clear out the poison ivy and weeds that were around the coastline. 
This particular oxbow plays an important role in the formation of the landscape art movement of 20th Century America. This place has been painted, etched, engraved, drawn, and sculpted for centuries now. A painting by Thomas Cole called View from Mount Holyoke, Northampton, Massachusetts, after a Thunderstorm established the Hudson School Movement. This natural oxbow is visible from a local state park on top of Mount Skinner and was a major tourist attraction for generations. But today it no longer is a U-shape – Highway 91 bisects it and the railroad alongside intervenes and so the Oxbow has lost its original eye-catching characteristic. This exhibition really opened up a possibility to create more exhibitions in the future that have a strong enthusiasm behind bringing large groups of people together. I am currently working on a few ideas right now that involve a similar approach to this one.  
Emma: I think part of the process of creating the swamp show that was so interesting and inviting, was making an interactive show. There was an initiative for the viewer to canoe to visit all the work. It became a piece in itself, the patrons became part of the painting. Charlotte conceptualized this idea with the help of a city councilman, writing letters to the owners of the land nearby and numerous park rangers and experts. There was so much that went into this show, that wasn't just a curatorial pursuit. Over 25 artists were participating, each piece was methodically placed within the swamp scape. I made two 4-foot by 5-foot paintings made out of corrugated plastic material from an old crate that was lying around in my studio. I thought it wouldn't be nice if I could make all-weather paintings. They could live outside all year round. We are really lucky to have friends who are passionate about working in forestry and gardening. We wanted the experience to be fun and safe for everyone. We documented as much as possible, just in case it may never happen again. I think a lot of what we considered was how we would affect a landscape without really affecting it all. We didn't want to overdo it, the overall beauty exists whether or not we are even there. The show became a performance, where everyday people would visit the works via canoe, and friends would become the docents of the "swamp show". It was so fascinating to see. Suddenly this empty swamp became a place where people were interacting with the artwork and landscape, every day something would change and it was noted and shared.
How does your relationship as sisters guide this collaborative project?
Charlotte: Our bond as sisters is very strong and we are quite close friends. I would consider her to be my best friend and always has. This translates into the collaborative nature of our projects. If an idea comes up, we talk it through and the belief we have in each other as people translates for the foundational risk factor and confidence to just go for the goal or idea. 
Emma: I think there are aspects of "just being sisters" that feel like part of the process. For instance when we both have the same ideas for things without even speaking to each other about them. Is that familial telepathy? I think we are driven and interested in the same things, and that's what makes us like working together. At times I feel like I'm utterly useless, just in terms of organizing and being on top of deadlines. I am purely interested in creative pursuits, and it helps when Charlotte knows how to reinterpret these ideas.  We just enjoy being able to push each other into new directions. I am always down to support wherever Charlotte's ideas take us.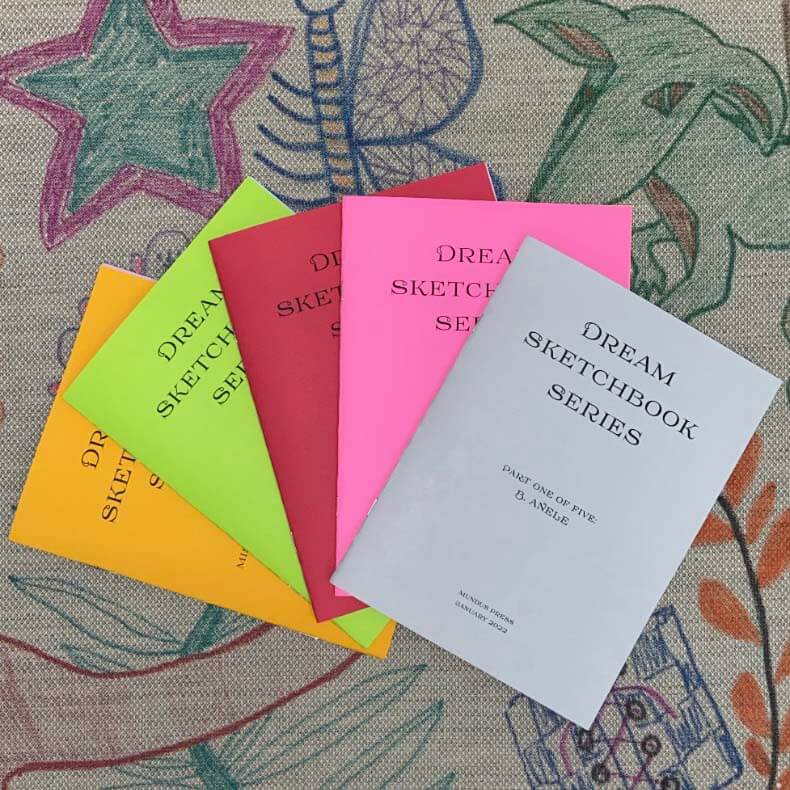 Your first book was Ex Libris, a collection of bookplates made by nineteen artists. What drew you to bookplates for your first project?
Emma: This was a telepathic idea, I think we both wanted to make some form of bookplates a long time ago. I love having my own library, and the idea of having customizable bookplates in my own books was always fascinating to me. I always thought of our grandparents and their book collection. It's like having a work of art inside your book, for only you to see. That's when we thought of including a variety of different types of artists to contribute. Each one is unique in its own way. 
Charlotte: So many people keep things between the pages of their books. Whether it is a receipt, torn sheet of paper, postcard from a loved one, or photograph. Growing up and seeing my dad and grandmother's names etched into the interiors of their books felt like I could see their past life in just the way they carved their name and date. Emma and I were both always drawn to bookplates and discovering them in second-hand copies or library books. It is a way of interfacing with the past life of the book's previous owner, who gave license to imagine what hands that book has seen. Asking artists to create their own bookplate seemed like an appropriate prompt for our first project because it is so open-ended and can apply to so many personal experiences. It also was not a typical prompt for artwork that would be stationary and live on its own, this kind of prompt meant that the final product would be ripped out, pasted into a book, and written on by its new owner. We liked the idea of imagining our friends' bookplates in different copies of books years from now- almost like they were time traveling. 
Fantasy Closet? 
Emma: I had my third solo show at V1 Gallery in Copenhagen this past January. It so happened that their downstairs space was free during the same time as my show, and they offered it to us. I really miss doing the New York Art Book Fair at PS1, it was always a great way to meet fellow artists and be introduced to new books and zines. I think that was some inspiration behind the pop-up. I like having work that is more accessible, via prints and zines. We really wanted to make the space a place to hang out. Sometimes at openings, I feel overwhelmed and would much rather be somewhere else. Fantasy Closet also worked as a way to showcase artists from Denmark. We started a new zine set with five artists (B.Anele, Emma Rosenzweig, Mischa Pavlovski Andresen, Marisa Takal, and myself), called The Dream Sketchbook Series.  It showcases the artist's spontaneous ideas and daily thoughts, and what that looks like within their overall art practice. It was important to bring artists into this space. Especially when I know that there are connections between them without knowing. We were so lucky to have a couch given to us by HAY. Charlotte, Annabell, and I  customized it to fit the overall ethos of the Fantasy Closet. 
Charlotte: Fantasy Closet was a pop-up project by Annabell P. Lee and Mundus at V1 Gallery in Copenhagen, Denmark this past January.  It featured the Copenhagen-based felted knitwear brand, Sophia Khaled. We wanted Fantasy Closet to be this colorful, ephemeral, and tactile world. It was filled with wearable collaborations between Emma and Annabell; zines and collectibles by Mundus; Annabell P. Lee's paintings turned one-of-a-kind garments and objects;  and woven tapestry knitwear by Sophia Khaled. It was a great experience where V1 really believed in us and let us take over their basement space while Emma had a solo show, Night Thoughts in their main gallery.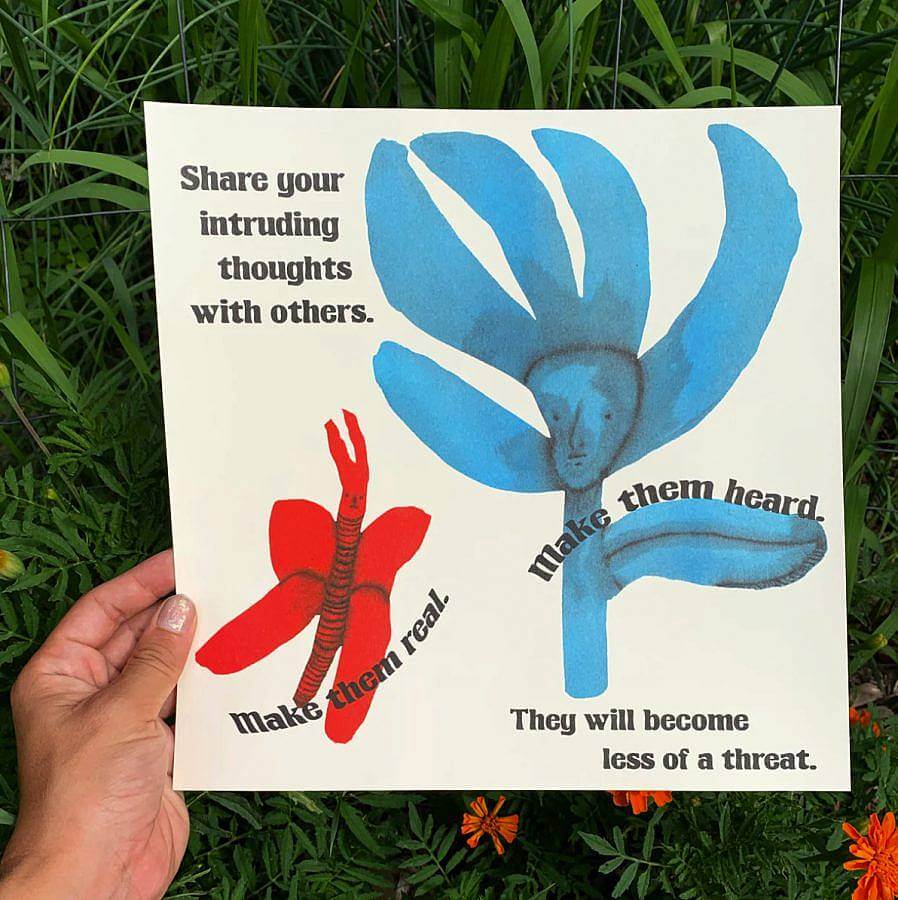 Any Upcoming Projects?
Charlotte: We have a new Bookplate Volume 2 coming out, with a ton of new artists. A poster-zine project based on the ancient Boustrophedon technique called as the ox plows, involves 24 artists. We have a Swamp Show Catalog coming out this May. And hopefully a lot more!
Emma: The swamp show catalog, will have more in-depth writings and close-up images of the work on display. In addition to having a release celebration where the artists can congregate again. I am so excited about this publication because it will be the biggest one as of yet.
Where is Mundus, does it have a physical space? 
Charlotte: We have studio space but I am mostly there solo and Emma uses her painting studio in a different location. I think Mundus kind of happens a lot of the time in long car rides, on walks, or in our kitchen. It comes everywhere with us, we tend to use less of the studio spaces we have and just use our downtime together. 
Emma: Although we do have Mundus HQ, which is my old art studio, that was the first one I had on my own. I think I like having that as a place we can go. 
What are you each consuming right now? (food, music, books, movies, etc.)
Charlotte: Our friend Vinnie shared with me this 1982 documentary called Dhrupad that I really enjoyed. It is about the oldest form of Hindustani Classical Music that was created around 1100-1200 AD. The film touched upon the Dagars who are the keepers of the Dhrupad sound and have been meditatively singing alongside it for over 21 generations. Our cousin Jake,  gave me this Walter Benjamin book called Berlin Childhood around 1900. It's an autobiography that recounts Benjamin's childhood through memory practice. He recalls his life through the kinds of objects and places that have taken up space in his mind (ie. a telephone, or a carpet being cleaned in a courtyard) – as opposed to specific people and events that stayed with him. I really enjoyed how he speaks about the intimacy of a big city through the reimagining of the typically forgotten fine details of life. I've been making a lot of mix-CDs again; making lists and logs; changing up my room. I've been enjoying going for runs to clear my head and actively take note of how much snow is thawing in time for spring. Emma and I have been making a lot of homemade Pho and I just made some vegan lasagna whilst attempting to make some vegan ricotta for it.
Interview composed by Ruby Jeune Tresch and Joan Roach. Edited by Joan Roach.