Can you tell us a little bit about yourself and what you do?
I'm Clare, I make things and right now I'm a student getting my MFA at Columbia University. I moved to Harlem from Chicago last year, but grew up in eastern Kentucky. Lately I've been making sculptures, and like using found materials and collected bits of debris and detritus. I also work with video and sound.
What are some previous, current, or upcoming projects you have going on?
Over the summer I was heat-sealing transparent plastic garbage bags and embedding into them various edible and non-edible consumer goods, stuff like soap flakes and Lucky Charms and potting soil. A few of them were at Produce Model this summer which was fun.
Around that same time I started experimenting with ceramics and got really into it. One thing that can be difficult about sculpture is choosing and obtaining materials, and then having to deal with all their contextual baggage once you start working with them, so ceramics was good for me in the sense that I could just make something immediately, without all that material guesswork and uncertainty. Clay and glaze kind of have their own vocabulary and I like that the history is so rooted in functionality. I've been thinking about food lately and want to explore possibilities within forms intended for food serving and display— I guess I just like the idea that making tableware which retains fingerprints or other traces of the hand can feel like an indirect way of putting your fingers all over someone's food, or having them eat out of the palm of your hand, or something like that.
In terms of upcoming projects, we have our open studios on November 10th, so I'm just getting things ready for that.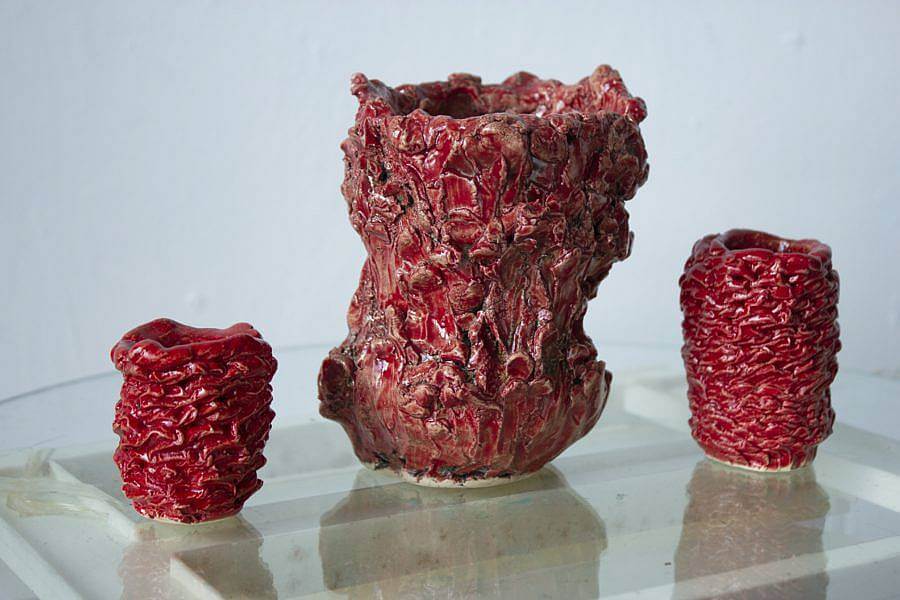 What is influencing your work right now?
Contamination, dirt and waste have been increasingly on my mind lately, maybe in part as a result of living in this city. Garbage is everywhere here, and I guess that's not surprising in a tiny place with millions of people living on top of each other. But what did surprise me was the fact that there are no alleyways here, and so several times a week garbage bags just get piled up on the sidewalks and occupy the same space as pedestrians. The reality of this can be really gross (especially in the summer, when the air reeks of boiling garbage for 3 months), but in a way I think that being forced to confront our own refuse and castoffs is important, albeit uncomfortable. Our trash is the part of us that we make concerted efforts to hide away and ultimately cast out of our lives forever, so having to encounter it every day maybe denies us the full comfort of compartmentalization into allotted spaces like dumpsters and alleys, spaces designed to keep things out of sight and out of mind.
It's made me more conscious of my own inclinations toward order and cleanliness, which I'm starting to understand more and more as feeble gestures of asserting agency or imposing order in spaces that feel chaotic or unpredictable. And I guess historically speaking, there's a sort of pattern where in times of political turmoil or cultural unrest and confusion, people tend to retreat to and focus certain efforts within the home, home becoming this sanctuary of domestic sovereignty, a place where one might feel they can still exert some power over their circumstances.
All of that is something I'd like to explore more.
Your previous and current work, especially Long Time, references those themes of excess or waste. Can you talk a little more about this? How does your material choice align or not align with this?
Most everything inside that piece was pre-owned or discarded, stuff that I'd find on the street, in the trash, at thrift stores and garage sales. When I was collecting it I wasn't thinking about using that stuff to make art or anything; there was no purpose beyond an intuitive desire to possess it. Some of those things were sentimental or I had particular memories attached to them, and in that way they became precious, but with that preciousness came a great fear of loss and an impulse to protect. So putting that stuff in the saltwater-filled tube felt like a way to preserve and degrade at the same time.
When I was making it I was thinking about it like a time capsule. Most intentional time capsules actually end up being pretty useless for historians and archivists; the items inside are generally arbitrary or nondescript trinkets that reveal little to nothing about what it was like to be a person at that particular time period, there's no guarantee that its future beholders will find and unearth it, and then if they do then there's still the issue of preservation— food rots, paper degrades, pencil marks fade, digital data decays, technologies obsolesce and become unreadable. But people continue to make them because it's a way to reach out to an uncertain future and let them know "I was here." So in that gesture there's this idea of futility, but also great optimism and hope. I guess the only real difference between putting something in a time capsule and putting it in a landfill is the hope that someone will come back for what you've left behind.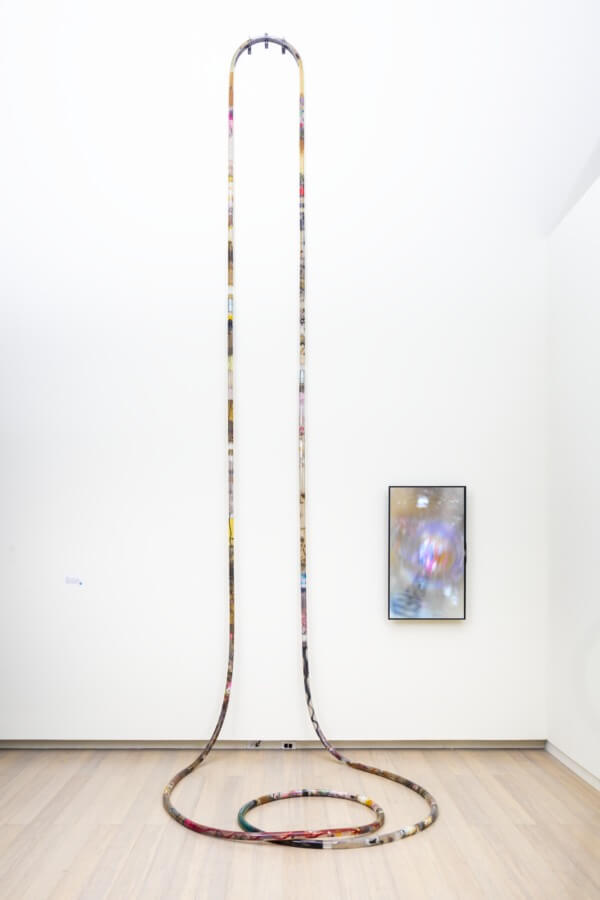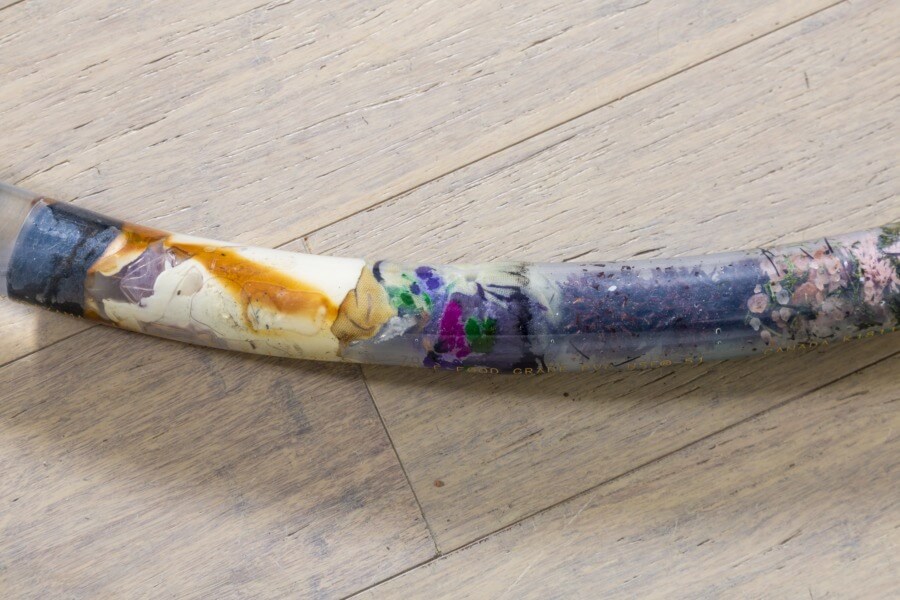 What do you collect?
When I'm in a new place I like to walk around looking at the ground for rocks, shells, fossils, whatever. It's an excuse to get out and you end up becoming acquainted with unfamiliar terrain. It's calming for me. When I was a kid I was really into rocks and minerals and spent a lot of time learning about their classifications and distinctive characteristics. It made me feel like the world around me could start to make some sense, as if through an understanding of materials and the context and conditions of their creation, I'd be able to uncover some sort of truth about the world.
Like, I could look at the porous, lightweight chunks in the gravel islands of a Wal-Mart parking lot, and knowing that since they were igneous rocks (which are formed from cooled molten magma), they were probably transported to that parking lot from somewhere else far away, because there were definitely no active plate boundaries or volcanoes in Kentucky.
The other week I had a really great studio visit with Virginia Overton and she mentioned that our interests as kids can stick around and find their way into the forms we're attracted to in our work. Essentially, a rock is dust and dregs and waste fused together over time or forced into a solid object by immense heat or pressure— feels like a good metaphor for what I'm doing now.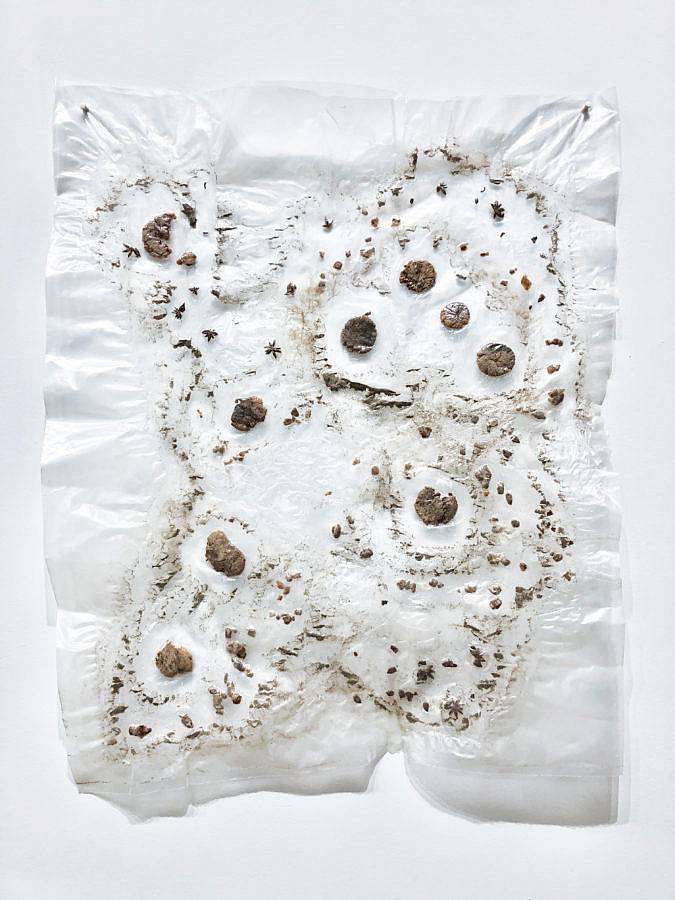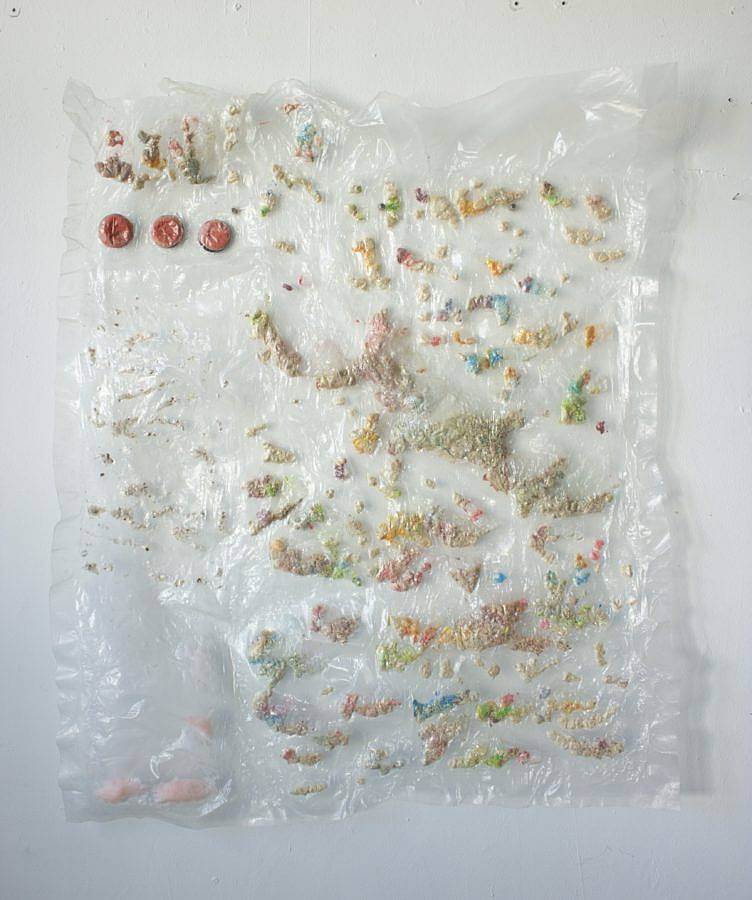 Who are some of your favorite artists?
I've been looking at Dieter Roth lately, his work with perishables in particular. They've allowed for change over time, and so their constituent parts decay and transform, which makes them resistant to archival impulses and seems to push back on the hubris of "forever." And just formally speaking they're really compelling.
Can you describe your current studio or workspace?
My studio is in Harlem in a building called Prentis Hall. It used to be a laboratory back in the day, and it's full of odd structural details, concealed stairways and corridors, with a sprawling, dripping unfinished basement humming underneath. Some people say it's the place where the Manhattan project got started, and I'm not sure how true that is, but it is definitely a strange place full of secrets.
I got very lucky in our studio lottery so this year I have a huge, beautiful studio with big windows that look out to 125th street and the elevated subway station on the Manhattan Valley Viaduct. I'm very aware of how rare it is to have a space like this in the city so I'm trying to make the most of it while I can and try to be here as often as possible. Before coming to school my "studio" would always just be folded into the space in which I was living, and there was a real permeable boundary between "art" and the various mundane details of my domestic existence. That permeability started to feel important, and so it took awhile for me to get used to having a studio that was spatially separate from the rest of my life. I'm still not really accustomed to or interested in having a stark work/life distinction, so I end up treating the studio as my second home.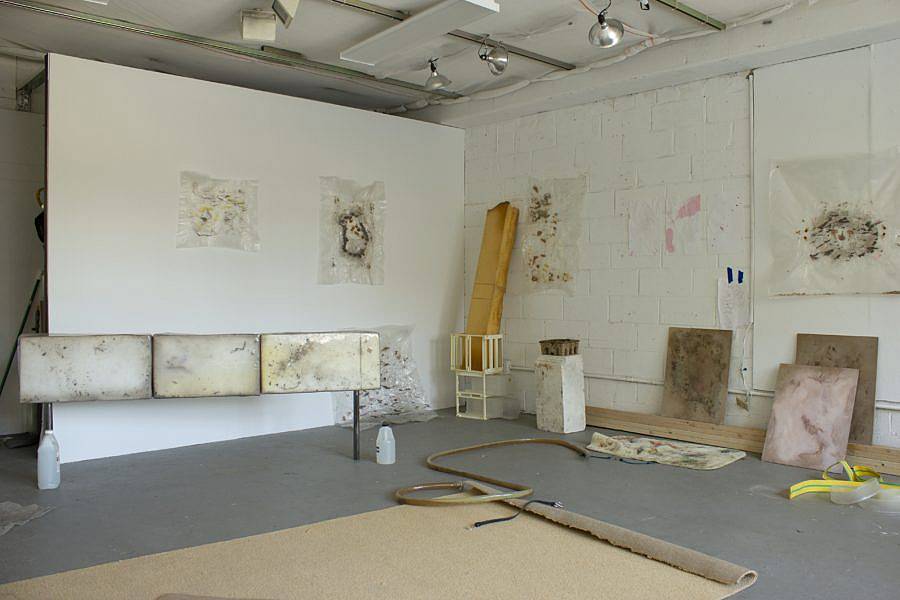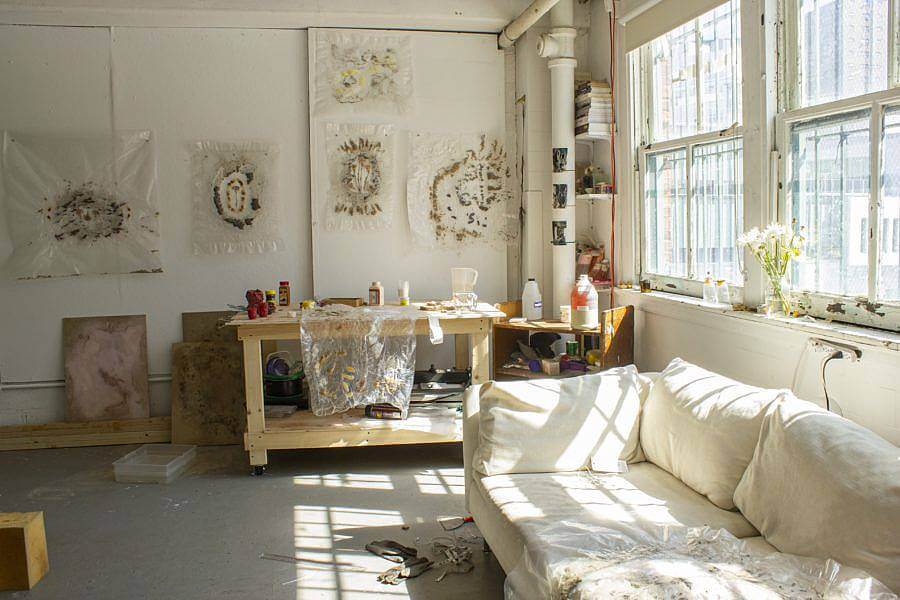 How has previously living and working in Chicago influenced your practice? 
I had several friends in Chicago who were working with sound, a few being quite involved in certain circuits, and that exposure definitely expanded for me the boundaries of what felt possible in my own art making. My friend Carlos Chavarria (of ADT, TCB, Tarnation, and other projects) was very much instrumental in introducing me to the world of sound machines and plugs and pedals and performance, and we played a few times under the name Driving Fetish. Audio sampling in particular is something I'm interested in, and I think it can function similarly to the way that found objects do in sculpture; you strategically deploy this thing or this fragment of a thing that already exists in the world, and maybe use its familiarity to riff on its original use but also re-contextualize and defamiliarize it in your own configuration.
What's it like to now live and work in New York?
It was overwhelming at first, lots of sensory overload. But I like it, there's a frantic energy here and sense of urgency to everything, and I think it works well with where I'm at in my life right now. Everything's always moving and changing, not a place where I'm in danger of getting too comfortable or complacent.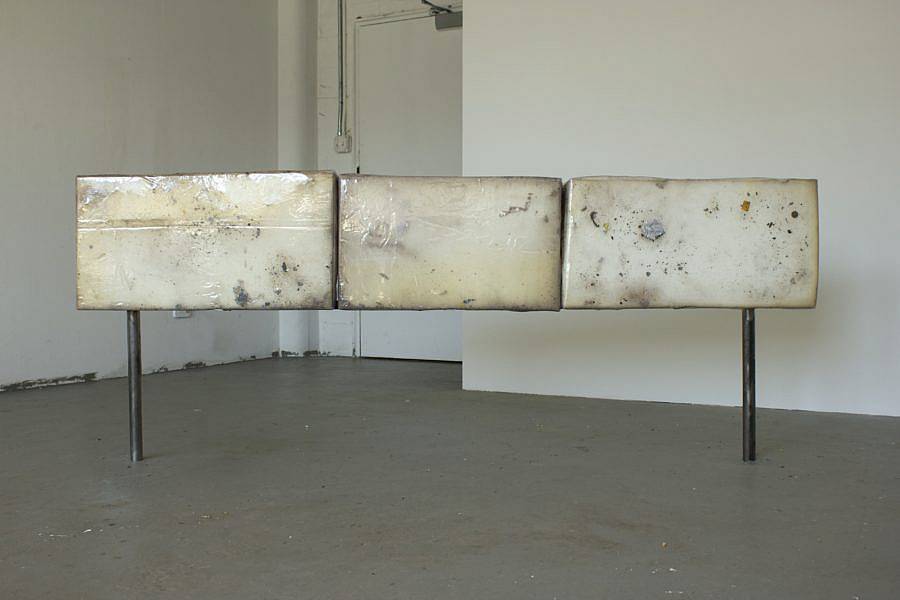 Interview Composed by Madeline Olson