Tell us a little bit about yourself and what you do.
My name is Haley Fohr and I am a vocalist, composer, 12-string guitar player, producer, and songwriter.  I perform in many iterations, but my main project is a decade long running project called "Circuit des Yeux".
What are some recent, upcoming or current projects you are working on?
Right now I am working with Cooper Crain to rearrange my latest album "Reaching For Indigo" to be performed with members of the Netherlands Philharmonic at Le Guess Who Festival? on November 11th.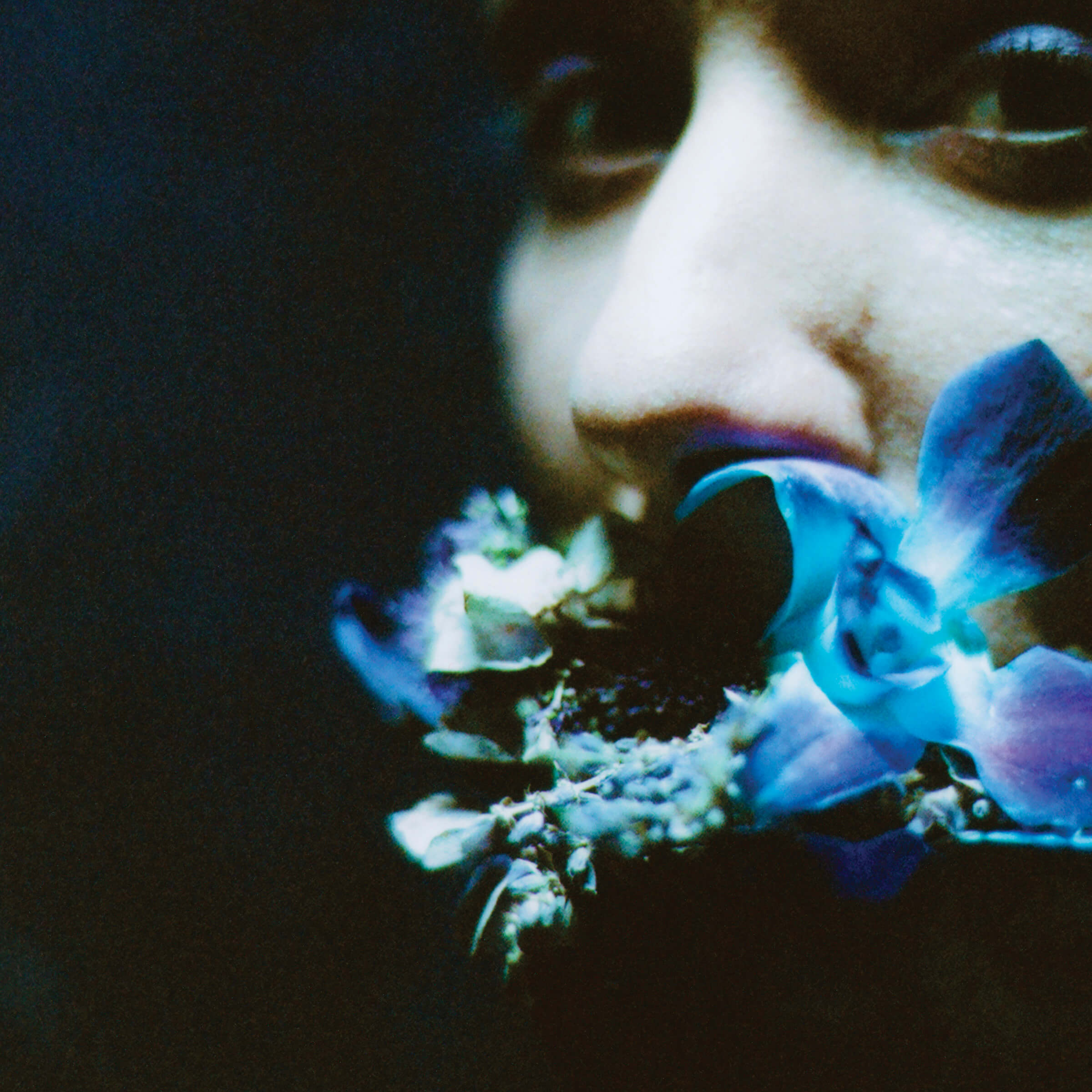 Can you describe the writing/recording process of your latest album "Reaching For Indigo"?
Sure.  It was a laborious endeavor, more so than any of my other albums.  I first wrote each song on 12 string guitar in late 2015 & early 2016.  I played most of these songs in 2016 when I was on tour with Julia Holter.  Through this process of playing live, the songs became whole. From May of 2016 – April of 2017 Cooper Crain and I recorded at his apartments in dense spurts, 3 days here, 8 days there, and reworked each song for a larger ensemble.  I remember getting quite lost in the process during this time.  We tried wild, weird things and achieved some very interesting sounds.  Cooper is a very patient person, and it adds virtue to his recordings.  My very good friend Whitney also came around during that time, and helped us record and arrange strings.  Much of the strings you hear on the record are actually 5 or 6 Whitneys.  She is so talented at multiplying and harmonizing herself, it is really unbelievable to watch it all unfold in front of you.  In March & April of 2018, we took the songs into Minbal studios, where we mixed the record.  By this time I remember I was so spent, tired, confused, and weighed down from the project that it was hard for me to make decisions toward the end.  I still think what it became is some small wonder.
What were some of your influences while writing "Reaching for Indigo"?
I went through a self-inflicted transitional period.  Or rather, some kind of intuition came seemingly out of nowhere and suddenly I had a knowingness.  For a period of about 3-6 months, I had a heightened awareness of the world around me.  Colors were extremely vibrant and almost emotional for me at times.  Blues and reds were very intense for me to see, and I began wearing red, and still do from time to time.
How did your interest in music begin?
My parents had a piano around the house and each of my sisters and I took lessons as small children.  I remember singing in 1st grade and how great it was to feel my body resonate, and how powerful it felt to sing loudly.  I am a product of the public school system and was encouraged by a lot of teachers to continue forth.  I was enrolled in voice lessons around age 12 and continued until adulthood.  My parents used to help me pick out CDs from those old BMG music catalogs.  You could get like 12 CDs for $20 or something. I learned about Pink Floyd, Led Zeppelin, and the 90's band Aqua from that experience.  Then as a teenager, I got into buying and listening to records.  Then, you know playing my own music came closer to 18.  I suppose there are a lot of beginnings for me.
What is one of the bigger challenges you and/or other musicians are struggling with these days and how do you see it developing?
To be a working musician in the industry these days, there is so much asked of you.  I feel like you have to be a true renaissance citizen to be on top in today's music world.  I find it to be unsustainable and unrealistic.  Anybody who reaches a stage is a valid artist, meaning they've already put some real work in.  But now artists are expected to turn out so much more content – music videos, social media content, posters, press photos, on top of scheduling tours, and budgeting your time and efforts just to be offered the opportunity to play a show.  In this day & age, you're no longer just a musician – you're a small business owner, a web designer, a video producer, etc.  I remember all of those 90's pop stars, where the trifecta complex was actress, singer, dancer.  Now it's something more like "great at social media, excellent at excel spread-sheets, singer" or something.  I don't know, I do think some people fit the bill, but it has been an adjustment for me over the years.  Seriously, get me away from the computer !  My goal is to play and make music and all of these other responsibilities in today's industry slowly steal away from that special time to the point where empty space with no clear objective becomes a luxury.  Space for finding a clear mind has to happen in order for great art to exist.
How has living in Chicago affected your music?
I believe that living in Chicago has totally changed my music both in terms of recording, and performing.  I have an invaluable reservoir of resources provided by the city, and am surrounded by many of the world's most dedicated & open musicians.  It has forced me outward in a lot of ways, which can be trying at times, but through the same process also inflicts growth.
If you had to explain your music to a stranger, what would you say?
Well, firstly, my voice is very low and loud.  Sometimes I play alone with a 12-string, but often play with a band and we arrange all sorts of sounds, strings, guitar, organ, and drums into psychedelic music that is intended to feel like a tidal wave.
But if it's the boarder patrol I just say "Post Cabaret" – it's what the MC at Roskilde Festival said before I took the stage a couple of years ago, and I thought it was pretty funny.
What was the last show you went to that stuck out to you?
CAVE's record release show at The Hideout.  The sound and visuals were all encompassing.  I became totally lost in the music.
With your upcoming performance at Le Guess Who Festival November 11th, what do you enjoy most about performing live?
It's all about the risk !
Photo by Michael Vallera
What kinds of music/what musicians are influencing your work right now?
I'm not really sure if they're influencing my work specifically, but I haven't listened to much vocal driven music in the last year or so.  I've been listening to a lot of Rafael Toral, Ligeti, Battiato, Philip Glass, and this woman named Catherine Christer Hennix.
Since working with Cooper Crain and preparing for the Netherlands Philharmonic, who would you ideally like to collaborate with next?
Oh, I don't really think about those types of things.  I just sort of work with whoever comes along, or consider an idea if it seems interesting to me.  You know, whatever is in my field of vision, is what I'm grabbing towards.  Someone mentioned the idea of doing a full 36 voice choir piece, which I think could be a very interesting and challenging idea.
Where do you plan to travel next?
We leave for Amsterdam next week and will be performing in Sweden & Norway for the first time!
What is your snack/beverage of choice when recording?
I usually have a lot of tea, some whiskey, and some hummus and veggies.
What do you do when you're not working on music?
Right now I am a full-time musician.  My partner and I are both fully employed by music, so I will admit that it is usually what I am doing.  If I'm not rehearsing or writing music, I spend a lot of my time prepping for upcoming tours and projects.  I like to make stage plots by hand – 'cause it gets the juice flowing, but it takes a long time, and I make a lot of mistakes.  So if I'm not making some poster, sewing a dress to wear on stage, or planning shoddy DIY stage lighting ideas, we cook, and go see shows around the city.
What are you really excited about right now?
I'm really excited about reading books !  I love reading !  My friend gave me a bag full of books over the summer, and it was the perfect gift.  It takes the edge off of choosing what to read because that is a daunting task in itself.  I'm currently reading "Pitch Dark" by Renata Adler and I really dig it.  It's very non-linear, but the emotional inner logic is still intact.
If you hadn't become a musician, what do you think you'd be doing?
I think I would be working for a non-profit organization.  I went to school for Nuclear Engineering for 2 years before dropping out and then reapplying for Music School.
Can you share one of the best or worst reactions you have gotten as a result of your music?
Recently at The Art Institute of Chicago, a grey middle-aged man wrapped his scarf around his face, rocked back and forth, and screamed "NOOO!!!!" over our performance of the original soundtrack of Salome – a silent film from the 1920's.  A good one if you ask me.
Photo by Michael Vallera