Tell us a little bit about yourself and what you do.
In addition to making my own music, I do a lot of post production sound mixing for film / online out of my studio, Telescope Audio. I also compose music for film and television, record a lot of voice over / adr, record and mix music and produce and engineer the Radio War Nerd Podcast created by Mark Ames and John Dolan which is available on Patreon. I am also in the group Mountains with Koen Holtkamp.
What are some recent, upcoming or current projects you are working on?
I recently composed the music for the film "Crime and Punishment" by Steve Maing about New York City police officers. The film is currently screening in many cities and had its NYC premier on June 24, 2018. We have worked together on several films – "The Surrender," "The Release" and "High Tech, Low Life" are a few.
From crimeandpunishmentdoc.com – "Amidst a landmark class action lawsuit over illegal policing quotas, Crime + Punishment chronicles the real lives and struggles of a group of black and Latino whistleblower cops and the young minorities they are pressured to arrest and summons in New York City. A highly intimate and cinematic experience with unprecedented access, Crime + Punishment examines the United States' most powerful police department through the brave efforts of a group of active duty officers and one unforgettable private investigator who risk their careers and safety to bring light to harmful policing practices which have plagued the precincts and streets of New York City for decades."
I also recently worked on voice over and adr engineering for the virtual reality experience "Fire Escape" by Ink Stories which premiered at Tribeca 2018 and is available on Google Daydream.
From inkstories.com – "When the clock strikes eight in Brooklyn, a suspenseful drama begins to unfold in real time—where you can interact and peer into the private lives of eight disenfranchised tenants entangled in a murder. Audiences must embrace their voyeuristic tendencies in this rich and unique interactive series to reveal a gripping truth."
What is one of the bigger challenges you and/or other musicians are struggling with these days and how do you see it developing?

There are so many plugins and virtual instruments / programs out there now to help people make music that it starts to suck the individuality out of the room and can become a huge distraction. I feel focusing on one or two instruments at a time and really seeing what you can do with them is more interesting than just using everything at your disposal.
How did your interest in music begin?
When I got my first fisher price tape recorder around 6 years old I thought it was the most amazing thing in the world to be able to capture sound. I started making mix tapes of my records and recording sounds around the house. I've always been interested in recording. I started playing music on the violin after seeing street musicians on a trip to NYC in elementary school. I later switched to drums and played drum kit in the school orchestra, I eventually switched to guitar which is my main instrument.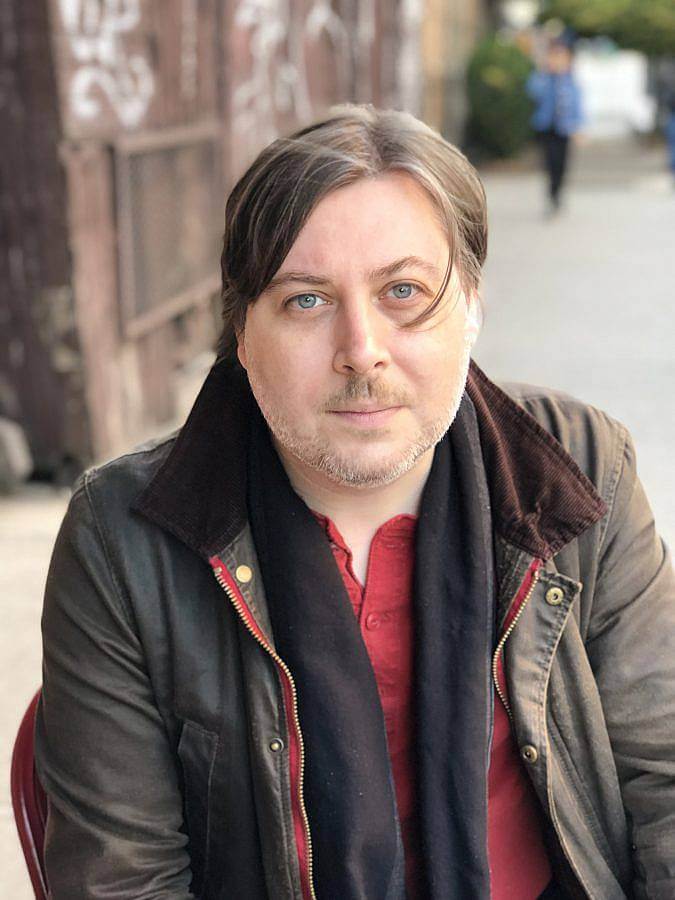 How has living in New York affected your music?
There are a lot of distractions in NY and it's stressful, noisy and crowded. Making music becomes a way to imagine being somewhere else or creating some sort of narrative that I can't really put to words. It very much becomes a reaction to being here.
What kinds of music/what musicians are influencing your work right now?

I've always been influenced by minimalism / ambient electronic music. I spend a lot of time working to film where I'm often given pretty specific direction that I have to work within. I feel like that has probably influenced me more than anything. I'm often just trying to do something a bit different than what I have done before.
Do you get fan mail? What's been the most exciting thing you have received from a fan?
I scored a film "102 Minutes That Changed America" which was all amatuer footage from the day put together in real time. The music was made by manipulating the footage audio and there were no sounds or sound design from outside the archive. I got messages from people about how much the film and music meant to them and their personal connections with what happened.
What do you do when you're not working on music?

Usually I'm either working on music, editing dialog or taking care of some other thing in the studio. Otherwise I really like cooking. It helps me take my mind off of things and focus on something that has nothing to do with my work.
If you hadn't become a musician, what do you think you'd be doing?

I went to the School of the Art Institute for painting but ended up focusing on sound and later went back to school for sound engineering. I probably would have kept painting and doing visual art full time.
What are you listening to right now?
Digging some of the new releases on Umor Rex. Especially Byron Westbrook's "Confluence Patterns" and M. Geddes Gengras' "Hawaiki Tapes".