Will Hutnick is an artist and independent curator living and working in Brooklyn, NY. He received his MFA in painting from Pratt Institute (Brooklyn, NY) and his BA in Painting and Art History from Providence College (Providence, RI). Recent exhibitions include Citigroup Center (New York, NY), The Center for Contemporary Art (Bedminster, NJ), Trestle Gallery (Brooklyn, NY) and City Without Walls (Newark, NJ). Hutnick has curated exhibitions at Pratt Institute, Brooklyn Fire Proof, LaunchPad and Loft 594 (Brooklyn). His work has been featured in New American Paintings, Beautiful/Decay and Whitehot Magazine's "Best Artists List for 2013". Hutnick has been an Artist in Residence at Wassaic Artist Residency (Wassaic, NY), 4heads Governors Island (Governors Island, NY), Vermont Studio Center (Johnson, NY) and a Curator in Residence with Trestle Project Space (Brooklyn, NY).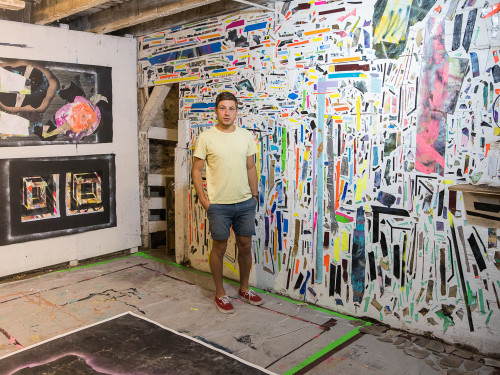 Tell us a little bit about yourself and what you do. I am a Brooklyn-based artist and independent curator who primarily works with acrylic, paper, spray paint and tape. My work questions ideas about impermanence, chance operations and materiality. I am interested in facilitating a work to occur—letting images and objects and forms appear and reveal it to me, as if they were present and actualized all along. I think that there's an inherent system and network, even somewhat mathematical and organic, underlying my shapes and forms, and it's my role to uncover those systems at play.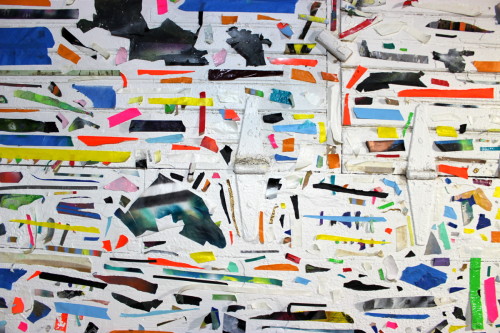 What kinds of things are influencing your work right now? I think a lot about painting as object as installation, and how convoluted and in sync those elements are—how my studio walls exist as a completed work at any given moment yet are functional objects. Rube Goldberg-type contraptions, mazes, puzzles, games/toys from my childhood including Mousetrap and Marbleworks, topographical maps—they all seem to find their way into my work. I think about my work as remnants and archives from an event or experience or specific moment, and then catalog that experience.  I like the idea of impermanent paintings, work that is in flux or appears to be in transition; the work is always changing and morphing and one second later it's completely different.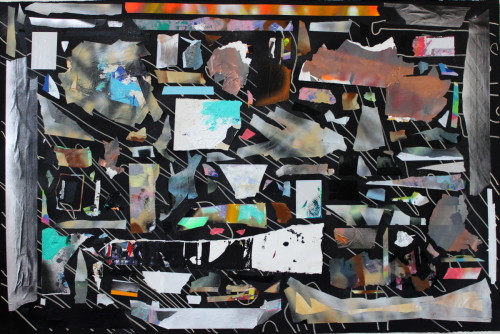 What are some recent, upcoming or current projects you are working on? I recently completed an artist residency in Wassaic, NY, where I lived on what was essentially a farm for four weeks. It was great. I got to interact with an emu named "Mother" and feed goats banana peels on a daily basis.  I worked on some screen prints, collages on paper, tape installations, as well as became obsessed with paint markers—I wanted to bring some drawing elements back into my work (and was indirectly doing so anyways while screen printing). I also have an upcoming residency through Vermont Studio Center, which I'm looking forward to. And my studio mate Polly Shindler and I were recently awarded a curatorial residency through Trestle Project Space in Brooklyn that we're very excited about. We'll have six months to create an entire program of operations for the space—exhibitions, lectures, panel discussions, performances, critiques, you name it. We'll most likely be working exclusively with emerging and under-represented artists. There is so much good work out there that doesn't get noticed, so I'm excited to exhibit some unknown and deserving artists.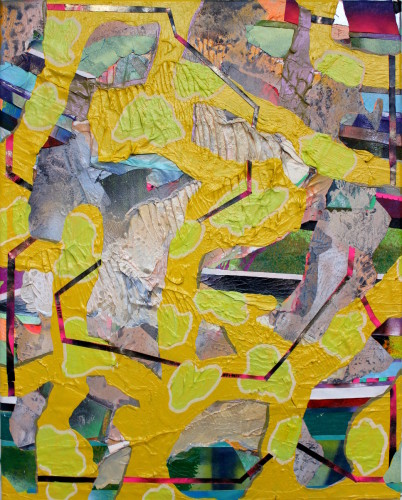 If you were a drink what drink would you be? A negroni!
What artists are you interested in right now? I wish Sarah Sze was my best friend; her work is incredible and mind-blowing. Clint Jukkala and Joanne Greenbaum are two of my favorite painters working today. And, in no particular order, I'd have to say that I'm currently interested in the work of Clare Grill, Kelly McCafferty, Benjamin Edmiston, Polly Shindler, Paul Wackers, Mark Joshua Epstein, Trudy Benson, Ryan Browning, Esther Ruiz and Kristen Schiele.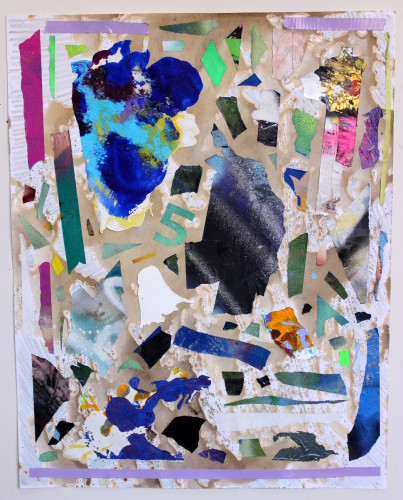 Tell us about your work process and how it develops. My studio walls are covered in strips and pieces of tape, and usually all of my materials (paint tubes, brushes, scraps of paper, rolls of tape, spray paint cans, etc.) are scattered on the floor—so I usually begin by working on the floor and scavenging for tools, seeing what I can use at that exact moment. There's kind of a frantic energy to how I approach most of my work—it's as if I need to get the information down as soon as possible or the moment/shapes/ideas will be lost. Some work will be created in a matter of moments; others take more time and contemplation.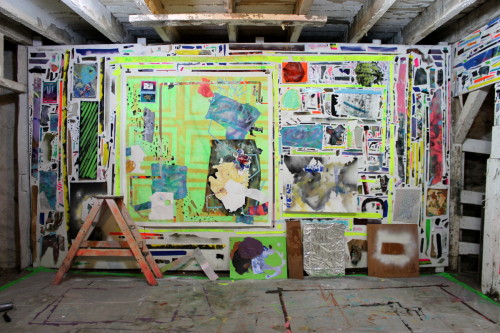 How long have you lived in Brooklyn and what brought you there? I've lived in Brooklyn for the past 5+ years. I'm from Long Island and moved to Brooklyn for graduate school at Pratt. When I graduated I got a studio in Bushwick and continued to tend bar, so I stuck around. I really enjoy being in Brooklyn and the community and camaraderie that develops.
Describe your current studio or workspace. I currently share a studio in Bushwick with Polly Shindler, Caitlin Peluffo and JF Lynch (we all got our MFAs together at Pratt). My space is usually pretty messy but with a very organized disorganization, if that makes sense. I know where everything is; it just might be in a pile on the floor or under my table or under some garbage. Pretty much every inch of my studio walls are covered in colorful strips of tape, which has a very Jumanji-esque feel to it. I am constantly using and re-using the walls and tape to create other works, as well as document the walls as works in and of themselves.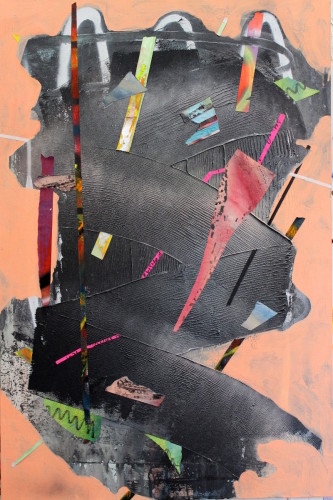 What were you like in high school? I was president of the orchestra, played the cello in all of the school musicals, pretty much got straight As, played tennis, was a member of the honor society, and was really into math and Calculus. So yeah…
What are you reading right now? I'm currently reading "Sweet Dreams: contemporary art and complicity" by Johanna Drucker as well as David Mitchell's "Number9Dream". I've been on a Mitchell kick lately—he's such a brilliant writer. Although I'm sure he must be kind of crazy.