Stephen D'Onofrio is an artist currently living and working in Chicago. He received his MFA from the School of the Art Institute of Chicago and is continuing his practice in the city.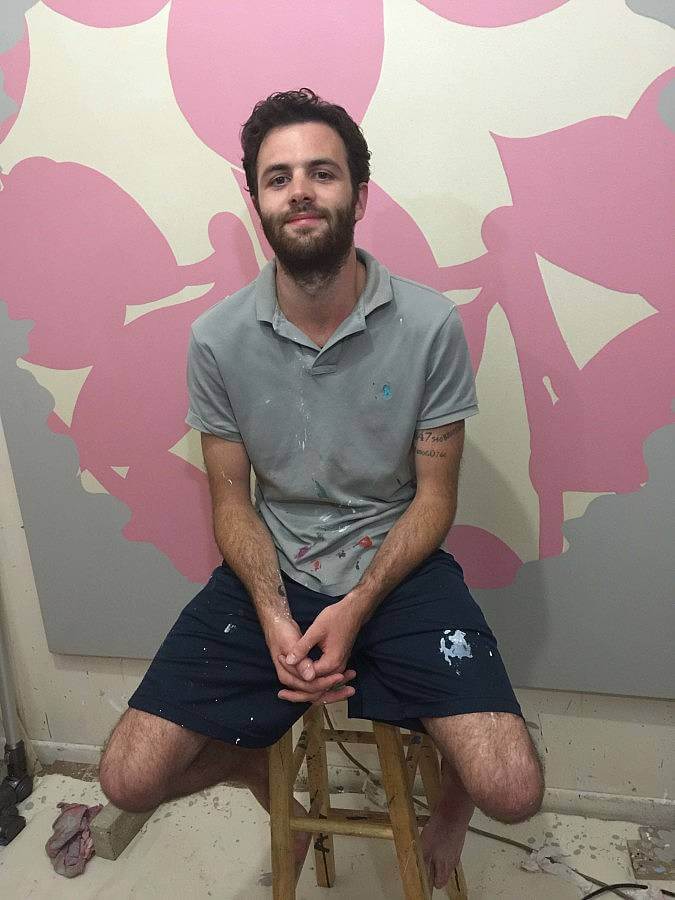 Tell us a little bit about yourself and what you do. I was born and raised at the Jersey Shore and moved to Chicago to study art in 2010. In May, I received my MFA from SAIC and I am continuing to live and work in Chicago.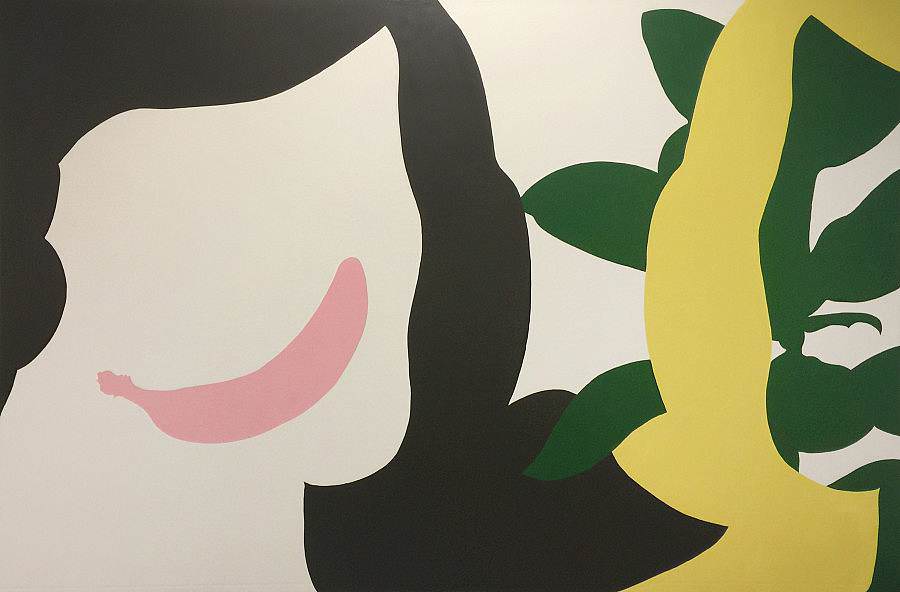 What are some recent, upcoming or current projects you are working on? This summer, I have been getting work together for a couple different shows and publications. In June, I had some work featured in a group show called "Figure It Out" at the Steven Zivita Gallery in Boston, MA. I'm currently installing a show at the Seth Stolbun collection here in Chicago. The show opens on August 16th. I will also be featured in New American Paintings' Midwest Edition, which is currently available for sale on their website. Specifically related to my practice, I have begun a series of shaped canvases that I am really excited about. I am using a CNC router to cut out frames that are shaped as throw pillows. The scale is exaggerated to roughly 40"x40", and I am using found fabric from craft stores to stretch around the frames. Then, I paint areas of the surface, pushing some of the ready-made patterns back and fourth. Right now, I am just having fun with the inherent kitschiness of these craft store patterns as I continue to work on this project.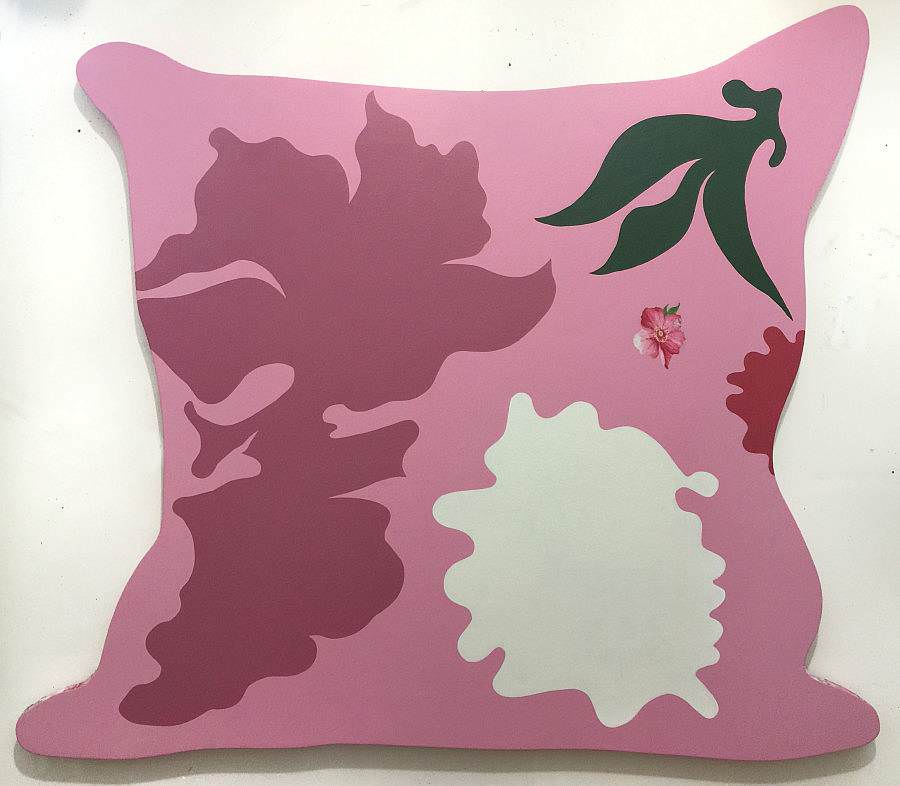 What is one of the bigger challenges you and/or other artists are struggling with these days and how do you see it developing? As a visual artist, competing against society's non-stop image consumption is a challenge that I often think about. It is crazy how addicted we are to the internet. The challenge is to try and capture someones attention for longer than 3 seconds and have them do more than just double tap their phone.
I find it ironic that humanity's greatest tool for archiving has made everything significantly more ephemeral. But, it's kind of a cool problem to have, as it encourages artistic production. (Kind of like a traditional gallery with a cool Artist of the Week feature online.)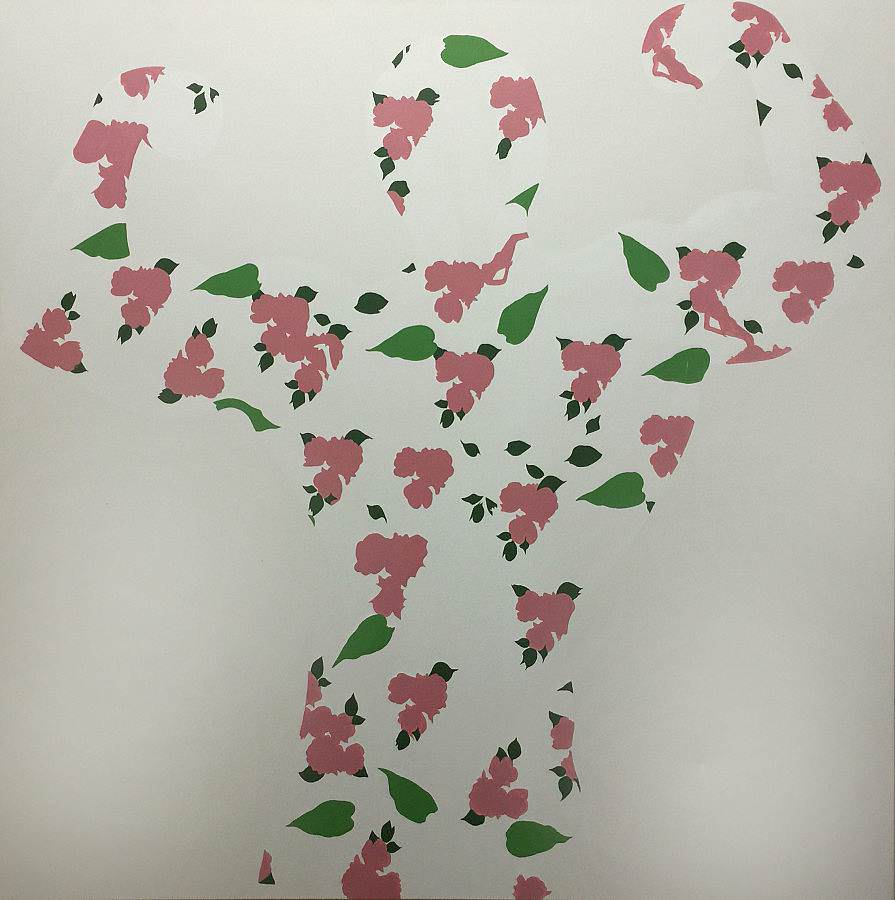 How did your interest in art begin? Somewhere in my tween years, playing with spray paint and markers. I think I just got addicted to mark making and never really stopped.
If you had to explain your work to a stranger, what would you say? It's Carl Wirsum, wearing a Martha Stewart apron, sitting on an Ikea chair.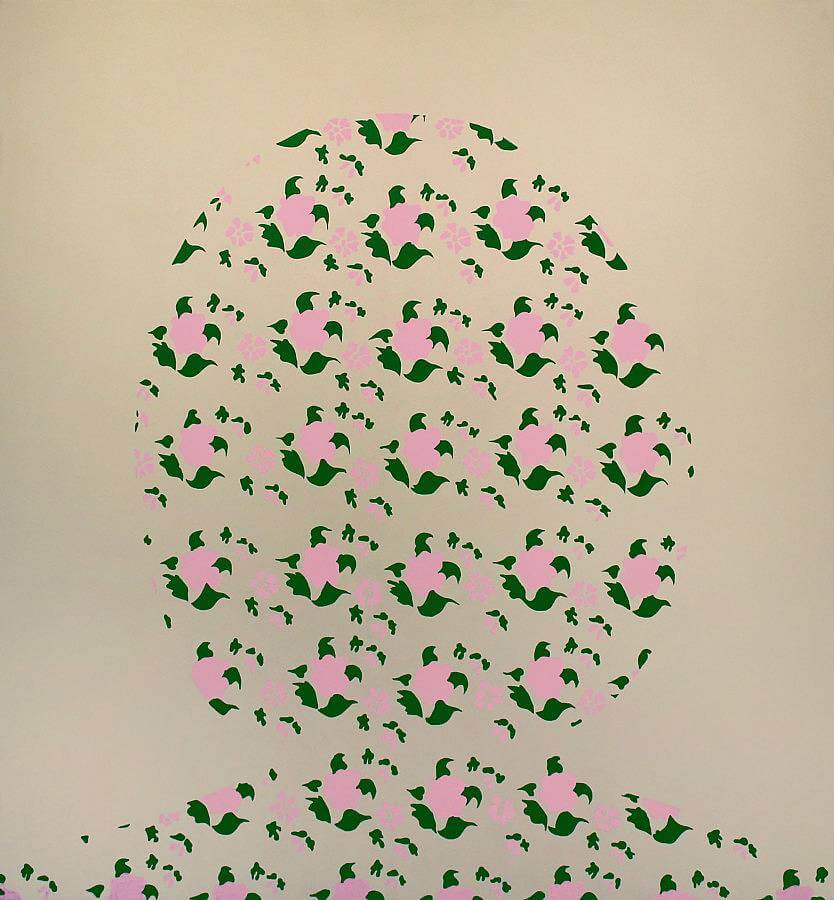 Do you have any guilty pleasures? Tell us about one. Binge watching CNN. (I'm actually watching right now and some kid is scaling up the side of the Trump Tower with suction cups, SUCTION CUPS, you just cant make that shit up.)
What are you listening to right now? Mostly "This American Life." I love TAL. It's by far my favorite thing to listen to while I'm working in my studio. They have all of their episodes archived in an app and its great!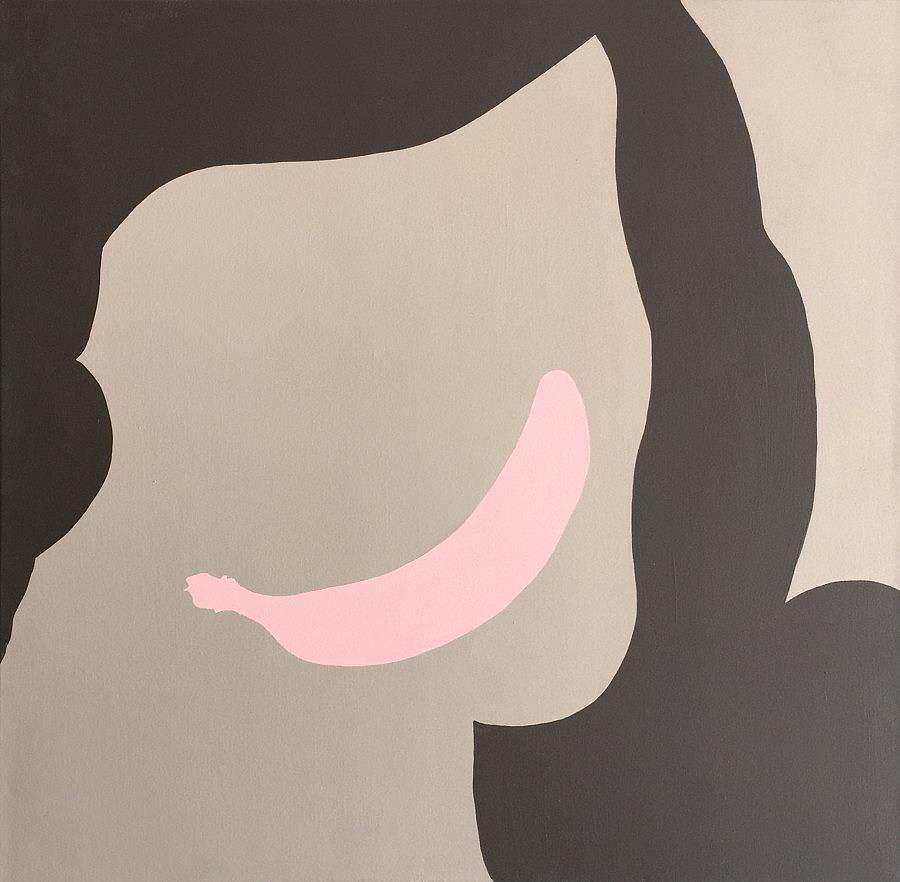 What was the last exhibition you saw that stuck out to you? I recently saw "Barbara Rossi: Poor Traits" at DePaul Art Museum. She's one of the best.
What artists are you interested in right now? I am always leaning on the Chicago Imagists in one way or another. They never fail to inspire me. I was on a Roger Brown stint for a while, and just shook a Christina Ramberg thing.
Right now I am really into John Wesley, Carl Ostendarp, Caitlin Keogh, and Rebecca Shore.
I also just read Daniel Clowes' new graphic novel, "Patience," and the color and illustrations were pretty awesome.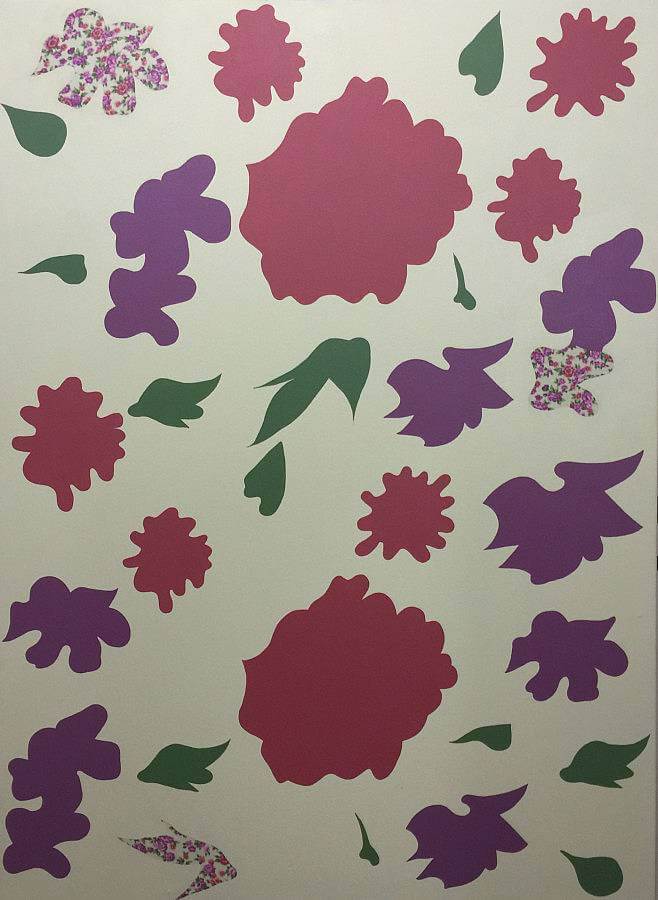 What do you collect? Flowers.
What is your snack/beverage of choice when working in your studio? I don't really have a go-to snack. Drinks range from a double-espresso to a six-pack of Hamm's.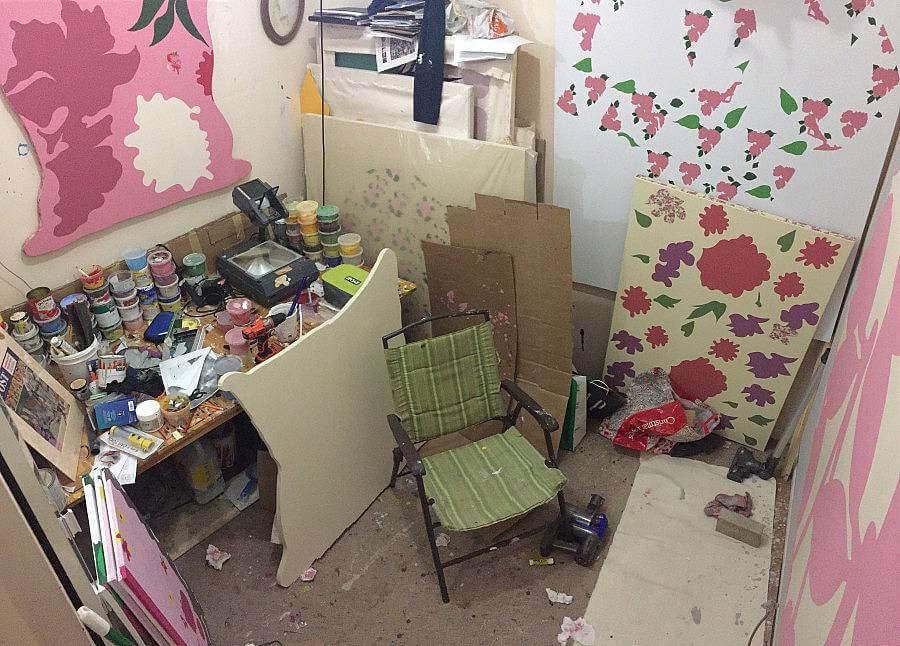 What do you do when you're not working on art? Drive Lyft, or day drink.
Can you share one of the best or worst reactions you have gotten as a result of your work? In Grad school, one of my advisors told me she wouldn't meet with me unless I removed a painting from my studio. It really disgusted her, but it makes me smile every time I think about it. It was a large pink canvas with bowtie noodles painted on all over it.