Chelsea Culp is an artist based in Chicago. She graduated from The School of the Art Institute of Chicago in 2007 with a dual degree in Studio Art, Art History Theory and Criticism. She recently exhibited with Queer Thoughts at The Material Art Fair in Mexico City. She has performed at The The Museum of Contemporary Art, Chicago and in works directed by Matthew Lutz-Kinoy at The New Museum, N.Y.C., and The Rijksmuseum, Amsterdam, ND. She is partner in the curatorial, NEW CAPITAL with artist, Ben Foch and part of the performance group, APOCALYPSE FOREVER, which will release their 3rd album in winter 2014. She is an instructor at The University of Chicago Graham School.
What are some recent, upcoming or current projects you are working on? The year started with a trip out to Mexico City for Material Fair, where Queer Thoughts was showing my work, and my partner's, Ben Foch. It was a really interesting art scene to explore and we made it out to Teotihuacan and climbed the Pyramid of the Sun. It was beautiful, people dancing Bachata and picnicking on top.
We just came off a 3-month west coast road trip, that was instigated by 3 consecutive projects; my solo show at Important Projects
A show Ben curated in L.A. for Black Paper a new arts organization, and our shared residency at Summer Forum in Joshua Tree. We stayed with, friends and family along the way and explored the national parks (Joshua Tree, Muir Woods, Big Sur, Grand Canyon, (the Meteor Crater outside Winslow, AZ), and general American oddities. At the Grand Canyon we visited Tusayan Ruins, an 800 year-old Pueblo settlement; it's possible the community was never larger than 30 and the central structure was a Kiva, the site for public ritual. This concept and organization has been pretty influential to my work with the band I'm a part of, Apocalypse Forever. 
There are five of us; me, Ben, Mike Kloss, Leo Kaplan, Hope Esser, and a 6th rotating member. Both our shows have been at The Mutiny for Ron Ewert's project, Chicago CD Music. It's actually the reason we formed, but decided to keep working together after.
Now we have a rehearsal space at the Carroll Arts Building (same spot as Perigrene Program and Julius Caesar). We are working on a play (tentatively titled The 5th Dream. The narrative is woven from the dreams we've shared with one another). We'll probably debut it in Winter/Spring at the rehearsal space, which is morphing into a playhouse.
The vibe is somewhere between a childhood living room tent, Ferlinghetti, Artaud, and a Viennese Actionist gathering. Also, been pretty inspired by this documentary, Hearts of Darkness, by Eleanor Coppola. She foregrounds the murky boundaries of art, life, theater, and film, during the making of an Apocalypse.
Now and how everyone was pushing one another to towards the outer reaches of everything.
The space seats 12, plus our 4' x 12' stage. After the weekend run of our play, it will become Caligula Theatre, and the 5 of us will program experimental performances there. It takes inspiration in part from a project in Berlin by Max Pitegoff and Calla Henkel, New Theater. We should be up and running by Fall 2015.
I was in a group show this past Sunday, Meet Me at The Soho House. It was curated by Night Club at Iceberg. I'm really looking forward to the PplSft yard art! Other than the play, I'm spending the fall in the studio, we are finally putting in a kiln so I'm going to be able to fire some ceramics that have been in a very precarious state.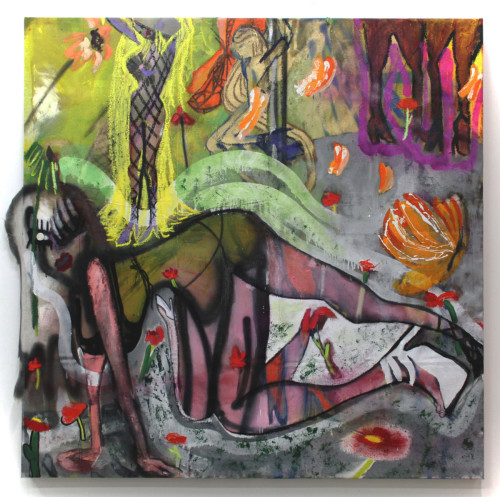 What kinds of things are influencing your work right now?? The San Francisco craft and denim embroidery of the 70's in that the art production was tied to a larger cultural moment. Native Funk & Flash is a book I've been getting into that has some great images. A lot of the pieces were in a show at The Oakland Museum, Radical Acts.
This guy, Garth that lives in cement tepee in Joshua Tree and invites anyone to build on his mile by mile property so long as its adobe/cement and blends in. Neil Doshi is doing a pretty crazy project out there.
Josh Reames has gotten me deep into Vapor Wave and Summer Forum, still has me mulling if Object-oriented ontology is liberating or totally depressing.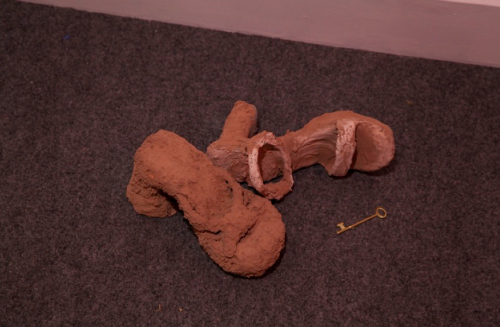 What are you reading right now? Various things from the books and mags we collected while on the road, including some supplementary Summer Forum readings. I tend to interweave a mercurial grouping of texts over a few months time rather than dig-plowing through one thing. Unless it's really good and I immediately need all the knowledge.
Highlights of the current selection below:
Survival in the 21st century, Planetary Healers Manual
The Mike Kelley catalog
Body Sweats, The Uncensored Writings of Elsa von Freytag-Loringhoven
RE/SEARCH #12, Modern Primitives, An Investigation of Contemporary Adornment and Ritual
The Lost Books of the Bible and the Forgotten Books of Eden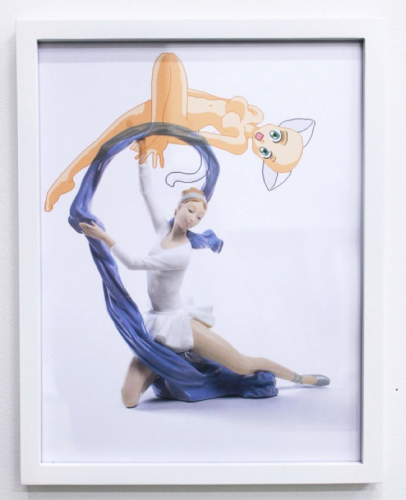 If you were a drink what drink would you be? Coconut La Croix or lemon-ginger tea.
What were you like in high school? Punk/Hillbilly/Goth/Hippie/Geek. Pretty much the same as I am now except with blue hair. Actually, one difference is I was frustrated and rebellious. I still have traces of that but now, I'm more interested in solving problems than just pointing them out. I had a few key people that were really supportive while I was there, like my art and shop teachers, and some awesome friends (that I still consider the best people on earth, even if I don't see them enough).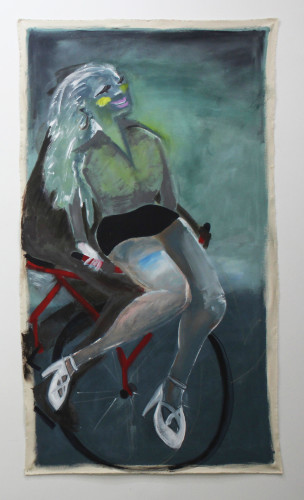 Can you share one of the best or worst reactions you have gotten as a result of your work? In 2011, I was making these 10'H X 15'-25' wide wall-mono-prints. The image emerged from a team of volunteers instructed to 'make their marks' while performing a choreography to transfer the paint print.
While working on this piece at Seerveld Gallery with about four students, a very passionate conversation emerged around the source of original inspiration, if it was yours and native to you or if it is God's and transmitted to you. Each student had a nuanced explanation based on their personal experience and the tenets of their Calvinist faith.
The conversation sensitized me to the complexity and specificity with which we each make sense of the world.
The lasting impact has been that I rarely assume anyone's beliefs. It made me more inquisitive.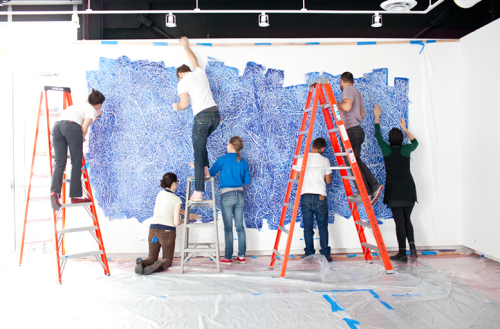 Most embarrassing moment? Can't remember, have kind of developed a no shame philosophy, more like move on and do better next time type thing.
What do you want a viewer to walk away with after seeing your work? I want them to enjoy the bizarre nature of existence and how dubious reality is. I like when sensitivity to nuance makes its difficult to say what something is.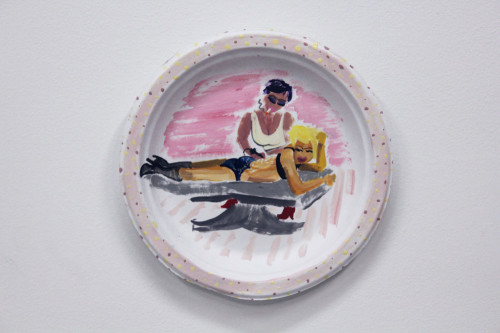 Describe your current studio or workspace. It's a warehouse in East Garfield Park. I share it with my partner, Ben Foch. We ran a temporary project space there (NEW CAPITAL) but have since converted it to our studios.
There are a few big spaces and the function of each changes based on what either of us are working on collectively or individually at any given time. For about six months the downstairs was kind of a mud-room-cement-spot for the ceramics we were making together, these cement trash pieces, and my cement shoes. Then we both got on an individual painting kick and flipped it into a shop for making stretchers. Ben usually works in the main white cube of the old gallery, and has really minimal but specific material selections or he works in an old masters/Richter/photo-realist oil style.
I'm usually in this white brick space that has 3 windows with north light. Sunlight really inspires me, I love making a palette when I'm enveloped in it. Right now, it's full with a lot of large sloppy almost sculptural figurative paintings, all memory's interpretation and a couple dozen cases of rainbow La Croix cans.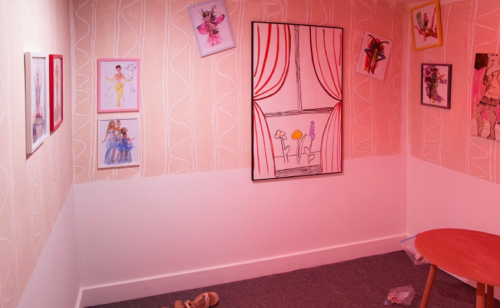 How did your interest in art begin? It came from my family, the homes, and cultures I grew up in.
My Mom worked in a frame shop, I'd go to work with her and she'd set me up with scraps of matt board, cool markers, and poster books to draw from. My favorite was Matisse's gold fish and any Modigliani because I liked the way he made eyes.
Later she opened an artist co-op with a half dozen other creatives' it was a frame-shop, gallery and artist studios (Working Artists). It was the first of its kind in the southern part of Kentucky where I am from. And has been a major influence to how and why I organized New Capital.
Paducah has since developed a pretty innovative housing program for artists to buy deteriorating property (which are all Victorian homes and storefronts at the confluence of the Tennessee and Ohio rivers) so there has been a resurgence of creative activity there. Unrelated to the program my Dad bought a property that was the hardware store he worked in when he was a kid. He repurposed all salvageable materials and spent about 8 years of his own labor on it nights and weekends. He created an incredible space.
Paducah has named itself 'Quilt City U.S.A.' and every year generations of quilters come from across the country for Quilter's week. My great Mema was a quilter and I remember her colorful creations all over my grandparent's home.