Tell us about yourself and what you do.
I'm an artist and educator based in Santa Barbara, California, where I'm an Assistant Professor of Print and Publication in the Department of Art at the University of California at Santa Barbara. I grew up in Cambridge, Massachusetts, but over the years, I've lived in Philadelphia, Chicago, Brooklyn, and Pittsburgh, Pennsylvania. I make prints, 'zines, sculptures, and drawings, amongst other things, and I currently run CA53776V2.gallery, an experimental exhibition space on the dashboard of my 2007 Ford Ranger.
Can you talk a bit about how you began working on CA53776V2.gallery?
When the pandemic hit, I was halfway through a three-month residency in the Midwest. It shut down suddenly. I didn't have an apartment of my own at the time, so I frantically drove to Cambridge, Massachusetts, where I'd grown up, to shelter in place. Boston was, like many cities, locked down. As many have noted, COVID-19 was a disaster marked largely by absence early on – empty streets, offices, and stores. I was interested in the visual manifestations of this new condition, however subtle. 
 Face masks quickly became the inescapable icon of microscopic disease (this was before they became such a hyper-partisan symbol). This was early April 2020, when N95s were impossible to find. Surgical masks were in short supply, and no one was mass-producing cloth masks yet. I messaged a neighbor who was hand-sewing masks, and she generously left two outside my door. I wore this pair for months, hand washing them in boiling soapy water after each trip outside. 
 As a two-week quarantine turned into months of isolation, I began noticing face coverings hanging from the rearview mirrors of cars parked on my street. It seems commonplace now, even cliche, but at the time, these dangling masks were a subtle sign that the pandemic was entering a stage where more people were negotiating how to leave the house safely. These masks became a signifier of folks venturing outside in an aspirationally safe way, prioritizing a sense of communal well-being. There was some notion that sunshine functioned as a disinfectant, so dashboards became hybrid cleaning stations and displays of civic responsibility.  
 That first pandemic summer, I moved out to Santa Barbara. This was pre-vaccine, and all of the University classrooms, labs, and studio spaces were closed. I was teaching online and making small paintings on my kitchen table. My truck was sitting in front of my apartment. I'd move it once or twice a week for a trip to the grocery store or street cleaning. 
 The masks hanging from rearview mirrors had stuck in my head, and I began thinking about how dashboards function as display platforms. They are frequently adorned with trinkets and souvenirs, while graduation tassels, rosary beads, and national flags are all commonly seen dangling from rearview mirrors. This is a distinct mode of customization, different from what we see in other areas of the car. Bumpers are generally for political, humorous, or travel-based stickers that are almost always mass-produced and professionally printed. Rear windows are often adorned with RIP vinyl or Calvin pissing decals, which are also usually professionally produced. Dashboards are special. They are spaces of craft for an audience of both passengers and passers-by. Dashboards are best seen when the vehicle is parked. That realization was the beginning of this project.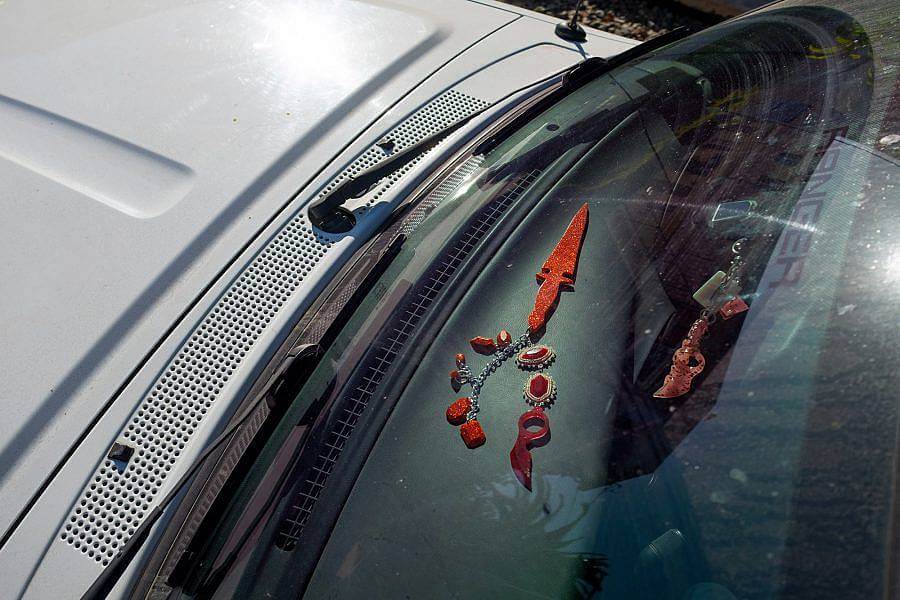 What things do you normally have in mind when selecting work to show in a car dashboard?
I'm generally interested in works that riff on the theme of the automobile, the road, movement and stasis, and the intersection of craft and identity within these themes. It's a very broad curatorial framework. There are also the practical considerations of the space – work needs to be small, easy to install and deinstall, and not too sensitive to the sun. I'm thrilled that friends, former professors, and students have all agreed to trust me with their work. I've also cold-emailed a few artists who have generously sent work to show.
What have you been listening to recently?
Adrianne Lenker, Nirvana's Unplugged album, and an unhealthy amount of news.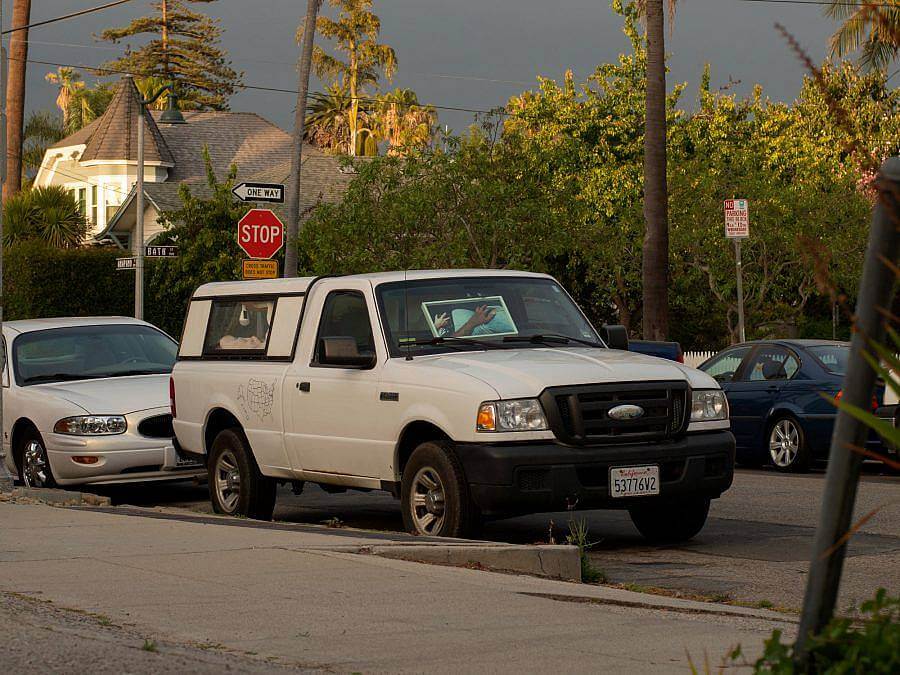 Who has been influencing you lately?
I always get excited about art spaces that exist outside of the confines of normative gallery structures. Sage Dawson's STNDRD, located on a flagpole near St. Louis, has been a long-time favorite. Riviera Parking was a temporary venue here in Santa Barbara organized by Alex Heilbron and Niko Chodor – they provided a much-needed space for community during the pandemic. I appreciate the organizing K Knittel does with Other Places Art Fair, as well as groups like Monument Lab, Common Field, and Open Engagement. Jen Delos Reyes' Garbage Hill Farm and Side by Side residency program, and Alisha B. Wormsley's Sibyls Shrine residency, are radically reconsidering what care and support for artists must encompass. Nook Gallery in Oakland also provided an inspirational model for gathering. The Fall River Museum of Contemporary Art's mission to focus on the discourse between hyper-local and international art communities is phenomenal. The new Art Preserve of the John Michael Kohler Arts Center is an excellent example of championing and preserving practices that exist (literally) outside of traditional galleries. Denver-based Black Cube Nomadic Division organizes fantastic projects, including Phillip Andrew Lewis and Lenka Clayton's Gallery Closed in Pittsburgh and Adam Milner's Public Sculptures in New York. Sinkhole Project is really cool. 
 I have a specific interest in text-based and text-supported exhibition platforms. Jon Rubin's The Last Billboard, PSA in St. Louis, and Breanne Trammell's Public Storage are some of my favorites. Tiona Nekkia McClodden's Conceptual Fade in Philadelphia and Paul Soulellis' Queer.Archive.Work in Providence are two other influential spaces for me. Two early-pandemic print projects have stuck in my brain as successful models for the alternative distribution of print: Katie Garth and Tracy Honn's Quarantine Public Library and Marc Fischer's Quaranzine. 
 The emergence of miniature spaces is also inspiring. Imin Yeh's Dream Cabin, Eben Haines & Delaney Dameron's Shelter In Place Gallery, and Barely Fair, organized by Julius Caesar in Chicago, all function as inclusive, witty critiques of the gallery system. 
 Finally, I'm indebted to other vehicle-based projects like Ceci Moss' Gas, Seymour Polatin's Gallery1993, and Raven Falquez Munsell and Jesse Malmed's Trunk Show. I thought a lot about those three projects before starting CA53776V2.gallery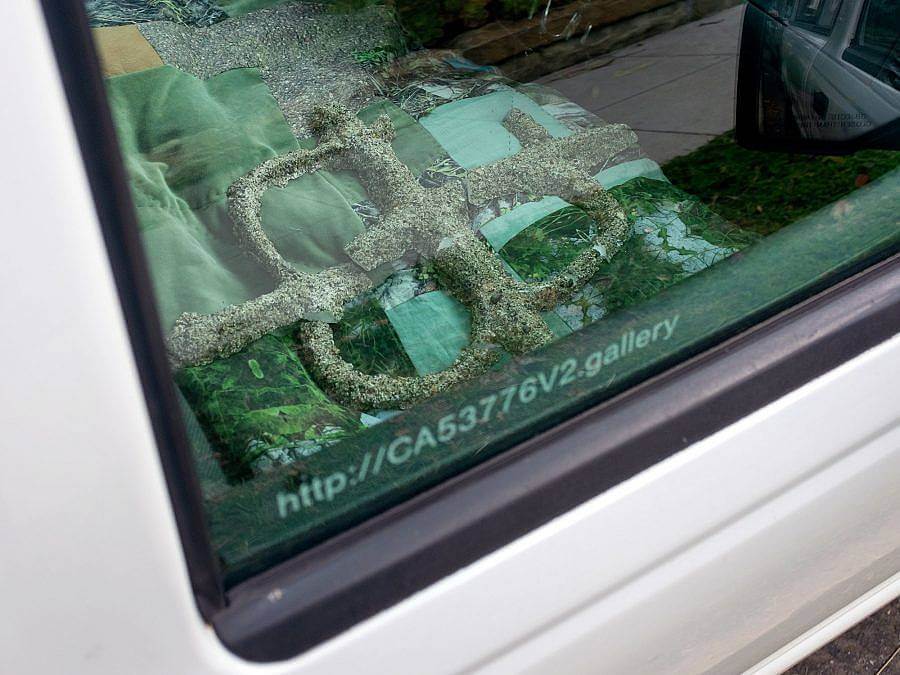 View E. Saffronia Downing's interview here.
What would you say is the mission of CA53776V2.gallery?
Building on this cultural understanding of the dashboard as a place of public display, CA53776V2.gallery exhibits contemporary artistic practices that explore intimacy, touch, and craft on, in, and around the American road space. The truck's passenger cab becomes a glass vitrine where I can exhibit work without paying additional rent or staffing open hours. Participating artists are paid a stipend, I cover all shipping costs, and a printed catalog accompanies each exhibition. At its core, this is a project for my friends and neighbors. Hopefully, it's rigorous but a little funny and adds something small to the cultural discourse of Santa Barbara. The truck is usually parked on the 300 block of West Anapamu Street, near downtown.
What insights have you gained from having both a non-institutional curatorial practice and an academic art career?
In academia, the notion of "self-publishing" is denigrated unfairly, in my opinion. Finding a traditional, prestigious publisher or peer-reviewed journal is valued higher than organizing one's publishing platform. A parallel exists for artistic practices – at large, academia views commercial galleries and institutional exhibitions as more respectable than artist-run spaces. The adage "publish or perish" applies to artists as well.
 I believe the ongoing institutional critiques I mentioned above, coupled with space closures and travel restrictions due to the pandemic, have reinforced how valuable DIY and artist-run spaces can be, both from an ethical and practical standpoint. At their best, these spaces can provide opportunities to work collectively, program with agility, and respond to the community with accountability. There is value in locality that feels under-recognized in tenure review processes. 
 I struggle with how to validate the legitimacy of this type of curatorial strategy in the eyes of the very institutions it intends to criticize and subvert. At the same time, this type of practice allows me to support, say, a group of students organizing an unsanctioned art exhibition in a public park. That is when it feels like something is working.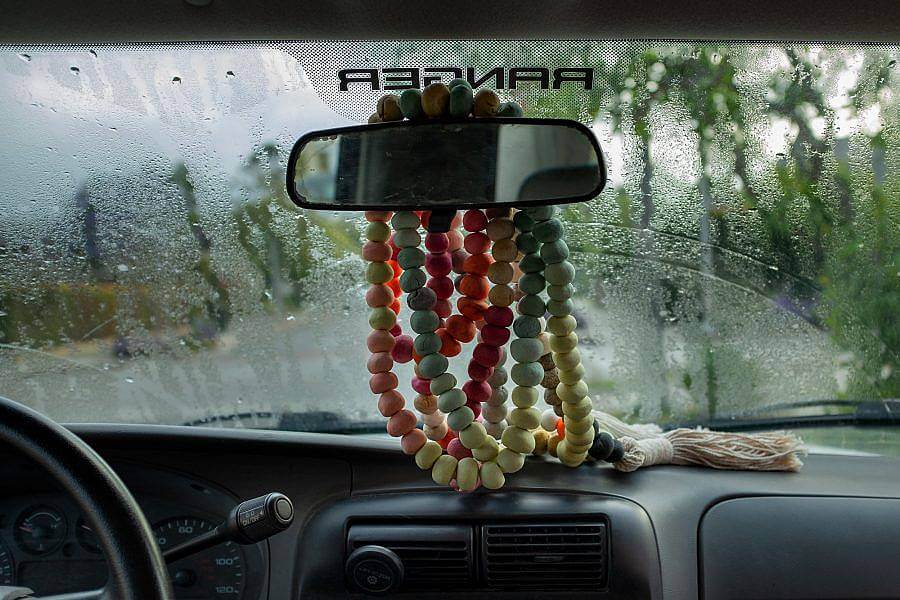 Do you have any advice for those wanting to start a non-traditional curatorial platform?
Don't wait for it to be perfect; just start. Perfection is the enemy. Do it with friends. Small is okay, subtle is okay, and emulating other spaces is okay. You can always pivot, reimagine or reconsider as you're going. It's also important to consider one's audience and community. What space are you taking up and for/from whom? Non-traditional and artist-run spaces have often been precursors to, if not outright complicit actors in, cycles of gentrification and displacement – that shouldn't be news to anyone in 2022. 
That said, I think a lot about locality when curating this project. CA53776V2.gallery has been a great way to meet an artists' community here – it's been an inroad as a new artist in this city. The majority of the artists I've exhibited have not been from Santa Barbara. I struggle to find harmony between celebrating and supporting locally-based practitioners while also exhibiting work from a geographically wider set of makers whose practices I love. I don't quite know the right balance. If I'm only showing artists from elsewhere, it can feel exclusionary to the local community. If it's all folks from here, the project risks being written off as provincial. I hope there is a benefit to putting all of these artists in dialogue.
Any predictions for 2023?
I've driven my truck through more than a decade of winters in the Northeast and Midwest, so there is a lot of rust down below. Every new rattle I feel or chirp hear from the engine seems like it could be the end. I didn't quite understand how much driving I'd need to do in California, and CA53776V2.gallery guzzles gas, so I'm starting to save for a car, hopefully in 2023.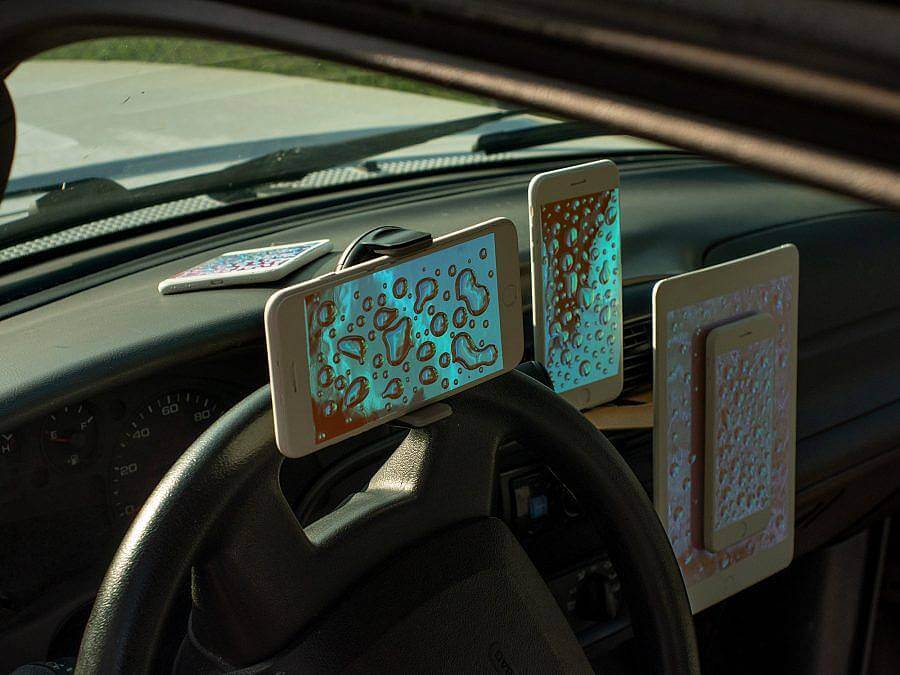 Do you have any upcoming projects, either within the purview of CA53776V2 or otherwise, that you can share?
I'm organizing the fourth show in the truck to open sometime in September – the exhibition catalog for the third show should be done by then too. I just released an expanded second edition of Tree Stone, a zine that collects my research and photography of tree-shaped headstones. In October, I'm presenting on a panel about memes at the Mid America Print Council's biannual conference at Kent State. There will be a new issue of Written Names Fanzine available at the Boston Art Book Fair in November. In February 2023, I'm moderating a panel at the College Art Association's 111th conference in New York titled "Alternative Exhibition Platforms in a Time of Emergence and Endemic Infection." Finally, I'm trying to build in some time for my studio practice this summer.
Interview conducted and edited by Milo Christie and Sam Dybeck.