Dana Lok grew up in Berwyn, PA, and lives and works in New York City. She received her BFA in 2011 from Carnegie Mellon University in Pittsburgh, PA, and is currently pursuing her MFA at Columbia University.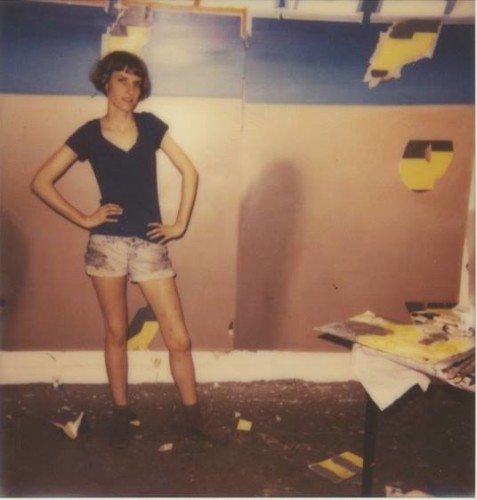 Tell us a little bit about yourself and what you do. I grew up in Berwyn, PA, which is near Philly. My undergraduate degree is in art, but courses in cognitive psych, perception, philosophy of mind, and philosophy of physics fueled the development of the practice I have today. My work from the past year revolves around the conundrums that result from a distinctive feature of images: the thing an image is of or "points to" is always distant, absent, or other than the medium of depiction. In relation to this idea, much of my work exploits the strange ambiguities that can occur when we put a three-dimensional scene on a flat surface. Many of the paintings are experiments with the behavior of words in this ambiguous space. They play with the possibility that the meaning of a word can change if it is nestled within the depicted space, or if it rests on the flat surface, like dust on the lens of a camera.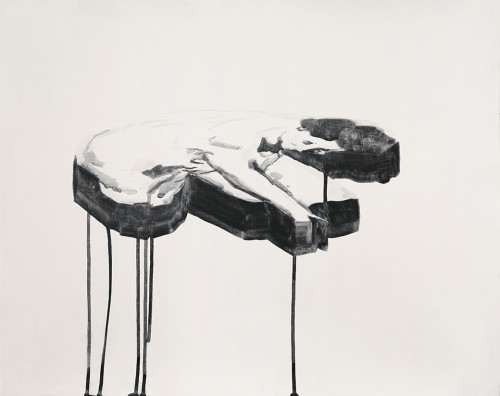 How did your interest in art begin?My favorite thing to do as kid was draw, and I think was lucky to have a lot of positive reinforcement from adults and friends. I was also lucky to grow up in a household that made regular trips to the Philadelphia Museum of Art, where Alexander Calder's all white hanging mobile, Ghost, peaked my curiosity as a little kid—I was both drawn in and frightened by this looming object. Where was the ghost in that assortment of floating shapes?
If you had to explain your work to a stranger, what would you say? In regards to some of my recent paintings: traditionally, a painting treats you to the most expensive seats in the theater, and you get to see the production from the optimal point of view. What happens if you get a seat that's off to the side? What does it look like if the set is misaligned? Can you glimpse back stage and see the actors before they are ready to perform? Are the things on stage flat or round?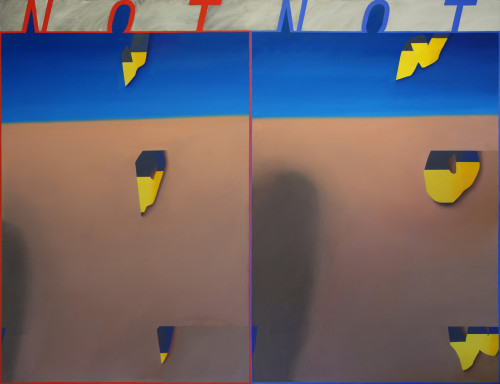 What materials do you use in your work and what is your process like? I use oil paint and a lot of tape for my paintings and charcoal and graphite in my drawings. Occasionally I use Adobe Illustrator to work out compositional ideas and text placement for the paintings. I make my drawings quickly. They are low-pressure experiments with mark, material, words and image, and a necessary counter to the long, slow, zig-zaggy process of the paintings, which I fit together more like a puzzle.
What artists are you interested in right now? Charles Burchfield, Rene Magritte, Eve Sussman, Max Fleisher, Laure Prouvost, Degas.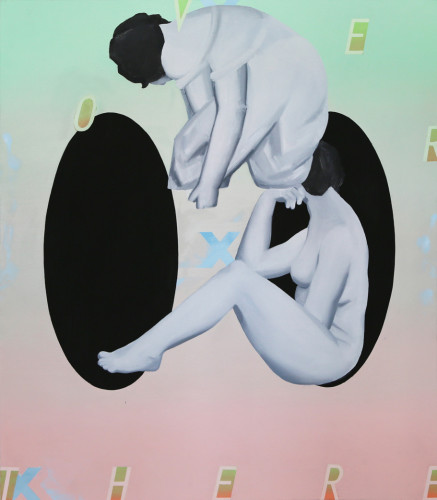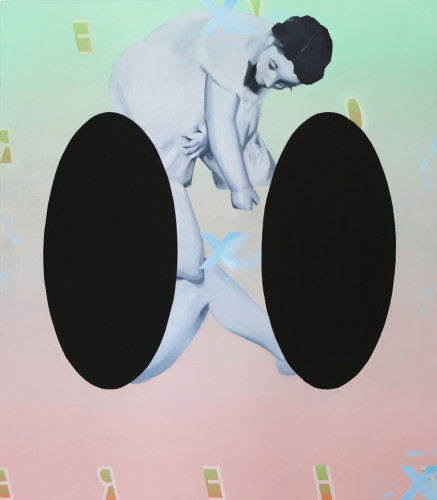 What's your favorite thing about New York City? There's more art to see in New York than I know what to do with. I interface with this city through art, so every building looks like an art venue to me. Then I am always dazzled in the moments when realize this city contains worlds of theater, dance, food, fashion, literature and music of the same proportion, all stacked on top of each other.
What was the last exhibition you saw that stuck out to you?  Mike Kelley at PS1.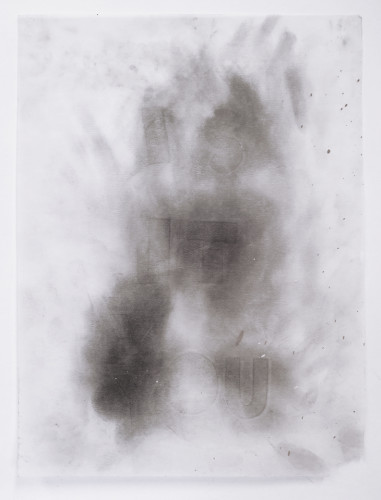 What is your snack/beverage of choice when working in your studio? If there is food around, I will be munching on it, so if I have snacks in the studio, I try to have something healthy—dried apricots and walnuts. Earl Grey tea when I need a pick-me-up, peppermint tea late at night. I wish I could be cool and drink whiskey or beer when I paint, but I need to be in a super high-energy state to get the work done.
What do you do when you're not working on art?  I love to cook, especially for my friends. They are probably all sick of my bruschetta by now.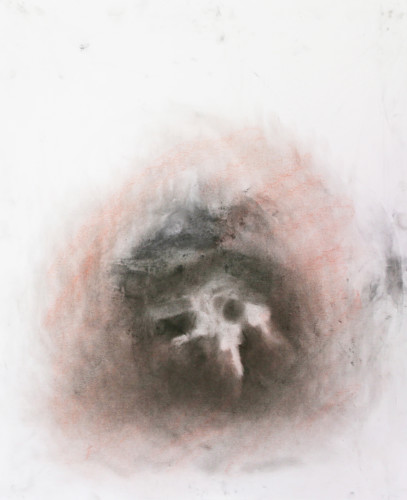 What are you listening to right now?  I always have something playing in the studio. Right now I keep returning to Brian Eno's Another Green World, Joanna Newsom's Have One on Me, a LibriVox reading of Gertrude Stein's Tender Buttons, and Nina Simone's Little Girl Blue.