Tell us a little bit about yourself and what you do.
I am a fashion designer and professor at Université du Québec à Montréal, Canada. I call my design work "speculative design" or "design fiction," It's radical, experimental and slow. My garments are developed through elements such as computational systems, motors, sensors, pneumatic and interactive technologies and embedded electronics.  Many of them respond to their immediate environment and to the presence of the spectator.
When I was a child, my mother took me to the first exhibition of Yves Saint Laurent at the Palais des Beaux Arts in Beijing. This was in the 80's and China was still a country where all dress conformed to social and political norms: blue and gray uniforms, which I found rather beautiful, especially since I always loved sobriety. The work of Yves Saint Laurent, to be truthful, did not strike me by the elegance of its style, by the richness of its fabrics, the precision of its silhouettes, and even less by the intense colors, which, in fact, hurt my eyes. His work communicated to me a much more essential quality, which influenced me during many years: the concept of the foreign, the dissimilar, and the different. The only thing I really saw, that day, at the Palais des Beaux Arts in Beijing, was a certain difference. A difference in culture and in world vision. I felt very banal that day, and I told myself that I would like to accomplish something different, when I grew up. Then I spent my teen years in Switzerland. I studied fashion design at HEAD-Geneva and then at UQAM in Montreal where I teach now.  Professionally, Switzerland taught me to be thorough and focus on details, whereas Montréal gave me the freedom to think and experiment.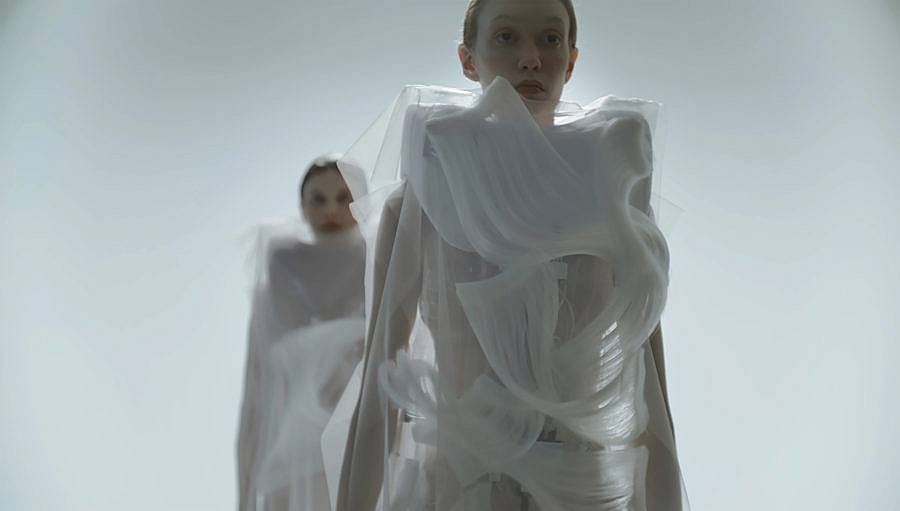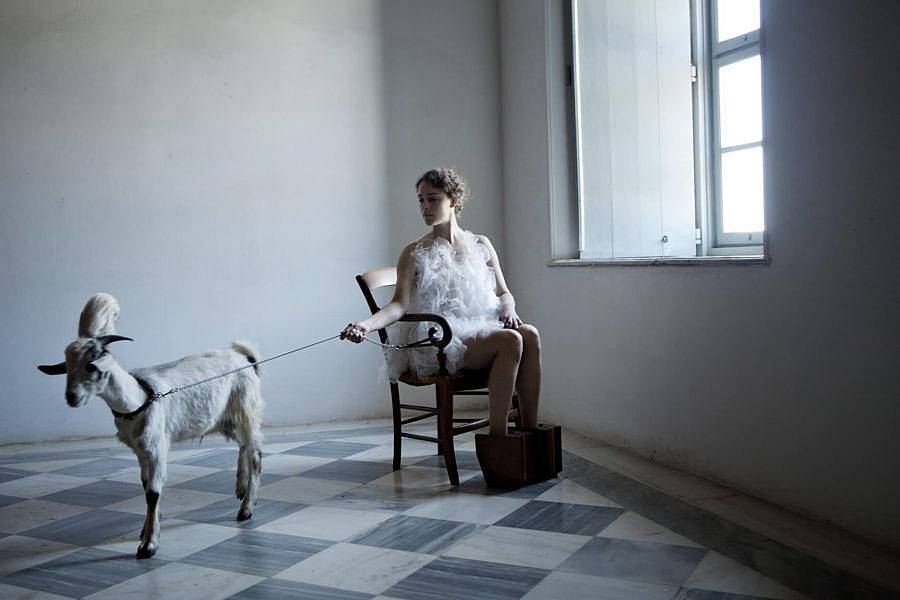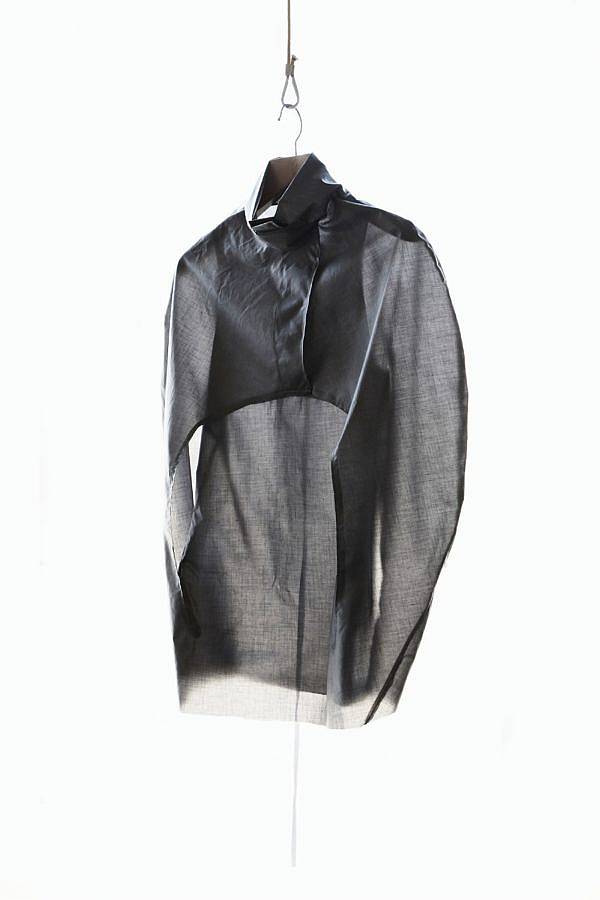 What role do you see design playing today and in the future?
While completing my Masters Degree in media design, I worked as a fashion designer and all too often I heard that designing is pointless. I wondered a great deal about the role of a fashion designer and I wanted to do what a designer was supposed to do: create, innovate within our social context. Through my interactive garment projects, I hope to encourage people to consider the importance of innovation in fashion design.The evolution of contemporary fashion should consider putting emphasis on materials and their relation to the urban environment. This may motivate designers to create in a design laboratory and not in their "sewing-shop."
Your work bridges disciplinary gaps between art, design, technology, fashion, architecture, etc… do you still see a need for these distinctions or is it becoming increasingly important to abandon them?
Yes, the distinction between disciplines remains important.
I believe that fashion is precisely the system that encompasses the object – clothing. Clothing is the substance of this system. Fashion remains the dominant phenomenon of which clothing is a component. I am convinced that there are clothes that are not part of the fashion system, but which tend to be closer to disciplines such as architecture, industrial design, media design etc. Throughout my interactive garment projects, which unite my two areas of interest (fashion design and media design), I wanted to pursue the structure of clothing, but most of all, I wanted to explore the possibility of working with intangible elements that are found in our physical world. Elements such as air and light are full of ambiguities. I love creating shapes from intangibles.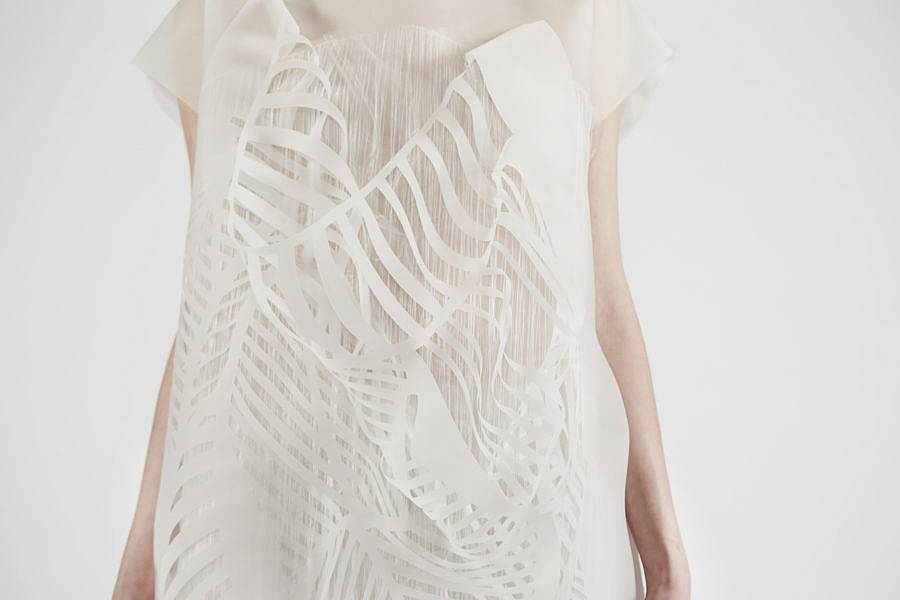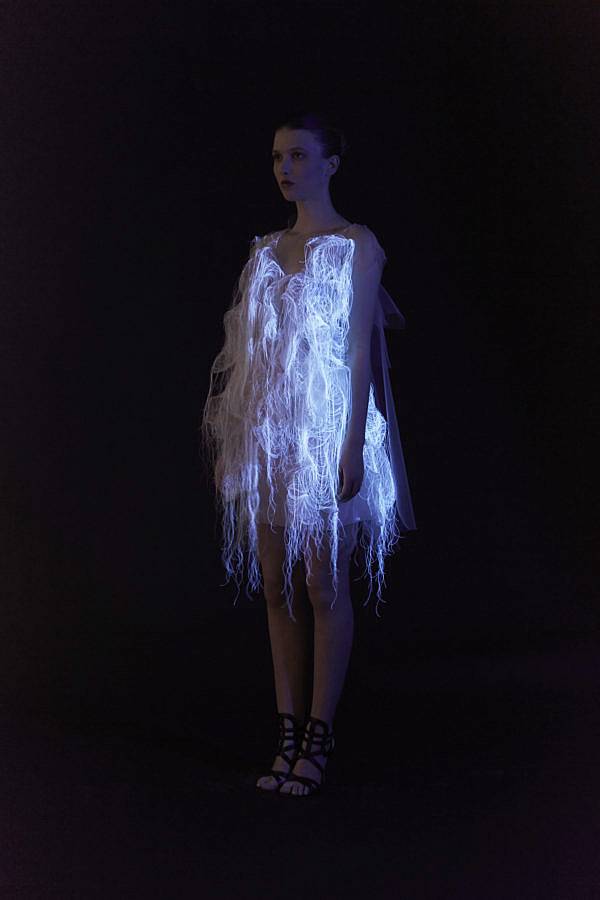 What are some recent, upcoming or current projects you are working on?
My upcoming project is called Flowing water, standing time. This creation emphasizes the autonomy of clothing to act and react by physically transforming itself. It is intended as a place to reflect on current questions in speculative design and an attempt to answer them. I found my inspiration in a book written by the neurologist Oliver Sacks: "The Man Who Mistook His Wife for a Hat." Sacks describes the case of Jimmie G., a patient, who at the age of 49, is convinced of being 19 and just about to leave the Navy. Shocked by his own image when Sacks hands a mirror to him, Jimmie nevertheless becomes the 19-year-old again as soon as he moves away from his reflection.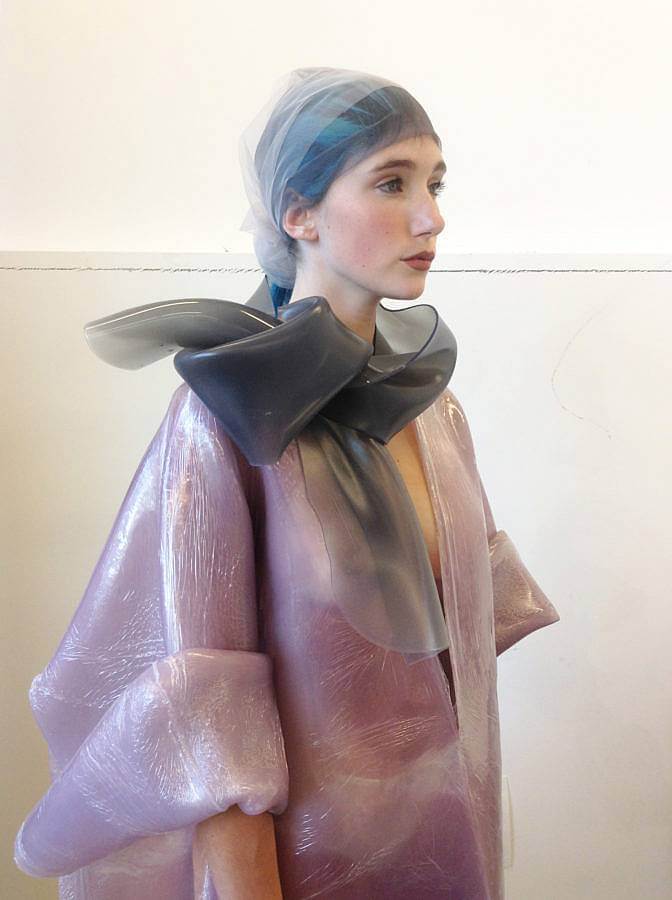 What's your design process like? Is it research heavy?
I read a lot when I start a project. I am often inspired by literature, cinema d'auteur and documentary films. But I don't write much, because it's not my field. Cinema d'auteur, philosophical essays, fictions, medical cases…all this inspires me. The research work is the most important part of the process, I spend a lot of time finding the right materials to express « intangible » which is central to my creative concept and to my fabricated work.  Elements that cannot be touched or grasped are vital structuring components of my garments.  In some instances, this immateriality is conveyed through a fabric so diaphanous as to be barely there, as if the primary material were air given visible form. Other insubstantial elements are also integral to my practice: a work can be activated by the sound of a voice, the stimulus of a gaze, a flash of light, bringing both concept and garment into definition.The intangible is also highlighted along another axis, that of mutation. Change, flow and un-fixity are characteristic of many of my clothes. The garments change, coming alive in unpredictable ways. These material transformations extend as well to my use of fabrics, in novel applications. The intangible as both (im)materiality and mutability gives value to the absences through which presence is structured, to flux over fixity, and to the flows between these polarities. In this way, the valuation of the intangible could be said to constitute a philosophical stance, one alternative to the predominance given in Western traditions to presence and visuality.
What's your least favorite trend in the design or fashion world?
The adoration of the image, and only the image. The Society of the Spectacle. Social networks propagate the idea that only the image counts. But it is quite the opposite. There must be the object first, and then the image, eventually.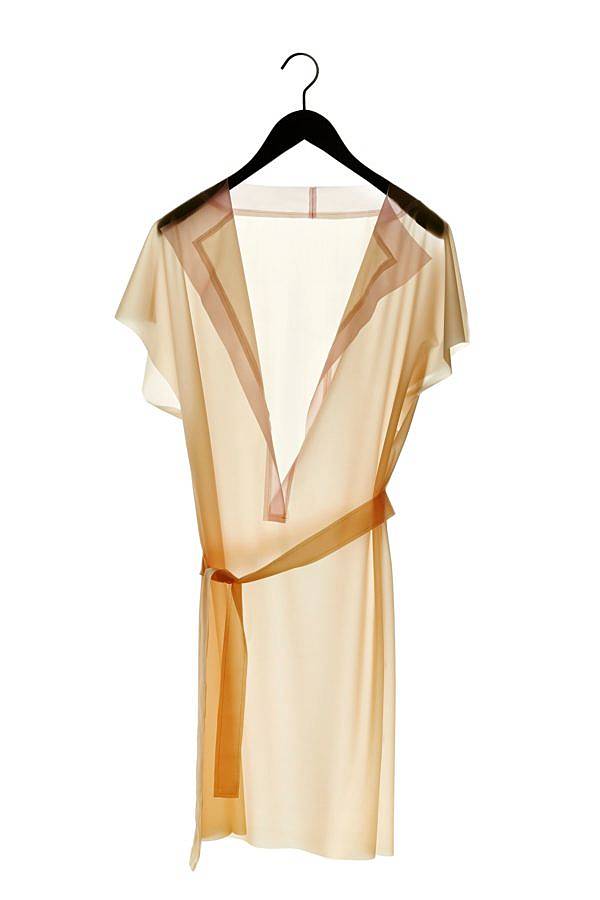 Who are some of your favorite artists or designers?
Raymond Depardon, Jeff Wall, Lydia Davis, Oliver Sacks, Sophie Calle, Roy Anderson, the Moomins…
Can you share one of the best or worst reactions you've gotten in response to your
work?
When people tell me that they like what I do, because they think that the garment of the future will communicate our emotions, that it will light up when we are happy or sad, I systematically answer: but I hope it will never happen. Because it's such a depressing concept… depressing because it's so unadulterated. As uncluttered as a Christmas tree or an advertising billboard. I would like people to understand that I don't do science fiction. These are not clothes from the future. These objects represent for me the here and now. The ideas I express through these objects reflect the questions and uncertainties we are already experiencing today.
What's your favorite place in the world to spend time?
Montreal. It's a city of all possibilities. Everything seems possible here. Why, I don't know. Having lived in several countries made me think, even at a very young age, about the life of an individual in a given urban environment. It was finally in Montreal that I began working on my
creative projects, inspired by the complexity of the relationship between the individual and their environment.
Do you collect anything?
White T-shirts
Who would be your dream collaborator?
Roy Andersson