Tell us a little about yourself and what you do. 
My name is Will Stephan. I am 28 years old, and I am a skateboarder and skateboard builder. I blend my passion for skateboarding, woodworking, and DIY under the roof of Sapient Skateboards, a Chicago-based skateboard brand and manufacturing facility I started in 2020.
What was the beginning of Sapient? 
The very beginning of Sapient started in my parent's basement at the end of 2019. I had been living in Portland, Oregon and had just moved back to the Chicagoland area with the intention of starting a skateboard company. 
I asked my parents if I could clear out a section of the basement to begin learning how to make skateboards and they were supportive of the idea, so it was a go. I would spend the entirety of my days building out the basement shop and researching the basics of skateboard building. When nightfall hit, I would skate down the street to a local restaurant in my town where I worked in the kitchen. After months of groundwork and research, I designed & constructed my first hydraulic skateboard press and pressed my first skateboard in November of 2019. 
I spent the following months refining the process and continuing to learn as much as I could, almost entirely by trial and error. Mainly error. It was not until July of 2020 that I officially launched Sapient and began offering hand-made skateboards out of my parent's basement.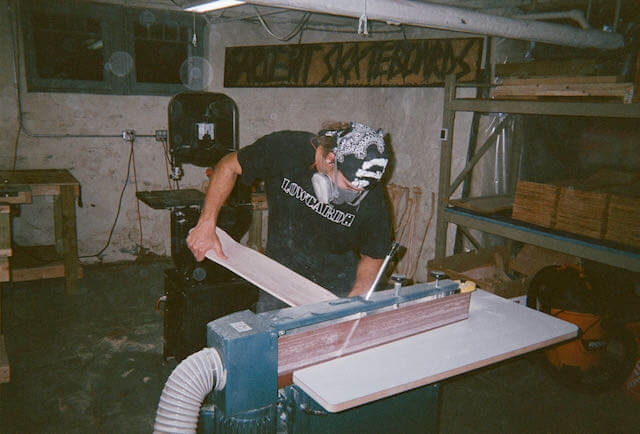 Where does the name "Sapient" come from? 
Before I began building skateboards in the basement, I had spent nearly a year developing the branding vision for what the company would represent. As a strong proponent of skateboarding and its culture, I wanted the name to pay homage to what skating embodies at its core. I find skateboarding and its lessons to be a microcosm of life in many ways and as a result, had a strong desire for the name to adequately convey this parallel. 
Sapient
(15th Century Latin)
Adjective 
Relating to the human species to which all modern humans belong, Homo Sapiens. 

Intelligent, able to think.

Wise, or attempting to appear wise. 
"In reference to the human species" speaks to the notion of community. 
"Intelligent, able to think, wise" speaks to the notion of individuality.  
In both life and skateboarding, we rely on the interdependency between the individual, the community, and the world around us. Skateboarding is a solitary pursuit by nature, in which the individual dictates how the skateboard is ridden. There are no rules and no arena, creating endless opportunity for creative expression. This solitary pursuit proceeds to pull you into an underground community unlike any other. It is a community built on the unique contributions of its participants, transcending all social barriers, and uniting its members together by the simple act of rolling. 
Sapient is an ode to this interdependency and a reconnection point to life's simplest, yet most cherished offerings. 
To Community. To Individuality. To the world around us. 

Has the process of making skateboards changed the way you view the sport? 
I believe skateboarding sits somewhere in the intersection between sport and art. Of course, there is an athletic aspect to skateboarding, but what makes it so special is the blurred line on which it resides. Creativity burns at skateboarding's core and diving into both the technical and creative processes involved in building the skateboard itself has been a very special one – what starts as raw maple veneer ends as a usable tool with limitless potential. 
Both the technical and creative aspects to the process mirror the act of skateboarding in many ways. The technical side of the process (developing manufacturing systems, designing & building custom machinery, shaping the boards, etc.) requires an immense amount of mental & physical labor fueled largely by trail-and-error. The act of learning to skateboard necessitates these same elements. 
The creative side to the boards (mold design, shape development, graphics, etc.) requires an imaginative, artistic, avant-garde style of thinking. This type of thinking is often lost as you enter adulthood, while the act of skateboarding demands, cultivates and rewards it. It is the juxtaposition between the technical and creative that makes skateboarding (and the process of building them) so extraordinary.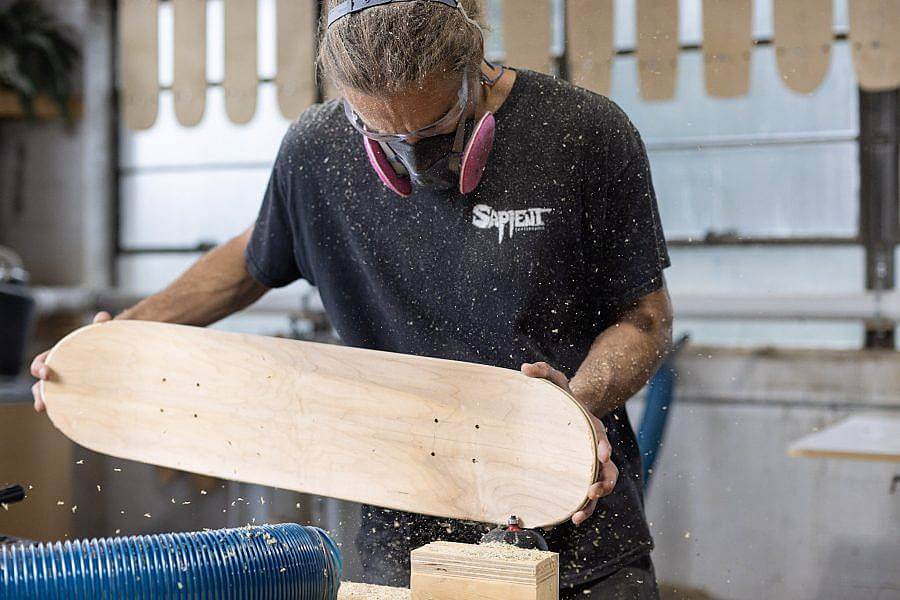 Tell us a little bit about your studio / venue space. 
After making skateboards in the basement for a little over a year, I made the leap and signed a lease on a warehouse space. This decision had very little to do with demand and far more to do with having a place to build an indoor ramp, with the end goal of building a space where people could gather and create. 
The shop is located in Bellwood, roughly 20 minutes west of downtown and right off 290. I work my other job at a bar in West Loop so it's really easy to get back and forth without dealing with too much traffic. It is a rad little spot, and I am really pleased with how it has developed over the last two years. 
At the moment, the main warehouse space is split into two sections. Half of the shop is where all the boards are shaped, sanded, and sealed – including a separate area dedicated solely to screen printing for applying the graphics. The other half is more of a skate / chill area where the Sapient ramp resides. We often have big sessions on the ramp and even had a few bands play in the space this year which turned out to be really sick. I use this area to teach skateboard lessons in the fall & winter too. 
There is a separate room where I store all the raw materials and keep the presses. That way, I can keep the room temperature & humidity controlled allowing for a more conducive pressing environment. The shop is constantly evolving and changing as the production scale becomes larger and more complex. But for now, I am really stoked on the layout and look forward to more building and more ramp sessions.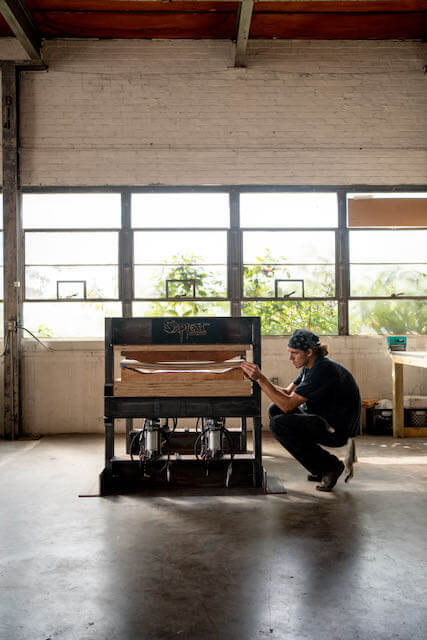 How has living in Chicago influenced your practice? 
Chicago has been renowned as a manufacturing and industrial city since the early 1900's. I'm a strong believer in locally made products and find a lot of inspiration being rooted here given the city's manufacturing history. Whether it be developed or decayed, industry resides here, and I'm proud to have Sapient be a part of that list. 
Business has the tendency to take craft and quickly turn it into commodity, but when you build your own product, the craft is the driving force behind the process. When love of the process is paired with passion for the product, the end result is bound to be something meaningful. It is an endless cycle as passion & process work side-by-side, while the craft constantly evolves, improves, and remains. No quarterly goal or annual sales mark could ever amount to the inner fulfillment of creating and the process associated. 

Describe a little bit about Wilson Wednesdays and the events that you've been able to host. 
Hosting Wilson Wednesday is one of my favorite parts of Sapient. I would frequent Wilson Skatepark regularly not only because it is a great park for skating, but a perfect spot to just kick it – so I figured I might as well bring a grill, some food, and a speaker for the sessions. 
That's really how the idea came to life, and we hosted the first official Wilson Wednesday in October 2021. The event has since grown a ton and we now host the event not only at Wilson but at different skateparks throughout the city as well. I really wanted to organize a grass-roots event that was consistent in frequency and inclusive for every skater. 
Wilson has a wide range of features whether it be street, transition, big, small, curbs, and even a big empty parking lot too. I find it to be the perfect spot for all skill levels allowing all riders to cohesively skate together and progress at their own pace. When you are new to skateboarding, it can be intimidating to roll into a park not knowing how to skate or the general lay of the land. I wanted Wilson Wednesday to be an opportunity to lower that barrier of entry by showing what skating and its culture is all about. It's an opportunity not only to skate with people at all levels, but to meet new skaters each week and hopefully develop friendships that exist outside of Wilson too. 
Hosting it 3-4 times every month is very important to me because I wanted it to be an event that people can rely on – knowing that if you miss one, it's no big deal since there is always next week. It's normal that some weeks you may feel like hanging with everyone and skating, and some weeks you don't. Having the event stay consistent allows people to enjoy it on their own time and schedule. I am really proud of the community that has been built from it. We have riders as young as 5 years old to some in their 50's. People who have never stepped on a board before, to riders who are professional. And everything in between. Skating, eating, chilling, connecting. 
This is the type of community that skateboarding naturally breeds on its own. Imbedded deep in its DNA, skateboarding is inclusive by nature, and is welcome to all who care to commit to learning how to roll. I find Wilson Wednesday to be a beautiful example of the type of community that skateboarding provides. All I do is show up with a grill, food, and a speaker and do my best to make sure everyone feels welcome. I leave the rest to skating.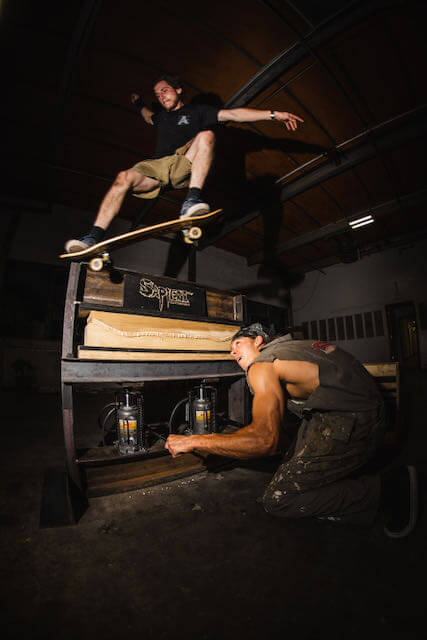 Do you have any daily rituals? 
Wake up, walk into the shop, turn on the coffee machine, flip the lights, and start working.  
What are you currently listening to?
Waylon Jennings, Grindline, Agent Orange, Creed, MF-Doom, Merel Haggard, Danzig, Andrea Boccelli, Townes Van Zandt, Chayito Valdez. 
Do you have any upcoming projects that you're excited about? 
This year, I am personally really looking forward to refining the production on the back end. There has been a lot of leg work these last couple of years, but it has finally reached the refinement stage which is exciting. Aside from that, we have a lot of awesome events planned, new shapes, new graphics, our first apparel line, new molds, and will soon break ground on the first full-length Sapient video. 
Endless thanks and gratitude to everyone who has supported Sapient thus far. Whether you have purchased a board, attended an event, or even just liked a photo on social media, it truly means the world. We will continue to do our best to help cultivate the Chicago skateboarding scene in whatever way we can.