Tell us a little bit about yourself and what you do.
I make drawings and paintings. Louisville, Kentucky is my hometown but I've lived in Brooklyn (with one stint in Chinatown) since 2007. From 2012 to early 2018 I didn't have a studio space and got used to making small pieces at my kitchen table. I'm currently working in a studio near my apartment in Bushwick and scaling things back up from micro.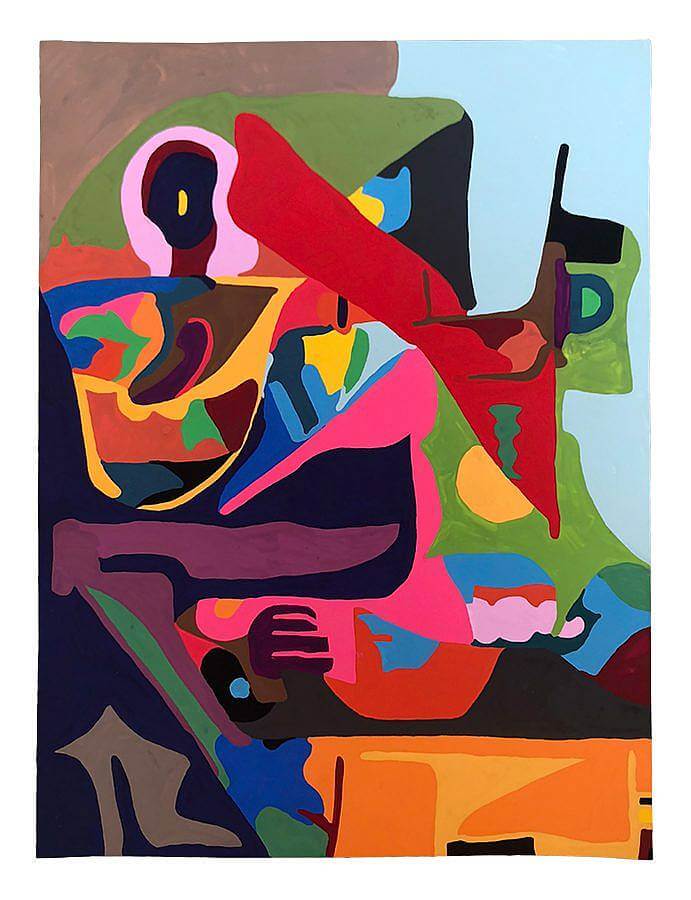 What are some recent, upcoming or current projects you are working on?
I'm working on these gouache paintings on panel, 2-3 at a time.
Besides that, a couple of things. For the past seven or so years, I've been accumulating unorganized image folders on my hard drive. I make a new one every month and save things to it. Sometimes the folder for a month will have 40 or 50 images, other months will have up to 700. I've been trying different ways of outputting these image directories to books, the idea being to print maybe 12 images per page so some kind of relationship emerges. The goal is to print them all, spiral bound so they'll lay flat, and have this very personal archive of reference material for my studio.
I'm also doing an art/literature podcast with a couple of friends whenever we have time.
What is one of the bigger challenges you and/or other artists are struggling with these days and how do you see it developing?
I think the struggles of artists today are similar to everyone else's in the capitalist meat grinder. Only the art world is so isolated from regular peoples' needs that the labor it asks for is super absurd. You're vying with hundreds of other people for a two week gig helping a more established artist make the Digimon logo out of spray foam and invoicing some duplicitous nitwit five times before they pay you. Going to a third interview for a position where you'd basically lug boxes around for a guy named like Cyril or Florian with stupid tattoos. Riding ass-to-armpit on a shuttle bus because some train is down, and having to pretend to be sorry when you're late because of it. Just constant humiliation.
As for how it will develop. . . I hope people continue to get pissed off and form labor movements, unions.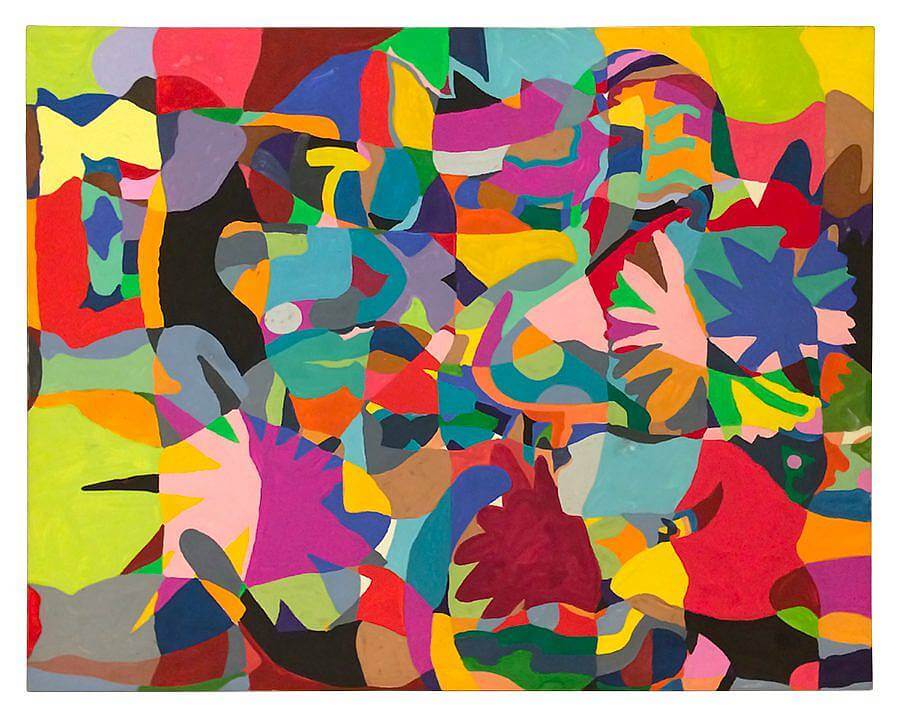 How did your interest in art begin?
Trying to draw Dragonball Z characters.
If you had to explain your work to a stranger, what would you say?
I'd say my abstract paintings are sort of like floor plans crossed with the splotchy shapes and colors you see when you close your eyes. And that my other work is mostly line drawings of people and ruins and graveyards.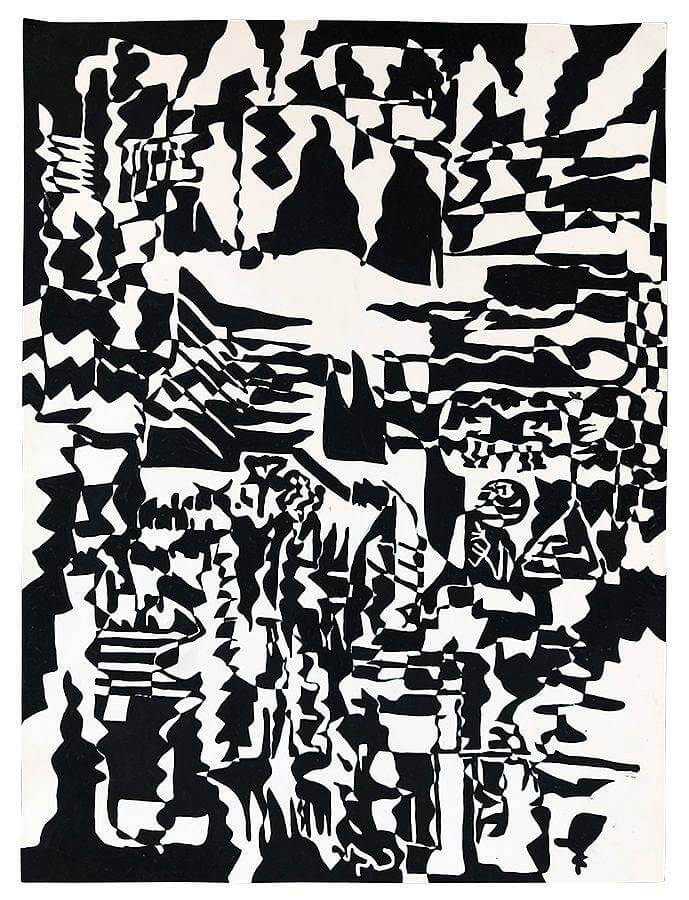 What materials do you use in your work and what is your process like?
My paintings start with an underdrawing based on lots of sketchbook work. Then I'll sometimes layer a tile or grid or mosaic pattern on top of it and start filling in shapes with gouache. The ones I'm doing now have a huge range of hue/value contrasts and I find after a few hours my eyes are exhausted.
What artists are you interested in right now?
A lot of cartoonists and illustrators. Very obsessed with Frank Robbins, who started as an adventure comic strip artist and ended up writing a lot of Batman comics. He drew some Batman stories too but his visual style was divisive among DC dorks who couldn't see how incredible he was. He was also a painter and sculptor.  I love the book NYR Comics put out last year of Nicole Claveloux's comics, The Green Hand. I've been grabbing up old issues of Julie Doucet's Dirty Plotte comics anytime I see them.
As for other art, I'm always looking at Shirley Jaffe, Felix Valotton, Stuart Davis, Charles Burchfield, George Grosz, E.L. Kirchner. But the comics stuff and the illustrators probably have a tighter grip on me, preoccupation-wise. That's the stuff I'm really hungry for.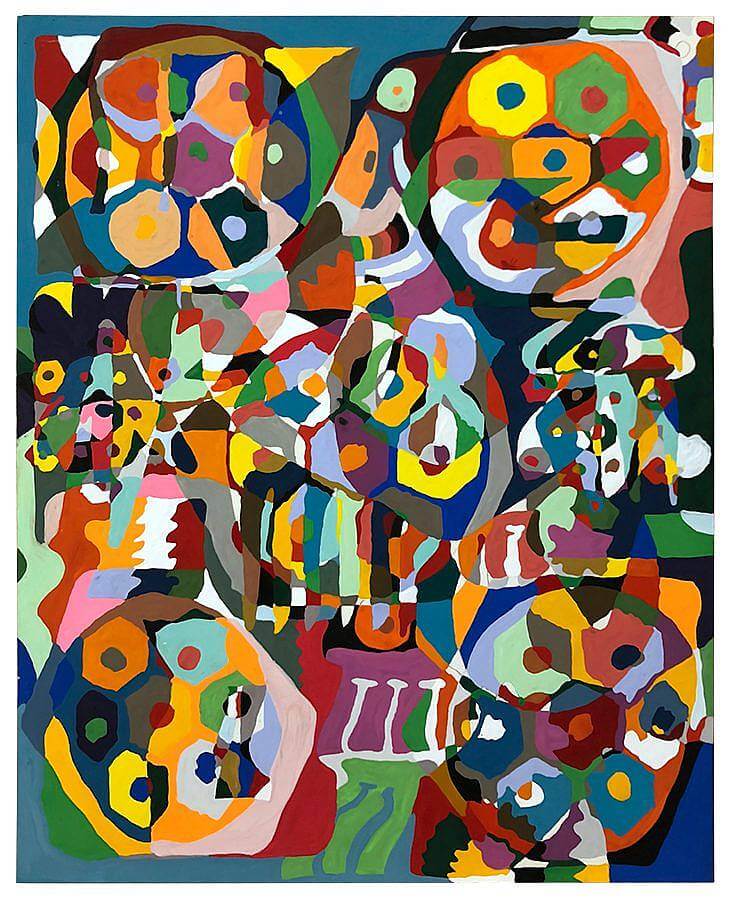 What was the last exhibition, or project you saw that stuck out to you?
On a trip to Japan in May I was introduced to Shinro Ohtake's art and I'm really glad.
What is your snack/beverage of choice when working in your studio?
I had a big pack of pink Pocky but it ran out. Not a lot of eating at my studio because I live two blocks away. If I had a fridge at the studio I'd try to keep it stocked with cloudyboyz.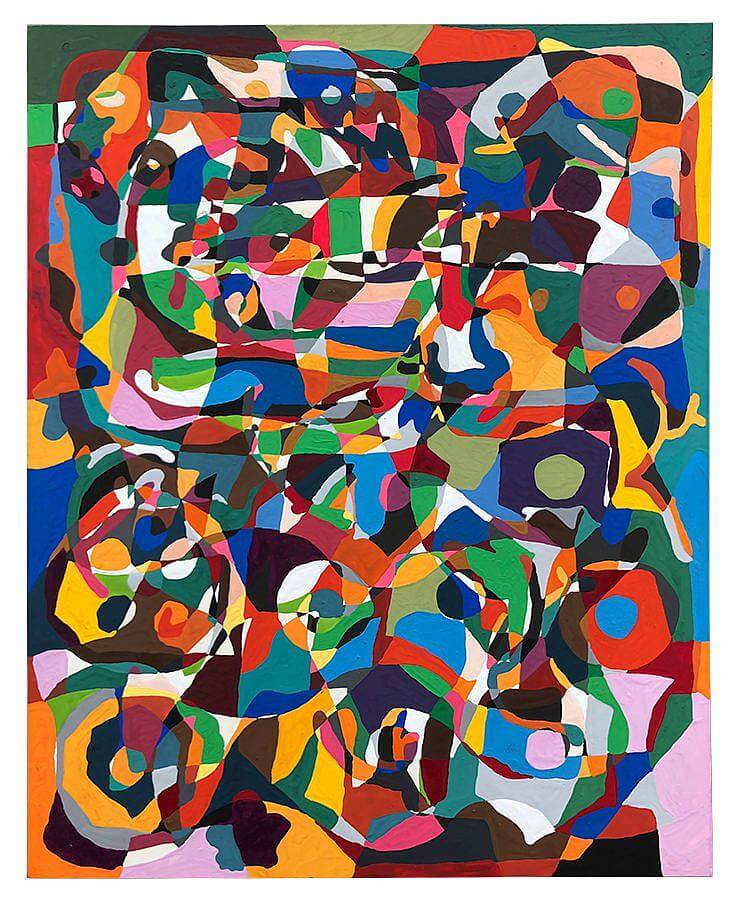 What do you do when you're not working on your art?
I commute to two different jobs a total of five days a week. I read or listen to a podcast on the bus/train. Our back porch is the best thing about our apartment and I spend a lot of time out there. Last Christmas my friend Corey showed me a dexterity board game called Crokinole and I got addicted to that pretty instantly.
If you had not become an artist what do you think you would be doing?
Twitch streamer.
What are you listening to right now?
I made these huge playlists recently. One is of every track I could find from my favorite still-running, but very 2000s-style music blog, Guess I'm Dumb. Just pure pop from all over and across time. The other is of every song Gary Panter has posted to Facebook. It's a like, 300 song hippie freakout.
How do you differentiate the work of your figurative sketches from your abstract paintings? Do you see these bodies of work existing separate from the other, or do you see them as connected?
The figurative work is usually so unpolished and referential that I think it's a good counterpoint to my abstract paintings. What they share is the approach to composition. Both rely on the same thinking in terms of carving out a spatial experience by apportioning the page or panel. My good friend Thomas has spent the last couple of years on a body of work that welds these two tendencies, and the result is totally weird and personal.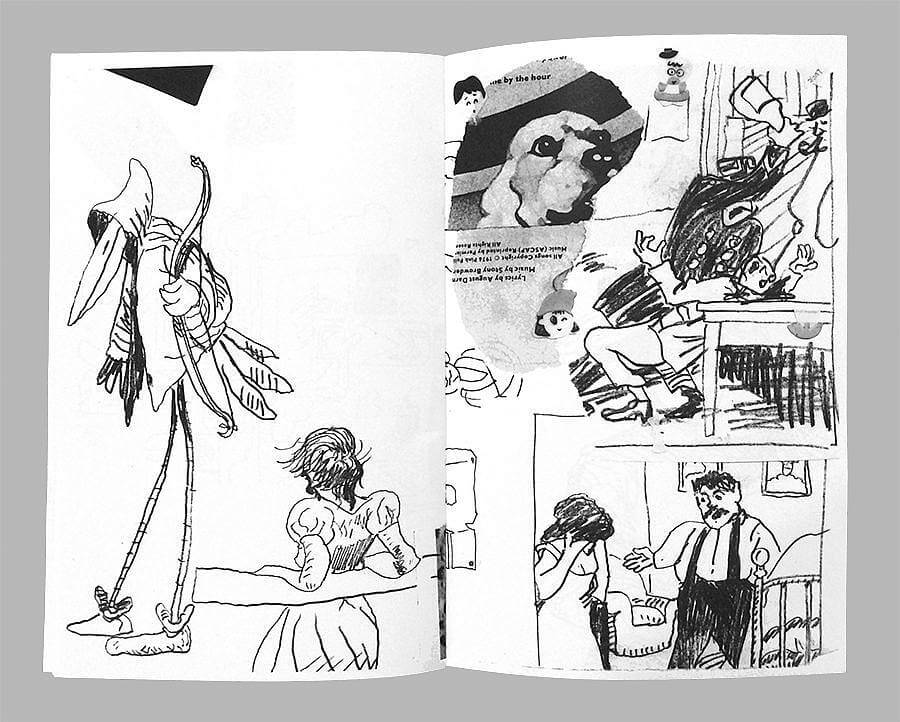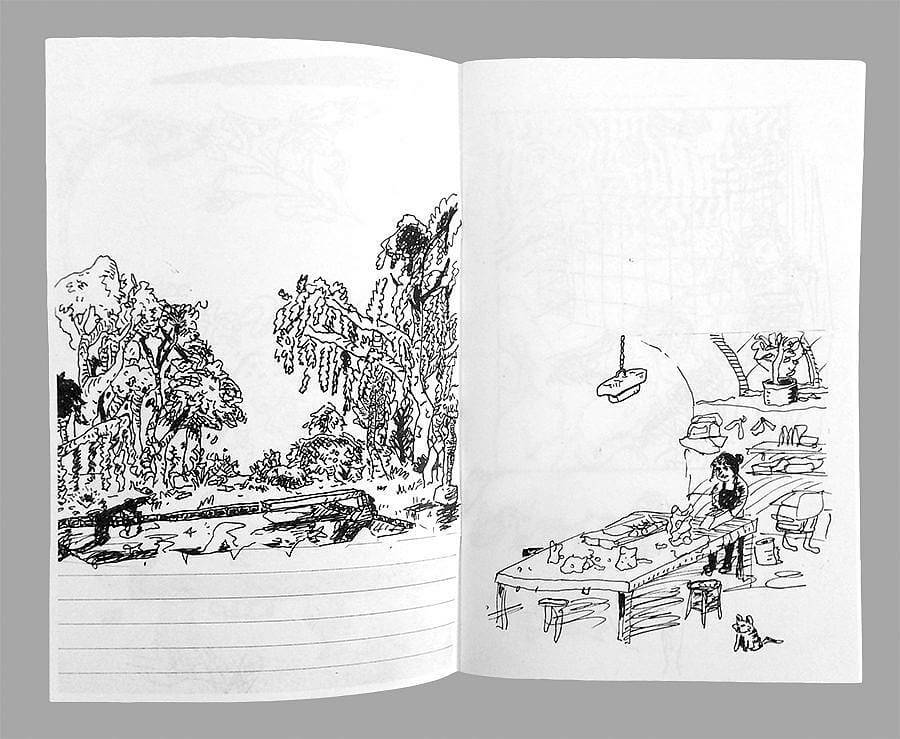 You have cited video games, comics and illustration as large influences on your work. Could you elaborate on this?
To me there's just so much juice in there. At this point I don't question it and I just let the richness of these influences just kind of do their thing to me. My obsession is with pictures, images. A single comic has hundreds to take in, and that's impossible to resist. Sammy Harkham found a Manny Farber quote:
""The rococo, squiggling composition of the average comic strip is too intricate, difficult, & unorthodox for cultured eyes grown lazy on the flaccid drawing-with-color technique & the pillow-like form of modern painting."
In addition to your paintings, you also host the podcast Mess Museum and have a well maintained and long running tumblr, both with a focus on illustration. Do you feel these extensions of yourself work to show appreciation for an underserved medium, or do you see them simply as labors of love?
My tumblr is my favorite place on the internet. I usually view it in archive view and just click through different months and find images I'd forgotten about. I like the constellation/nebula effect all the different constituent posts add up to. Someone, I can't remember who, compared the tumblr blog format to decorating the inside of your locker. It's very potent for me.
The podcast runs on similar impulses, putting disparate ideas together and doing research, and just joking around. If both projects concern illustration it's just because that's what I'm thinking about. Illustration history definitely doesn't see the kind of deep research and museum presence that it should, though.