Can you introduce yourself and tell us a bit about what you do?
Hi, My name is Wanbli Gamache and I suppose I would label myself a New Media Performance Artist. Im a 30 year old transwoman that lives and works here in Chicago. I recently graduated from SAIC with an MFA in Film, Video, New Media, and Animation. A lot of my work is focused on performative consumption of body and self through performances, media, and virtual bodies. I specifically look to subjects on erotic labor, sex work, pornography, and aspects of intimacy that surround many of my personal experiences as a transwoman, sex worker, and artist operating within the institutional world of art making. I find that my time and effort is to focus on ways to think about how authorship of body exists in all of these different contexts.
What draws you most to creating performance based work?
So I barely did performance work until I entered graduate school. After my first semester I began doing almost exclusively live performances. I found that it allowed me to better understand my own self and body, which at that time was in a lot of turmoil and pain, so I think I initially saw it as a ritualized catharsis. Later, I found that I was frustrated about the divides between artists trying to survive and institutions that consumed their art in a way that felt very objectifying. I wanted to look into aspects of the object and take that moment to build performances that felt sincere, cynical, and hopeful all at once. I wanted to have intimate moments with my audience members that spoke to an underrepresented amount of transwomen art making in the spaces I frequented. 
Being a practicing artist recently out of school, what are some insights you are learning from being separated from an institution?
The first thing I can think of is that SAIC was a kind of space where you really focus on who you are and thus an echo chamber of identity, politics, and aspects of institutional operations felt all encompassing. Everything felt very magnified and intense on how you bounced off other people in regards to who you are and what you are struggling for. After leaving, I felt a breath of fresh air to meet many other artists and spaces that felt very different, and at times liberating. It allowed for me to be better grounded in how I treat my own practice with respect and other peoples struggle with respect. I felt a stronger sense of empathy as I still work to understand my practice. 
Another aspect for me was the sense of time. I have always felt the crushing push to become something accurately and quickly. I never gave myself the compassion to allow myself to make mistakes and take more risks. I have learned to give myself forgiveness and love to experiment, expand, and most importantly of all is play. I believe in what and how I make art, and realize that those systems were designed not only to pit each other against one another but against our own sense of self.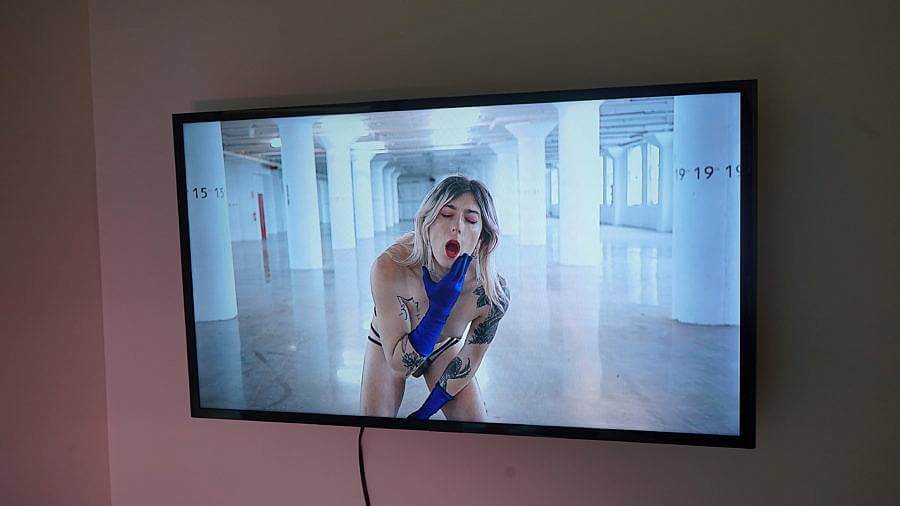 In your opinion, what are some of the biggest challenges you face as a new media performance artist and how do you see that changing?
I think the biggest challenge for me is working in this area as a transwoman which has felt pretty lonely at times. It is hard to exist in the world of tech as any woman/femme and it especially can be difficult as a transwoman. 
Another challenge is understanding how my work can exist in different spaces. Most of my work is not something you can own, and at times requires me to exist with it in space. It can be challenging to make my work be consistent to specific venues ( online, offline, gallery, performance space). I also have been challenged by where I exist in a communal sense. I find myself alternating between performance specific spaces and more new media based spaces, and sometimes they collide but not always. It can feel lonely at times. I have found that during this time of isolation and digital interaction being the primary form we communicate, I am interested to see how that greatly changes in the years to come. 
With your work based in human interaction, how have you adjusted your practice during isolating? /Can you talk about your livestream performances?
Sure! I originally began my work talking about webcams and surveillance. I was interested in how we perform for the camera in the shadow of big data collection and monitoring of bodies in public space. This was my first focus, so it is interesting that I am returning to this interest of physical bodies and virtual bodies both operating through the live stream camera. I have been definitely thinking of how I want to see my work evolve during this time, where we are all utilizing live-streaming, webcams, and virtual spaces to find connection, intimacy, and a sense of community. This has been at the heart of my work, so it is an interesting time for my practice. I have mostly been sitting in the current events and allowing myself space to breathe and think. I have begun working again on some virtual reality projects though. 
My current live stream performances have been centered around a project about a recreation of my old male body that I had a high quality scan of before I began transitioning. I have decided to bring him back through 3D Printing and have been building a relationship with him. He always wanted to sleep with a transwoman but never would have guessed that transwoman would be me haha. Anyways, I have been creating performances that reference this, as well as my experience as a webcam girl, sexualization of transwomen, and points of finding intimacy through live video.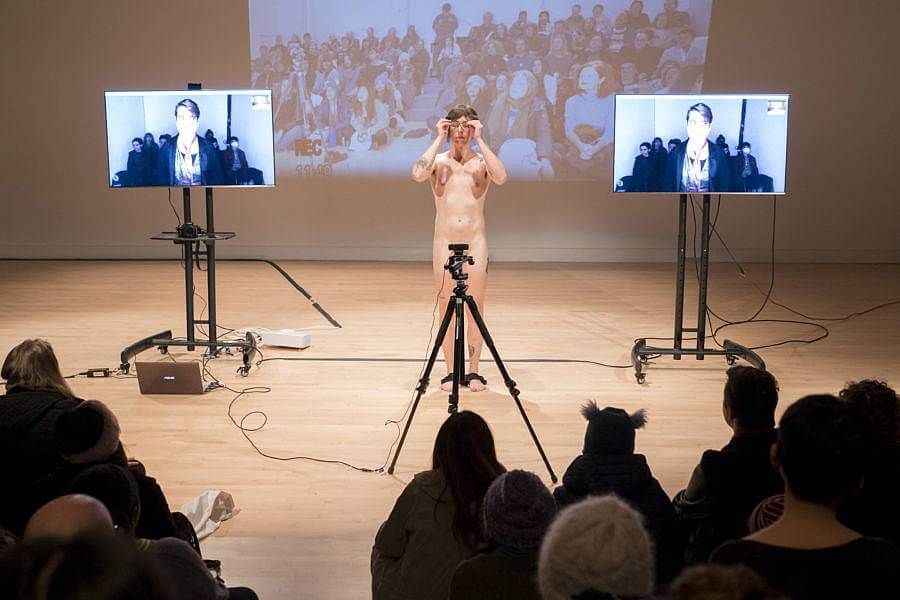 In a lot of your performances you address audience members personally, what are some of the best and/or worst reactions you've gotten from viewers in those moments?
Honestly, I don't think I have ever had a bad reaction. Usually people want to go along with the performance when you have a whole room of people paying attention to you both. This is a bit what the performances are designed to do, bring up issues of public surveillance onto our own bodies. I would say the reactions are always good. I always have one or more of the people I interact with come to me after the show with gratitude and joy. It is one thing I do love. If I can be a cynical critiquing artist and at the same time bring a sense of sincerity and intimacy, I will feel like I'm achieving a big part of my practice.
One time though! This cisgender hetero couple showed up in the middle of a performance and I was getting naked and I left my panties in front of them, when I came back to retrieve them they left and abandoned my underwear. I feel like that must have been one of their better dates haha! Like "woah what did we just walk into and who is this angry naked transgirl?"
Is your choice of who to address specific or just chosen at random?
Not exactly specific, I have changed this choice in the past. I have wanted to make a piece that would involve me specifically addressing cisgender straight men, it is kinda hard to guess their gender and sexuality right away, but I want to definitely make a confrontational piece about the relationship between transwomen and cis straight men. 
Usually I focus on bringing other trans and queer people together first and foremost. 
Tell us about your relationship to the camera in your work.
So I actually used to be incredibly afraid of being in front of the camera. I have been a video artist for a long time and used to work in experimental animation. A lot of my current work is especially in reference to my experience as a trans webcam girl. 
That space I found very interesting, as it was a place to make money, define my body, play, but also was a space of objectification and fetishization of myself. The virtual components of becoming this centerpiece of desire and sexual expression under a capitalist system felt very apparent in the webcam space. I found parallels to this to the performance space in art institutions. 
Another thing I love to say is " To some the selfie is an act of vanity, but to non-normative bodies it is a radical gesture of self affirmation." That has been my feeling in front of the camera. 
What are you really excited about right now?
I am very excited about my next project where I am working to recreate my old male body to have sex with in a series of performances! Also, I'm developing a new Virtual Reality piece that has been really thrilling.
Outside of art I'm trying to be excited, times are uncertain and scary and all of my friends and family are nervous. I think one thing I am excited to see is how the digital world will expand into something very different in how we treat each other. Hopefully we lean to the side of treating each other with more compassion, empathy, and love. 
Outside of your practice, what have you been doing to stay busy and healthy during this time?
I have been exercising, taking time to think about who I am and where I will go with myself as the world changes. I also have been making a point to reconnect with friends and family. Also, I've been watching some decent sci-fi movies and playing some video games. Oh! Also, dancing constantly in my apartment! I can't wait to dance with all of my friends when this is all over!