Tell us a little about yourself and what you do.
I live in a rural, remote valley in the far northeast corner of Oregon, surrounded by pine forests and mountain ranges. My creative practice is focused on the constancy of matter (we are stardust), the limits of human perception (we can get it wrong), and loss (things change).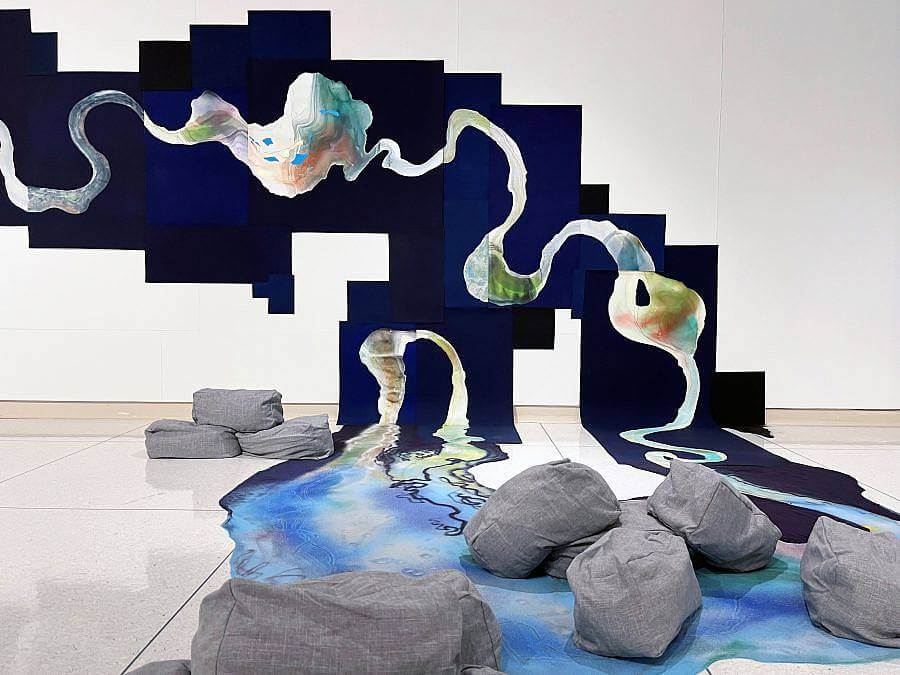 Could you describe your process of creating paintings?
I start with a spontaneous process that cedes a bit of control. I lay paper flat and allow water media to make pools; the pigments settle and form images over time. I find using gravity and evaporation creates satisfying gradients and has a granularity that best reflects processes seen in shaping the land, like wind and water erosion. Depending on the project, I paint back in with acrylic and often use very dark blue-black matte paint to further push the range of opacity and transparency. I am trying to create a certain spatial disorientation. I take these individual panels and piece together disparate sections to make larger composite images. 
How did you first start art making, and how has your work evolved over the years?
I feel like I was always a maker. My grandmother was a prolific painter and many of my family members are involved in the arts in some way. I was lucky to be raised with the ethos that creating art not only held personal value, but was a necessary and vital way to contribute to one's community. 
In undergrad I identified as a printmaker and made a lot of monotypes and chine-collé collage,  incorporating pages from decades-old science textbooks. I was attracted to the air of authority that comes from didactic photo illustration in combination with concepts or design that felt outdated and clunky. My work shifted more into abstraction as I eliminated these direct sources and tried to retain that same somewhat familiar and authoritative image, but with a confusion of scale, playing with the micro and macro. In graduate school, I kept receiving the feedback that it looked like the imagery wanted to jump off the page, so I began experimenting in varied media to create wall drawings and installation.
Anyway, there are many steps and shifts along the way, but inevitably it is when I am convinced my work has gone in a totally different direction and I have created something really novel that I stumble onto a piece from years back and think, "Oh wow. Here is a version of what I just made yesterday." I am certainly circling around myself, consciously and subconsciously, in terms of concepts and a personal, visual vocabulary.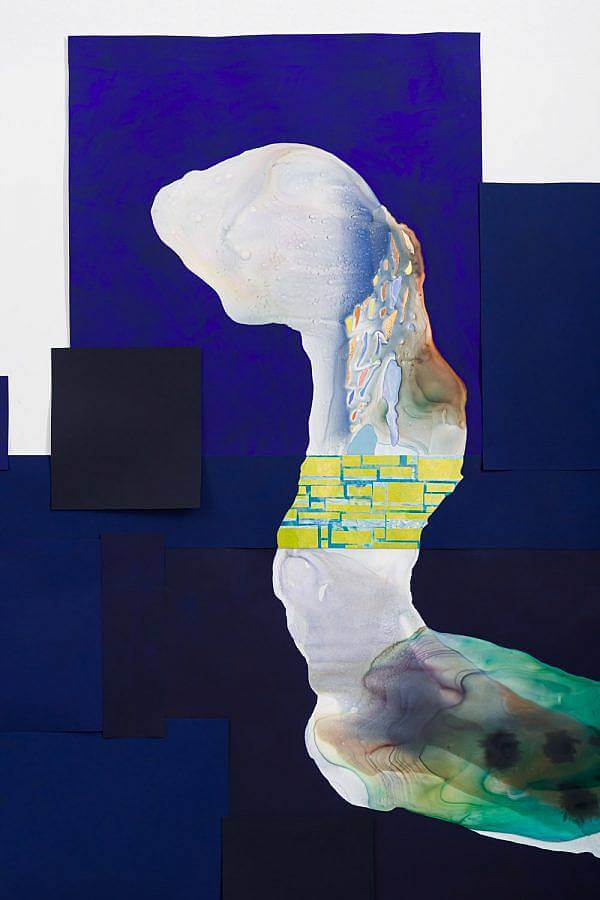 Much of your work activates many sides of the space (ex. Floor, wall), what is your approach to installing / creating your work in a space?
I usually come with a vision, major painting panels and images that I know I want to connect. But the extent of my planning depends on how much information I have beforehand about the architecture and the other work that might be on view. I arrive with lots of possibilities, painting panels, sign vinyl, tape, and sculptural elements, and I let things grow from there. The floor drawings, in colored sand, are always the last thing I do. They give me an opportunity to reflect on the wall piece, respond to the direction viewers might approach the work, etc. This element also allows me to make work onsite that will never exist again. I like the impermanence. 
In your opinion, how has humans' perception of the natural world changed over time? How do you feel like this is reflected through artwork?
We are a species with limits, yet we now have technologies that allow us to see further than our immediate senses. As the visible horizon traditionally defined our relationship to the world, where we are in space and time, we now have a pervasive familiarity with microscopic images and aerial views of planets. Though this aerial view captures our visual imagination, I do not think that we (or most of us in western culture, anyway) deeply comprehend the scale, distance, and geologic time we see represented on a visceral level. I want to play with that, grasp at understanding. 
The aerial view and fractured nature of my work, using composite paintings to create a whole, reflect this shift. There are discrepancies from one panel to the next. Does that represent an image from one moment in time, like satellite imagery capturing a change in weather pattern? Or is it stitching together multiple viewpoints because we simply lack a device to capture the entire breadth of what we are looking at? Perhaps it is a state of becoming? It takes the viewer to connect the dots to make a larger whole. 
When I first started continuing the image from wall to floor in colored sand my nickname for them was "painting spills." But I realized I was more drawn to the idea that the viewer participates in unraveling what is happening and in deciding where their bodies exist in relation to what they are seeing. Materially, the shift from a painted image to something more substantive like sand brings about questions: Is the painting a representation or illustration of the "real" thing, the sand? Or is the piece narrative – with the image on the wall melting onto the floor, or is all the material on the floor organizing itself and generating into a new form on the wall?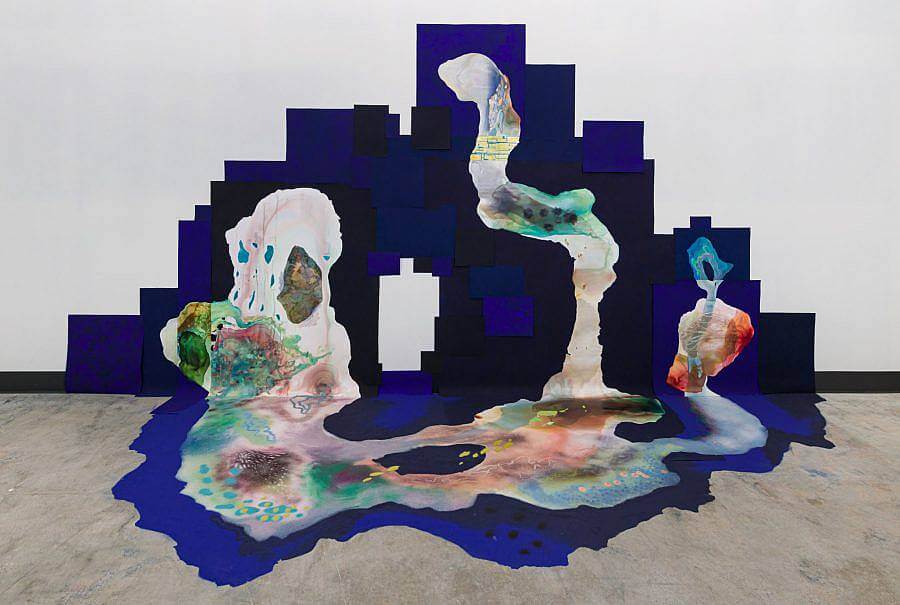 What artists have you been enjoying / inspired by recently?
So many! I will share two very established artists that are on my mind this morning as I write. Using different approaches, both create a sense of awe, timelessness, and flux. 
Since Phillida Barlow's death in March I have found myself really poring over her career. Her work capitalizes on the off-kilter, the power in visual oddity. But the humor created is not goofy—it is perplexing and a very human space to inhabit. It is reminding me to not tie everything up too neatly. 
Almost in counterpoint, I recently purchased a beautiful book of Linn Meyer's work, linn meyers: Works 2004-2018. I am drawn to the poignant mix of precision and delicacy created by repeating a simple mark to establish a pattern, then disrupting expectations when it is altered. 
What does your studio set up look like?
I use the formal dining room in my 1960's ranch-style house, so it is an open space right off the kitchen and living room. It has a big picture window looking onto a willow tree, with a drawing table underneath. It is beautiful and has great light, but is too small for big projects. Luckily I teach, and when the painting studio on campus is not booked for a class I poach it. That is where I am now. It is more industrial and busy with students around, but a dream!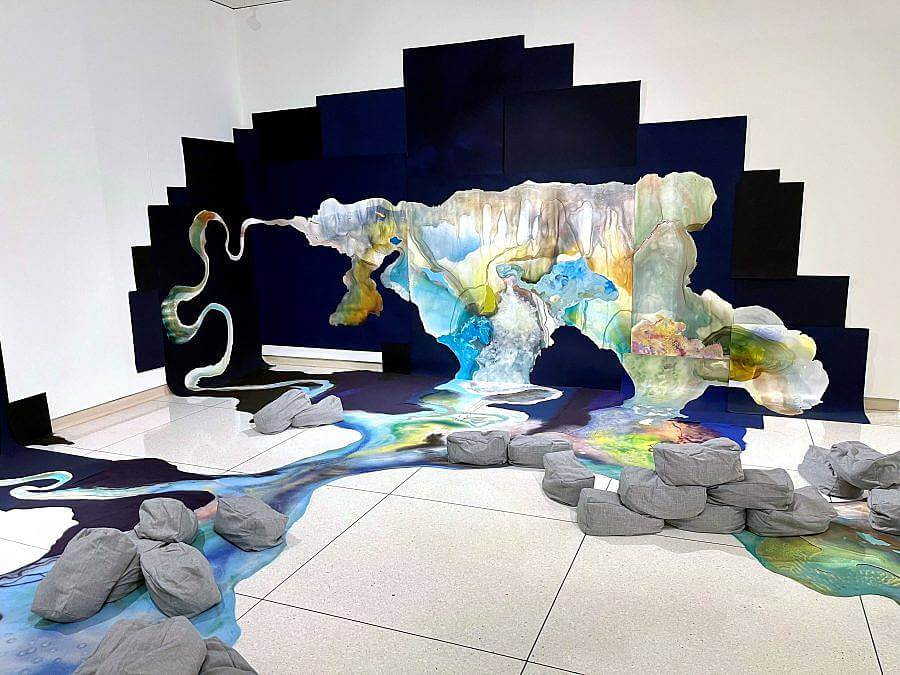 How do you approach making compositions? What does the "pre" creation process look like?
I always have a general idea of what overall shape I want to achieve – the central image. I wander the studio looking at all these starter watercolor pours on the floor and move things around until some interesting relationships jump out at me. There needs to be a striking edge that relates from one panel to the next, or maybe some sort of distinct mark-making or color relationship. I want it to be discordant but work. At times jarring, but also enough in common to hold together. I cut up paintings with a t-square, overlap one panel to the next, making notes in pencil with how I want to paint it in acrylic, or what negative spaces I want to paint dark blue/black. 
What are you currently reading / listening to?
I am rereading Aereality: On the World from Above by William L. Fox , as it seems pertinent to my current project. Musically, in the studio this week Tune-Yards is on repeat. When I am doing a repetitive task that does not require much brain power I have been consuming the If Books Could Kill podcast.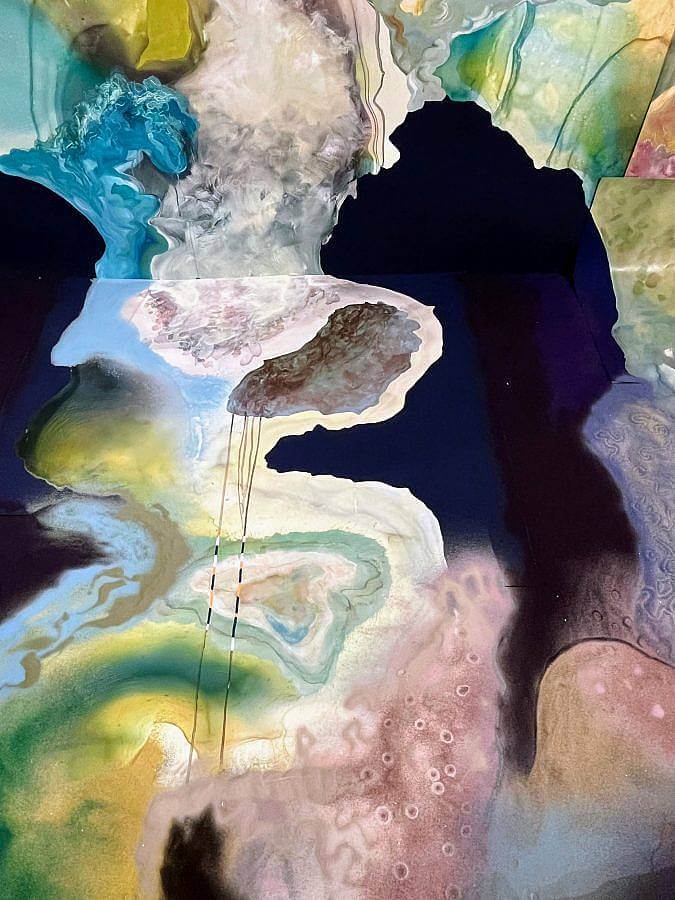 Any upcoming projects that you are excited about?
Excited and nervous! I have a solo exhibition, Sift / Shift, opening June 24th at the Whatcom Museum in Bellingham, Washington. It is an enormous gallery with 22-foot-high ceilings, so you caught me in the midst of preparing for that. I am working on a large composite painting that will fill one wall in the shape of an arch, a black abyss in-between, and spill out into the space in colored sand. I have been thinking about shelter and resources, so I am currently constructing these plywood lean-tos with a patterned geometry on them as a shorthand for borders, resource extraction, the human-designed and built environment. I have been planning this show for some time, doing a lot of math to figure out how to scale my work up. On the one hand I feel confident I know what I am doing, and on the other I am completely aware that I cannot fully grasp how it is going to look or function in the end. I am enjoying the challenge and risk-taking involved. It is stretching me, for sure. 
Interview Conducted by Ben Herbert