Tell us a little bit about yourself and what you do.
We are two designers both from the UK that started a menswear brand in late 2017 after completing the MA fashion course at Central St Martins, our work is focused towards menswear pieces reimagined and reinterpreted through technique, application and material.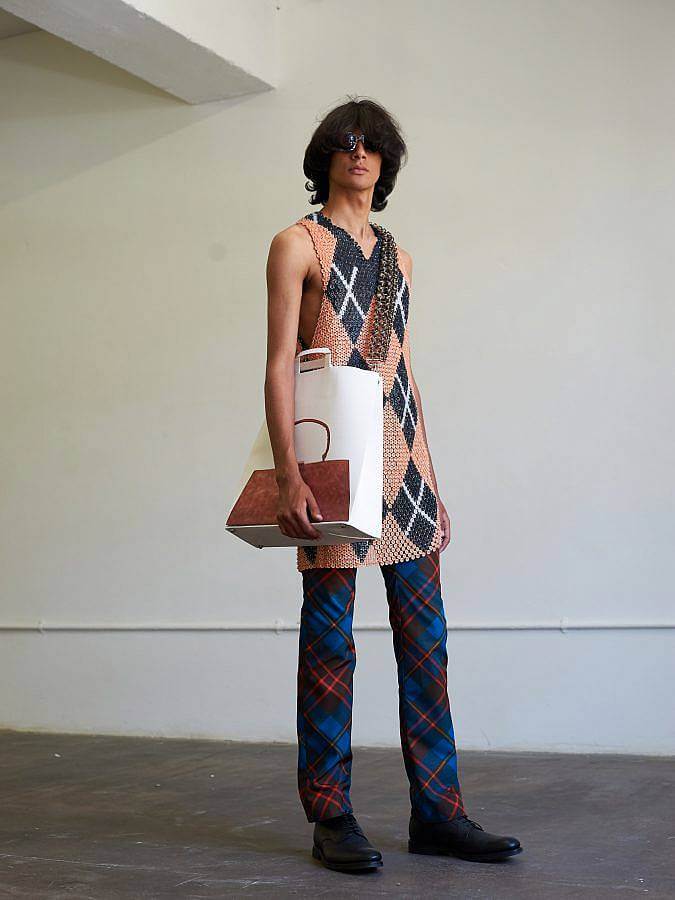 What are some recent, upcoming or current projects you are working on?
We are currently working on our AW19 collection that will be shown this coming January as well as getting our SS19 collection ready to release into stores early next year, so its quite busy in the studio at the moment!
Who would be your dream person to dress or style?
Cindy Sherman.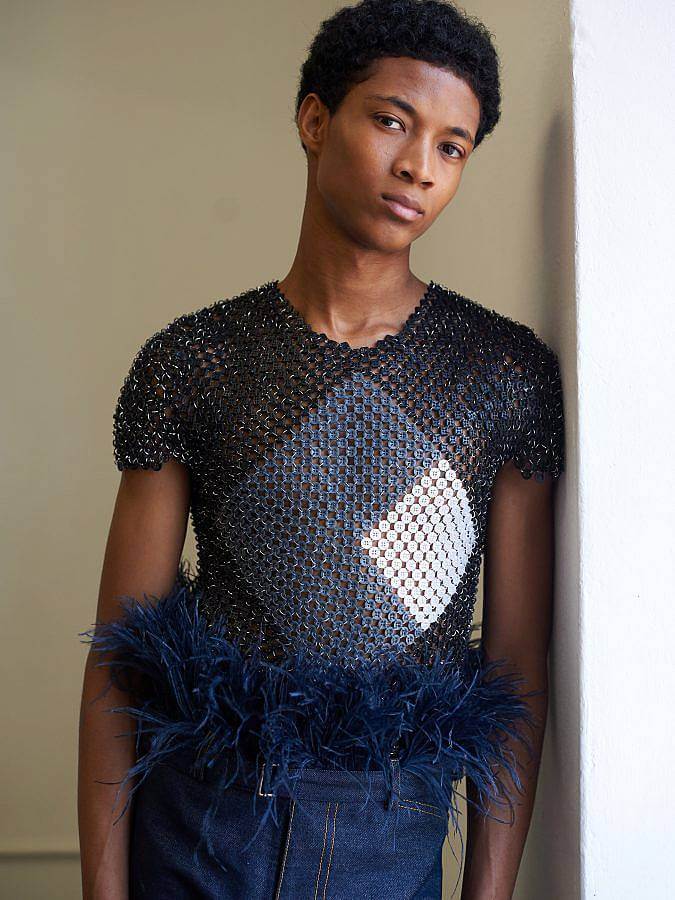 What kinds of things are influencing your work right now?
Glamour, elegance, and technology.
Who do you design clothes for?
Anyone and everyone.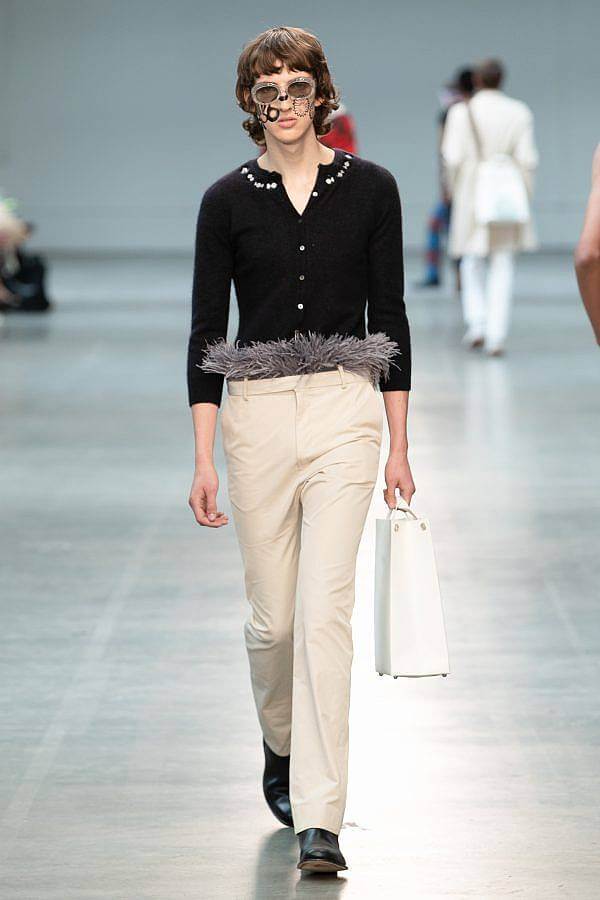 Many of your looks use or reference knitwear (argyle, sweaters, vests), can you talk about your interest in this style/material?
For us knitwear is something that is super real within collections, if you introduce knit into a collection it is immediately grounded in reality, through its connotations with tradition and luxury. This is why it interests us, as its something that we can enjoy subverting and reinterpreting.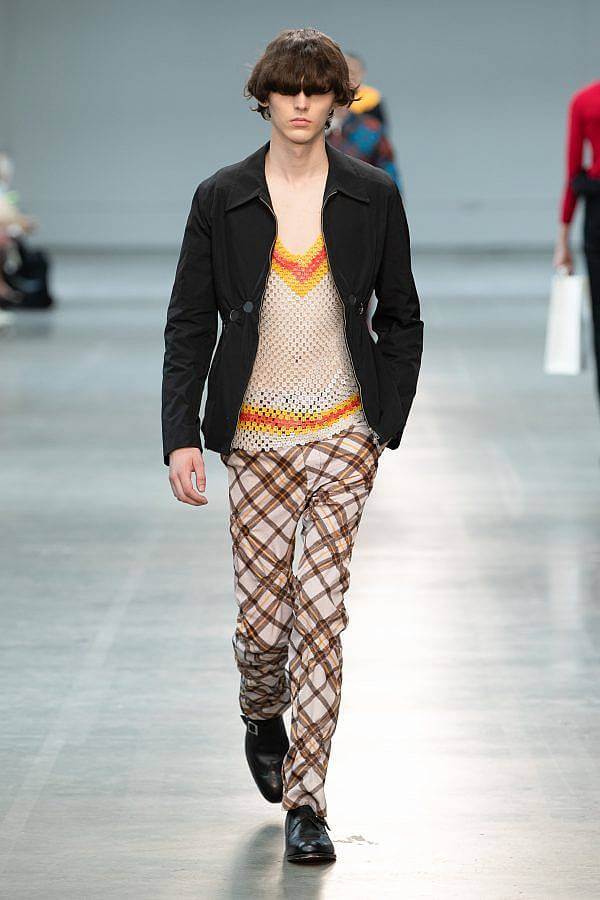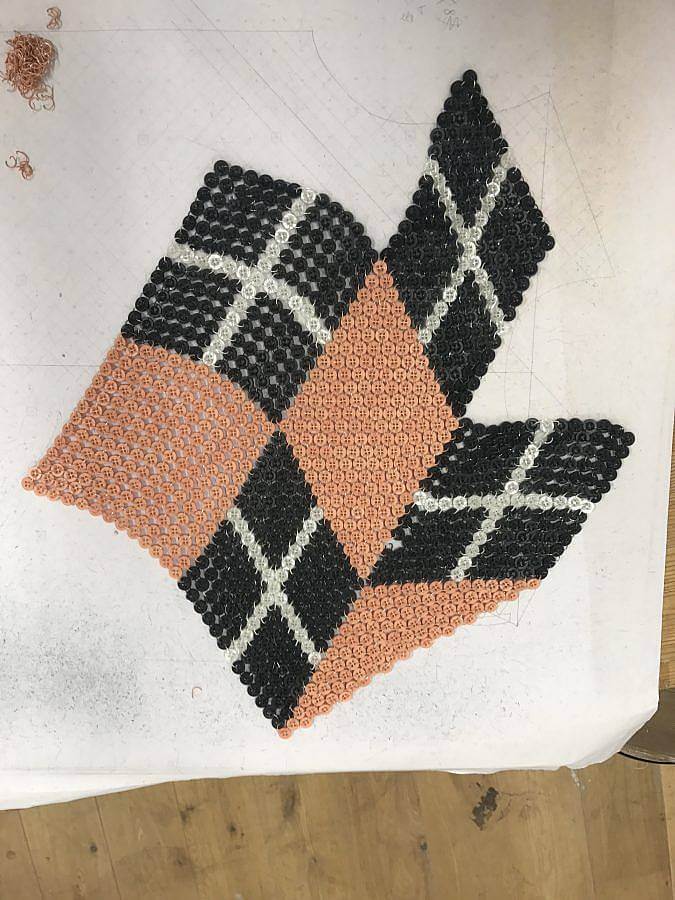 Your designs somehow seem to be spoofs or fakes of traditionally luxury designs — could you talk a little more about this?
We both grew up not really having access to luxury items, and both of us have been really influenced by clothes we had available through charity shops and second hand clothes so this is a way of us accessing these luxury items by taking the 'luxury out of them'. A leather jacket is now just printed onto polyester or a knitted jumper is made from buttons. What's interesting is that by reinterpreting these pieces you can almost create a different kind of luxury from the original garment, a luxury born out subversion.
How do you go about creating a complete collection?
We have been together for almost 7 years now and have created a language to how we design so our collections are designed quite quickly, we have about 100 ideas a minute so its just about realising what ones are best for the season when you take everything into account, like timings and resources. We work with two Assistants in our studio every season, We want to keep the team small so the collections are personal and influenced by each person working on it, our stylist Gary David Moore is also a big influence on how we create the person we are designing for, we always are trying to push what we do and not settle. Surprising people is something integral to our work, we never want to be predictable.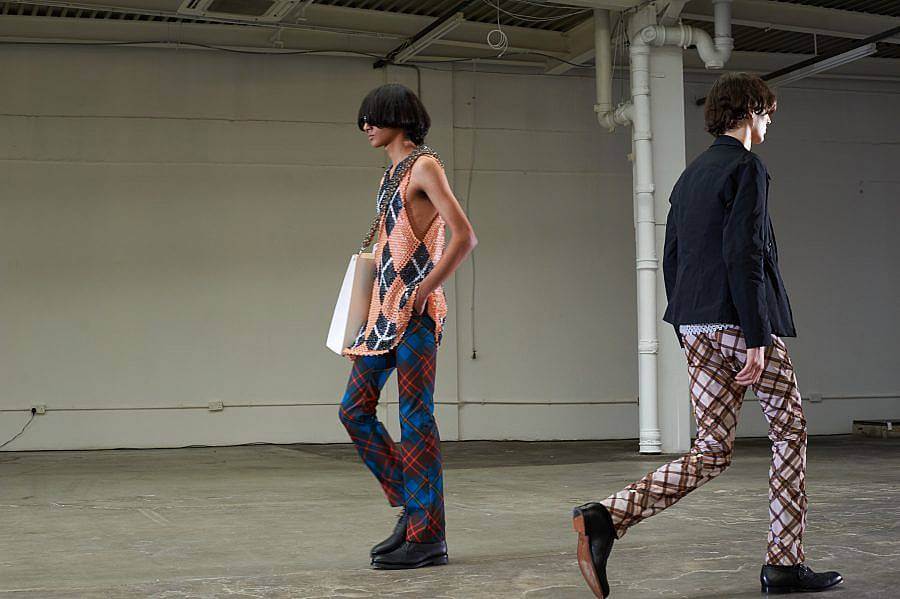 Describe your current studio or workspace 
We are currently in a studio in north London that used to be a jewellers, its very private and tucked away its a good place to focus.
What artists or designers are you interested in right now?
Mountain – A stick and poke tattoo artists based in the US
Shahan Assadourian – Artist and archivist from Toronto
Priya Ahluwalia – Designer based in the UK