Tell us a bit about yourself and what you do.
I am someone who gravitates towards sights where a trace has been left. I make small scale oil paintings on softened, shaped supports, as well as ceramic objects, drawings on paper, and handmade books, responding to sights and gestures I encounter.
How did your journey towards becoming an artist begin?
I was always a drawer and a maker. As a kid, I grew up in houses with many paintings. My father also painted throughout his life – venezuelan streets, mountains, and underwater scenes composed of various fish and oceanic life taken from images on the internet and then collaged together in the form of paintings. These were big influences on me. I also had an inner drive to learn and make art. I studied art at NYU and ended up teaching art to children all over New York City for a couple of years before pursuing a masters.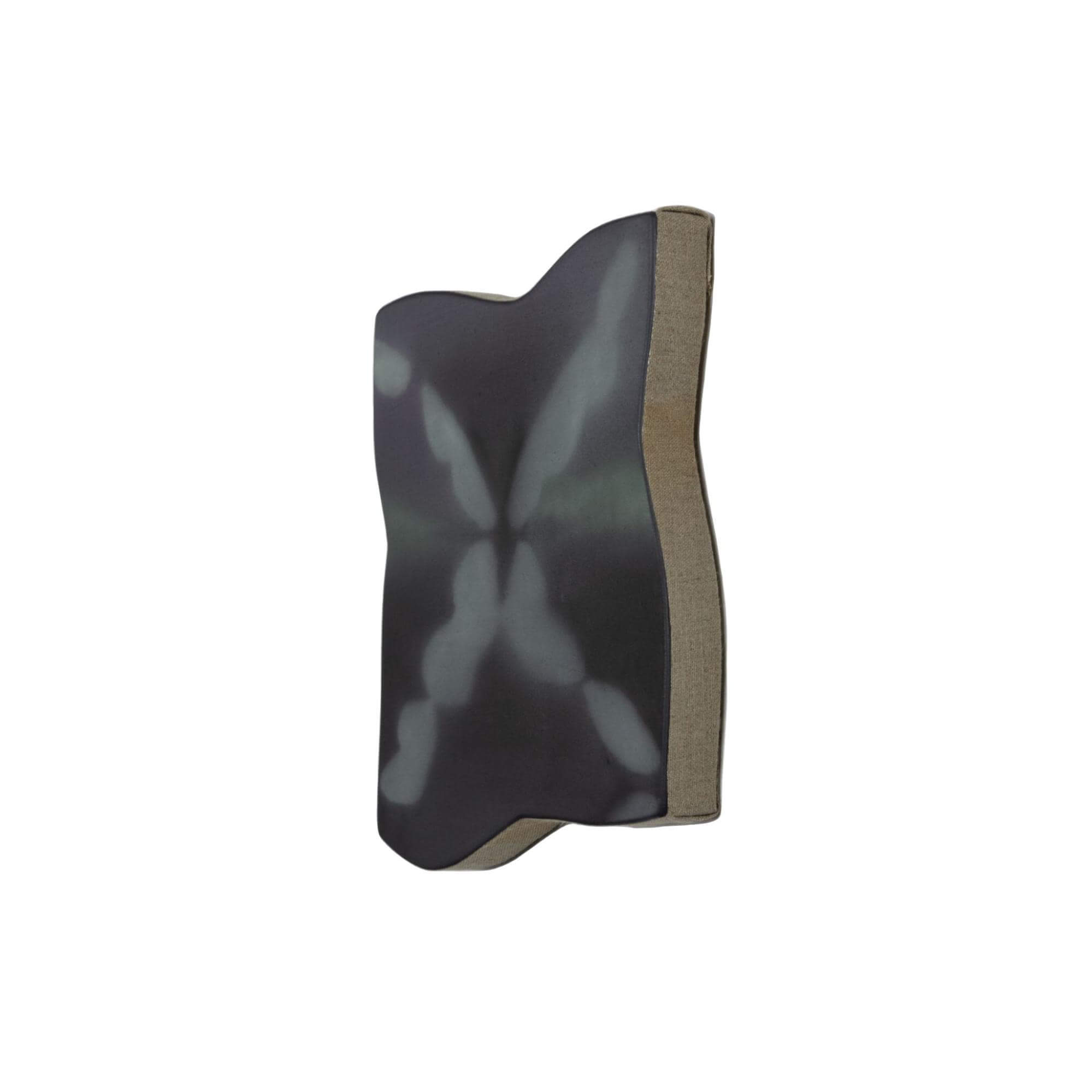 Your Painting supports are usually linen stretched over a shaped panel; Could you talk about how you started working with these fluid and warped shapes and what the practical process looks like?
During my time as an undergrad I experimented with shaped canvases not unlike the ones I currently make. At the time, the content of the paintings felt isolated from the forms, but it was a start. I revisited making shaped canvases in the last few years, and the images started to coalesce with their shaped supports. It is now quite rare that I work on a rectangular canvas, and when I do, it feels odd to work against such straight edges. Still, I think of the canvases I make as softened rectangles that have been touched on all sides.
I have various methods of making these supports. They are all based on free-hand drawings I make of distinct shapes. I then cut these shapes out of wood using an electrical jigsaw, a bandsaw, or a CNC router. Each shaped panel has a hollow back they can be hung from. I stretch linen over the wood panels and prime the surfaces with gesso to a smooth finish.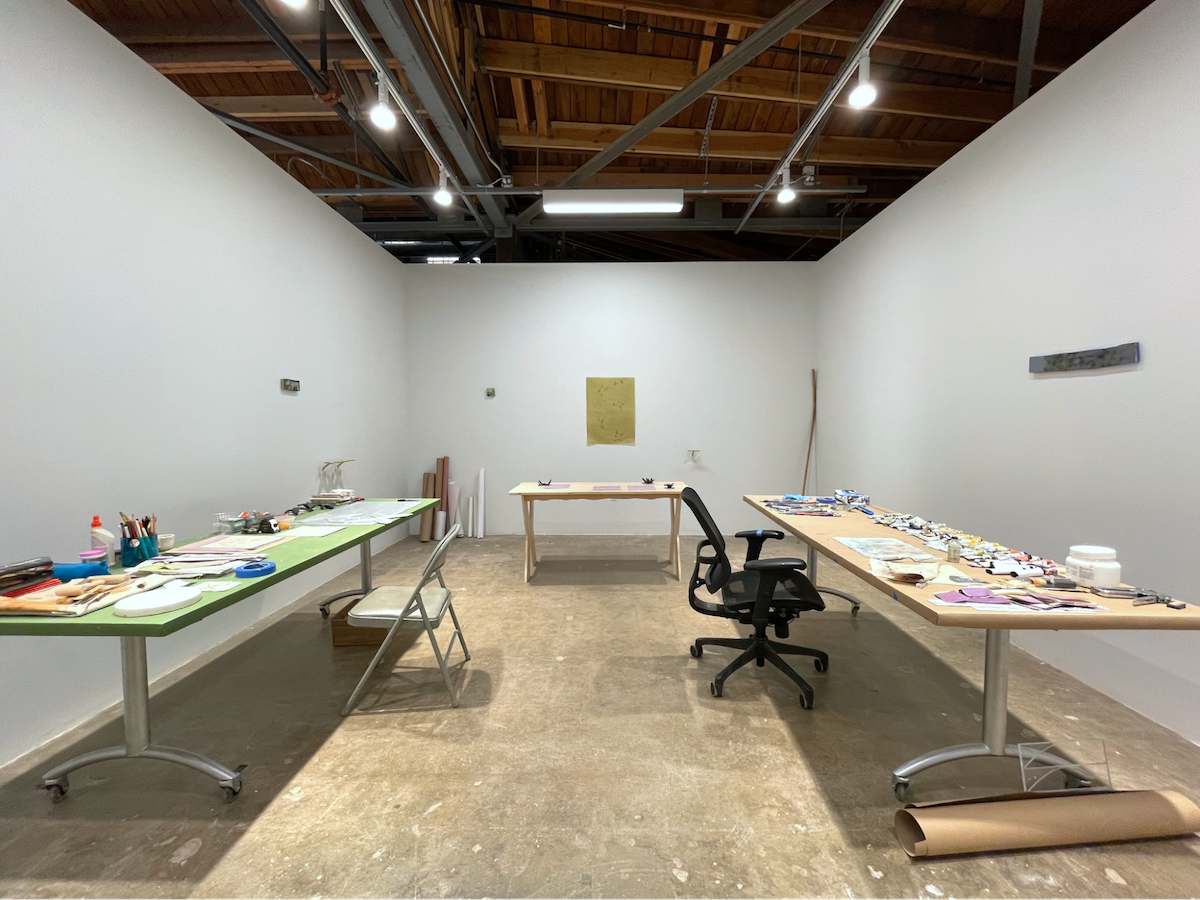 What does your studio look like? 
My current studio has two large working tables with all sorts of materials and tools I use for painting, drawing, and ceramics. I find I work best when I have everything set up and ready to be used. I often have several paintings hung, there's a studio couch, and my dog's green ball is usually around for when she comes. 
How does your ceramic work mesh with your painting practice?
There are ideas in my paintings that take on new forms and meaning through my ceramic work. Earlier this year, I made small ceramic sculptures that had metal bases in the shape of their shadows. These sculptures occupy a third space, one that speaks of shapes being charged and alive. They extend the conversation happening amongst my drawings and paintings on form, shadows, and echoes.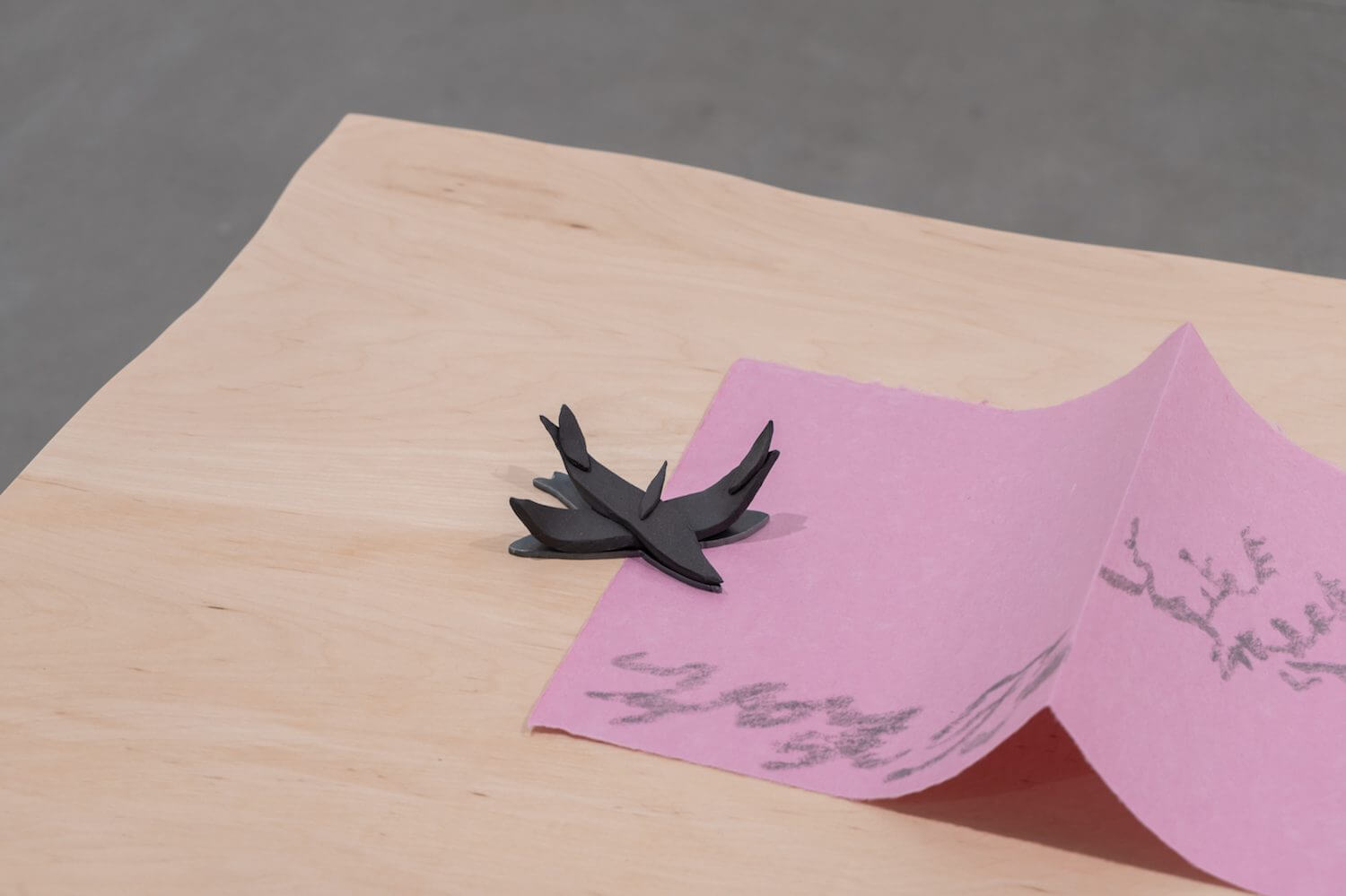 What are your favorite paints/pigments?
A favorite pigment of mine is unbleached titanium dioxide. Micheal Harding makes a great version. I also love terre verte, it's such a lush, muted, grainy green. There are other colors I use less often but that always excite me, like cobalt violet or cadmium orange.
In your current show at April April in New York, as the title 'Unfoldings' might suggest, I feel there is a thread of re-organization and becoming, both in the titles and in the imagery of flowers and flower petals – Could you maybe speak to that and how that body of work came about?
I almost always start with a reference image. These are often images that I've taken myself or gestures I've observed from other artworks or photos. I use these sources loosely and allow for the painting to reveal itself. For the long piece in 'Unfoldings' I used an image I took of a sidewalk in Mexico City where it appeared a plant-like organic form had imprinted itself on the cement like a fossil. Most often, what appears like clear references to nature in my work come from unexpected sights like this one. I work through the information in these references and intuitively allow for the image to become something else, an echo, a new form.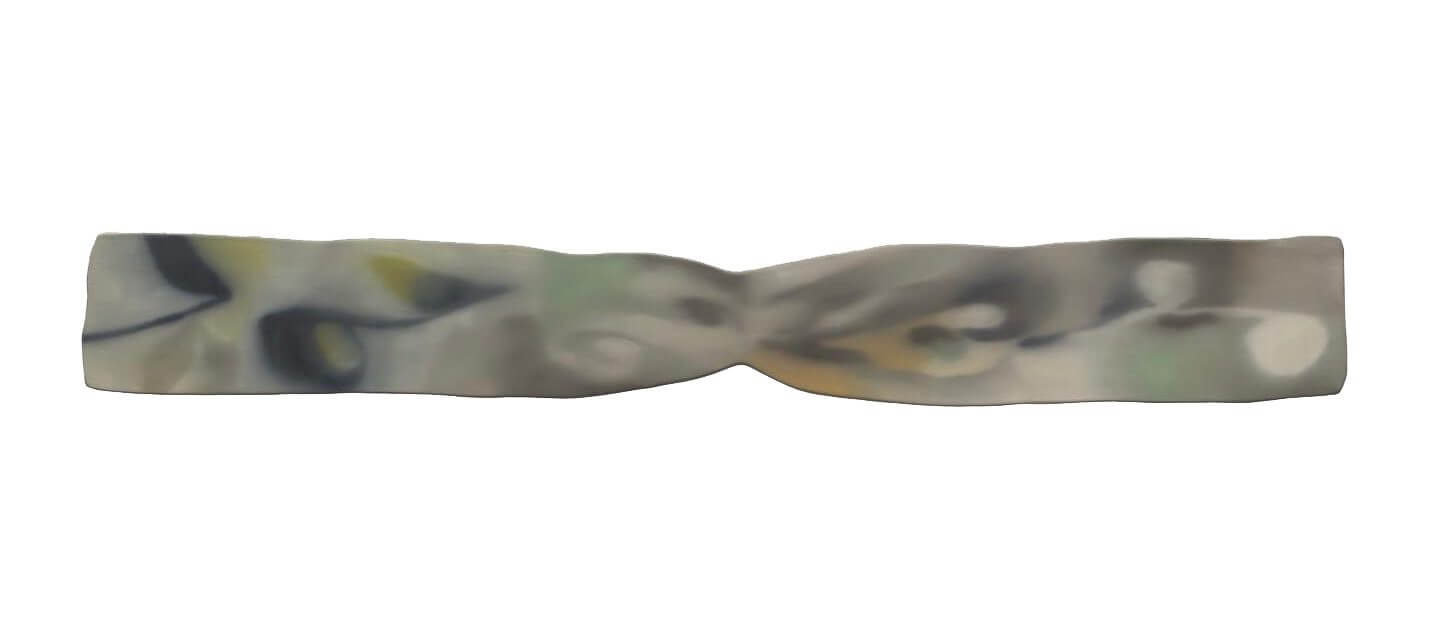 What does your timeline for painting look like? For example, do you work on multiple paintings simultaneously? Is everything planned out beforehand or more intuitive? And so forth.
I spend quite a bit of time building, stretching, and priming each canvas. I like to have several primed and ready to go. Based on the image I am working from, I pick the shaped canvas that feels most natural. I usually have one or two paintings going at a time. Some I am able to paint in one two-hour sitting, others I come back to for a period of several weeks until I arrive at an image that feels right. I stop when the image appears sure of itself yet contains something unknown to me. 
Any standout exhibitions or programming you've seen recently?
A few months ago I walked into a performance called All Fours by Nina Beier and Bob Kilat at the Hammer Museum. Two performers were slowly swaying in unison as they rode marble lions. Their movements were so captivating, I was completely hypnotized.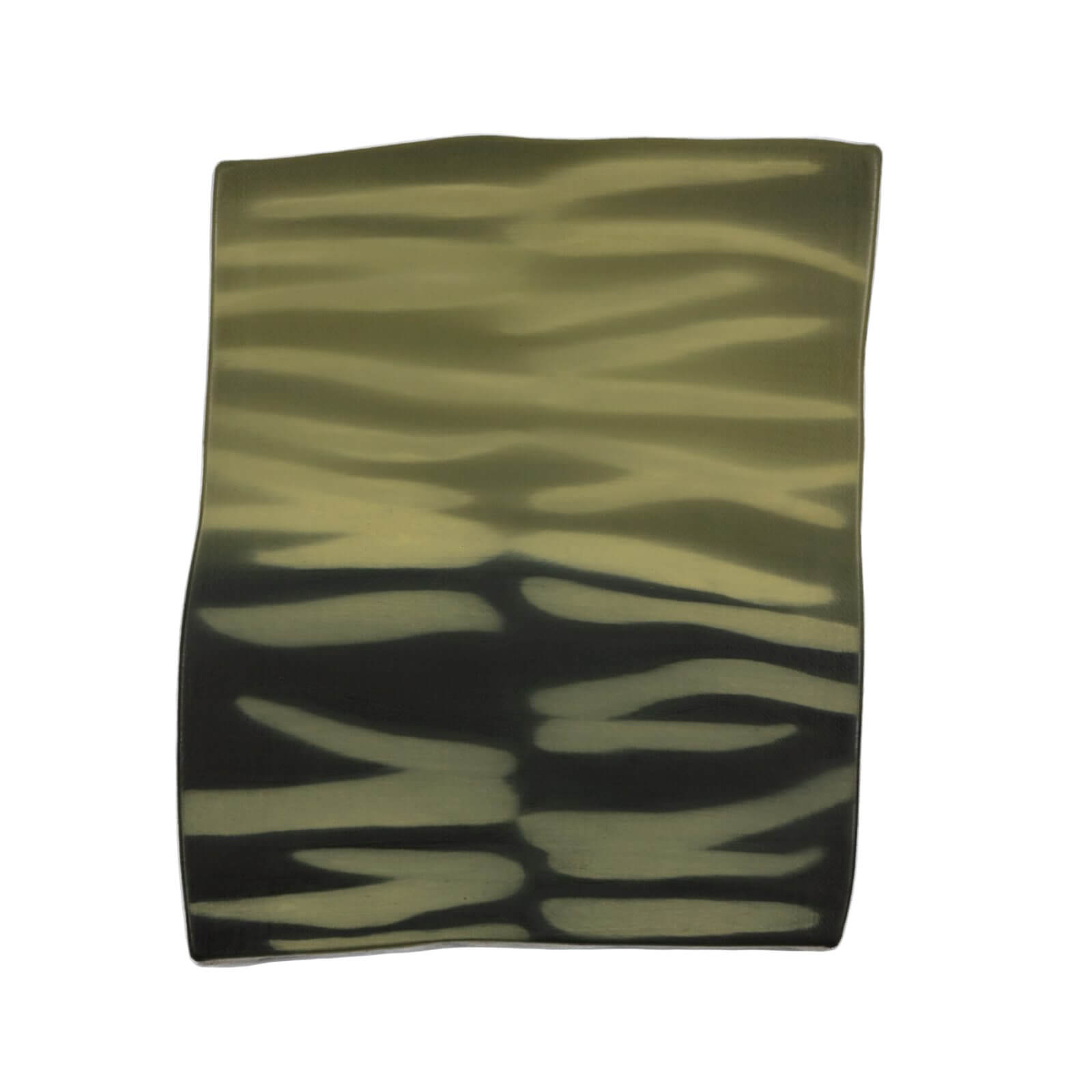 Do you have any upcoming projects that you could share with us?
I am excited to have a painting in 'A Minor Constellation', a group show of small scale paintings opening July 30th at Chris Sharp Gallery with an amazing group of artists, and later in August I will have a two-person show with Sydney Acosta at CASTLE. I have been speaking with Sydney, who makes incredible drawings and paintings, about having a show together for a while, and I am so happy it is happening in this beautiful space with so much good energy and light.
Interview conducted by Milo Christie