Tell us a bit about yourself and what you do
I am a painter, and I live and work in Ridgewood, Queens with my cat Queenie. I describe my work as being like a diary or a form of psychoanalysis. In my earlier career, I was very interdisciplinary, and saw myself more as a performance artist and video maker, but I was always making drawings and paintings too. A couple of years ago I realized that I was becoming less and less interested in performing and more interested and invested in painting. I finally decided to retire from performing and decided that I was a painter, full stop. It was a bit scary to reimagine myself in this way, but I remember telling people who'd known me for years, and several of them said "Oh I always thought of you as a painter". That was encouraging.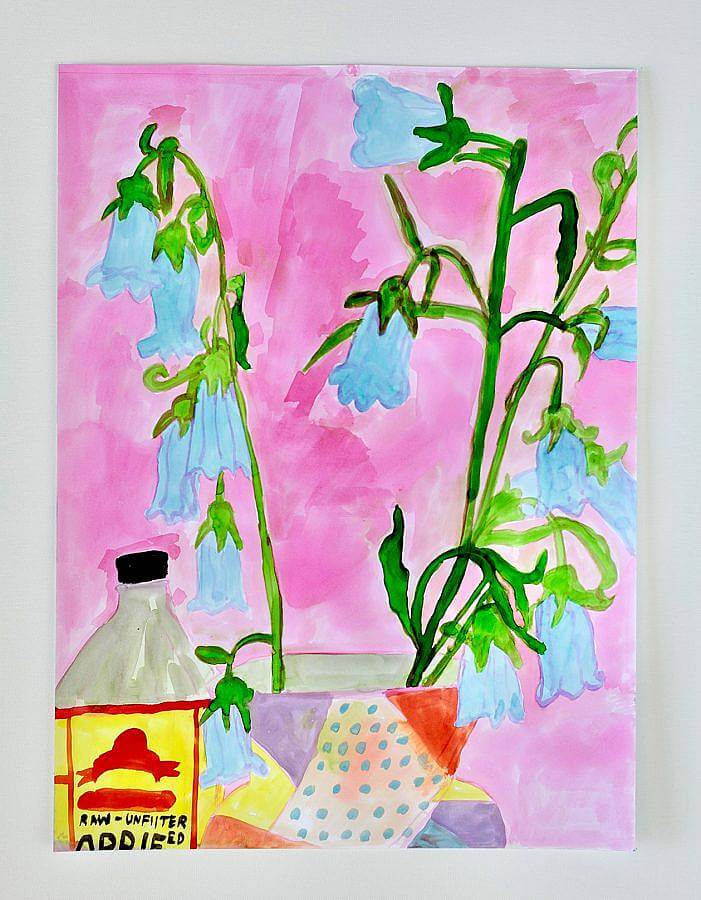 How did your painting practice evolve out of performance and video work?
I think of painting as being very performative, both in terms of the physicality of making paintings, and of inhabiting different characters in my work, I even find myself just performing the character of myself in an ongoing way through the work. I've often thought of painting as a form of method acting in which you draw upon memories and emotions and bring them out in the characters or the objects in the painting. My work has always been very autobiographical in whatever form it has taken.
Can you speak about how you utilize vibrant color in your paintings?
Color is completely intuitive for me. I would say it's the element of my work that is most natural and unknown. It is very important to me because it has to do with pure emotion and physicality. Color isn't cerebral; it's more about the body and it has a way of sidestepping the intellect. You look at a color and you just feel a response or a mood or an association. I want my work to be about feeling more than anything else and color is a great vehicle for that.
How do you think autobiographical elements, particularly your relationship to your mother, guide the work that you produce?
My mother had wanted to be an artist, but she was also bipolar and therefore not really able to pursue art-making as a career. But she was always making art throughout my life in a hobbyist capacity. I didn't really realize that she had that aspiration until after she died in 2012 and it really affected me. I felt that I was carrying on her legacy in my work and that was very powerful to me. I made a lot of work about her after she died, some of it incorporating objects I'd inherited from her. Right now, I think her presence is more in the background, but we share an interest in self-portraiture, still lives, and an intensity of feeling. I know I am an artist because of her. I keep a few pictures of her pinned to the wall in my studio to remind me of her and of her presence.
Your paintings tend to fluctuate between gestural applications of oil or a loose saturated approach to ink or dyes. How do these two painting mediums function differently for you?
Oil paintings are a more in-depth process, and they feel more of a challenge and an adventure. I have to let them evolve more and give them more room to change and rest in-between moves. I've begun to use the ink drawings I make, which are more spontaneous and less premeditated, as a starting point for the oil paintings. I never really intended to show the ink drawings, they were meant to be more process-oriented for me. But then because they were so unselfconscious, joyful, and full of attention, they became work that I ended up feeling really proud of and inspired by.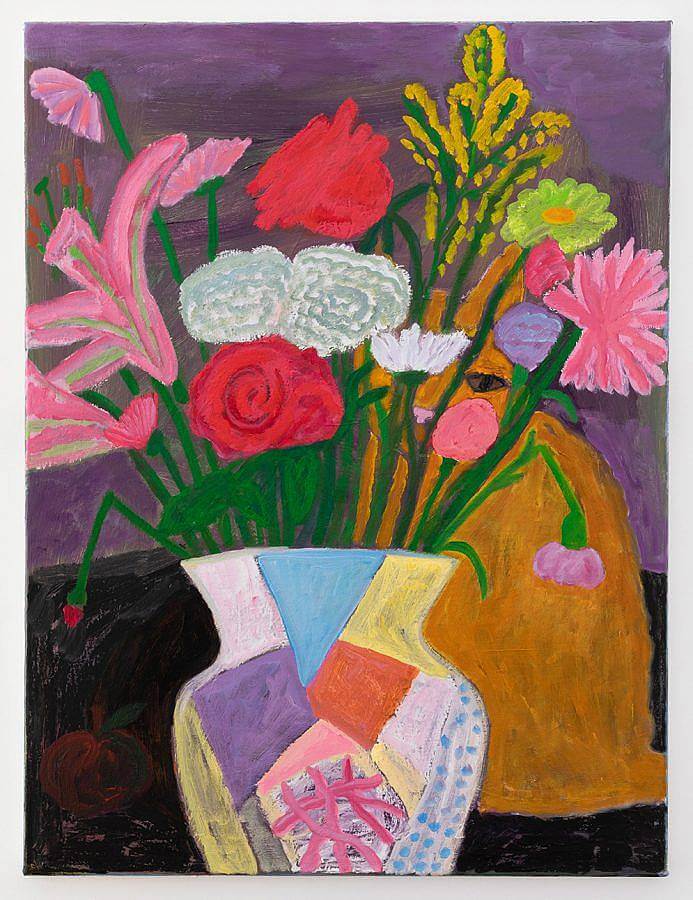 Your still-lives reflect a sense of tenderness towards the soft moments in your everyday. What draws you to this type of imagery?
I think it comes from a desire to create meaning out of my life and of the ordinary things that I live with. I look around my immediate surroundings and try to find the beauty and the symbolic potential in them. It's also probably a reflection of my spiritual view of life and really being present when I'm working, which feels a bit like being in love. It is a sense of paying close attention and dissolving into the work. I forget about myself when I'm really in the zone. It feels like there's just painting, like being a channel for something. When you're first learning to draw, they often tell you to imagine you're touching the edge of what you're drawing with your eye and as corny as it might sound, I feel like I have to touch it with my heart as well, or at least be in a very emotionally open place.
What draws you to depicting certain women like Courtney Love, Susan Rothenberg, and others, over and over again?
The Courtney Love portraits were a way of connecting with my inner bitch. I felt like it was this process of learning how to find the part of me that didn't need to be likeable all the time. Courtney Love is really good at that. And I was also interested in the idea of transformation; how she had gone from grunge-y rocker to glamorous A-list movie star in a matter of years. I feel like I have been going through a lot of inner transformation over the past few years and this work was a character study that enabled me to explore some parts of myself through my idea of her. The Susan Rothenberg portraits were more of an homage, but I think she is also definitely a model for the kind of artist I want to be. She was someone with a huge amount of integrity, who wanted her work to be full of feeling, and her paintings are very open-ended in terms of subject matter. I've become more interested in painting men though too. I've been doing a lot of portraits of my father and my boyfriend, but I'm not sure what direction I'm going with them yet.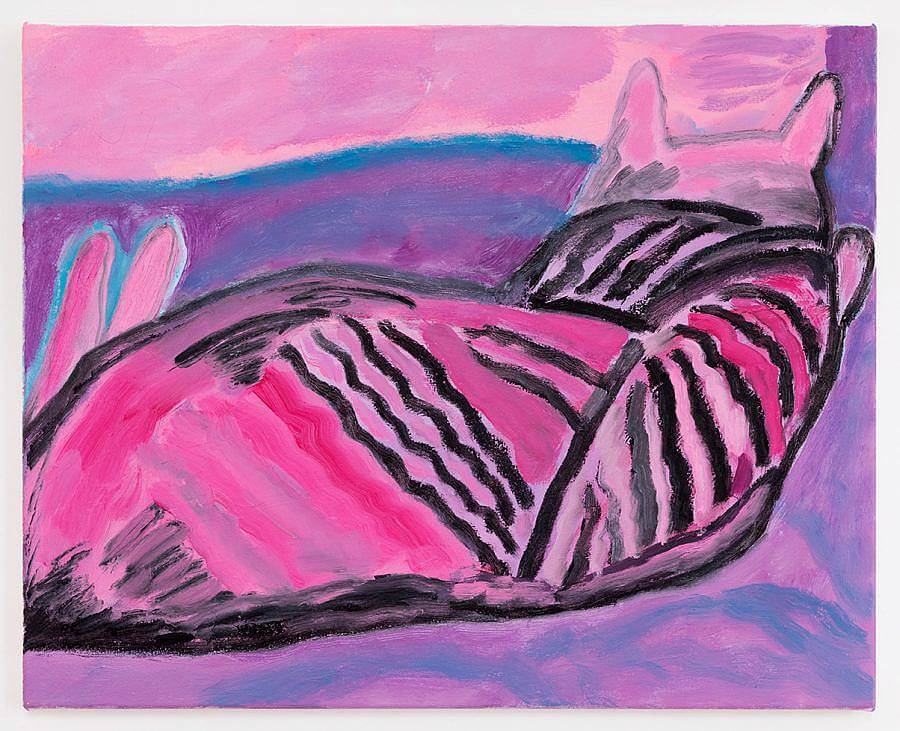 Tell us more about the portraits of your cat, Queenie, in Sleeper at Turn Gallery.
The portraits of Queenie came out of the ink drawings I mentioned before. I've filled a whole stack of drawing pads of them over the last few years. She's always sleeping so she's an available model, as it were. I feel a deep love and relationship to her and also to cats as a feminine symbol of independence. Cats are very true to themselves. Unlike dogs, they never do anything to please others. And even in the poses, Queenie is often facing away from me, so I only see her back, which I thought was very cat-like. The back of ourselves, has to do with the parts of ourselves we cannot see – our subconscious, and the fact that she's always sleeping seems to relate to that too. We are in touch with our subconscious in dreams. But I think part of what was most interesting and new to me about these paintings, is that the cat becomes something beyond itself. While they are all literal portraits of my cat, they also become something more abstract and open-ended.
What led you to start bleach-painting t-shirts? How is this ongoing project an extension of your broader practice?
I had this idea to make t-shirts a long time ago, and I dabbled in it over the years. But the bleach t-shirts came about when I was invited to contribute something to a fundraiser in the spring of 2020. I happened to have a bunch of black t-shirts left over from another project and I remembered that you can paint with bleach on them. The directness of it appealed to me because I didn't have access to silkscreen facilities and I'm not very advanced at that anyway. The first t-shirt I made was Susan Rothenberg Fan Club and it had a horse head and a horseshoe on it. I felt a strong image of it in my mind while I was on a walk and then when I shared it, people seemed to be really into them. They contacted me wanting to order them and it just kind of snowballed from there. It was very organic. And I think it does really help me in my larger practice. It's a way of moving through lots of ideas quickly and it's become a big source of my income in the last year. It's also a tribute to some of the artists I admire the most, becoming this ongoing record of my artistic influences. I love how painting with bleach records every little drip and mark too, and how the image burns into the fabric, revealing itself slowly.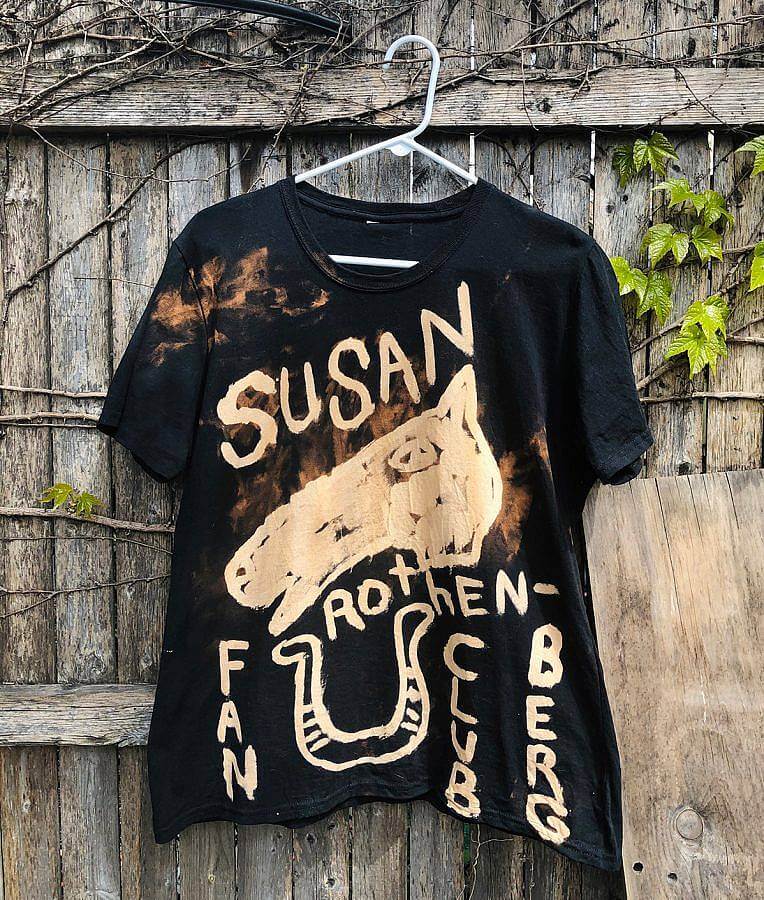 Tell us about your podcast, It's a Process. What have been some of your favorite episodes?
The podcast is a re-imagining of a much earlier performance project called It's a Process, in which I conducted a live talk show in galleries and interviewed other artists. I also sang karaoke songs, gave out prizes, and sometimes served snacks. It was very irreverent and silly and a lot of fun. I had stopped performing, but I felt a desire to have deep conversations, and I didn't really think there were any art podcasts out there that had the tone that I wanted. I wanted it to feel like a studio visit and I thought that would appeal to others too. And it would be a way of performing in a more low-key sense. Some of my favorite episodes are with Vanessa Conte, Cheryl Donegan, Glenn Goldberg, and Eduardo Navarro, all of whom are really different kinds of artists. I have been a bit of a more slack about it recently, but I want to record some new episodes in the new year.
 What are you reading right now?
Right now I'm reading a book called The Meaning of Anxiety by Rollo May. He wrote this other book I loved called The Courage to Create about the artistic process, so I was eager to check out some of his other work. Both books on some level have to do with working through anxiety, accepting that it is not something we can necessarily get rid of, but rather must learn to live with and not be deterred by.
Any upcoming projects?
My current project is to get back into making some new oil paintings. I woke up one morning a few weeks ago with a very clear directive that I need to finish the work I was doing based on Courtney Love (which comes from source images found online) so I can move back into making my own imagery, from my own life. This is always more of a challenge, but also more unique, because it comes wholly from me. For the new body of work-in-progress I'm thinking of calling it "Domestic Goddess" which comes from an early Roseanne Barr joke – a proposed alternate way of describing herself as a housewife, and also my feelings of embracing the domestic realm as a space of intimacy, sacredness, and transformation.
Kitchen Table Flowers is on view online at Emma Gray HQ through January 1, 2022.
Interviewed composed and edited by Ruby Jeune Tresch.
Portrait of the artist by Lauryn Siegel.