Tell us a little bit about yourself and what you do.
I rap about life over beats I make. It all comes from navigating existence as a gay man, and is therefore made more to accompany others on such navigations than to party to.
How did your interest in music begin?
It's one of those things that just was, my family was very musical and I was always exposed to it, all kinds. My brother and dad both played bass (my brother punk and hip-hop, my dad jazz) and they kept their instruments out by amps in the basement. When I was 6 I got a drum set I studied religiously, and while most kids that age were into sports or whatever I was trying to start bands with my friends. And make music videos. My sister had a great taste in music too, and her and my brother would make radio shows dubbing over tapes with a microphone and boombox, and then I would take and play their mixes on repeat. As soon as I could write, I wrote songs. I started focusing on hip-hop specifically when I was ten, and started producing when I was twelve. At thirteen I got turntables, collected vinyl, and was learning to cut and beat juggle… something I miss and wish I still did. I'm obsessed with multiple genres, and just fucking love it all. It's walked with me the whole way, and will 'til the end.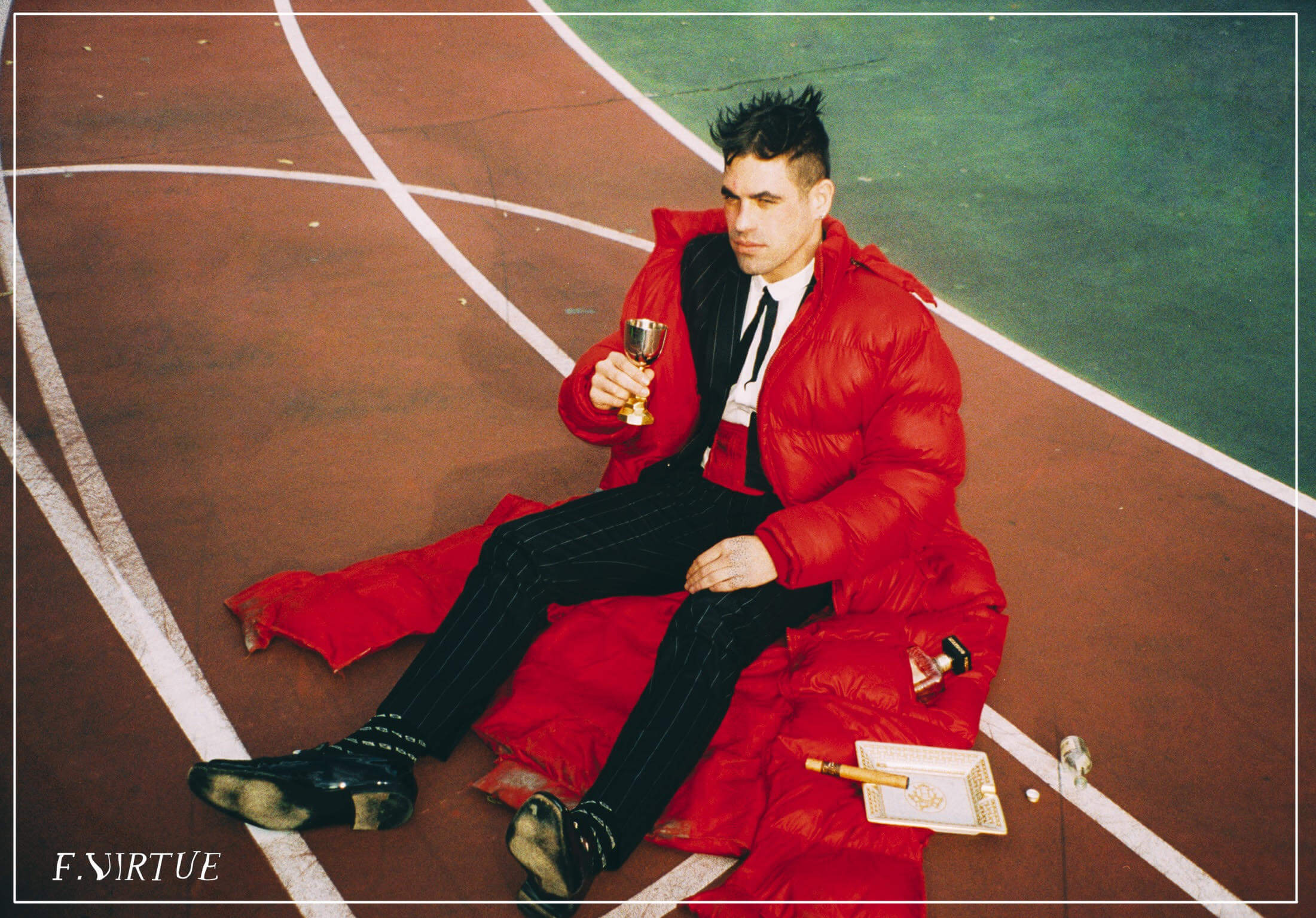 How has living in New York City affected your music?
Ones environment deeply affects their art; it forms who you are, hence your output. There is too much this city has given me to possibly dismantle, but a main thing is utter, uncompromising rawness. To be unflinchingly real.
Your music is heavy but essential for queer hip-hop history, what was it like writing your upcoming album Millennial Love During WWIII?
I only write when I feel I have to, as a way to deal with / sort through experiences, so writing for me is a process of figuring things out in order to reach a better understanding and move forward. I used to try and do this through a filter of masked sexuality, keeping my subjects ambiguous, but now that I can finally lay everything out there, I'm able to achieve a new level of honesty. And being totally honest is essential for both personal growth, but also to genuinely connect with listeners. In the end, my main goal is as much about processing my life as it is to help others process theirs. So the more upfront I can be, the better chance I have at showing people they're not alone.
Can you discuss some of your inspirations or influences for your recent single, The Darkness, from this forthcoming album?
"The Darkness" came from the darkness… I was feeling trapped in a circle of vices, but at the same time, feeling optimistic about getting through them and evolving to the next. For the video, I wanted to make something beautiful that felt like you were getting fucked up with me. No storyline, just a mood.
Who would you ideally like to collaborate with next?
I want to make a song with Jeff Rosenstock. Like, sit and write with him. That's goals as fuck.
What are you listening to right now?
I've literally just been listening to Milo on repeat for months. All of his albums. Top to bottom. Constantly.
What was the last show you went to that stuck out to you?
My dude Atmosphere! I've seen him more-or-less yearly since I was twelve, so every time he comes to town it's special. His shows never cease to inspire me.
What do you do when you're not working on music?
I try to be the best I can, the healthiest I can, and do the most I can, each day. Of course that greatly wavers day to day… I spend a lot of time living the domestic life with my boyfriend, cooking together, and lightly working on his brand with him. Along with music and my passions, my relationship is important to me. And a constant muse.
Can you share one of the best or worst reactions you have gotten as a result of your music?
It sucks not to be understood, though I understand it. A lot of people close to me often tell me to change my music, to try and be more commercial, to be more accessible… I've only ever wanted to do me, and I've never cared to make things any other way. I'd rather sacrifice a lifetime of being undiscovered creating the realest shit I could than to be successful from anything else.