Tell us a bit about yourself and what you do
I'm an artist, and I make most of my art with the piano. I've lived in a few different places in America so far, Tennessee, Michigan, Massachusetts, Georgia, and now Chicago, Illinois, and I think that where you live and what you do there probably influences who you are. These days I'm really interested in stories and history in art, as well as systems and form in art (and in life). What I'm trying to do everyday is keep up an artistic practice, put good sounds into the Earth, affect my community in a positive way, and connect youth with creative outlets in the hopes of uplifting the world.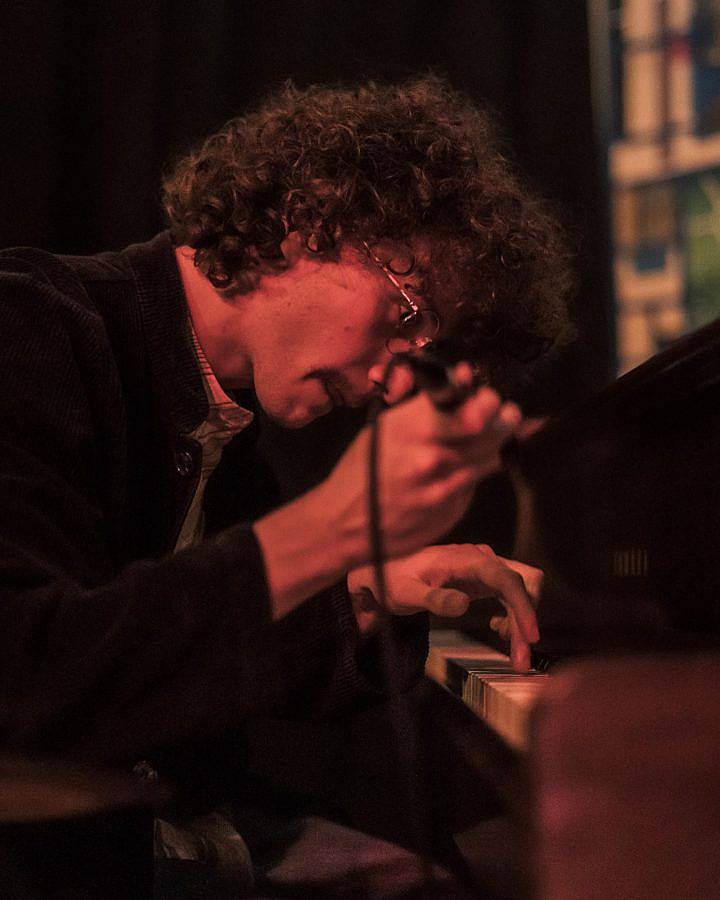 Can you talk about improvisation and how you conceptualize it in your work?

I recently heard the great drummer Vincent Davis speak on the topic of improvisation and how, with the way we approach it musically, it should really be referred to as spontaneous composition. The end goal is to create something, we all want and need to create, and so whatever you're creating must be made with intentionality, direction, form, story, love, all the things that form a composed work. I think in my own work I view improvisation as worldbuilding, like the way an author creates a world or a storyteller created a world. It's a crazy thing to be able to sit down and craft a world with just sound, especially doing it in the moment, and I still don't fully understand how it works. I think that's a part of it too for me, the intensity of working to build something but not knowing how it's happening (but feeling faith in the energy). It's a little like one of those old cartoons where the character is pulling up pieces of wood from behind them, then putting them in front of them and stepping on them, but the whole time they're really just floating in the air.
You've written that you're 'developing ways to paint with the piano' – can you expand on that?
This idea started with a concept created by the great pianist Jason Moran who developed a way to put pigment on your hands, place paper on the keyboard, and paint by playing the piano. In 2021 I explored this idea with a solo show at the Savannah Cultural Arts Center, creating an hour-long solo piano improvisation built around making these paper works, I think at the end of the piece I had around 12 piano-painted papers in a few different sizes. I'm still working on this idea every month, again mostly inspired by Jason (who spoke often about the residue instruments leave behind), but also pushed by the visual aspect of the piano. It's a tough instrument to get around, for a lot of reasons, but the visual pull is so strong, no other instrument has the unique block-monochromatic-grid interface of the piano, so at some point that made me want to draw and paint on it. Also the way your fingers and hands affect the instrument, at some point you are just painting, you're just scratching at a canvas. I think drums can really do this too, I'm hoping to push the idea into other instruments, maybe endpins of certain instruments could also work. The paper concept is big as well, paper and music have a connected (maybe troubled?) history, but we can combine the two in more ways than just written sheet music.
How do you prepare for a live show?
Sometimes I'll spontaneously compose in different durations of time in the months leading up to a show to study the way I create a form and work at uncovering what my personal language is and how certain techniques reveal themselves as I play. Sometimes I'll eat dinner with the artists I'm playing with. For my last show, I sat down and interviewed my family about their lives right before I played. Preparation can be anything. How do you prepare to do something you've never done before?
Do you practice often? What form does that take?
Hopefully I practice everyday. Music is really too beautiful and too complicated not to sit down and deal with the piano as much as possible. Something I'm doing right now is copying down forms and conceptual maps of shows I see and then going home and attempting to create those compositions spontaneously at the piano. Some days I don't get to play a lot, and some days I really don't get to write a lot, so I try to constantly be writing and practicing without the piano, and I actually think that that's the biggest idea in my practice right now. I've been obsessed with form for a while, and that's morphed into this idea of form and systems, and how form and systems exist in the world, how humans create form and systems, and how navigating systems can change our thinking. Right now I'm trying to push myself to recognize systems constantly and create new ones, but not with the idea that any of them are good or musically interesting ideas, more in the way that I'm trying to really train my mind and body to think and create in a new system/form-based way all the time. I guess this is just what practice is, but it's one thing to sit down and practice playing three notes with three fingers until I can do that easily, it's another thing to stare at a CTA map until I see poetry, and it's a whole other thing to imagine what a written language invented by single-celled organisms would look like and try to create that language
Who do you count among your influences?
Wow! I count my influences like rings on a tree. On the inside there's my family, they've been there the longest, it's hard to shake that influence! I've been so lucky to have been surrounded by great teachers and older artists and community activists who have graciously taken their time to influence me and share wisdom. My friends influence me in ways I'm sure I don't realize. Then there are a million great artists who I've never met but who changed me forever. I'm trying to get better about naming names at the shows I play, so if you ever see me play hopefully that will fill in the list a little bit, but for now I'll just pick one name to count, Lovie Austin, a genius Chicago pianist who I'm hoping to link up with on a quantum level in the years to come. She set the stage for a lot of Black American Music at a pivotal time, wrote a lot of great music, and played the piano in such an inspiring way. She was pushing, but she was also thinking a lot too!
How important is cultivating a unique 'voice' as a jazz musician?
This is a tricky one, sometimes there's too much influence on this, sometimes not enough, sometimes I think musicians are obsessed with this at the wrong time in their lives, sometimes they're not thinking about it at all. Thelonious Monk said it best, "A genius is the one most like themself". I guess the problem is trying to teach yourself to be one thing, or to create a certain way, because will that really be more unique or interesting than who you are as the sum of all your influences and experiences? But it's so hard to just let yourself be who you are, people are always trying to do that in life, so I think that's where the real goal is. The same way we're all trying to be ourselves in life and be good to each other, that's how important that is in music.
What have you been listening to recently?
Out of all the stuff I'm listening to these days the thing that sticks out the most is the blues. I'm obsessed! I've been on it for a while, but people like Rosa Lee Hill, Otha Turner, Precious Bryant, Elizabeth Cotten, Bessie Jones and the Sea Island Singers, the McIntosh County Shouters, Little Brother Montgomery, R.L. Burnside, Hociel Thomas. No matter what I listen to I can't escape them. There are two Les Blank documentaries I recently saw, one on Lightnin' Hopkins and one on Mance Lipscomb, interesting films, but the thing I realized, especially in the Lightnin' one, is that the blues is way more conceptual and all-encompassing than I realized. Coming up, older musicians used to always say the blues isn't a form of music, the blues is a feeling. I thought I knew what that meant, but now I realize I don't really, or that there's actually a whole brilliant world within "the blues is a feeling" that reaches out super far.
Can you talk about your upcoming work with Agitator Gallery?
I'm curating a monthly series at Agitator (last Thursday of the month starting March 2023-you're all invited) that aims to combine improvised music with some type of visual/literary/performance art, and hopefully create a new thing from all of that in the moment. I'm really appreciative of the Agitator team for letting me do this, and that's what I hope to pass on, just a chance to give people some belief in their art. It's also beautiful to be able to add to the tapestry of the city, I don't know if there's too much grand concept behind this (or maybe if I have to write a grant there will be) beyond just the creation, I think it's actually really good to always have more stuff going on, more places, more scene. Sometimes there's pushback against this, or people are hesitant to engage with something without it being a whole thing, but my thoughts on this are that places like Chicago are pretty rare, so we really need to take advantage of being able to do stuff like this, also the only way things become things and gain momentum is by just doing them, ALSO a lot of the masters were just starting things to see where they went without a heavy emphasis on the rigmarole behind everything. I look to Moki and Don Cherry for a guide, what they did with the Organic Music Society is maybe a model for what I'd like to do at Agitator. Also what the artist/curator Priscilla Smith is doing with No Tomorrow in Atlanta, another model for me.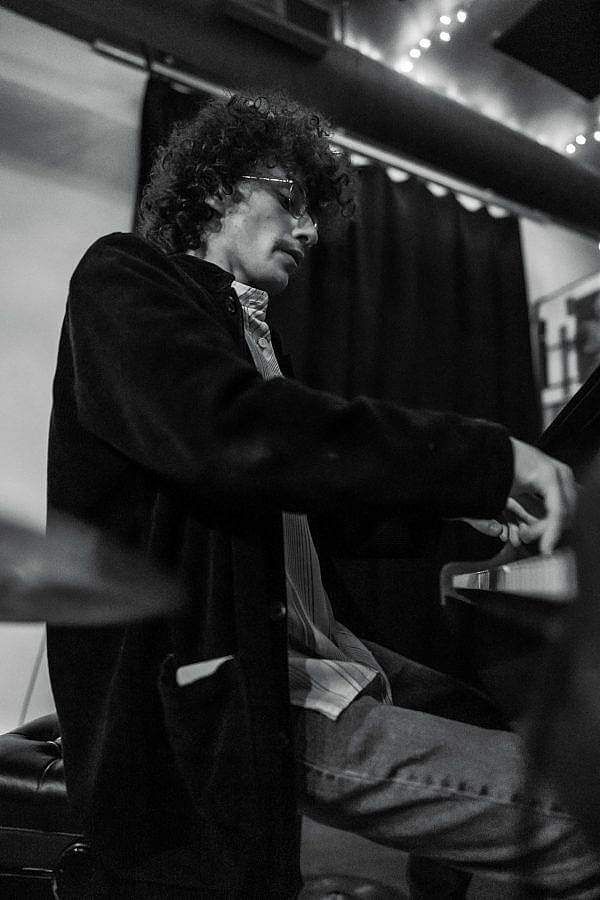 What would your ideal quartet lineup look like?
My ideal quartet would be two pairs of my great(∞)grandparents from around 150,000-200,000 years ago, which is when I think modern humans began to evolve. I often wonder if my ancestors back then were musicians, I'm sure they would have played some wild stuff!

Do you have any upcoming projects or events you can tell us about?
Of course, later this week I'm hoping to get enough fabric to cover all the walls in my apartment, I've been working on making found poetry with CTA pamphlets (these will probably get posted at the Adams/Wabash stop), recently I learned you can make your own spicy chili crisp so that's a project that will occupy a lot of time, and when the weather gets nice I'd like to start a toy piano concert series on the corner of Belmont and Western. In terms of events, maybe some sort of regular mancala game I could host, I also want to establish a secret underground house concert network that can be catalyzed instantly to provide tours for visiting artists and festivals for locals. If you're more interested in my upcoming music, checkout my website erezdessel.com or come up to me and ask me for a Cicada Issue zine.
Interview conducted by Milo Christie