Tell us a bit about yourself and what you do.
Hi I'm Dominique. I'm an equestrian and an artist from The Bahamas. Thanks for having me!
What made you want to become an artist?
I've been drawing horses since kindergarten and all through elementary school. I used to collect miniature horse sculptures during that time as well. They were of Olympians, famous race horses or movie stars. I'd animate or play with them in a simulated world of miniature jumps and barns. So the sculptures would break and my grandfather would conduct surgery on them by drilling screws within the legs to mend them.
Continuing in high school I started painting more monochromes and gestural abstractions. My uncle John Cox is an artist and he runs Popop Studios, was the Chief Curator of the National Art Gallery of The Bahamas, an educator and the director of The Current Gallery. So in addition to living with his art in all of the homes of our families & extended families, I'd go to the exhibitions and become even more attuned.
As kids, my brother and I would spend our days with him at the studio loft he built, the modernist architectural gems of his parents and at coffee shops. He always had lots of dogs, is a pro cyclist and a Buddhist. So lots of my sensibilities are through experiences with him.
My first show, at seventeen, the summer between high school and college was a group exhibition with Toby Lunn and Kendal Hanna at Popop. We were three generations of abstract painters and John moderated the conversation. That summer I had a residency at Popop. Where I worked outside on a kaleidoscope of abstract paintings resembling, fusing or coalescing the sky, the ocean, light and solar atmospheric space. My uncle gave me a 6' square canvas, so that was the beginning of the scale shift.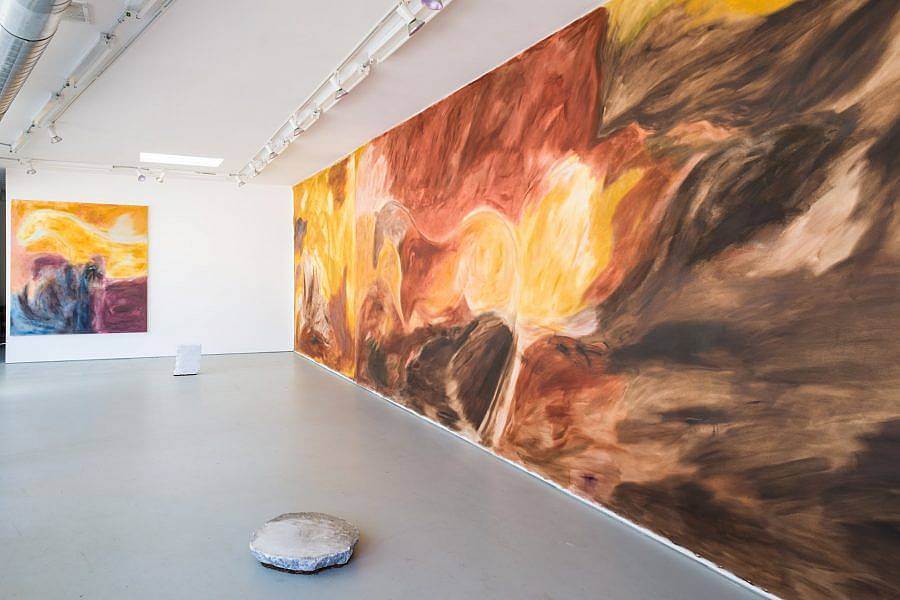 Could you talk about your 2019 solo exhibition "Ode to Tazz"?
As a senior I went to the Poor Farm the first week of August in 2017 with some folks who were graduating with their MFA. John Riepenhoff was there presenting the program and I also saw his work at the Whitney that year. Then in February 2019 Arnold Kemp, faculty & administration took us painting MFAs on a day trip to Milwaukee to see Michelle Grabner's solo at The Green Gallery, the exhibitions at The Suburban, Kohler and Milwaukee Art Museums. John liked the questions I asked at The Green Gallery opening so he came up to me afterwards and asked for a studio visit, as we both wanted to continue the conversation.
The studio visit went well and I received an invite a couple months later. To which I replied that I wanted to make a forty foot painting to fit their main wall, as I felt that it would be rare to find a clean wall that size without any columns, pillars or external supports. The space is slick like a space ship.
A vessel where I could release all of the fury I had inside from expanding my capacity to be able to retire my horse Tazz. The energy from that effort was channeled to create a monument for him, with the mural scaled painting entitled,
'The monument will be fragile for some time
Will you find an empty grave at the end of eternity
There will be flowers
Though she was cremated
May we cover her ashes with flowers
The lid of the vessel that seemingly holds the body Her spirit flows like a river
I'm grasping the absurdity of real currents slipping (Ether)'
The 'Ode to Tazz' stone,
'I should try to press on your skin
and breathe into you as much as I can
To love you is to make a lasting memory of my embrace in your body
Regardless if I am in disbelief
Devotion is to pull the weight of your entire life onto me
A surrogate may not hold you
I'll keep going until my blood is in your heart Ode to Tazz'
'Kevin's Stone', which is alabaster stone with a thank you letter to my friend Kevin hand carved into it.
The paintings, 'Pegasus Born of the Sea as the Blood of Medusa Erupts' and 'Dean's Blue Hole (Portal)'.
There was a poetry reading as well during the opening, so I read from a collection that I wrote. It was quite lovely with everyone lined along the gallery, sitting gently in tranquility.
In the cinema, there were the videos 'Cenzina', 'Hickstead' and 'Tahlequah', which are tributes as well.
Cenzina was Hayley Ianotti's young horse that I rode and showed at Carriage Hill Farms in 2010. It's a video of us riding on loop and layered with sunset footage an hour long.
Hickstead was Eric Lamaze's Olympic champion who passed away in 2011. So I compiled a number of Hickstead's best performances and that of other top equestrians with their partners around that time. So Hickstead's not isolated in the video but surrounded by the other teammates immersed in the same world as him. Also the video's touched by Eric's eulogy for Hickstead.
The final video, 'Tahlequah', is through the orca of the same name, who carried her deceased calf for seventeen days. The calf would sink to the bottom of the ocean and Tahlequah would dive for her to bring her back up to the surface for air. The scientists following the Southern Resident pod in the Pacific Ocean were contemplating whether they should feed the pod and assist Tahlequah. As the pod was starving and there were other deaths of newborns. Though that compassion would mark and bring into proximity the ethical considerations of how human beings in the domestic realm can be in relationship with animal beings in the wild. Having to ask what is nature, but beyond that, seventeen days is a record tour of grief and Tahlequah went on without food the entire time.
The video also goes on to show how human beings can embody movements of marine mammals through breath, a breath similarly developed in Ujjayi and Shavasana from yogic meditation. Particularly what is expressed allegorically is the transcendental death & rebirth within the aesthetic aura of the world record free dive at Dean's Blue Hole in The Bahamas by Alexey Molchanov of Russia.
Breath as a conduit of music, played by spirits in human form also for other animal beings who listen and enjoy.
The piece is also a memorial for Flint who surrendered with the reckoning of his beloved mother Flo. Flint and Flo were chimpanzees at Jane Goodall's sanctuary in Gombe during the 1960s.
In this show the cultural relations to death recede, as every culture has a different ceremony, concealing or honoring the departed. While what arises is the unbounded rawness of grief that erupt in the shock of death, tragically unannounced to the beloved.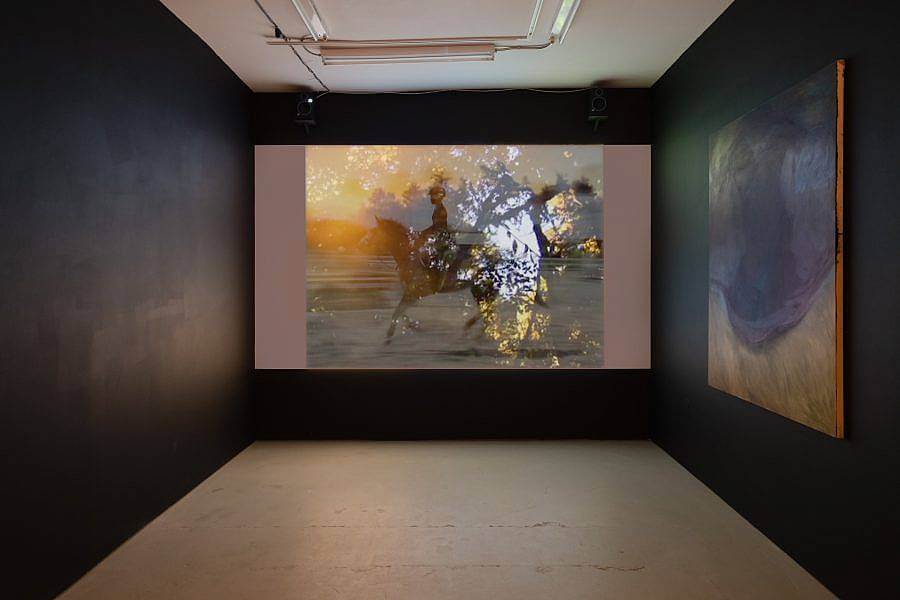 What is the current music rotation in your studio?
I'm listening to Nils Frahm, the German artist. I really got into him with 'All Melody'. Though I've been listening to him all year, playing 'Empty' on repeat almost everyday, especially when I ride. 'Tripping with Nils Frahm' is another favorite and that's when I really became amazed by the physicality of his piano playing. It's so rapid that one may think it's digital, but it's actually super visceral analog. Now 'Graz' is out and that motivates me to exhale as it's so relaxing and has so much scope.
Your paintings appear very deeply, visually layered, is there typically a moment when you realize when a work is complete?
Yes, well the ochre paintings are brushed very lightly, with a soft touch and a transparent wash so the luminosity and warmth of the linen comes through the glaze. It starts by creating an atmosphere with a color, though if there's any space or if I can imagine a gesture being harmonious with the movement of the landscape, then I'd paint the shadow or the light of a figure. So it's alla prima and done within one meditation.
If my mood changed, if I'd like to learn something new from the painting, if I've grown as a person from a signifiant life experience, as an artist from inspiration, or if I see new space in the painting, then I'd go back into the painting. Though that was more with the black monochromes that could hold years of pathos.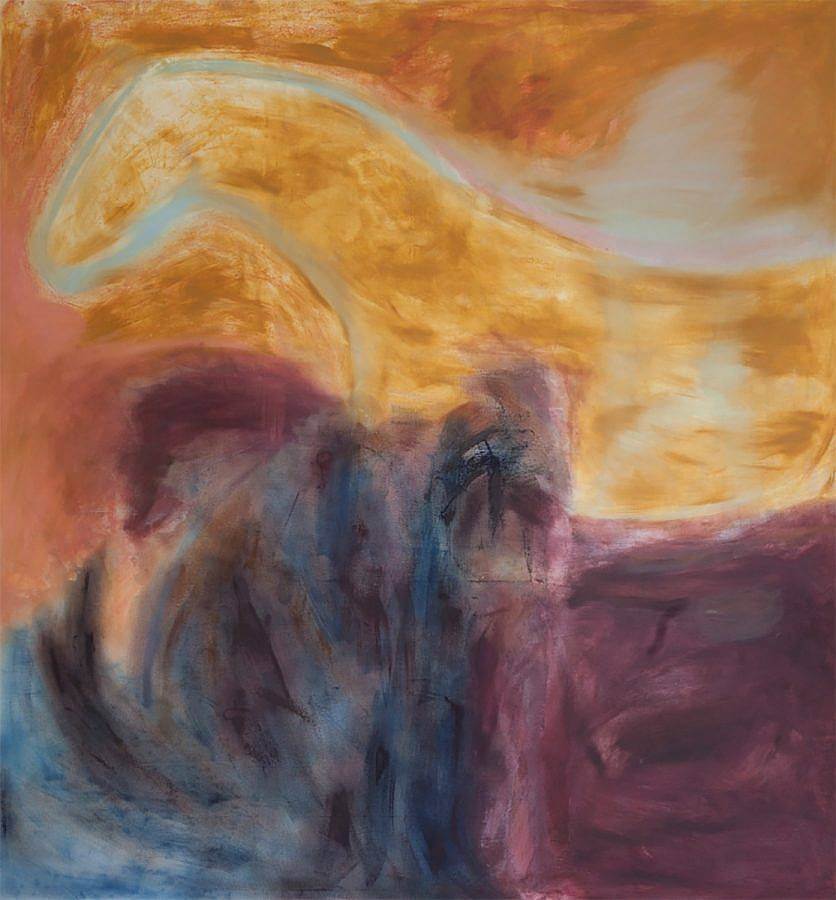 In what ways has Chicago impacted your practice?
A few weeks after the residency at Popop, I went to film school in Chicago. There I made a video called 'Evidence of Absence' that went on an exhibition tour for the next four years with curator Holly Bynoe.
The last screening of 'Evidence of Absence' was in 2017, the summer of graduation from 'The School of the Art Institute of Chicago', at Halle 14 in Leipzig, Germany.
In 2012, the year before my move to Chicago, I also participated in The Bahamas International Film Festival directed by Leslie Vanderpool Wallace. I attended it with Toby Lunn who had a screening of his film, 'Brigidy Bram' a documentary about Kendal Hanna.
The first year in Chicago I met Janine Antoni from The Bahamas, at her visiting artist lecture at SAIC. Then in winter of 2017 on a study trip to NYC with Daniel Quiles and Michelle Grabner, I wrote Janine a letter asking if we as a class can visit her studio. So we did and it was a magical studio visit, like incense. Then later during grad school my dear friend Emilia González, from Ecuador, who I met on our first day at SAIC during International student orientation, started working with Janine as her studio assistant, wrote me to stay that Janine's studio archived my letter.
So there are lots of symmetry, mirroring and folds with what happened at the beginning and end of BFA. Though in between these years is lots of the pulp of interpersonal relations with other artists, faculty and curators in the studio, at the galleries, museums and artist run spaces, that really bloomed and solidified later during grad school.
The entire Painting & Drawing department, as well as some special faculty in Art History, Photography, Printmedia, Sculpture, Visual Critical Studies & Humanities at SAIC has injected me with their blood.
What have you been reading lately?
I've been reading Zadie Smith for the last three years or so. Well, in the beginning it was mostly watching or listening to her lectures from book tours. I do things a bit non linearly, so I didn't start with 'White Teeth', but with a hardcover of her collection of essays 'Feel Free'. Then I was gifted her novel 'On Beauty'. When I was in New York this spring for the Andrew Kreps exhibition, I got 'Grand Union' and 'Intimations' from McNally Jackson as well as the audiobook versions, since her brother reads most of 'Grand Union' & she reads all of 'Intimations'. I've read and listened to 'Intimations' over and over religiously. By the end of the spring, just before going to Europe for the summer exhibitions I got 'White Teeth', and so far have been transfixed and crying to the opening scene or first chapter. Beginning again and again. After the exhibitions in Vienna and Berlin, I headed to Paris for the rest of the summer and autumn. So I went to Shakespeare & Company, to collect 'Swing Time', 'NW', 'Changing My Mind' and a soft cover of 'Feel Free'. I finished 'Grand Union', and have been reading 'Feel Free' and 'Changing My Mind' simultaneously, as I find that they compliment each other. One is for being with my heart in the world and the other is an intellectual exercise of learning deeply about literature. So Zadie's lines run through my head everyday. When I look at a flower or an animal I think of her thoughts on Nabokov and reality. When I'm doing barn chores I think of her thoughts about Ottesha Moshfegh and either doing time or with, in,
through and as love. If I'm doing math, I think of Zadie's writing about contempt. On weekends I go to Shakespeare & Company, & at said library cafe I tried to watch the recording of her Shakespeare & Co. reading with her husband Nick Laird of their books both called 'Feel Free' respectively, though the place is designed like my college apartments, no wifi, so I just ended up reading the book instead.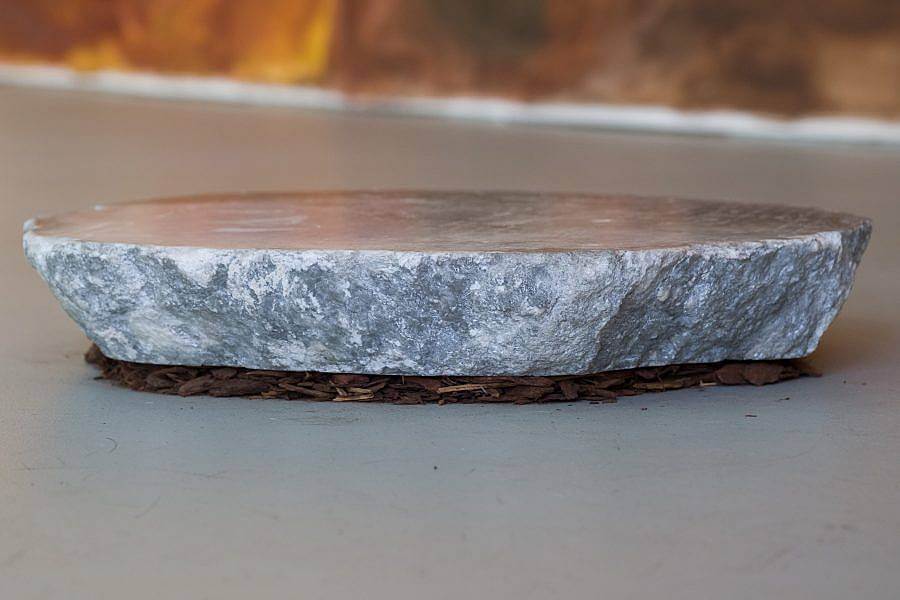 Many of your sculptures feature stones, what is your relationship to them?
The stones are memorials for my beloved. My poems are carved into the stone. Mainly the 'Ode to Tazz' oath. The stones are Italian Carrara Marble, Italian Translucent Alabaster, Italian Agate, Scaglione Alabaster and Green Granite from Austria.
This summer Tazz's memorial was laid on the oldest stone mass in Austria, behind the 12th century ruins of Lichtenfels Castle, overlooking the lake of a sunken city. The tombstone is green granite from the region and since Tazz passed away this February, the poem was carved in a more stoic manner. Whereas the stones during his retirement over the years leading up to his death, were hand carved, which made the reader feel as if they were eavesdropping on an intimate conversation. In other words, the invitation for empathy was so open that it engulfed the viewer's expectations of being held at bay as a voyeur.
Nevertheless this stone is outdoors on a peninsula and the words are carved in a more visually public manner. People have been going up on the mount to meditate in front of the stone. I swam for an hour from the bay, through the middle of the lake, to the edge of the peninsula and climbed the rock to experience the stone from the water rather than from the land. Time didn't feel that long in a progressive sense, as every moment was so focused on getting there and I was swimming in a half circle. So you're in black water and the forest around you stays the same, the only that disappears is the shore behind you. Spiritually it felt a bit like walking through a desert. Rene Puhr of W4 Stone helped a lot with finding, making and installing the stone. He and his team did it all with so much love. They hand carried the stone up the grey granite hill and to the edge of the peninsula with great pride. They even came to my show at Galerie LAYR to see my painting exhibition and to share a surprise gift with me, which was a fragment of the green granite carved with his name TAZZ.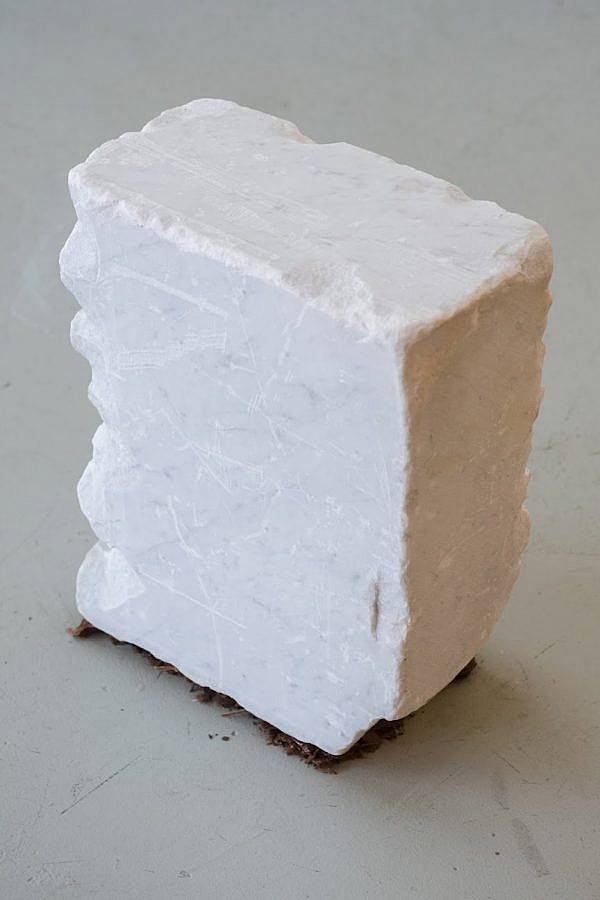 Who are some artists that are influencing you currently?
Courbet's "The Burial at Ornans" has been influencing me for years and I finally got to see it at Musée d'Orsay this summer. My first time in Paris a few years ago, I spent my trip running into people from Chicago, spending hours eating at Cafe Charlot, then clubbing all night and walking around meeting new people from Algeria until sunrise. Then sleeping until the museums close and it's time to do it all again, which I'm glad I did since the clubs are closed now. Though I'm not spending my days in museums either, but in nature, with the horses at  Écurie Paillot, the Olympic training farm in France. The horses start exercising from about eight in the morning and we groom them until dinner time. My apartment is attached to the barn facing the driveway, my paintings are a step from my door on the outside long back wall of the stalls, which ends leading through a tunnel where the bikes are, to the courtyard where my horse is. So I can see my apartment, the paintings, the bike and my horse all in one frame, which is a model of my universe, literally in architecture. A bit like Courbet's 'The Painter's Studio'.
What do you have planned for the remainder of 2021?
The group exhibition 'Notions of Self' at Tern gallery in The Bahamas just closed on August 23rd. There's a group exhibition at Chart in New York City called 'Horses?' that closes Aug 27th. A group exhibition at Stars on Hollywood in LA called 'So Many Stars' closes September 4th. A group exhibition at Taidehalli, Kunsthalle Helsinki called 'AISTIT / coming to our senses ' curated by Satu Herrala and Hans Rosenström closes September 5th. Then there's a solo presentation at June in Basel Switzerland with The Green Gallery this September 20-26. The exhibition at Lichtenfels Sculpture Park in the Austrian Waldviertel, curated by Olivia Thurn-Valsassina with Emanuel Layr closes October 17th. Afterwards there's FIAC Paris at the Grand Palais with Galerie Layr from October 21-24. By November my horse and I fly from France to Palm Beach Florida for The Winter Equestrian Festival which ends in the beginning of April. I'll also be preparing for a solo exhibition at Chapter NY.
Interview conducted and edited by Sam Dybeck