Jo: What does it mean to be a part of the Chicago Music Scene for you?
Javier Forero: I think for a while when we first moved to Chicago it was hard to find our group. People that vibe with you and have the same frequency. For a while we were bummed out and planning on moving to LA, thinking that's where the vibe was at.
C: We were living in Lakeview and going to bars around there, and seeing that the bands were not at the same place as us. It took us a while to go to a show in Logan. Alex! Alex, from Dumpster Tapes, took us to a show in one night. Then we ended up getting to play with Bric-a-Brac Records. We were excited to find other sick bands that were into psych, garage, and punk etc.
Javi: Yeah, that's how we got into the scene by listening to a lot of amazing garage rock bands.
C: As soon as we were introduced, Javi and I were going to like three shows a week. We got addicted to meeting everyone. We were riding the high of the community, being part of the sauce.
Ruby: How do you feel like your influences from Bogota, Miami, and Chicago come together?
Camilo Medina: Ohhh…I don't know, probably very naturally. I don't think I could call out like we've got reggeaton from Colombia.. and then something from another city. What you hear is the product of all three.
R: Thinking more specifically about musicians from those regions?
C: From Miami, I love ༺ La gOONy ChONgA༻, from Colombia, J  Balvin, Chicago I love Mother Nature. They were a new local band that we played with, they were siiick.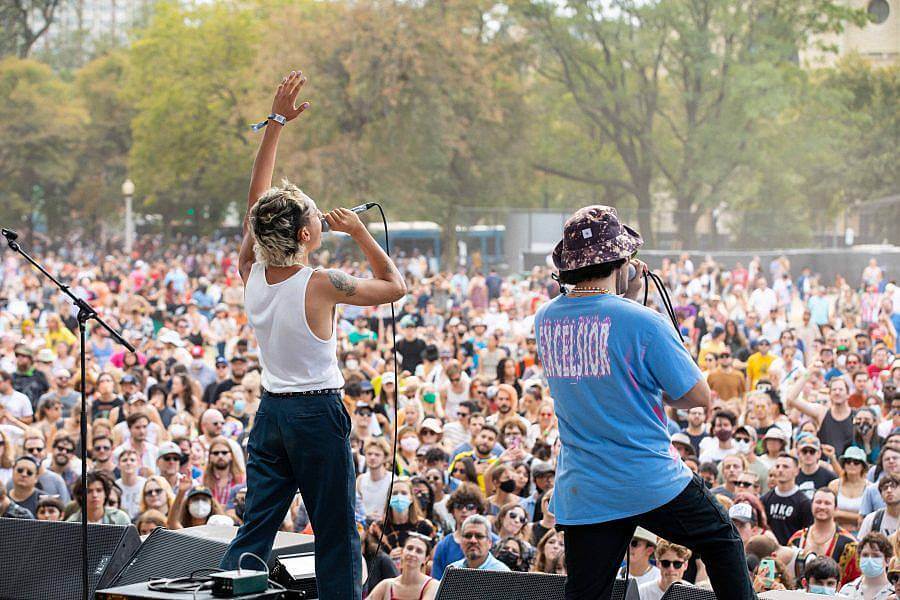 Jo: After seeing you perform. Everything feels intentional, from the visuals behind you, to what you're wearing. How do you view your visual practices and music practices coming together?
C: Ya know I've been doing, what I do for a living is illustration and design, and then I do this. Those worlds used to be kind of separate. Sometimes I do artwork for the music, but that's changing. The art that we displayed yesterday we all made it together. I feel like what you see is what happens when you marinate a steak forever and all the sauces stew. We were in a cabin up north while we were practicing for Pitchfork. We were up there for ten days, it had a hot tub. We went from the hot-tub to LSD, to practicing, back to the hot-tub, back and forth, just in a sauce for ten days playing.
Everything you see is the whole band. This is our world, us together.
R: You're so in sync on stage, the way you're connected makes sense hearing about the hot tub! You've been boiling and bubbling together.
J: In the hot tub we came up with all these different characters. For a while, our bandmate Guillermo, they'd get his name wrong. On tour whenever we go to Starbucks since that's the quickest thing, and I really like the nitro, but they always get his name wrong. So he gave himself an English name of " Bill Towers,"
C: Yeah he went from Guillermo Rodriguez to "Bill Towers" it's like a slight translation.
J: Yeah, that's the translation. Mine is Jackie Forever, a play on Javier Forrero.
C: Jackie Forever, Joven pollo. There are two. Animal Collective, you know how they have Panda Bear & the geologist? We're doing just that, we're the Backstreet Boys, we're each the power ranger, we have a name and a flavor. Sometimes I'm DJ Kaldo and sometimes Cashee Marino.
J: It's so important you get into that character. For a while during the pandemic, we're all stuck in a room working on music. So all we heard was audio, but we realized we could have more fun. When I close my eyes what do I see as I make? We did an exercise like that with our new music video. We'd close our eyes and ask ourselves, "What goes with this sound?"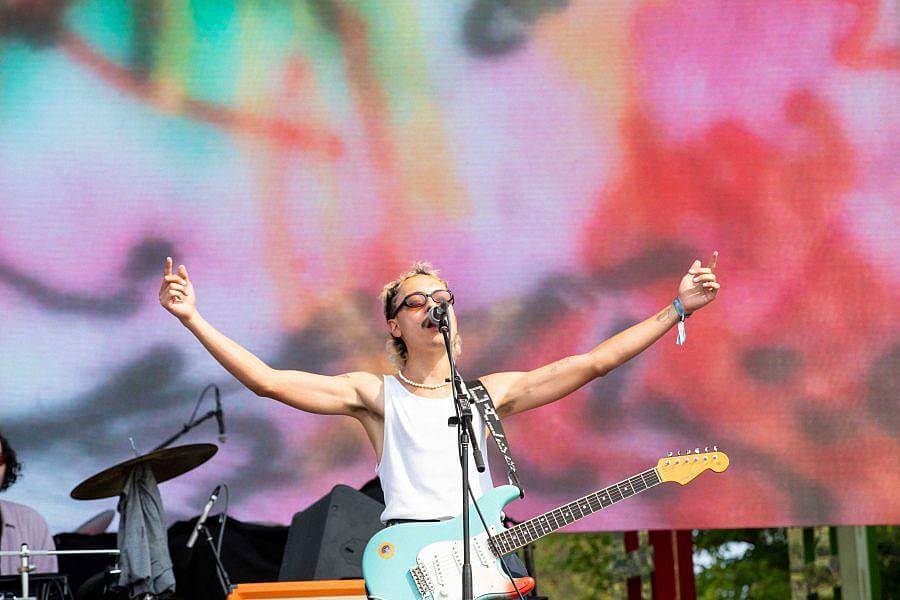 Jo: Speaking about your new song, "Drive" feels like this shift into protopunk, and you've honed in on the use of cadence and voice. How do you see your sound shifting from your previous album to your new album?
C: When we were doing FOAM we each had a couple of songs, and we played on each other's songs. The collaboration felt kind of blocky. With "Drive", the sounds are all of ours. We all rap on all of them.
J: Somebody brings something to the table and then somebody graffiti's the song out of it.
C: It's like graffiti! When I talk about marinating, all the songs, like "Drive," the way that it ended up sounding was out of our control. We were going for a solid song, like Fleetwood Mac, but we couldn't finish it, through us all it just naturally pulled itself together outside of those bounds. It's part of our new album that's coming out next year, its called " The last spot on Earth," Its about self-healing, loving yourself, touching yourself, getting to know yourself, and heal up from this shitty fucking year we had.
With Foam, we all felt we were bringing people on a vacation. Listening to good shit and feeling good. With this album, we're going as satanic as possible and then as angelic and beautiful as we can the second after. We're putting everything in the pot, leaving it all on the field type of vibe.
R & Jo: Who designed the website?
C: Dude, Javi designed the whole thing! I designed it a little like we collabed, but Javi did all the coding and effects.
J: I did the effects. I'm hoping to include some 3-d stuff. I'm hoping to integrate his C 3-d blender stuff.
C: Javi's always up with the trends with the coding and the newest effects. So we go back and forth to create together. I see this as part of our next step as a band. Creation and expression being central.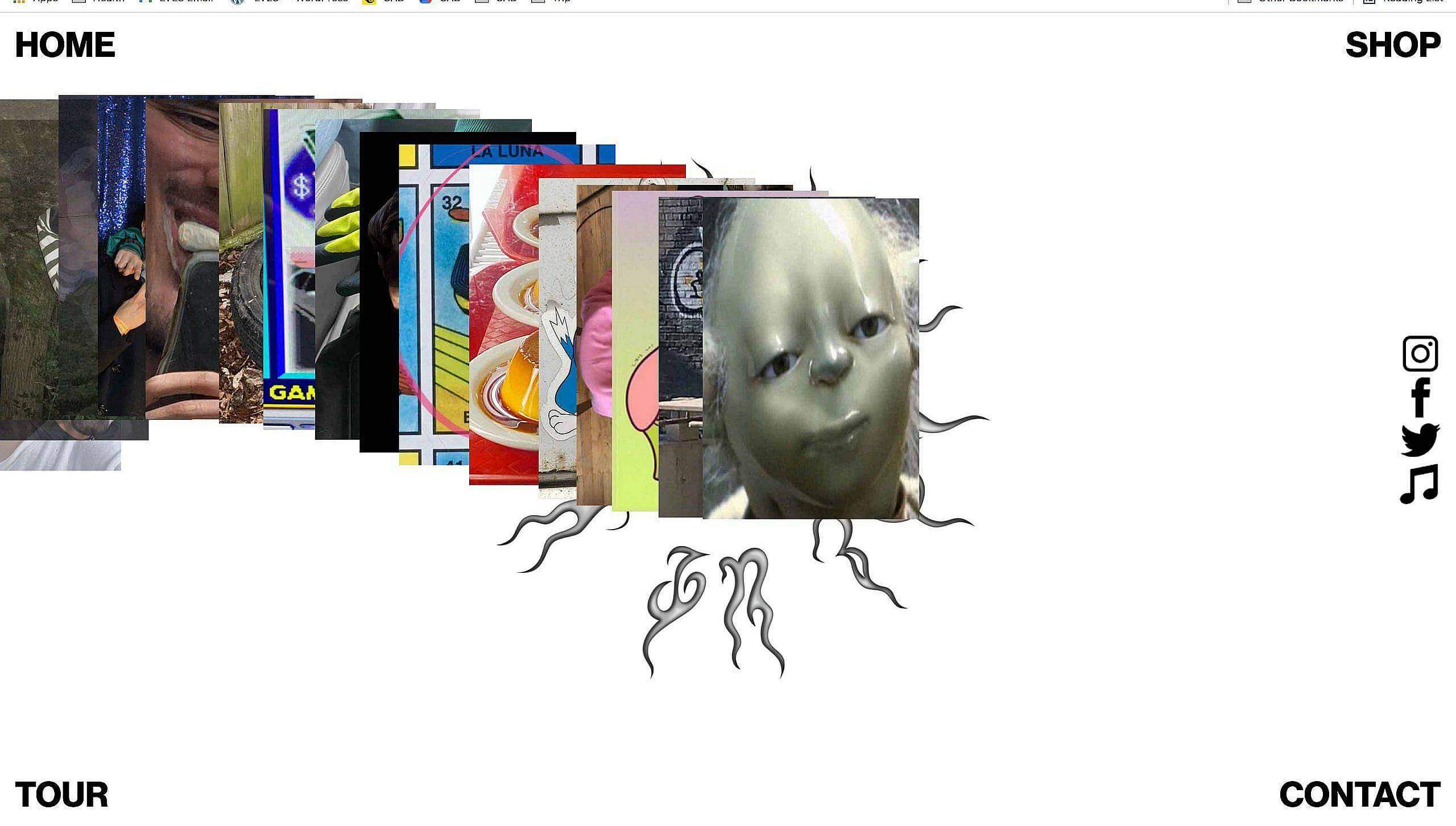 R: Tell us more about your visual practices! 
C: I started freelancing, working for musicians for the past five years. It's what I wanted to do. But lately, I realized what I have had the most fun doing. When you're designing, they want your art they want your style but everybody somebody wants something. Like a dragon that has flames, with their name. Everybody wants something that meets their vision.  So right now what feels more intuitive, is gearing my life less in the service of making for others. I've been flowing visually. I am drawing every day, really big, figuring out a way to express myself without ap purpose without a brand. I'm hoping to gear more of my life towards expression.
J: My art practice has been mostly audio for most of my life. I've been really into making animations for websites. It changes.
C: He does back-end and front-end coding like a pro. Full out!
J: As of lately I've wanted to go away from that world and have been using spray paintings and have been laying boxes, and creating with chrome, hot pink, green paints. I'm hoping to expand to canvas soon.
C: In the future, we plan to be making visual art altogether.
Interview conducted by Ruby Jeune-Tresch and Joan (Jo) Roach. Transcribed and edited by Joan Roach.